CPCE Practice Test
The Counselor Preparation Comprehensive Exam (CPCE) is required by hundreds of universities and colleges across the United States for students in graduate level counseling or education programs. It measures a student's competence across a range of foundational concepts and knowledge related to counseling as a profession.
Click "Start Test" to take a free CPCE practice test!
CPCE Exam Outline
The CPCE contains 160 multiple-choice questions, though only 136 of the questions will count toward your final score. You will be given 3 hours and 45 minutes to complete the exam.
The exam spans eight common core areas that are all highly relevant to the field of counseling. There are 20 questions in each section.
Professional Counseling Orientation and Ethical Practice
These questions assess your knowledge of the history and philosophy of the counseling profession, the role of the counselor advocating on behalf of the profession, current labor market information, technology's impact on the counseling profession, and self-care strategies appropriate to the counselor role.
Social and Cultural Diversity
These questions assess your knowledge of theories and models of multicultural counseling, effects of power and privilege for counselors and clients, help-seeking behaviors of diverse clients, and strategies for identifying and eliminating barriers and prejudices.
Human Growth and Development
These questions assess your knowledge of theories of learning, theories of abnormal personality development, effects of crises, etiology of addictions and addictive behaviors, and differing abilities and strategies for differentiated interventions.
Career Development
These questions assess your knowledge of strategies for career development program planning, models of career development, ethical and culturally relevant strategies for addressing career development, and facilitating client skill development for career planning and management.
Counseling and Helping Relationships
These questions assess your knowledge of counseling theories and models, conceptualizing clients using a systems approach, processes for aiding students in developing a personal model of counseling, and case conceptualization skills.
Group Counseling and Group Work
These questions assess your knowledge of designing and facilitating groups, therapeutic factors, dynamics associated with group process, and approaches to group formation.
Assessment and Testing
These questions assess your knowledge of reliability and validity in assessments, procedures for identifying trauma and abuse, assessing risk of aggression or danger, environmental assessments, and preparing for initial assessment meetings
Research and Program Evaluation
These questions assess your knowledge of evidence-based counseling practices, mixed research methods, analysis of data in counseling, statistical methods used in conducting research, and needs assessments.
Check out Mometrix's CPCE Study Guide
Get practice questions, video tutorials, and detailed study lessons
Get Your Study Guide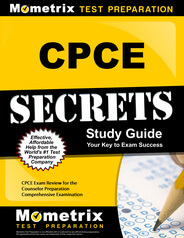 CPCE Exam Registration
You have two options for taking this exam. One option is to take it on campus at your school. The second option is to take it at an approved Pearson VUE facility. The process and fees are different depending on which option you choose.
If you choose to take it on campus, you will register at your school. Call your program director or advisor to schedule an appointment. The dates and times available for the test will depend on what your school offers.
The exam fee is $75, which is less expensive than the Pearson VUE option; however, you won't be guaranteed a standardized testing experience. It will be administered on a computer, using a secure internet browser, but beyond that, testing conditions will be determined by your school.
When scheduling your appointment, make sure to ask the following questions:
How much time will I have for each section?
How soon will I find out my score?
What do I need to bring with me?
What form of ID will you accept?
Will there be any scheduled breaks during the exam?
What is the minimum score required to pass?
If you choose to take it at an authorized Pearson VUE facility, you can schedule your appointment online or by phone with the Center for Credentialing and Education. The fee will be $150, which will assure a standardized testing experience.
That means you can be sure that the testing center will be quiet, free of distraction, and that no issues will come up during the test. You will still take the exam on a computer, but rather than an internet-based test, it will be a test on that computer so there won't be a concern about spotty internet connection.
How the CPCE Exam is Scored
The maximum score you could receive is a 136—the total number of scored questions across all eight core areas. Your score on the test is a "raw" score directly representing the number of questions you answered correctly.
There is no universal criteria for passing the exam, as the minimum requirement is set independently by each university. In general, the minimum will likely be somewhere between 62% and 65% correct (so 85 to 89 out of 136).
However, in some circumstances, the minimum could be as high as 75% (102 out of 136) so you definitely need to ask rather than risk aiming for a score that is lower than what you need.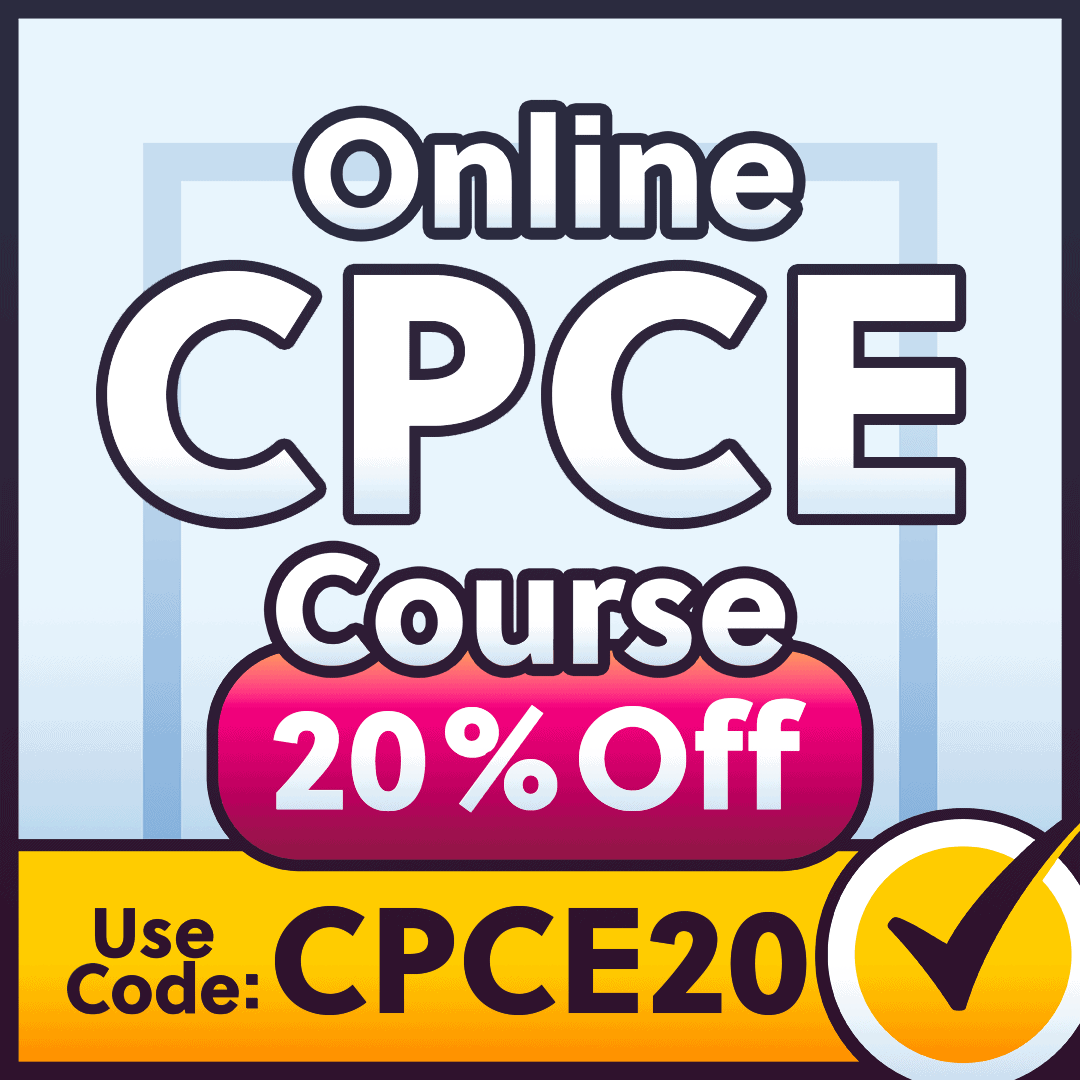 CPCE Test Online Prep Course
If you want to be fully prepared, Mometrix offers an online CPCE Prep Course. The course is designed to provide you with any and every resource you might want while studying. The CPCE Course includes:
78 Lessons Covering Every Topic
950+ CPCE Practice Questions
Over 30 Video Tutorials
More than 500 Electronic Flashcards
Money-back Guarantee
Free Mobile Access
and More!
The CPCE Prep Course is designed to help any learner get everything they need to prepare for their CPCE exam. Click below to check it out!
Check out Mometrix's CPCE Flashcards
Get complex subjects broken down into easily understandable concepts
Get Your Flashcards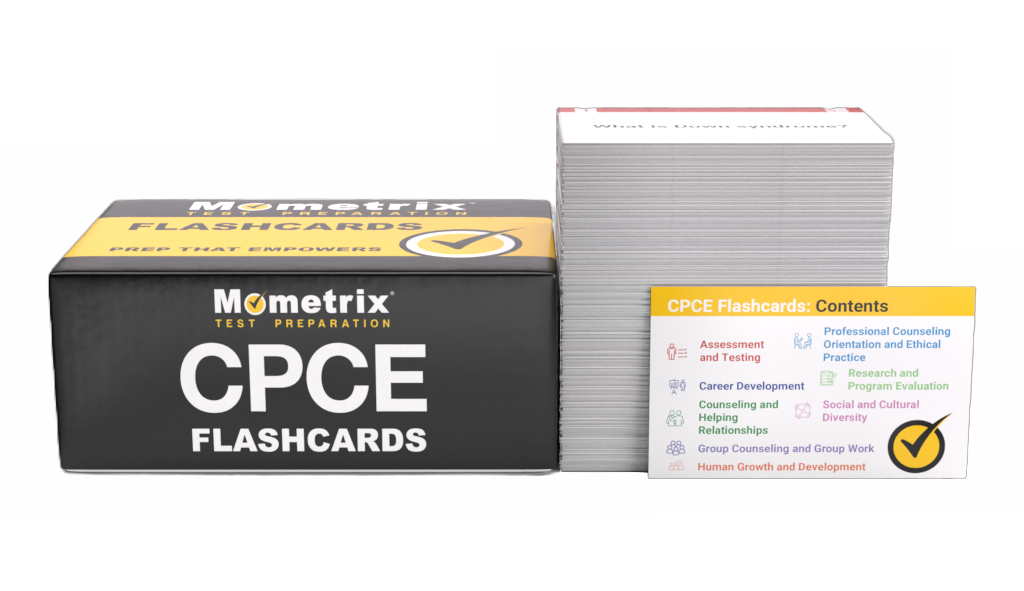 FAQs
How many questions are on the CPCE?
There are 160 questions on the CPCE, though 24 of those questions will not count toward your final score.
How long is the exam?
The CPCE is timed at 3 hours and 45 minutes.
What is a passing score?
There is no set passing score for the CPCE, as each school will set their own. However, a score of 90 is generally considered a passing score.
How much does the CPCE cost?
The CPCE costs $150 for the Pearson-VUE-administered test and $75 for the school-administered test.
CPCE Secrets Study Guide Customer Success Stories
Our customers love the tutorial videos from Mometrix Academy that we have incorporated into our CPCE study guide. The CPCE study guide reviews below are examples of customer experiences.
I passed the Praxis test well above the passing score on the first try, and spent one full day studying the day before the test, using Mometrix materials. I passed the CPCE exam after using this book to study for that test as well. Its condensed format makes studying this book feel actually doable, as opposed to some of the other study guides that feel so overwhelming. These study guides are broken down into need-to-know information, without the extra fluff. Great study guides in a usable format.
CPCE Secrets Study Guide – Customer
It has helped me understand the topic much better. It's a very good source to purchase for the comps. Try it.
CPCE Secrets Study Guide – Capullo
As it's very thorough and complete in my studies. I continue to use this quite often. Thank you for a very informative resource!
CPCE Secrets Study Guide – Marlene
Best study tool I have found yet! I have used multiple other study tools and non compare to this.
CPCE Secrets Study Guide – Customer
I can't believe how much I new after I took the practice test. This study guide had a very good mixture of practice questions that really made me think. The study strategy format was the best I've seen!
CPCE Secrets Study Guide – Customer
The bonus part of this book is fabulous. It assistance in confidence building. For a test like this a person needs to study study and study more. The tools included with this book are remarkable.
CPCE Secrets Study Guide – Cynthia
I am so overjoyed, and just wanted to say that your materials were an awesome investment. The practice tests with thorough explanations helped me a lot, in conjunction with the Flashcard set. I loved how you guys included main key terms and concepts, without making me feel overwhelmed and as if I would not see any of these things on the actual exam, and/or wasting my study time.
CPCE Secrets Study Guide – Customer
This book is lightweight, easy to read and good for a review. It takes a lot to prepare for these exams, this provided a fresh look at the material and was really easy to read through in a day and really good for reviewing.
CPCE Secrets Study Guide – Jane
This study guide is awesome! I love the format, I found it very helpful to have the sections in the beginning broken down by category and I found the information to be very useful. The practice tests are a great addition. I also like how the book included tips to help reduce test anxiety.
CPCE Secrets Study Guide – Customer
I would rate the materials a 5, because of the corresponding explanation for the study questions. It was simple and easy to follow. I waited 3 weeks before the exam date to start studying, and I passed. The tips were very helpful.
CPCE Secrets Study Guide – Customer