How to Pass a College Math Placement Test
Congrats! You have made it through high school, have taken the ACT or SAT, and have been accepted to college. It can be a rewarding experience in many ways, especially if you get into a program with the right courses to achieve your goals.
Most college degrees, regardless of your major, require that you take a math course. To determine which level of mathematics matches your current ability, your school is likely to administer their own college math placement test rather than use the standardized test scores. Let's explore the reasons for this placement test and what the content generally looks like.
Why Do Colleges Require Math Placement Tests?
Once admitted to college, you may be asked to take placement tests for various subjects, not just math. You might wonder, "Why?" Although college admissions representatives can read your high school transcripts and view courses you've taken, they understand that there's variation in what is taught and how well students must master it to achieve their grades. The college's math courses might not align perfectly with what high schools offer, so a college-level math placement test score provides a more accurate assessment of what you've mastered and where you should be placed.
Students who are placed too high or too low in the math curriculum can become frustrated with their progress. This frustration can result in poor learning, inadequate performance, and dropping out. Your college wants you to succeed, just as you want to succeed. When you're matched with the right math content, you'll do better, be happier with your experience, and be more likely to stay in school.
What Types of Questions Will Be on the Math Placement Tests?
Colleges usually develop their own math placement tests, but the tests are usually similar, covering your basic skills, application ability, and analysis of concepts on topic areas such as:
Arithmetic
Addition
Subtraction
Multiplication
Division
Fractions
Decimals
Ratios
Proportions
Percentages
Averages
Rounding
Square roots
Algebra
Pre-algebra
Algebra 1 and 2
Expressions
Linear equations
Quadratic equations
Systems of equations
Inequalities
Exponents
Polynomials
Factoring
Geometry
Coordinate geometry
Measurement
Probability and statistics
Data collection
Data analysis
Theoretical probability
Experimental probability
Permutations
Check Out Mometrix's College Math Placement Study Guide
Get practice questions, video tutorials, and detailed study lessons
Get Your Study Guide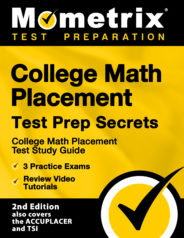 What Will Test Day Be Like?
At most colleges, you'll take the placement test on a computer in a designated lab or room. Learn the rules for the test day and the site. Find out what you are and aren't allowed to take into the test site. Ask if there's a time limit; often, there is no time limit for the placement test. In some cases, a school will allow you to bring in a calculator, and in others, the school will prohibit calculators.
To get the most meaningful results from your test, focus on the preparation of your math skills through practice and study, and make sure that you get plenty of sleep and take care of personal needs prior to the test.
Math Placement Test Online Prep Course
If you want to be fully prepared, Mometrix offers an online Math Placement Prep Course. The course is designed to provide you with any and every resource you might want while studying. The Math Placement Test Course includes:
Review Lessons Covering all the Topics
1,100+ Math Placement Practice Questions
Over 90 Video Tutorials
Money-back Guarantee
Free Mobile Access
and More!
The Math Placement Test Prep Course is designed to help any learner get everything they need to prepare for their math placement exam; click below to check it out.

Will Placement Test Practice Help Me Pass the Math Placement Test?
One of the best ways to prepare for your math placement test is to take a college placement test online. With the use of a Mometrix study guide that includes practice test questions, or by utilizing our online course, you'll improve your performance and calm your worries about taking the test. Soon, you'll be confident in taking the test and be well on your way to your rewarding college experience!