The Certified Neuroscience Registered Nurse (CNRN) exam is administered by the American board of Neuroscience Nursing (ABNN) to evaluate the knowledge and skills of those seeking certification in the neuroscience medical industry.
Click "Start Test" above to take a free CNRN practice test, and check out our premium-quality CNRN test prep resources by clicking the links below!
CNRN Exam Eligibility
To be eligible for this exam, you must hold a current, unrestricted RN license in the US or Canada, and you must have at least one year of full-time direct or indirect neuroscience nursing practice within the last three years.
CNRN Exam Outline
The CNRN exam contains 220 multiple-choice questions, 20 of which are unscored, and you will be given a time limit of 4 hours. The 20 unscored questions are used by the ABNN to evaluate questions for future versions of the exam.
The questions on the exam are categorized in two ways: disorders and interventions.
Categorized by Disorder
Each of the 220 questions on the exam fall under one of the six disorder categories below:
I. Trauma (30 scored questions)

Traumatic brain injury
Hematoma/hemorrhage
Spinal cord injury
II. Cerebrovascular (50 scored questions)

Ischemic stroke
Hemorrhagic strokes
Transient ischemic attack
Cerebral venous sinus thrombosis
Vascular anomalies
Anoxic injury
III. Tumors (26 scored questions)

Brain tumors
Spinal cord tumors
IV. Infection and Immune Complications (22 scored questions)

Abscesses
Meningitis
Encephalitis
Amyotrophic lateral sclerosis
Bell's palsy
Demyelinating polyneuropathy
Multiple sclerosis
Myasthenia gravis
Encephalopathies
V. Neurodevelopmental Conditions (10 scored questions)

Cranial/cerebral defects
Chiari malformation
Hydrocephalus
Congenital brain and spinal cord anomalies
VI. Neurological Disorders (62 scored questions)

Partial, generalized, status epilepticus, and non-epileptic seizures
Headaches
Hydrocephalus
Pseudotumor cerebri
Pain
Dementia
Delirium
Movement disorders
Chemical dependency
Degenerative spine disease
Peripheral nerve injury
Categorized by Intervention
Each of the 220 questions on the exam also fall under one of the five intervention categories below:
I. Physiological (54%)

Activity and self-care
Bowel and bladder management
Nutrition
Comfort promotion
Metabolic management
Pharmacological management
Neurological management
Surgical treatment and management
Respiratory monitoring and airway management
Thermoregulation
Cardiovascular management
II. Behavioral (21%)

Cognitive behavioral therapy
Health education
III. Quality of Life (12%)

Coping assistance
Family
Culture
Ethics
Organ donation
Palliative care
End of life
IV. Patient Safety (8%)

Identification of neurological decline
Abuse protection and support
Environment safety management
Infection prevention
Physical and chemical restraint
V. Health System Management (5%)

Collaboration
Professional competence
Check out Mometrix's CNRN Study Guide
Get practice questions, video tutorials, and detailed study lessons
Get Your Study Guide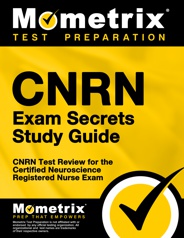 CNRN Exam Registration
To register for the exam, you must submit an online application at the ABNN website. Your application must include the applicable examination fee, whether you pay online or via check. The examination fee is $300 for AANN members and $400 for non-members, and paying by check incurs an additional $25 fee.
Once your application is approved, you will receive confirmation and instructions on how to schedule an examination appointment with PSI.
Test Day
Regardless of your exam-taking method, you will be asked on test day to present two current and valid forms of identification, one of which must contain your photograph. Both forms of identification must have your signature for verification.
In-person Testing
On test day, you should arrive 15-30 minutes early for your scheduled appointment time. If you are more than 15 minutes late, you will not be admitted, and your test will be canceled.
Before the exam begins, you must secure any personal items (including your phone, wallet, and keys) in a provided locker. A pencil and a sheet of paper are provided, so there is no need to bring those items with you to the testing center.
During the exam, you can take a break whenever you need to, but the timer will keep going during your break.
Live Remote Proctoring
On test day, you should log in to your account 10-15 minutes before your examination appointment. Once you are logged in, a proctor will ask you to scan your testing space with your webcam to ensure your testing area is clear of books, notes, and electronic devices. You are allowed a pencil and a blank sheet of paper on your desk; all other items need to be removed from the area.
The launch button for the exam is enabled when the exam and proctor are ready.
How the CNRN Exam is Scored
Your CNRN score is determined by using a scaled scoring system. This system converts your raw score (the number of questions you answered correctly) into a numerical scaled score. You must have a final scaled score of at least 200 to pass the exam.
If you pass the exam, you will receive your certificate packet by mail within 4 to 6 weeks after testing.
Check out Mometrix's CNRN Flashcards
Get complex subjects broken down into easily understandable concepts
Get Your Flashcards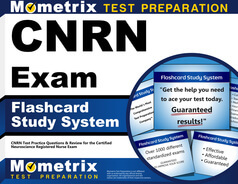 FAQs
Q
How many questions are on the CNRN exam?
A
There are 220 multiple-choice questions on the exam.
Q
How long is the CNRN exam?
A
The time limit for the exam is 4 hours.
Q
What is the passing score for the CNRN exam?
A
To pass the exam, you must achieve a scaled score of at least 200.
Q
How much does the CNRN exam cost?
A
The examination fee is $300 for AANN members and $400 for non-members.