CNOR Practice Test
The Competency and Credentialing Institute (CCI) administers the CNOR certification exam for those pursuing a credential as a perioperative nurse.
Click "Start Test" below to take a free CNOR practice test!
CNOR Exam Eligibility
To be eligible to take the CNOR exam, you must meet all of the following requirements:
You must have a current and unrestricted RN license.
You must be currently working in the perioperative nursing field, whether full-time or part-time.
You must have at least 2 years and 2,400 experience hours as a perioperative RN. At least half of those hours must have been spent in the intraoperative field.
CNOR Exam Outline
The CNOR exam contains 200 multiple-choice questions, 15 of which are unscored, and you will be given a time limit of 3 hours and 45 minutes. The 15 unscored questions are called "pretest" questions and are used to evaluate the quality and validity of questions that may appear on future exams.
The exam is split into seven sections, each of which contains some mixture of task and knowledge statements.
1. Pre- and Post-operative Patient Assessment and Diagnosis (28 scored questions)

Use two patient identifiers to confirm patient identity
Confirm correct operative site, procedure, and site marking
Assess patient data
Use health assessment techniques that are culturally appropriate and age-appropriate
Review the reconciliation of medication
Conduct an individualized psychosocial and physical assessment
Obtain a focused assessment that is relevant to the procedure at hand
Perform a pain assessment
Identify nursing diagnoses
Confirm DNR status and/or advanced directive status
Ensure appropriate patient and family teaching that relates to the procedure at hand
2. Individualized Plan of Care Development and Expected Outcome Identification (15 scored questions)

Identify measurable patient outcomes
Identify specific interventions for each diagnosis
Address specific patient considerations in the care plan
Evaluate the patient's responses to the care plan
Update the care plan as needed
Facilitate patient care using critical thinking skills
3. Management of Intraoperative Activities (63 scored questions)

Monitor environmental hazards
Optimize behavioral responses to the surgical procedure
Prepare the surgical site
Select appropriate protective barrier materials
Evaluate the patient's response to pharmacological agents
Manage anesthesia
Control various environmental factors
Use aseptic technique to maintain a sterile field
Wield tools appropriately
Maintain the patient's privacy and dignity
Advocate for the patient's rights
Prepare, label, and transport specimens correctly
Ensure that the correct implants are available and prepared
Prepare explants for final disposition
Ensure solutions, medication containers, and medications are labeled
Perform appropriate surgical counts
Perform universal protocol
Anticipate the need for intraoperative blood transfusion
Use proper body mechanics
Perform proper patient positioning
Intervene with disruptive or impaired behavior in patients and family members
Identify various wound classifications
Maintain wound dressings
Acquire the necessary equipment and supplies
Review the expiration date of products
Implement cost-containment measures
Evaluate and select products
Supervise and educate healthcare team members
Delegate tasks to personnel
Supervise visitors
Manage any HCIR presence in the operating room
Uphold environmental stewardship
4. Communication and Documentation (20 scored questions)

Maintain accurate patient records
Collaborate with the interdisciplinary healthcare team
Communicate the patient's current status
Communicate measurable patient outcomes
Document the perioperative education that has been provided to the patient
Document follow-up communication post-discharge
Document both preoperative and postoperative assessments
Document the transfer of care
Document the measures taken to prepare and track various trackable items
Evaluate the patient's status
Implement effective solutions to identified patient communication barriers
Provide HIPAA-supported information about the patient
Read back for verbal orders
Document various surgical wound classifications
5. Infection Prevention and Control of Environment, Instrumentation, and Supplies (30 scored questions)

Clean the environment properly
Use appropriate cleaning methods for instruments and reusable goods
Transport and store single-use items appropriately
Document sterilization and disinfection
Handle and dispose of hazardous and biohazardous materials properly
Utilize PPE
Adhere to the appropriate sterilization and monitoring procedures
Monitor storage area conditions and sterilization
Track outside instruments and materials
Wear proper surgical attire
Adhere to proper hand hygiene guidelines
6. Emergency Situations (18 scored questions)

Identify urgent/emergency situations
Perform interventions for the following:

Malignant hyperthermia
Anaphylaxis
Cardiac arrest
Trauma
Hemorrhage
Local anesthetic systemic toxicity

Function as an interdisciplinary team member
Safeguard patients and healthcare team members from environmental hazards
7. Professional Accountabilities (11 scored questions)

Function with Scope of Practice
Seek assistance for personal limitations
Report disruptive behavior
Uphold ethical and professional standards
Utilize professional growth resources and tools
Participate in activities for the improvement of quality
Participate in interdisciplinary team activities
Participate in professional organization activities
Check Out Mometrix's CNOR Study Guide
Get practice questions, video tutorials, and detailed study lessons
Get Your Study Guide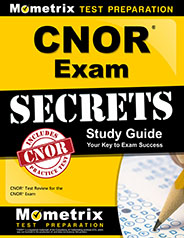 CNOR Exam Registration
To register for the exam, you must create an online CCI account and fill out the application. You will be asked to provide your contact information and your RN license information. Once the application has been filled out, you will need to submit it along with the $395 examination fee.
Once your application is approved, you will be sent instructions on how to schedule your exam at a PSI testing center. You will have the option to choose between taking the exam in-person or taking it remotely on your own computer at home.
Test Day
In-person Testing
You should arrive at the testing center at least 15 minutes early to allow time for the check-in process. During this process, your photo ID will be checked and your photograph will be taken. You may also be asked to have your palm vein scanned biometrically for security purposes.
Once the check-in process is complete, you will be asked to leave all personal items (bags, cell phone, food, hats, calculators, etc.) in a locker before entering the testing room to begin your exam.
Live Remote Proctoring
You should sign in to your account to start your test 30 minutes before your scheduled starting time.
Your testing environment should be quiet, well-lit, private (others should not be able to come and go from your testing area), and clear of anything that is not explicitly allowed.
The check-in process for your online test includes taking pictures of your ID, your testing environment, and your face. Throughout your exam, a proctor monitors you via your webcam.
Once your exam begins, you cannot move your webcam, mumble, or speak out loud. Failure to follow the rules of the exam and the instructions of your proctor could result in the cancelation of your exam.
How the CNOR Exam is Scored
Your CNOR score is determined by taking the number of questions you answered correctly and converting that to a scaled score between 200 and 800. You must achieve a scaled score of at least 620 to pass.
As soon as you finish the exam, you will be provided with a preliminary score report that simply denotes your pass/fail status. PSI will email your official score report within 24 hours after you take the exam.
Retaking the CNOR Exam
If you fail the exam, you are allowed to retake the exam at the start of the next exam period. You will have to pay the full examination fee for each retake.
When you retake the test, the questions will not be the same as the exam you took previously.
Online CNOR Prep Course
If you want to be fully prepared, Mometrix offers an online CNOR Prep Course. The course is designed to provide you with any and every resource you might want while studying. The Certified Perioperative Nurse Course includes:
Review Lessons Covering Every Topic
1,000+ CNOR Practice Questions
More than 500 Electronic Flashcards
Money-back Guarantee
Free Mobile Access
and More!
The CNOR Prep Course is designed to help any learner get everything they need to prepare for their CNOR exam. Click below to check it out!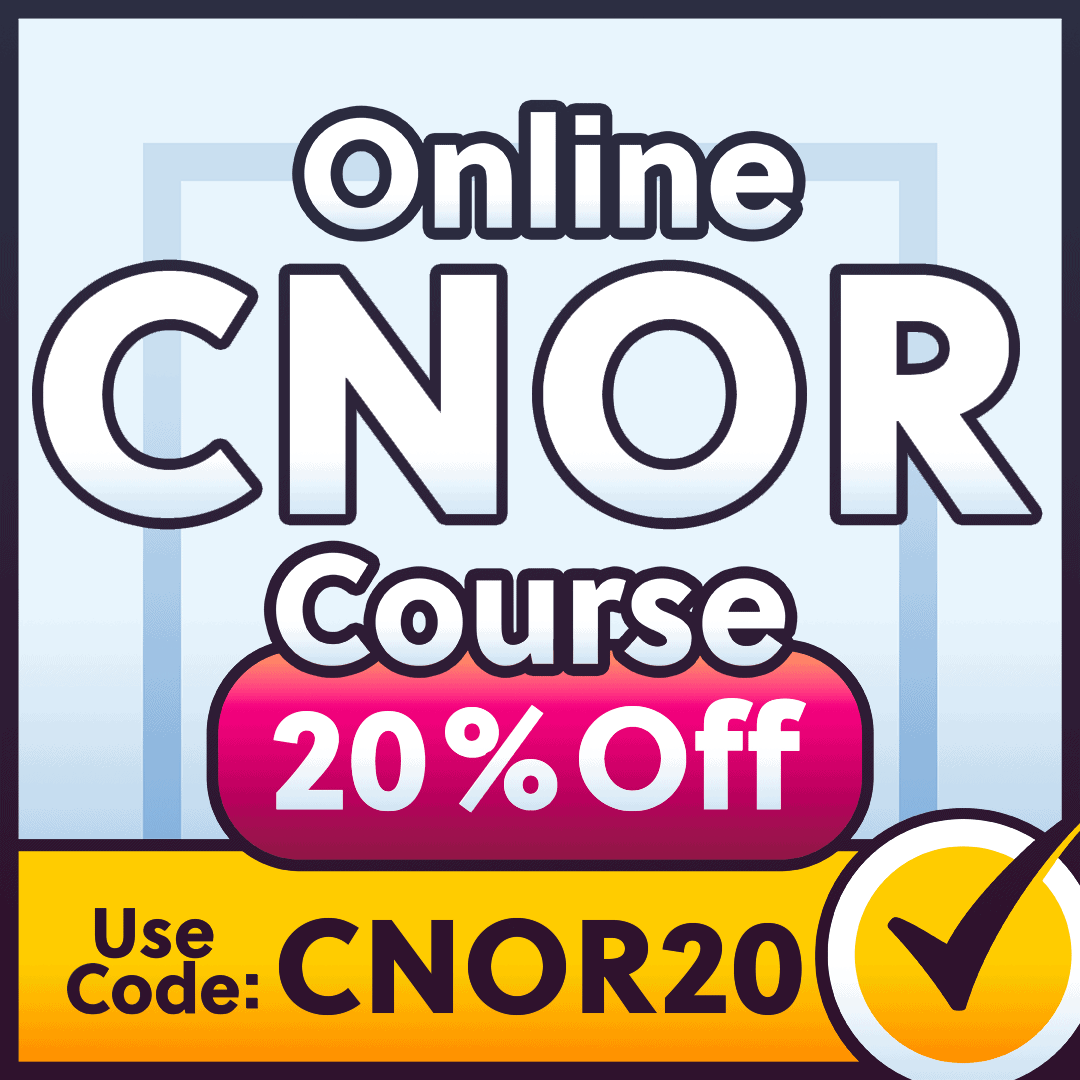 Check Out Mometrix's CNOR Flashcards
Get complex subjects broken down into easily understandable concepts
Get Your Flashcards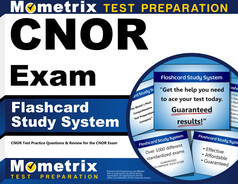 FAQs
How difficult is the CNOR exam?
The CNOR exam is considered to be a difficult exam. CCI recommends spending at least 3 months studying prior to the exam.
How many questions are on the CNOR exam?
There are 200 multiple-choice questions on the exam, 15 of which are unscored.
How long is the CNOR exam?
The time limit for the exam is 3 hours and 45 minutes.
What is the passing score for the CNOR exam?
To pass the exam, you must achieve a scaled score of at least 620.
How much does the CNOR exam cost?
The examination fee is $395.
CNOR Study Guide Customer Success Stories
Our customers love the tutorial videos from Mometrix Academy that we have incorporated into our CNOR test study guide. The CNOR study guide reviews below are examples of customer experiences.
This was a wonderful book. It helped me prepare for the test I was already stressed about. It is easy to read and gave explanations to help you understand better. Best buy. Anyone taking there CNOR exam, I would invest in this book!!
CNOR Study Guide – Georgeann
I compliment the layout of the book with each area separated with bullet points. It's simple, factual and has prepared me for some areas I have not thought about in awhile. The testing tips on reading the questions and when not sure, to review each answer was helpful. I also found the prefixes, suffixes can and will help when stuck on a question. Basically the book helps you slow your brain down and help you think through every question logically. So far so good! Love the book.
CNOR Study Guide – Karen
I plan to take my CNOR exam this spring and think this book has given me the confidence I need to take the exam. I like the layout of the book with review information then test questions, followed by the answers and explanations.
CNOR Study Guide – Customer
I think the product gives a great overview of the material that needs to be mastered for the CNOR exam. I like that the book is broken down into different sections. One section focuses on presenting the material, while another section focuses on practice questions. This will definitely help me prepare for the types of material and questions I will likely see on the CNOR exam.
CNOR Study Guide – Jessica
Needed this book ASAP and it was delivered ASAP. It is a wonderful review that sparks you to also look up other needed tidbits. Having the exam in the book was a much needed piece to give an idea of the real exam. Highly recommend this book!
CNOR Study Guide – Amy
I like how it breaks down the information into sections. For example, it takes you through prep-operative and teaches you all you need to know and all that needs to be done before going to the operating room. Then, I like how it flows into intraoperative, teaching you everything you need to be a competent, knowledgeable, and successful operating room nurse. The material is very detailed, to the point, and easy to follow.
CNOR Study Guide – Customer
I really liked the length of this study guide. IT was long enough where I felt good about covering enough material before the test, but not too long where I was feeling overwhelmed by not possibly being able to cover it all. Overall, a really great study guide!!
CNOR Study Guide – Amber
The material is presented in an organized fashion along with ideas of how to study for this big exam. I have taken the test once before and was unsuccessful. I researched the ratings of this study guide and they were very high. I also like the many practice questions in the back of the book.
CNOR Study Guide – Murray
This study book has been great with helping me prepare for my exam and teaches without being too overwhelming and is very understandable.
CNOR Study Guide – Customer