CNN Exam
The Certified Nephrology Nursing (CNN) Exam is a rigorous certification exam offered by the Nephrology Nursing Certification Commission (NNCC). It's intended for candidates who are already fully licensed registered nurses with plenty of on the job experience. The test measures a candidate's command of the most important day-to-day skills and knowledge needed in nephrology nursing.
Who Is Allowed to Take the CNN Exam?
Registration for the CNN exam is open to registered nurses with at least 3,000 hours of experience related to nephrology. Additional criteria that you will need to meet in order to be eligible for the exam include:
Your 3,000 hours of nephrology-related experience must have been completed within the last three years.
You possess a baccalaureate or a master's degree in nursing.
You have completed at least 30 contact hours of approved continuing education specifically in nephrology nursing within the last three years.
Once the NNCC has confirmed that you are eligible, you can immediately register for an exam date that is most convenient to your schedule. The test is offered on a continuous basis year round and is available at a variety of testing centers across the United States. When you schedule your appointment, you will need to pay an exam fee of $350.
How Long Does the CNN Take?
The CNN exam is a fairly lengthy and difficult exam so make sure you are well-rested, have eaten a full, nourishing breakfast, and are as relaxed as possible on test day. You should be prepared to spend about three and a half hours at the testing center (more if you opt to take the paper and pencil version of the exam).
This includes about 15 minutes to check in before your appointment, three hours for the test itself (or four hours for the paper and pencil version), and about 15 minutes after the exam to go over any questions or concerns you have after the test.
Check out Mometrix's CNN Study Guide
Get practice questions, video tutorials, and detailed study lessons
Get Your Study Guide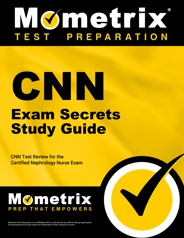 What Skills Are Measured on the CNN Exam?
The 175 multiple choice questions (200 for the paper and pencil version) on the CNN exam will be divided into five distinct content areas including concepts of kidney disease, hemodialysis, peritoneal dialysis, transplant, and acute therapies. Within those five content areas, you'll need to respond to questions that measure the following skills and knowledge:
Recognize the pathological processes and complications associated with kidney disease as well as its treatments – 31-32 Questions
Principles of infection control and the application of those principles – 28 Questions
Select the appropriate interventions based on the pathological process or complication –26-27 Questions
Select the appropriate action for administering medication to a patient being treated for kidney disease – 21 Questions
Physiological and technical principles of renal replacement therapies as well as the application of those principles – 17-18 Questions
Teaching and learning strategies for education clients, families, other health professionals and the public – 17-18 Questions
Understanding the importance of using an interdisciplinary approach to promote optimum functioning across the continuum of care – 11-12 Questions
Understanding the importance of professional nursing practice in promoting patient outcomes (e.g. – quality improvement, research, staff development, and consultation) – 10-11 Questions
Determine the most appropriate interventions based on psychological and sociocultural effects of kidney disease – 10-11 Questions
All estimates for number of questions are based on the computer version of the exam. There will be a couple more questions added to each of the above points for the pencil and paper version.
What Is the Minimum Score Needed to Pass the Exam?
You need to answer a minimum of 123 out of the 175 questions correctly in order to pass the CNN. If you are taking the paper and pencil version, you will need to answer at least 140 out of the 200 questions correctly in order to pass.
What Is the Best Way to Prepare for the CNN Exam?
This is a content-driven exam carefully designed to measure precisely the kind of knowledge and skills you will actually need on the job. So you need to make sure you can demonstrate not only an understanding of the procedures but how to apply those procedures to actual medical situations.
Beyond pulling from your own work experience and training, you'll want to make sure you get a comprehensive overview of all the material you will be tested on. For that, you should get the Mometrix Study Guide along with its companion set of Mometrix Flashcards.
Together, these tools will not only allow you to review everything on the test, but they will do so in a way that actually improves important test-taking skills like memory, recall, and educated guessing. With these study aids, you'll be able to ensure that you do your very best on this important exam!
Check out Mometrix's CNN Flashcards
Get complex subjects broken down into easily understandable concepts
Get Your Flashcards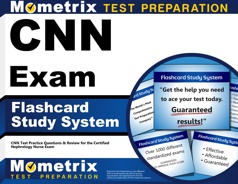 CNN Study Guide
Mometrix Academy is a completely free CNN test resource provided by Mometrix Test Preparation. If you find benefit from our efforts here, check out our premium quality CNN Study Guide and CNN Flash Cards to take your studying to the next level. Just click the CNN study guide link below. Your purchase also helps us make even more great, free test content for test-takers.
Upgrade your studying with our CNN study guide and flashcards:
CNN Study Guide
CNN Flashcards
CNN Study Guide Customer Success Stories
Our customers love the tutorial videos from Mometrix Academy that we have incorporated into our CNN test study guide. The CNN study guide reviews below are examples of customer experiences.
I love the format of the questions along with the rationale for the answers. I had heard very good reviews about your products from coworkers that have used them and taken the exam with success. I was searching for a product that would have practice questions for me to get my mindset for the CNN exam. Both of these books appear to be exactly what I was looking for.
CNN Study Guide – Tammy
I love that the chapters discuss the subject matter briefly and concisely, then review the material with practice questions. I have recommended this study guide to my peers who are practicing for their certification exam, and at least two have purchased them!
CNN Study Guide – Lorrie
It is very concise and concrete explanation. It makes nephrology easy for me to understand. Very handy too.. I also purchase the flashcards. I always put it in my purse so I can read it if I am on my break or even waiting in line instead of playing games on my cellphone.
CNN Study Guide – Customer
This book is a good study material to pass CNN exam, it simplified and covers everything about dialysis. Plus it includes practice questions with answers and rationales at the last part of the book that helps a lot and explains well about the situations/ questions.
CNN Study Guide – Naomi
I am totally satisfied, with the course material It has been helpful in my preparation for exams and applicable to my current work as a dialysis nurse, I could not ask for anything better.
CNN Study Guide – Customer
I am so excited to use your products to assist me in my journey! The material is easy to read and understand! Thank you!!!
CNN Study Guide – Customer
This is my first purchase of the product from mometrix, I really love this product! I will recommend this to my co Dialysis RN's.
CNN Study Guide – Customer