The Certified Materials & Resource Professional (CMRP) exam is a certification exam administered by the American Hospital Association Certification Center (AHA-CC). The goal of the exam is to test the knowledge and skills one needs to become a maintenance technician, reliability expert, and/or physical asset manager.
Click "Start Test" above to take a free CMRP practice test, and check out our premium-quality CMRP test prep resources by clicking the links below!
CMRP ExamEligibility
In order to be eligible for the examination, you must meet one of the following requirements:
Have a baccalaureate degree or higher from an accredited college or university, plus three years of associated healthcare resource and materials management experience
Have an associate degree or equivalent from an accredited college or university, plus five years of associated healthcare resource and materials management experience
Have a high school diploma or equivalent, plus seven years of associated healthcare resource and materials management experience
If you are involved in the materials functions of healthcare facilities or are active in the healthcare materials supply chain (manufacturers, vendors, distributors, consultants, employees of group purchasing organizations, etc.), you are considered associated with healthcare resource and materials management.
CMRP Exam Outline
The CMRP test consists of 110 multiple-choice questions, and you will be given 2 hours to complete the exam.
The questions on the exam generally fall into one of the following categories:
Recall: The ability to recall or recognize specific information
Application: The ability to comprehend, relate, or apply knowledge to new or changing situations
The exam is split into five content areas.
Procurement/Product Value Analysis (28 questions)
Recall: 10
Application: 18
Inventory Distribution Management (25 questions)
Recall: 10
Application: 15
Information Systems and Data Management (9 questions)
Finance (16 questions)
Strategic Planning, Leadership, and Compliance (22 questions)
Recall: 10
Application: 12
Check Out Mometrix's CMRP Study Guide
Get practice questions, video tutorials, and detailed study lessons
Get Your Study Guide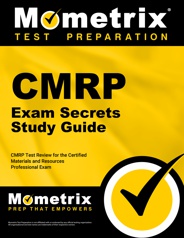 CMRP Exam Registration
Once eligibility is confirmed, the AHA will send you an email with details on how to schedule a testing session online or by phone. When arranging a CMRP exam at a PSI test center, be prepared to offer your issued identification number, confirm a testing location, and confirm a chosen date and time for testing.
The CMRP exam is given in the following formats:
On computers at over 200 PSI exam locations throughout the United States
At conferences, meetings, or other specifically scheduled sessions under exceptional administrations
You must schedule testing and take the CMRP examination within 90 days of receiving eligibility confirmation from AHA.
The CMRP examination is only given by appointment Monday through Saturday, and appointment times may differ depending on location. Candidates are scheduled on a first-come, first-served basis.
Fees
The application fee for the CMRP examination will differ depending on your status as a PMG member:
AHRMM or other AHA Personal Membership Group (PMG) member: $275
Non-member: $425
The application may be shifted to a future CMRP examination date up to two business days before the planned administration if it is within your initial 90-day eligibility window.
Test Day
On the day of the exam, be sure to bring the Authorization to Test supplied by the AHA with you. It carries the unique identification number needed to take the CMRP exams and is necessary for testing room admission.
You should report to the assigned PSI test center 30 minutes before the scheduled testing time for computer administration. If you are participating in a special administration, you are required to check in at the assigned testing room at the time specified on the confirmation notification. The CMRP test will begin no later than one hour after all scheduled candidates have checked in and taken their seats.
If you arrive more than 15 minutes after the designated testing time, you will not be able to take the exam. If you fail to appear for an exam without providing the required two business days' notice, your exam fees will be forfeited.
Some CMRP exams may necessitate calculations. During the CMRP examination, you may use a silent, nonprogrammable calculator without a paper tape printer or an alpha keyboard. It is not permitted to use a computer or a cell phone.
How the CMRP Exam is Scored
There is not a set passing score for the CMRP exam, meaning that the number of correct responses needed to obtain a passing score will vary slightly for each person. Your score is based on the Angoff method, which means that your score is based entirely on your performance and is not based on how well other test-takers did.
PSI generates pass/fail score reports on behalf of the AHA-CC. They are only reported in writing, either in person or by mail.
If you take the CMRP examination on paper and pencil, you should receive your score report by mail three to five weeks after the exam. If you take the CMRP examination on a computer at a PSI Test center or on a laptop, you should receive a report on-screen and via email.
The AHA-CC typically mails candidates a certificate of recognition, a pin, and details about CMRP certification criteria four to six weeks after the candidate passes the CMRP examination.
Check Out Mometrix's CMRP Flashcards
Get complex subjects broken down into easily understandable concepts
Get Your Flashcards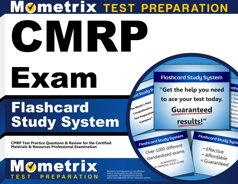 How to Study for the CMRP Exam
How to Study Effectively
Your success on CMRP test day depends not only on how many hours you put into preparing but also on whether you prepared the right way. It's good to check along the way to see whether your studying is paying off. One of the most effective ways to do this is by taking CMRP practice tests to evaluate your progress. Practice tests are useful because they show exactly where you need to improve. Every time you take a free CMRP exam practice test, pay special attention to these three groups of questions:
The questions you got wrong
The ones you had to guess on, even if you guessed right
The ones you found difficult or slow to work through
This will show you exactly what your weak areas are and where you need to devote more study time. Ask yourself why each of these questions gave you trouble. Was it because you didn't understand the material? Was it because you didn't remember the vocabulary? Do you need more repetitions on this type of question to build speed and confidence? Dig into those questions and figure out how you can strengthen your weak areas as you go back to review the material.
Answer Explanations
Additionally, many CMRP practice tests have a section explaining the answer choices. It can be tempting to read the explanation and think that you now have a good understanding of the concept. However, an explanation likely only covers part of the question's broader context. Even if the explanation makes sense, go back and investigate every concept related to the question until you're positive you have a thorough understanding.
Comprehend Each Topic
As you go along, keep in mind that the CMRP practice test is just that: practice. Memorizing these questions and answers will not be very helpful on the actual test because it is unlikely to have any of the same exact questions. If you only know the right answers to the sample questions, you won't be prepared for the real thing. Study the concepts until you understand them fully, and then you'll be able to answer any question that shows up on the test.
Strategy for CMRP Practice
When you're ready to start taking practice tests, follow this strategy:
Remove Limitations. Take the first test with no time constraints and with your notes and CMRP study guide handy. Take your time and focus on applying the strategies you've learned.
Time Yourself. Take the second practice test "open book" as well, but set a timer and practice pacing yourself to finish in time.
Simulate Test Day. Take any other practice tests as if it were test day. Set a timer and put away your study materials. Sit at a table or desk in a quiet room, imagine yourself at the testing center, and answer questions as quickly and accurately as possible.
Keep Practicing. Keep taking practice tests on a regular basis until you run out of practice tests or it's time for the actual test. Your mind will be ready for the schedule and stress of test day, and you'll be able to focus on recalling the material you've learned.
FAQs
Q
How many questions are on the CMRP exam?
A
There are 110 multiple-choice questions on the exam, ten of which are "pretest" questions that do not count toward your final score.
Q
How long is the CMRP exam?
A
The time limit for this exam is 2 hours.
Q
What is a passing score for the CMRP exam?
A
The CMRP exam does not have a set passing score.
Q
How much does the CMRP exam cost?
A
The exam costs $275 for AHRMM or other AHA PMG member, but it costs $425 for non-members.
Q
What is the pass rate for the CMRP?
A
The pass rate for the CMRP exam is 65%.