CMQ/OE Exam
The successful completion of the CMQ/OE Exam, along with meeting specific education and work experience requirements, enables one to become a Certified Manager of Quality/Organizational Excellence.
This exam is typically computer-delivered, but can be administered via paper and pencil in locations where there are no testing centers.
The computer-delivered option consists of two parts. The first includes 165 multiple-choice questions, where only 150 questions are scored AND two constructed-response questions. You will be allotted 4.5 hours. The paper and pencil exam includes 150 multiple-choice questions AND two constructed-response questions. You will be allotted 4 hours.
On what cognitive levels will the exam questions be based?
For the CMQ/OE Exam, the questions will be based on one of six cognitive skill levels.
The first is remember. This is the ability to recall previously learned material.
The second is understand. This is the ability to comprehend learned material.
The third is apply. This is the ability to use previously learned material in new ways.
The fourth is analyze. This is the ability to break down information to find relationships between different components.
The fifth is evaluate. This is the ability to judge the material learned.
The sixth is create. This is the ability to take components of material learned, and put them together in such a way that wasn't there before.

Check Out Mometrix's CMQ/OE Study Guide
Get practice questions, video tutorials, and detailed study lessons
Get Your Study Guide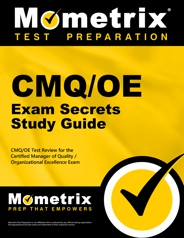 What are the topics and sub-topics covered on the exam?
The seven topics assessed via multiple-choice questions are:
Leadership – 25 questions
Strategic Plan Development and Deployment – 18 questions
Management Elements and Methods – 30 questions
Quality Management Tools – 30 questions
Customer-Focused Organizations – 17 questions
Supply Chain Management – 15 questions
Training and Development – 15 questions
The Leadership topic will address questions related to organizational structures, challenges of leadership, teams and team processes, and ASQ Code of Ethics.
The questions of Strategic Plan Development and Deployment will be about strategic planning models, business environment analysis, and strategic plan deployment.
Management Elements and Methods will look at questions about management skills and abilities, communication skills and abilities, project management, quality system, and quality models and theories.
The Quality Management Tools topic will address problem-solving tools, process management, and measurement: assessment and metrics.
The questions of Customer-Focused Organizations will be about Customer identification and segmentation and customer relationship management.
Supply Chain Management will look at questions about supplier selection, supplier communications, supplier performance, supplier improvement, supplier certification, partnerships, and alliances, and supplier logistics and material acceptance.
Training and Development questions will focus on training plans, training needs analysis, training materials, development, and delivery, and training effectiveness and evaluation.
With regard to the constructed-response portion of the exam, examinees are required to write responses to two scenarios. Their answers should address the content areas of leadership, strategy development and deployment, management, customer focus, supplier management, and training and development.
How do I register for the exam?
The most convenient way is to register online, using a credit card. Be sure to include your resume to show you meet the education and work experience requirements.
What is the cost of taking the exam for the first time?
As a member of the American Society for Quality, the exam cost is $418. Non-members will pay $568.
What should I do the day of the exam?
Bring a valid photo ID that includes your name, signature, and photo.
With the exclusion of the constructed-response section, this exam is open-book. Bring your own reference materials.
An on-screen calculator will be provided, but if a hand-held one is more convenient, you are allowed to bring your own basic calculator or obtain one from the testing center.
You are prohibited from bringing personal items such as a jacket or cell phone into the testing area.
What happens after I take the exam?
You will receive a pass/fail notification the day you take the computer-based exam. You can also access your score report 7-10 days after you take the exam.
What is the minimum passing score?
The minimum score you will need to make in order to pass is a 550.
What happens if I don't pass the exam?
You can re-take the exam as many times as you would like, within a 2-year period. If you re-take the exam outside this 2-year period, you must submit a new application.
Mometrix will fully prepare you to pass this exam with our study guide and flash cards.
Check Out Mometrix's CMQ/OE Flashcards
Get complex subjects broken down into easily understandable concepts
Get Your Flashcards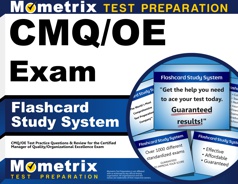 CMQ/OE Study Guide
Mometrix Academy is a completely free CMQ/OE test resource provided by Mometrix Test Preparation. If you find benefit from our efforts here, check out our premium quality CMQ/OE Study Guide and CMQ/OE Flash Cards to take your studying to the next level. Just click the CMQ/OE study guide link below. Your purchase also helps us make even more great, free test content for test-takers.
CMQ/OE Study Guide Customer Success Stories
Our customers love the tutorial videos from Mometrix Academy that we have incorporated into our CMQ/OE study guide. The CMQ/OE study guide reviews below are examples of customer experiences.
EXACTLY what I was looking for! What a great way to boil down exactly what I need to know to enhance my skills and career. Thank you so much.
CMQ/OE Study Guide – Andrew
The brief and precise overview of the major topics covered in the exam is great for those who want to squeeze time between work and family to prepare for the exam
CMQ/OE Study Guide – Customer
This book is proving to be the crutch I need to get me through my CMQ/OE Exam and beyond. It is very well organized and easy to follow. I find myself referring to it often during my normal workday as well. I would recommend this book to anyone who is interested in pursuing the Quality Management role.
CMQ/OE Study Guide – Marie
Well-organized study book that is thorough yet concise, making it easy to digest large chunks of new information in a short time.
CMQ/OE Study Guide – Customer
The guide is very easy and straight to the points for the CQM/OE exams. This was perfect summary of what i was looking for.
CMQ/OE Study Guide – Customer