CMC Exam
The term cardiac can strike fear in anyone suffering from acute or critical heart issues. These patients need qualified professionals who can help manage the challenges these patients face. That why nurses take the Cardiac Medicine Certification. It's a subspecialty for nurses who work on intensive care units, in heart failure clinics, cardiac catheterization laboratories, and other heart-related areas. The American Association of Critical Care Nurses administers this difficult exam. What topics are covered on the test? What study materials are available? This guide will help in those areas.
What are the eligibility requirements candidates must meet to take the Cardiac Medicine Certification exam?
Candidates must be a registered nurse or an advanced practice registered nurse (APRN) and hold a clinical nursing specialty certification that is nationally accredited. Candidates must also meet certain work requirements.
How many questions are on the exam?
There are 90 multiple choice questions, all of which focus on clinical judgment. Of those, 75 are scored and 15 are not.
How much time do I have to complete the exam?
Candidates have two hours to finish the test.
Check out Mometrix's CMC Study Guide
Get practice questions, video tutorials, and detailed study lessons
Get Your Study Guide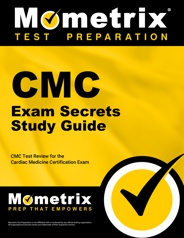 What is the fee to take the Cardiac Medicine Certification exam?
The American Association of Critical Care Nurses members pay $130. Nonmembers pay $215. Candidates who live three hours or more from the nearest testing site are eligible to take a pencil and paper exam. The fee for that test varies, depending on the number of people taking the exam.
When can I take the tests?
Candidates can take the exam six-days a week (excluding certain holidays) at one of 300 testing centers across the United States. The American Association of Critical Care Nurses uses a private testing company to oversee the exam process.
How long does it take to process my exam application?
Generally, two to four weeks.
Once I receive approval to take the test, how long do I have to take it?
Once approved, candidates have 90 days to take the exam.
What's on the Cardiac Medicine Certification exam?
The exam has four main areas.
Cardiovascular patient care problems contain 43 percent of the exam's questions and is the largest category. Candidates will face questions about cardiac issues and complications that include hypertension, sudden cardiac death, and papillary muscle rupture.
Patient care problems contain 19 percent of the test's questions. It includes subsections on renal issues like kidney failure and chronic kidney diseases; endocrine issues like diabetes mellitus; and neurology issues that include stroke.
Therapeutic interventions, with 23 percent of the questions, contains a large subsection on cardiovascular issues, including cardiac and vascular procedures and cardiovascular pharmacology.
Monitoring and diagnostics has the remaining 16 percent of test questions. Blood studies, stress testing and mixed venous gasses are among the question areas candidates can expect.
When will get my test results?
Results for computer-based tests will be available at the end of the exam. Pencil and paper results will be mailed to candidates three to four weeks after the exam.
How is the exam's passing score determined?
The pass/cut score is based on the modified Angoff method, in which a panel of subject matter experts predict a question's difficulty and set a cut score based on that information.
Should I arrive at the test center prior to my scheduled test time?
Yes. That's always best. Candidates who arrive more than 15 minutes late won't be allowed to take the test.
Check out Mometrix's CMC Flashcards
Get complex subjects broken down into easily understandable concepts
Get Your Flashcards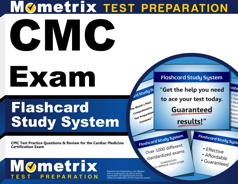 Can I bring personal items, like my mobile phone, into the test room?
No. In short, you can't bring any personal items into the test room. That includes any electronic device, purses, coats and the like.
What identification should I bring to the test center?
Candidates must bring a primary and secondary form of identification. Primary identification, such as a driver's license or passport, must contain a signature and a photo. Secondary identification, like a credit or social security card, must contain a printed name and signature.
What study guide will help me best prepare?
Mometrix has an excellent study guide that's been written by professionals who specialize in test preparation materials. Our study guide prepares students by helping them understand the issues they'll face and offers strategies to successfully answer even the toughest test questions. Our flashcards are great for busy candidates who need a refresher in specific topics. Take the flashcards anywhere and study on the go — even if you have just a few minutes. These are both excellent materials to prepare for the Cardiac Medicine Certification exam.
CMC Study Guide
Mometrix Academy is a completely free CMC test resource provided by Mometrix Test Preparation. If you find benefit from our efforts here, check out our premium quality CMC Study Guide and CMC Flash Cards to take your studying to the next level. Just click the CMC study guide link below. Your purchase also helps us make even more great, free test content for test-takers.
Upgrade your studying with our CMC study guide and flashcards:
CMC Study Guide
CMC Flashcards
CMC Study Guide Customer Success Stories
Our customers love the tutorial videos from Mometrix Academy that we have incorporated into our CMC test study guide. The CMC study guide reviews below are examples of customer experiences.
This was one of the very best resources you can get for this exam. It was concise and to the point, and divided in appropriate sections. Reading this a few times and find questions online was all I need to pass with no problems. If you are thinking about getting this book, don't hesitate. This should be at the top of most CMC study regiments.
CMC Study Guide – Brian
The information is easy to understand and condensed to give you adequate information without spending too much time on one area.
CMC Study Guide – Madeline
I love the books and feel they have excellent material. I work in a CVICU and utilize the information to teach other nurses.
CMC Study Guide – Customer
The review material is concise with no extra "fluff" to cause confusion with such a wide range of information in regards to the "must know" of Cardiology. Have even used several key points in summarizing a diagnosis and/ or treatmant plan. Several residents have requested information as where to purchase the review to keep as a practice resource.
CMC Study Guide – Joseph
Great review book. Would highly recommend this review material for anyone getting ready to take the CMC certification. To the point high-lights about topics covered in the CMC blueprint. Easy to follow. Provided website links for additional review videos.
CMC Study Guide – Customer
This is an excellent book with a great deal of need to know information. I enjoy it because it gets right down to the test content material and there is not a lot of unnecessary fluff added into it. I will definitely recommend this book to my colleagues!
CMC Study Guide – Amanda