CMAA Practice Test
The Certified Medical Administrative Assistant (CMAA) exam is developed and presented by the National Healthcareer Association (NHA). The nationally recognized certification demonstrates the recipient's ability to perform the administrative tasks to keep a physician's office or medical clinic running smoothly and efficiently. CMAA certification can improve your employment and income potential.
This page will cover the CMAA exam, what information the examination covers, the number and type of questions you can expect, the score you need to pass, and everything you need to register for the assessment.

CMAA Exam Eligibility
There are three routes to meet CMAA eligibility requirements.
Route 1
The first route is for individuals who possess a high school diploma or GED and have completed medical assistant training or a medical assistant education program within the last five years.
Route 2
The second route is for individuals who possess a high school diploma or GED and have one year of experience as a medical assistant within the last three years.
Route 3: Provisional Certification
The final route is through a provisional certification. Provisional certification is for individuals who have not but are scheduled to graduate from an accredited high school, GED, or other high school equivalency program. It must be converted to a full certification by meeting all eligibility requirements, including graduating from high school or a GED program, and meeting the training or work experience requirement. A provisional certificate expires 12 months after the examination date.
Once you have met the eligibility requirements via one of these routes, you can apply to take the CMAA examination.
CMAA Exam Outline
The NHA Certified Clinical Medical Assistant exam is a computer-based test consisting of 135 multiple-choice questions, which you will be given 2 hours and 15 minutes to answer.
The questions evaluate your critical thinking and recall abilities, enabling you to perform your duties effectively. Questions may include knowledge statements you need to know, while task statements assess your application of the skills required to perform those tasks successfully.
The CMAA test is divided into seven domains:
1. Foundational Knowledge (10 scored questions)
The concepts in this section cover the following:
Types of healthcare organizations and delivery
The relationship between front office staff and clinical processes and procedures
The types of health records and their uses
The electronic health record (EHR) and electronic medical record (EMR) components
Medical terminology
Basic anatomy and physiology
2. Communication and Professionalism (21 scored questions)
The concepts in this section cover the following:
Communication styles
Nonverbal communication
Interviewing and questioning techniques
De-escalation techniques
Barriers to communication
Gender identity and expression
Communication styles and skills
Cause-and-effect analysis
Electronic communication
Business correspondence
Teamwork
The communication cycle
You are also evaluated on your ability to foster collaboration, enhance team engagement, and demonstrate professionalism.
3. Medical Law, Ethics, and Compliance (17 scored questions)
The concepts in this section cover the following:
Informed consent
Advanced directives
Power of attorney
Storage of medical records
Legal regulations and obligations
The Hippocratic Oath
Adhering to a professional code of ethics
Reviewing and understanding medical directives
Patient privacy
Healthcare proxies
Legal requirements
Identifying your personal biases to minimize their impact on your ability to provide unbiased care to diverse populations
4. Scheduling (16 scored questions)
The concepts in this section cover the following:
Scheduling
Patient intake
Office logistics
Compliance
Billing and insurance
General office policies and procedures
Telehealth platforms and technology
Provider preferences
Patient portals
Protocols for appointments (no-show, missed, canceled, follow-up, diagnostic testing, and procedures)
Conducting pre-appointment screening and confirmation
5. Patient Encounter (21 scored questions)
The concepts in this section cover the following:
Insurance collection
Patient financial responsibilities
Patient intake forms
Data entry of patient information
Patient information verification
Procedures for new and established patients
Special considerations and accommodations
The referral and certification process
Knowledge of code sets
Recognizing commercial insurance plan types and government insurance plans
Documentation required for patient confidentiality, insurance, and safety
6. Billing and Revenue Cycle (11 scored questions)
The concepts in this section cover the following:
Phases of the revenue cycle
Healthcare payment models
Financial assistance programs
The difference between Medicare and Medicaid
Third-party payer
Clearinghouse and claim scrubbing processes
Charge reconciliation
Billing documentation
Resolution of billing issues
7. Medical Practice Administrative Procedures and Logistics (14 scored questions)
The concepts in this section cover the following:
Policies and procedures
Filing systems
Petty cash management
Reconciliation
Telephone procedures
Business correspondence
Americans with Disabilities Act Amendments Act (ADAAA) compliance procedures
Inventory management
Data storage and backup requirements
Medical record quality checks
Financial procedures
Opening and closing procedures
Delivery management
Basic computer skills
Check Out Mometrix's CMAA Study Guide
Get practice questions, video tutorials, and detailed study lessons
Get Your Study Guide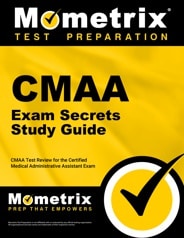 CMAA Exam Registration
To register for the CMAA exam, you must have an account with NHA. There are two types of registration: individual and organization. If you are not taking the exam through a school or employer partnered with NHA (the school or employer provides the payment for your exam), select "registering individually" from the drop-down menu. If your school or employer sponsors your exam, select the organization or school in the drop-down menu.
The exam is offered through NHA-affiliated schools, at nationwide PSI testing centers, and via live remote proctoring (LRP).
Individual Registration
When your registration is complete and the $117 examination fee is accepted, contact PSI Services to select your testing date and location for on-site examinations or your testing date for remote proctored examinations. You have six months from the date of registration to schedule your test. If you do not take your exam in six months, the exam cost is forfeited, and you must register and pay for the exam again.
Sponsored Registration
From your NHA account, select the CMAA exam, agree to the attestation, and select your exam date. Available exam dates are highlighted in blue on the displayed calendar. Select your exam date and click on the "continue" button. After answering additional questions, finalize your application on the checkout menu.
Sponsored exams may have pre-purchased materials, exams, or discounts available to you, including the exam fee. Ask your sponsoring organization for information on what is included and if you're responsible for the $117 exam fee. If you are required to pay the fee, submit your payment with your registration.
Test Day
Test day requirements differ slightly between the two delivery methods (in-person testing or Live Remote Proctoring). Both formats require a valid, government-issued ID and two No. 2 pencils.
In-person Testing
You will be given two pieces of scratch paper before the exam begins. After the exam begins, breaks are at the discretion of the proctor. If you need a break, contact the proctor and follow the directions.
Study materials, guides, cellphones, calculators, and personal items are not allowed inside the testing area, including food or drinks. If you have a medical or physical accommodation, the accommodation request form must be completed and approved before reporting to the testing facility.
Stay at your station until the proctor releases you when you finish your exam. You will be asked to give the proctor your scratch papers, after which you will be free to go.
Live Remote Proctoring
Before you sign on to check in for your exam, clear your workspace of everything but your ID, two pieces of blank paper, a writing utensil, a keyboard, and a mouse. There should be nothing on or around your workspace, including cell phones, recording devices, water bottles, drinks, or food.
You will need to conduct a test of your equipment, ensuring the web cam and microphone are working and your internet is stable. Disconnect extra screens if you have them; you are prohibited from using more than one monitor. If your laptop is connected to another monitor, your laptop must remain closed during your exam.
If you share your space with someone, let them know they cannot come in or around your work area during your exam. Someone walking into your testing area is grounds for dismissal.
When you sign on for your exam, you will be asked to present your government-issued ID to the proctor, and then the front and back of your scratch paper and writing utensil. The proctor will ask for you to move the camera around your workspace, and you may be asked to remove items from your desk, adjust lighting, or adjust your microphone and web cam. Once the proctor is satisfied with your testing space, your exam begins.
During your exam, you must keep the microphone and web cam on and remain in view of the web cam at all times. Breaks are not permitted during the exam. If you have a medical reason for requiring a break, you must register for on-site test administration and request accommodation.
When you finish your exam, you must tear up your scratch paper in view of the proctor. The pieces must be small enough to discourage anyone from piecing them together. The proctor will tell you when you are clear to sign off from the testing platform.
How the CMAA Exam is Scored
The CMAA exam score results are weighted. Your raw score (the number of questions answered correctly) is converted to a scaled score. Scaled scores range from 200 to 500, and the minimum passing score is 390.
If you take the exam at your institution, a preliminary report is provided when you finish the exam. If you take the exam via live proctor or at a PSI testing center, your preliminary report is available within 48 hours of completion. If you take the pencil-and-paper exam, your preliminary report is available ten days after your exam. Your official score report is posted to your NHA account, and an email notification is sent when your score is available.
Your official score report provides performance indicators on each of the domains. The performance indicators include "above passing standard," "near the passing standard," or "below the passing standard." The indicators are designed to provide you with the feedback necessary for self-improvement.
Retaking the CMAA Exam
If you did not pass the exam, you can attempt the CMAA test three more times with a 30-day waiting period between attempts. You will register and pay for each attempt on the NHA website. If you do not pass the test on your third attempt, you must wait one year before trying again.
Check Out Mometrix's CMAA Flashcards
Get complex subjects broken down into easily understandable concepts
Get Your Flashcards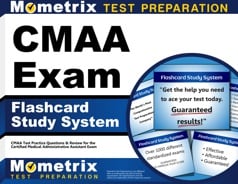 How to Study for the CMAA Exam
How to Study Effectively
Your success on CMAA test day depends not only on how many hours you put into preparing but also on whether you prepared the right way. It's good to check along the way to see whether your studying is paying off. One of the most effective ways to do this is by taking CMAA practice tests to evaluate your progress. Practice tests are useful because they show exactly where you need to improve. Every time you take a free CMAA exam practice test, pay special attention to these three groups of questions:
The questions you got wrong
The ones you had to guess on, even if you guessed right
The ones you found difficult or slow to work through
This will show you exactly what your weak areas are and where you need to devote more study time. Ask yourself why each of these questions gave you trouble. Was it because you didn't understand the material? Was it because you didn't remember the vocabulary? Do you need more repetitions on this type of question to build speed and confidence? Dig into those questions and figure out how you can strengthen your weak areas as you go back to review the material.
Answer Explanations
Additionally, many CMAA practice tests have a section explaining the answer choices. It can be tempting to read the explanation and think that you now have a good understanding of the concept. However, an explanation likely only covers part of the question's broader context. Even if the explanation makes sense, go back and investigate every concept related to the question until you're positive you have a thorough understanding.
Comprehend Each Topic
As you go along, keep in mind that the CMAA practice test is just that: practice. Memorizing these questions and answers will not be very helpful on the actual test because it is unlikely to have any of the same exact questions. If you only know the right answers to the sample questions, you won't be prepared for the real thing. Study the concepts until you understand them fully, and then you'll be able to answer any question that shows up on the test.
Strategy for CMAA Practice
When you're ready to start taking practice tests, follow this strategy:
Remove Limitations. Take the first test with no time constraints and with your notes and CMAA study guide handy. Take your time and focus on applying the strategies you've learned.
Time Yourself. Take the second practice test "open book" as well, but set a timer and practice pacing yourself to finish in time.
Simulate Test Day. Take any other practice tests as if it were test day. Set a timer and put away your study materials. Sit at a table or desk in a quiet room, imagine yourself at the testing center, and answer questions as quickly and accurately as possible.
Keep Practicing. Keep taking practice tests on a regular basis until you run out of practice tests or it's time for the actual test. Your mind will be ready for the schedule and stress of test day, and you'll be able to focus on recalling the material you've learned.
FAQs
How many questions are on the exam?
There are 135 questions on the CMAA exam.
How long is the exam?
The CMAA exam is timed at 2 hours and 15 minutes.
What is a passing score?
A passing score for the CMAA exam is 390.
How much does the exam cost?
The CMAA exam costs $117.
Can I take the exam remotely?
Yes, NHA provides a remote test-taking option, called Live Remote Proctoring (LRP).