The Clinical Nurse Leader (CNL) exam is administered by the Commission on Nurse Certification (CNC) to assess the knowledge and skills of prospective clinical nurse leaders.
Click "Start Test" above to take a free CNL practice test, and check out our premium-quality CNL test prep resources by clicking the links below!
Eligibility
To be eligible for this exam, you must be a graduate of an accredited CNL master's or post-master's program or be in your last term of said program.
Exam Outline Review
The CNL exam contains 140 multiple-choice questions, and you will be given a 3-hour time limit.
The exam is split into three domains.
I. Nursing Leadership (32%)
The questions in this domain assess your knowledge and skills pertaining to the following:
Ethics
Horizontal Leadership
Lateral Integration of Care Services
Patient Assessment
Healthcare Advocacy
Implementation of the CNL Role
II. Clinical Outcomes Management (23%)
The questions in this domain assess your knowledge and skills pertaining to the following:
Illness/Disease Management
Health Promotion and Disease Prevention and Injury Reduction/Prevention Management
Healthcare Policy
III. Care Environment Management (45%)
The questions in this domain assess your knowledge and skills pertaining to the following:
Interprofessional Communication and Collaboration Skills
Knowledge Management
Healthcare Systems/Organizations
Team Coordination
Healthcare Finance and Economics
Healthcare Informatics
Quality Improvement and Safety
Evidence-Based Practice
Check out Mometrix's Clinical Nurse Leader Study Guide
Get practice questions, video tutorials, and detailed study lessons
Get Your Study Guide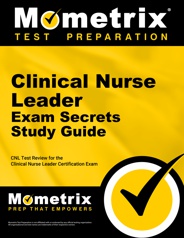 Registration
To register for the CNL exam, you must submit an application online via the CNC website. Your application must include proof-of-eligibility documents as well as the $425 exam fee.
Once your application is approved, you will receive a confirmation email with further information on how to schedule an exam appointment with Prometric.
Test Day
You should arrive about 30 minutes early to the testing center, which will allow enough time for the check-in process. This process involves checking your ID and signing a confidentiality form.
Once you are checked in, you will be asked to place all personal or prohibited items in a secure locker outside the testing area, and you will be given a piece of scratch paper and two pencils to take notes with during the exam.
Once you are ready, the proctor will lead you to the testing station and provide a brief introduction to the testing system before the exam begins.
How the Exam is Scored
You CNL exam score is determined using a scaled scoring system. This system takes the number of questions you answered correctly (your raw score) and converts it to a numerical score on a scale from 150 to 500. The minimum scaled score you need to pass is 350.
You will receive a score report before you leave the testing center.
Check out Mometrix's Clinical Nurse Leader Flashcards
Get complex subjects broken down into easily understandable concepts
Get Your Flashcards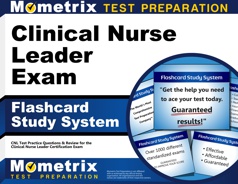 FAQs
How many questions are on the CNL exam?
There are 140 multiple-choice questions on the exam.
How long is the CNL exam?
The time limit for the exam is 3 hours.
What is the passing score for the CNL exam?
To pass the exam, you must achieve a scaled score of at least 350.
How much does the CNL exam cost?
The examination fee is $425.