The National Association of Legal Assistants (NALA) administers the Certified Paralegal (CP) examination to assess the core competencies of prospective certified legal assistants (CLA). Since the CLA and CP designations are generally interchangeable in the legal profession, we will refer to the CP designation here.
Click "Start Test" above to take a free CLA/CP practice test, and check out our premium-quality CLA/CP test prep resources by clicking the links below!
CLA/CP Eligibility
To be eligible for this exam, you must meet ONE of the following requirements:
You must be a graduate of a paralegal program that meets NALA criteria
You must hold a bachelor's degree in any field and have at least one year of experience as a paralegal
You must hold a high school diploma (or an equivalent) and have at least seven years of paralegal experience
CLA/CP Exam Outline
The Certified Paralegal exam contains 120 multiple-choice questions, 20 of which are unscored, and one essay assignment. NALA uses the unscored questions to validate questions for future versions of the exam.
The exam is split into two parts: a knowledge test and a skills test. You must take and pass the knowledge test before taking the skills test, and you must pass both tests to receive your CP certification.
Knowledge Test (100 points)
This test contains all of the multiple-choice questions and is timed at 3 hours. The questions are grouped into nine content categories:
1. United States Legal System (15 points)

Sources of law
Judicial system
Remedies
Administrative law
2. Civil Litigation (15 points)

Jurisdiction
Federal rules of civil procedure
3. Contracts (15 points)

Formation, rights, and duties
Enforcement and defenses
4. Corporate/Commercial Law (10 points)

Business organizations
Rights and responsibilities
Transactions
5. Criminal Law and Procedure (5 points)

Criminal law
Criminal procedure
6. Estate Planning and Probate (5 points)
7. Real Estate and Property (10 points)

Property rights and ownership
Transactions
8. Torts (10 points)

Intentional torts
Negligence
Strict liability
9. Professional and Ethical Responsibility (15 points)

American Bar Association (ABA) model rules of professional conduct
Unauthorized practice of law
Skills Test (30 points)
This test contains the written essay assignment and is timed at 2 hours. This assignment is designed to test your writing and critical thinking skills.
1. Writing (12 points)

Grammar
Spelling
Punctuation
Clarity of expression
2. Critical Thinking (18 points)

Reading comprehension
Analysis of information
Decision-making
Check Out Mometrix's CLA/CP Study Guide
Get practice questions, video tutorials, and detailed study lessons
Get Your Study Guide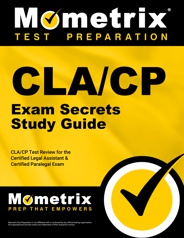 CLA/CP Exam Registration
To register for the exam, you must submit an application to NALA. This application should include proof-of-eligibility documents and the applicable application fee.
| Fee Type | Fee |
| --- | --- |
| Standard (NALA Member) | $325 |
| Standard (Non-member) | $375 |
| Paralegal Student (NALA Member) | $150 |
| Paralegal Student (Non-member) | $175 |
| Military (NALA member) | $240 |
| Military (Non-member) | $280 |

Once your application is approved, you will receive a confirmation email containing your Authorization to Test (ATT). You will also receive information about scheduling your exam with PSI. You must pay an additional testing center fee when scheduling your exam appointment.
Fee Type
Fee
Onsite Testing (Knowledge Test)
$67
Onsite Testing (Skills Test)
$60
Remote Testing (Knowledge Test)
$50
Partner Testing (Knowledge Test)
$20
Partner Testing (Skills Test)
Test Day
In-person Testing
You should arrive at the PSI testing center 15-30 minutes before the scheduled testing appointment to allow time for the check-in process. You will be asked to provide Authorization to Test and two forms of valid identification as soon as you arrive.
You will also be asked to store all personal items in a secure locker before entering the testing area.
Once the check-in process is complete and you are fully approved for testing, you will be led to the testing station and given a brief tutorial on the testing system.
Remote Testing
Knowledge test only
To take the Knowledge test remotely, you must use a laptop or desktop computer that has a functioning webcam, speakers, and a microphone.
When you check in to take the exam, the remote proctor will ask you to show proof of identification and to move your webcam around the room so that your testing area can be observed. Once the proctor has approved your testing area, they will walk you through the testing process and begin your exam.
How the CLA/CP Exam is Scored
The passing score for the Certified Paralegal exam is established using the Angoff method. This means that a panel of subject-matter experts has reviewed each exam question and determined its difficulty and point value.
As mentioned previously, you must receive a passing score on the Knowledge test before taking the Skills test. A passing score on the Knowledge test is 68, and a passing score for the Skills test is 18.
Your results for the Knowledge test will be available as soon as you complete the test, but your results for the Skills test will take 6-8 weeks to be calculated.
Retaking the CLA/CP Exam
If you do not pass the Knowledge or Skills test, you must wait at least 90 days from your initial attempt before applying for a retake.
Check Out Mometrix's CLA/CP Flashcards
Get complex subjects broken down into easily understandable concepts
Get Your Flashcards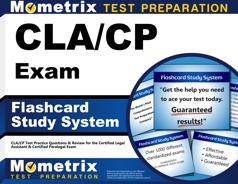 FAQs
Q
How many questions are on the CLA/CP exam?
A
There are 120 multiple-choice questions and one written essay on the exam.
Q
How long is the CLA/CP exam?
A
The time limit for the exam is 5 hours.
Q
What is the passing score for the CLA/CP exam?
A
The passing score for the Knowledge test is 68, and the passing score for the Skills test is 18.
Q
How much does the CLA/CP exam cost?
A
The standard examination fee is $325 for NALA members and $375 for non-members.