CLA/CP Exam
This article provides an overview of the CLA/CP exam. You'll find information to help you prepare for the exam, including registration details, what to bring with you during the day of the exam, what types of content will be assessed during the test, and more. Since the CLA and CP designations are generally interchangeable in the legal profession, we will refer to the CP designation in this article.
Exam Purpose and Background
Since 1976, the Certified Paralegal (CP) Program® has been an important way for the paralegal profession to establish core areas of competency and award the CP credential to those who successfully pass a standardized exam process. The certification is administered by the National Association of Legal Assistants (NALA).
Two-Step Exam Process
To earn the CP designation, a student must successfully complete a two-tiered process. The first is the Knowledge Exam. Once the Knowledge Exam is passed, the student can next sit for the second stage — the Skills Exam.
How to Register
Get more information and register online at https://www.nala.org/certification/certification-overview. Note: Be sure to complete and send the CP Online Transmittal Form with your application.
Costs/Payment Options
The CP exam fee is $250 for NALA members and $275 for non-members. This includes one attempt to pass both the Knowledge exam and the Skills exam. Those who don't pass either part of the exam can pay an additional nonrefundable fee of $60 per additional attempt for the Knowledge exam and an additional non-refundable fee of $60 per additional attempt to pass the Skills exam.
Check Out Mometrix's CLA/CP Study Guide
Get practice questions, video tutorials, and detailed study lessons
Get Your Study Guide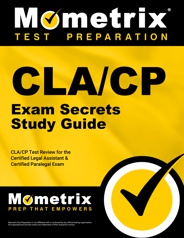 Times/Locations
When you register, you'll learn about specific times and locations available.
Test Duration
You'll have three hours to complete the CP Knowledge Exam.
What to Bring:
A form of Identification, showing your name, signature and photo (including IDs such as a passport, a driver's license, state/province ID, national ID or military ID):
What Not to Bring:
Electronic devices, including cell phones and calculators
Bags of any type
Any kind of drink or food
What to Expect During Your Exam
Format/Number of Questions
The exam will be taken via computer. The test consists of 100 questions.
Knowledge Exam Content Categories
There are a total of 100 possible points on the Knowledge Exam portion of the CP exam. Here are the areas of content you'll be assessed on during the Knowledge Exam, along with the approximate number of points that each area will contain on the exam.
Category 1: U.S. Legal System (15 Points) — Includes law sources, the judicial system, remedies and administrative law.
Category 2: Civil Litigation (15 Points) — Assesses knowledge of jurisdiction and federal rules of civil procedure.
Category 3: Contracts (15 Points) — Covers the formation, rights and duties of contracts, along with contractual enforcement and defenses.
Category 4: Corporate and Commercial Law (10 Points) —Includes business organizations, rights and responsibilities and transactions.
Category 5: Criminal Law and Procedure (5 Points) — Covers knowledge and understanding of the law and procedural elements in the criminal sphere.
Category 6: Estate Planning and Probate (5 Points) — Assesses understanding in the areas of estates, trusts and wills.
Category 7: Real Estate and Property (10 Points) — Looks at knowledge in the areas of property rights, ownership and other transactions.
Category 8: Torts (10 Points) — Reviews understanding in intentional torts, negligence and strict liability.
Category 9: Professional and Ethical Responsibility (15 Points) — Assesses knowledge of the American Bar Association model rules of professional conduct, along with unauthorized practice of law.
Skills Exam Content Categories
The Skills Exam consists of 30 total possible points. Here are the areas of content you'll be assessed on during the Skills Exam, along with the approximate number of points that each area will contain on the exam.
Category 1: Writing (12 Points) — Includes a review of grammar, spelling, punctuation and clarity of expression concepts.
Category 2: Critical Thinking (18 Points)— Assesses knowledge in the areas of reading and comprehension, information analysis, and decision-making.
Calculating Your Passing Score: The score required to pass each section is based on an extensive process involving input from a panel of industry experts. Your score and the score needed to pass will be given to you once you complete the exam.
Check Out Mometrix's CLA/CP Flashcards
Get complex subjects broken down into easily understandable concepts
Get Your Flashcards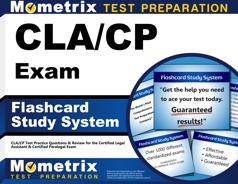 Additional Resources
As you prepare to take the CLA/CP exam, you have a range of other, valuable resources available to you from the Mometrix Academy. For a fee, you'll be able to access the valuable CLA/CP Study Guide, including videos and other exam preparation details. Plus, you'll be able to brush up on your recall and content command using a set of CLA/CP flashcards.
CLA/CP Study Guide
Mometrix Academy is a completely free CLA/CP test resource provided by Mometrix Test Preparation. If you find benefit from our efforts here, check out our premium quality CLA/CP Study Guide and CLA/CP Flash Cards to take your studying to the next level. Just click the CLA/CP study guide link below. Your purchase also helps us make even more great, free test content for test-takers.
Upgrade your studying with our CLA study guide and flashcards:
CLA/CP Study Guide
CLA/CP Flashcards