CHST Practice Test
The Board of Certified Professionals (BCSP) administers the Construction Health and Safety Technician (CHST) exam to certify those seeking part-time and full-time work in the field.
Click "Start Test" below to take a free CHST practice test!
Eligibility
To be eligible to take the CHST exam, you must work part-time or full-time in construction safety. You must also have at least three years of experience, with at least 35% of the job related to construction safety, health, and environmental practices.
Exam Outline Review
The CHST exam contains 200 multiple-choice questions and has a time limit of four hours.
The exam is split into four content domains, and the questions in each domain are split into two categories: Skills and Knowledge.
1. Hazard Identification and Control (57.1%)
The Knowledge questions in this domain evaluate the following:
The Globally Harmonized System of Classification and Labeling of Chemicals (GHS)
Basic testing and monitoring equipment
Principles of ergonomics
Basic safety through design
Requirements, usage, and limitations of personal protective equipment
Risks associated with multiple trades working in one work area simultaneously
Electrical hazards and controls
Caught-in/caught-between hazards and associated controls
Struck-by hazards and associated controls
Other common hazards and associated controls

Hot work
Excavations
Working in confined spaces
Working at heights
Rigging and hoisting
Operating cranes
Handling and storing materials
Housekeeping
Powder actuated tools
Hand and power tools
Exposure to asbestos
Exposure to lead
Exposure to noise
Exposure to silica
Exposure to radiation
Exposure to chemicals
Exposure to extreme temperatures
Exposure to vibration and impact
The Skills questions in this domain test your ability to develop hazard safety analyses, verify the effectiveness of corrective actions, prioritize hazards based on risk level, and address hazards over changing construction site conditions.
2. Emergency Preparedness and Fire Prevention (10.3%)
The Knowledge questions in this domain evaluate the following:
Common elements of response plans for environmental hazards
Proper fire protection and prevention methods
Universal precautions
Components of emergency action plans
Emergency response system
Potential first aid/medical needs
The Skills questions in this domain simply test your ability to plan for emergencies.
3. Safety Program Development and Implementation (17.1%)
The Knowledge questions in this domain evaluate the following:
Common components of site-specific safety plans
Basic risk management concepts
Applicable health and safety standards
Basic construction site conditions that may impact safety
Techniques for determining the root cause of incidents
Data gathering used to investigate incidents
Roles, responsibilities, and lines of authority related to safety management
Post-incident reporting and follow-up
Equipment inspection records
Worksite audit/assessment
Documentation of occupational injuries and illnesses
The Skills questions in this domain simply test your ability to apply relevant worksite condition standards, evaluate the safety impacts of construction means and methods, identify which health and safety programs are relevant, and identify incident and accident trends.
4. Leadership, Communication, and Training (15.5%)
The Knowledge questions in this domain evaluate the following:
BCSP Code of Ethics
Communication strategies
Available training delivery methods
Consulting with equipment manufacturers, suppliers, or subject matter experts
Appropriate behavior motivation methods
Information confidentiality
The Skills questions in this domain simply test your ability to coach personnel to correct unsafe behaviors, determine training requirements and delivery methods, access relevant current information, maintain all applicable documentation, develop site-specific safety training, and recognize situations that present imminent danger.
Check out Mometrix's CHST Study Guide
Get practice questions, video tutorials, and detailed study lessons
Get Your Study Guide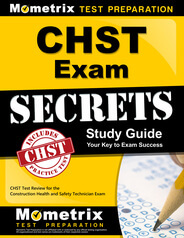 Registration
To register for the CHST exam, you must first create an online BCSP account. Through your account, you can then select "CHST" as your certification of choice and fill out the application. You will be asked to provide your contact information, proof of your BSCP-qualified credential, and your experience and education information.
Once the application is filled out, you will need to submit it along with the $140 application fee.
Once your application is approved, you will have a full year from the date of approval to register and sit for the exam. During registration, you will need to pay the exam fee of $300. You can schedule your exam at any time with Pearson VUE.
Test Day
On the day of your exam, you should arrive at the testing location 15-30 minutes before the exam is set to begin. Once you arrive, you must sign in and present your photo ID to the proctor. You will be photographed and asked to sign a roster and other rule forms.
Personal items are not allowed in the testing room, so they should be left at home or in your car. All electrical devices, including cell phones, are prohibited.
Just before the exam starts, you will receive a brief tutorial on the testing system. You will also be given everything you need to work out any calculations by hand (no calculator will be provided).
How the Exam is Scored
BCSP uses the modified-Angoff method and the Bookmark Standard Setting method to establish the scores for the CHST exam. They use these methods to ensure that your score is based entirely on your testing performance and does not rely on how well other test-takers performed.
You will get your results immediately after completing the exam. As long as you achieve the minimum cumulative score for the entire test, you will have passed, even if you did not pass all four domains individually.
Even though you don't need to pass each individual domain, your score report will show you how you performed on each one. This is useful for understanding your strengths and weaknesses, especially if you did not pass and need to retake the exam. Currently, the minimum passing score is 140 out of 200.
Check out Mometrix's CHST Flashcards
Get complex subjects broken down into easily understandable concepts
Get Your Flashcards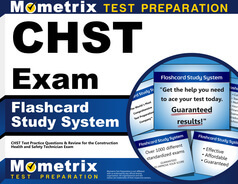 CHST Online Prep Course
If you are wanting to be fully prepared, Mometrix offers an online CHST prep course. The course is designed to provide you with any and every resource you might want while studying. The CHST course includes:
64 Lessons Covering Every Topic
Over 300 CHST Practice Questions
More Than 300 Electronic Flashcards
Money-back Guarantee
and More!
The CHST online prep course is designed to help any learner get everything they need to prepare for their CHST exam. Click below to check it out!
FAQs
How many questions are on the CHST exam?
There are 200 multiple-choice questions on the exam.
How long is the CHST exam?
The time limit for the exam is four hours.
What is the passing score for the CHST exam?
To pass the exam, you must achieve a score of at least 140.
How much does the CHST exam cost?
The application fee is $140, and the examination fee is $300 ($440 in total).
CHST Study Guide Customer Success Stories
Our customers love the tutorial videos from Mometrix Academy that we have incorporated into our CHST test study guide. The CHST study guide reviews below are examples of customer experiences.
I have a Masters degree in safety and this book is very well written with great tips on how tests are written and what to look for. It is well worth the money and covers a good span of material. Information is up to date and the book is well made and will hold up to studying nightly.
CHST Study Guide – Dane
Overall the product helped me prepared for the test by far than anything I was trying. It helped me understand with a complete description and walk-through as if I was in a classroom. I'm glad I found you guys and thanks again for really going into depth with the program management which was my biggest weakness.
CHST Study Guide – Customer
Study material was everything I expected and more. This guide cuts right into the important topics and leaves out the fluff. I really like how they even teach you how to study, like where to study, to strategies for questions that might get you stomped. I would highly recommend this study material to anyone studying for the CHST exam
CHST Study Guide – Colin
Study material contained in this handbook is excellent and has been helpful so that I can successfully pass the CHST course. I will definitely recommend this Study guide for those who are planning to test for the CHST program.
CHST Study Guide – Cid
I'm highly pleased with these products, I recommend these products to anyone sitting for this exam. I rate this product five out of five stars, the complicated is made easy to understand.
CHST Study Guide – William
I have purchased and used the CHST Exam secrets to prepare for that exam and was very impressed with how the information was laid out and as you say "fluff free". I passed that exam and also my CET. I now am working toward my OSHT and have purchased the OSHT Exam Secrets study guide due to my past experience. I think it is a great product you have and wanted to let you know.
CHST Study Guide – Doug
This is very comprehensible and simple reading material. The fact that the study guide explains the reason behind the answers makes the understanding much more clear. I'm very satisfied with the purchased material.
CHST Study Guide – Customer
I purchased the CHST Exam SECRETS Study Guide and from my first glance I was impressed on how the Mometrix Test Preparation Team had my success in mind. With a brief encouraging statement to how to use the study guide and what to expect I felt comfortable moving forward. Everything from test taking tip to the Special Report: Additional Bonus Material was in my opinion well written and easy to understand. This book has helped me in so many ways that I highly recommend it as a must have.
CHST Study Guide – Customer
This product is extremely helpful. It provides the basic information on a variety of subject matters. I am not the greatest at test taking so the way the information is laid out and the suggestions on test taking tips and secrets will definitely be beneficial. Thanks for taking the anxiety out of the process. Test taking anxiety is the biggest obstacle for me.
CHST Study Guide – Rachel
This study guide is perfect for what I need to prepare for the CHST exam. I am very excited to be able to start the journey to success. The book is a great resource to help me achieve that success. I am extremely pleased
CHST Study Guide – Mike