CHST Practice Test
There's always construction of some sort going on, which means we need professionals trained in preventing construction illness and injuries. That where the Construction Health and Safety Technician (CHST) exam comes in. The test, given by the Board of Certified Safety Professionals, awards certification for those seeking part-time and full-time work. We'll tell you about the test, and a study guide and flash card system that will you succeed.

What qualifications do I need to take the Construction Health and Safety Technician exam?
You must work part-time or full-time in construction safety. You must also have at least three years of experience, with at least 35 percent of the job related to construction safety, health and environmental practices.
How do I apply to take the test?
You can apply online after the Board of Certified Safety Professionals has processed your examination fee. Candidates must take the test within one year — the eligibility period.
It's test day. What time should I arrive? What should I bring to the test center?
Please arrive early on test day because if you're more than 15 minutes late, you won't be allowed to take the test and you'll lose your test fee. Please bring government identification, like a driver's license, that contains your picture and signature. Your name on your identification must exactly match your name on file with the Board of Certified Safety Professionals. Candidates can't bring any personal items, like electronic devices, jackets or hats, into the exam room. You also won't be able to access those items until after the test is over.
Check out Mometrix's CHST Study Guide
Get practice questions, video tutorials, and detailed study lessons
Get Your Study Guide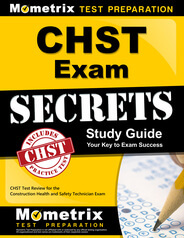 What are the fees associated with the Construction Health and Safety Technician exam?
There are several fees:
Application fee: $140
Exam fee: $300
Exam bundle (includes exam authorization, a self-assessment, and second test in the event of failure): $550
Renewal fee: $120
Is it easy to find a testing center to take the exam?
Tests such as this are important to you and your future. And we at Mometrix Test Preparation understand this. Therefore, we have created a few simple tools to make sure you are as prepared as possible for the SSAT.
We have a study guide and flashcards that are specific to the information on this test. These will give you an understanding of just what type of questions will be on the test and all of its sections. We make to style, format, and word this information and the sample questions included in a way that is similar to what you will see on test day. This way you will not be caught off guard by any question or knowledge expected of you.
Make sure to get your hands on these tools for your best testing experience yet.
What's on the test?
The test contains four knowledge areas, called domains. Under each domain, the test has "tasks" designed to assess the candidate's knowledge. The domains and tasks are:
Program management (52 percent of the test). Includes contract document review; developing safety plans and process review; understanding codes, standards, and best practices; and participating in incident investigations.
Worksite auditing (19 percent): Includes worksite assessments focusing on hazards and non-compliance; recommending solutions for existing and potential hazards; and facilitating safety meetings.
Training (21 percent): Includes identifying training needs and developing and delivering training programs.
Professional responsibility (8 percent): Includes maintaining accurate safety records and maintaining certification.
The test takes four hours to complete.
Check out Mometrix's CHST Flashcards
Get complex subjects broken down into easily understandable concepts
Get Your Flashcards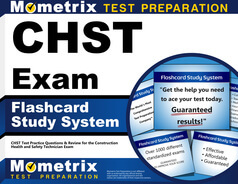 When will I know if I passed the Construction Health and Safety Technician exam?
You'll know that same day, before you leave the testing center. You must achieve a score of 116 out of 175 to pass the test.
You don't want to go into this test unprepared. That's where Mometrix can help you. There's a reason our study guides are sought after — they're written by professionals who know the test-taking field. The Construction Health and Safety Technician study guide will show you what the test is like and provides tips on how to pass it. Our flashcard system provides in-depth explanations for the questions you'll face.
It's an investment worth making.
CHST Study Guide
Mometrix Academy is a completely free CHST certification resource provided by Mometrix Test Preparation. If you find benefit from our efforts here, check out our premium quality CHST study guide to take your studying to the next level. Just click the CHST study guide link below. Your purchase also helps us make even more great, free content for test-takers.
CHST Study Guide Customer Success Stories
Our customers love the tutorial videos from Mometrix Academy that we have incorporated into our CHST test study guide. The CHST study guide reviews below are examples of customer experiences.
I have a Masters degree in safety and this book is very well written with great tips on how tests are written and what to look for. It is well worth the money and covers a good span of material. Information is up to date and the book is well made and will hold up to studying nightly.
CHST Study Guide – Dane
Overall the product helped me prepared for the test by far than anything I was trying. It helped me understand with a complete description and walk-through as if I was in a classroom. I'm glad I found you guys and thanks again for really going into depth with the program management which was my biggest weakness.
CHST Study Guide – Customer
Study material was everything I expected and more. This guide cuts right into the important topics and leaves out the fluff. I really like how they even teach you how to study, like where to study, to strategies for questions that might get you stomped. I would highly recommend this study material to anyone studying for the CHST exam
CHST Study Guide – Colin
Study material contained in this handbook is excellent and has been helpful so that I can successfully pass the CHST course. I will definitely recommend this Study guide for those who are planning to test for the CHST program.
CHST Study Guide – Cid
I'm highly pleased with these products, I recommend these products to anyone sitting for this exam. I rate this product five out of five stars, the complicated is made easy to understand.
CHST Study Guide – William
I have purchased and used the CHST Exam secrets to prepare for that exam and was very impressed with how the information was laid out and as you say "fluff free". I passed that exam and also my CET. I now am working toward my OSHT and have purchased the OSHT Exam Secrets study guide due to my past experience. I think it is a great product you have and wanted to let you know.
CHST Study Guide – Doug
This is very comprehensible and simple reading material. The fact that the study guide explains the reason behind the answers makes the understanding much more clear. I'm very satisfied with the purchased material.
CHST Study Guide – Customer
I purchased the CHST Exam SECRETS Study Guide and from my first glance I was impressed on how the Mometrix Test Preparation Team had my success in mind. With a brief encouraging statement to how to use the study guide and what to expect I felt comfortable moving forward. Everything from test taking tip to the Special Report: Additional Bonus Material was in my opinion well written and easy to understand. This book has helped me in so many ways that I highly recommend it as a must have.
CHST Study Guide – Customer
This product is extremely helpful. It provides the basic information on a variety of subject matters. I am not the greatest at test taking so the way the information is laid out and the suggestions on test taking tips and secrets will definitely be beneficial. Thanks for taking the anxiety out of the process. Test taking anxiety is the biggest obstacle for me.
CHST Study Guide – Rachel
This study guide is perfect for what I need to prepare for the CHST exam. I am very excited to be able to start the journey to success. The book is a great resource to help me achieve that success. I am extremely pleased
CHST Study Guide – Mike