CHPNA Practice Test
The Certified Hospice and Palliative Assistant (CHPNA) Exam evaluates the knowledge possessed by experienced hospice and palliative nursing assistants. CHPNA certification is a recognized quality marker by medical facilities, doctors, insurers, and the federal government.
This page will cover the CHPNA examination, what information the examination covers, the number and type of questions you can expect, the score you need to pass, and everything you need to register for the assessment.
Eligibility
The majority of people that take the exam are already working in a capacity as a CPHNA under the supervision of a facility and staff specifically designed to care for hospice or palliative nursing care.
Every candidate for the exam will need ONE of the following:
500 hours of hands-on practice completed in the 12 months before the examination date
1,000 hours in the most recent 24-month period while working under the direct supervision of a registered nurse in the field of hospice or palliative nursing
Check Out Mometrix's CHPNA Study Guide
Get practice questions, video tutorials, and detailed study lessons
Get Your Study Guide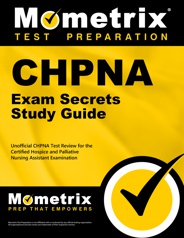 Exam Outline Review
There are 110 multiple-choice questions on the CHPNA exam, and you will have 2.5 hours to complete the exam. Out of the 110 questions, ten will be used solely for test-evaluation purposes and will not count toward your final score.
The exam is split into four content categories:
Patient Care: Activities of Daily Living
Patient Status and Environment
Psychosocial/Spiritual Care of the Patient and Family
Professional Skills
Each question on the exam will be further categorized into one of three levels of complexity:
Recall (Re): The ability to recall or recognize specific information
Application (Ap): The ability to comprehend, relate or apply knowledge to new or changing situations (the majority of the exam is comprised of application-level questions)
Analysis (An): The ability to analyze and synthesize information, determine solutions, and/or evaluate the usefulness of a solution
Here is each section of the exam in more detail:
1. Patient Care: Activities of Daily Living (32 questions)
The topics covered on this section of the exam are as follows:
Hygiene Assistance
Grooming Assistance
Ambulation/Mobility Assistance
Toileting Assistance
Nutrition/Hydration
2. Patient Status and Environment (28 questions)
The topics covered on this section of the exam are as follows:
Patient Condition Observations and Reporting
Facilitating Non-drug Treatments for Symptoms
Maintaining Infection Control
Providing and Maintaining a Supportive Patient/Family Environment
Identifying Physical Status Changes
Identifying Mental Status Changes
Identifying Functional Status Changes
Identifying Respiratory Status Changes
3. Psychosocial/Spiritual Care of the Patient and Family (20 questions)
The topics covered on this section of the exam are as follows:
Spiritual Care
Respecting Differences and Maintaining a Neutral Attitude
Identifying and Assisting Patient/Family Needs
Assuring Dignity and Honoring Patient/Family Choices upon Time of Death
Participating in Bereavement Follow-up
Assisting with Communication between Patient, Family, and Care Providers
Providing Support for Body Image Changes
Providing Support for Changes in Mental Status
Offering Opportunities to Enhance Socialization
Observing and Reporting Threats to Patient/Family Safety
4. Professional Skills (20 questions)
The topics covered on this section of the exam are as follows:
Interdisciplinary Collaboration
Ethics, Roles, and Responsibilities
Registration
To register for the exam, you will need to complete an application online on the HPCC website.
The examinations are given by appointment only. You can test Monday through Friday, with some appointments available in the evening hours and on Saturdays.
The examination is offered with live remote proctoring or at test centers, so you will need to be prepared to select your testing method during registration.
Fees
For HPNA members, the CHPNA exam costs $175.00. For those who are not HPNA members, the exam costs $225.00.
Individuals who are experiencing financial hardship due to loss of employment, decreased work hours, or significant pay reductions may qualify for a modification of the fees for the exam.
Test Day
To be admitted to the testing center when you arrive, it is important that you remember to bring TWO forms of identification. Your primary form of ID must contain your name, photo, and signature (e.g., a driver's license, state-issued ID, or passport). Your secondary ID is only required to have your name and signature (e.g., a social security card, credit card, or student ID card).
If you are doing the remote live proctor examination, you will still need these forms of identification. You will be asked to hold up your identification to the camera so the proctor is able to validate them.
In-Person Testing
There are some specific items that are not allowed into the testing room:
Watch
Wallet
Keys
Hat
Scarf
Heavy clothing or hooded sweatshirt or jacket
Electronic devices like tablets, phones, or iPads
Food or drink
Smoking/vaping devices
Backpacks, tote bags, or purses
Pencils (you will be provided with one)
Scratch paper (you will be provided with a sheet of paper)
There are just a few simple rules to keep in mind, and you will be reminded of these when you arrive. The first is that when the test is completed, you must turn the scratch piece of paper you were given back in to the proctor. If you crumple, tear, or fail to return the paper, you will not receive your scores for the exam.
The second is that you are not allowed to take any notes or written materials out of the testing center. Doing so will terminate your exam score immediately.
The third is that you may not ask questions about the contents of the exam at any point during the testing period.
Live Remote Proctoring
If you are taking the exam remotely, there are some technical requirements that you must meet:
A PC or MAC computer or laptop
An up-to-date 64-bit operating system (Windows 8.1 or higher, or macOS 10.15 or higher)
Google Chrome browser
A camera/webcam that is capable of a 360-degree scan of your room
Screen resolution of 1368 x 769 or higher
A microphone
An internet connection of 300 KB/sec minimum (download and upload speed)
You are allowed one pencil and a single sheet of scratch paper. The proctor will ask you to show both sides of the paper before you begin as well as after the exam is complete. At the end of the exam, you will be asked to properly destroy the paper in view of the camera.
Other than the pencil and paper, no other items are allowed, including electronic devices (other than those listed in the technical requirements) and food.
Once the exam begins, you cannot allow anyone else to enter your testing room, and you must inform the proctor if you need to take any breaks.
CHPNA Exam Scores
The passing score for the CHPNA exam is a scaled score of 75.
Scaled scores provide a consistent scale of measurement for each testing administration. The scaled scores also give more credit for questions that are considered to cover more difficult content than it does for questions considered to be easier to answer.
Receiving Your Scores
If you take the test at a testing center, you will be instructed to see the proctor for your score results. If you take the remotely proctored test, your score will be delivered to you via the email address you gave when you register for the exam.
Retaking the Exam
If you do not meet the passing score requirements, you may re-apply to take the test during the next available testing window. There are no limitations on how many times you can take the test.
Check Out Mometrix's CHPNA Flashcards
Get complex subjects broken down into easily understandable concepts
Get Your Flashcards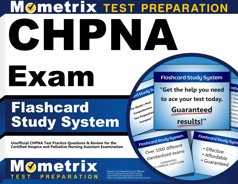 How to Study for the CHPNA Exam
How to Study Effectively
Your success on CHPNA test day depends not only on how many hours you put into preparing but also on whether you prepared the right way. It's good to check along the way to see whether your studying is paying off. One of the most effective ways to do this is by taking CHPNA practice tests to evaluate your progress. Practice tests are useful because they show exactly where you need to improve. Every time you take a free CHPNA exam practice test, pay special attention to these three groups of questions:
The questions you got wrong
The ones you had to guess on, even if you guessed right
The ones you found difficult or slow to work through
This will show you exactly what your weak areas are and where you need to devote more study time. Ask yourself why each of these questions gave you trouble. Was it because you didn't understand the material? Was it because you didn't remember the vocabulary? Do you need more repetitions on this type of question to build speed and confidence? Dig into those questions and figure out how you can strengthen your weak areas as you go back to review the material.
Answer Explanations
Additionally, many CHPNA practice tests have a section explaining the answer choices. It can be tempting to read the explanation and think that you now have a good understanding of the concept. However, an explanation likely only covers part of the question's broader context. Even if the explanation makes sense, go back and investigate every concept related to the question until you're positive you have a thorough understanding.
Comprehend Each Topic
As you go along, keep in mind that the CHPNA practice test is just that: practice. Memorizing these questions and answers will not be very helpful on the actual test because it is unlikely to have any of the same exact questions. If you only know the right answers to the sample questions, you won't be prepared for the real thing. Study the concepts until you understand them fully, and then you'll be able to answer any question that shows up on the test.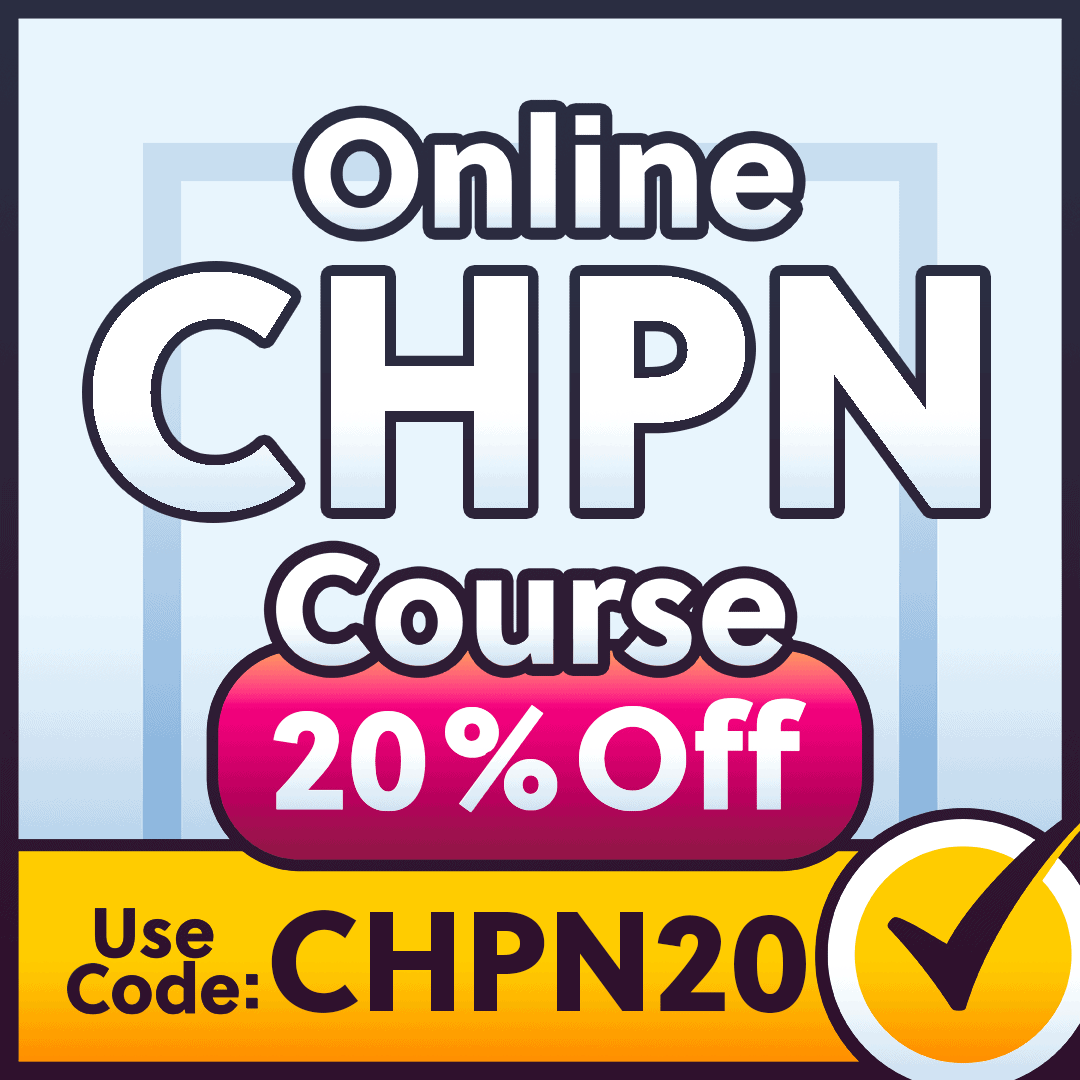 Strategy for CHPNA Practice
When you're ready to start taking practice tests, follow this strategy:
Remove Limitations. Take the first test with no time constraints and with your notes and CHPNA study guide handy. Take your time and focus on applying the strategies you've learned.
Time Yourself. Take the second practice test "open book" as well, but set a timer and practice pacing yourself to finish in time.
Simulate Test Day. Take any other practice tests as if it were test day. Set a timer and put away your study materials. Sit at a table or desk in a quiet room, imagine yourself at the testing center, and answer questions as quickly and accurately as possible.
Keep Practicing. Keep taking practice tests on a regular basis until you run out of practice tests or it's time for the actual test. Your mind will be ready for the schedule and stress of test day, and you'll be able to focus on recalling the material you've learned.
Online CHPN Prep Course
If you want to be fully prepared, Mometrix offers an online CHPN Prep Course. The course is designed to provide you with any and every resource you might want while studying. The CHPN Course includes:
Review Lessons Covering Every Topic
550+ CHPN Practice Questions
More than 300 Digital Flashcards
Money-back Guarantee
Free Mobile Access
The CHPN Prep Course is designed to help any learner get everything they need to prepare for their CHPN exam. Click below to check it out!
FAQs
How many questions are on the exam?
There are 110 questions on the CHPNA exam, ten of which are unscored pretest questions.
How long is the exam?
The CHPNA exam has a time limit of 2.5 hours.
What types of questions are on the exam?
All of the questions on the CHPNA exam are multiple-choice.
What is a passing score for the exam?
The passing score for the CHPNA exam is a 75.
When will I receive my scores for the exam?
You will receive a pass/fail screen immediately following the exam, but a more detailed CHPNA score report will immediately emailed to you.
How much does the exam cost?
The CHPNA exam costs $175.00 for HPNA members and $225.00 for non-members.