The Certified Hospice and Palliative Nurse (CHPN) examination was developed by the Hospice and Palliative Credentialing Center (HPCC) to assess the knowledge and skills of experienced hospice and palliative registered nurses.
Click "Start Test" above to take a free CHPN practice test!
CHPN Exam Eligibility
To be eligible for the exam, you must meet all of the following requirements:
You must hold a current and unencumbered RN license.
You must have at least 500 hours of hospice and palliative nursing practice within the last year, or 1,000 hours within the last 2 years.
CHPN Exam Outline
The CHPN exam contains 150 multiple-choice questions, 15 of which are unscored, and you will be given a 3-hour time limit. The 15 unscored questions are used by the test administrators to validate questions for future versions of the exam.
The exam is split into five content categories:
Patient Care – Assessment and Planning (25 scored questions)
Patient Care – Pain Management (26 scored questions)
Patient Care – Symptom Management (28 scored questions)
Support, Education, and Advocacy (28 scored questions)
Practice Issues (28 scored questions)
Check Out Mometrix's CHPN Study Guide
Get practice questions, video tutorials, and detailed study lessons
Get Your Study Guide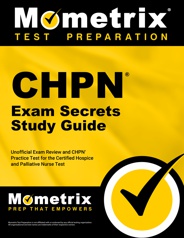 CHPN Exam Registration
To register for the exam, you must first submit an application online or by mail.
To submit your online application, visit the HPCC website and select "CHPN" as your exam. You will then receive instructions on how to apply. To submit an application by mail, you must print out and fill out an application form and mail it to PSI.
Regardless of your application method, you must send the $415 application fee along with your application form. HPNA members are only required to pay $285.
Test Day
In-person Testing
On the day of the exam, be sure to bring the Authorization to Test supplied by the AHA with you. It carries the unique identification number needed to take the CHPN exam and is necessary for testing room admission.
You should report to the assigned PSI test center 30 minutes before the scheduled testing time for computer administration. If you are participating in a special administration, you are required to check in at the assigned testing room at the time specified on the confirmation notification. The CHPN test will begin no later than one hour after all scheduled candidates have checked in and taken their seats.
If you arrive more than 15 minutes after the designated testing time, you will not be able to take the exam. If you fail to appear for an exam without providing the required two business days' notice, your exam fees will be forfeited.
Remote Testing
On the day of the exam, you must complete the check-in process within 30 minutes of your scheduled appointment time. Before your exam can begin, the proctor will ask you to download the secure browser, complete a system check of your computer, test your microphone and web camera, and scan your testing area using your computer's camera. Finally, you will present your ID and have your photograph taken.
Your camera and microphone must remain on during the exam. Your desk must be clean, with only 2 pieces of blank paper and a writing utensil accessible. You can only use one monitor during the exam; extra monitors need to be unplugged. Once your check-in is complete and your testing area meets approval, your exam will begin.
How the CHPN Exam is Scored
Your CHPN score is calculated using a scaling method. This method takes your raw score, which is the number of questions you answered correctly, and converts it to a numerical scaled score ranging from 0 to 99. A passing score is anything above 75.
You will receive your score report before you leave the testing center for in-person testing, and remote testers will receive their score report within 24 hours.
Retaking the CHPN Exam
If you fail the exam and wish to retake it, you may reapply at any time. There is no limit to how many times you can take the CHPN exam.
Check Out Mometrix's CHPN Flashcards
Get complex subjects broken down into easily understandable concepts
Get Your Flashcards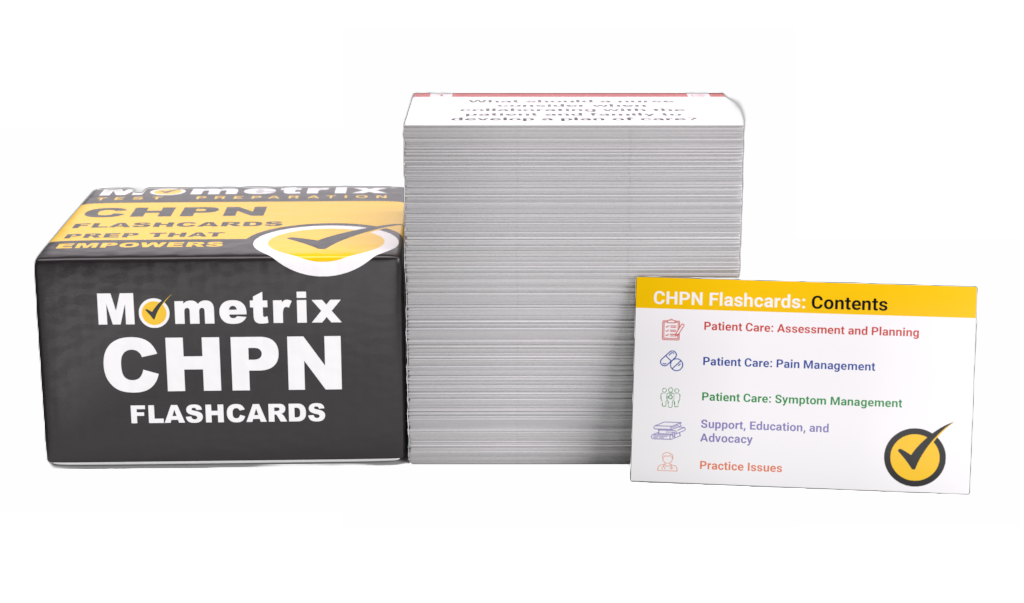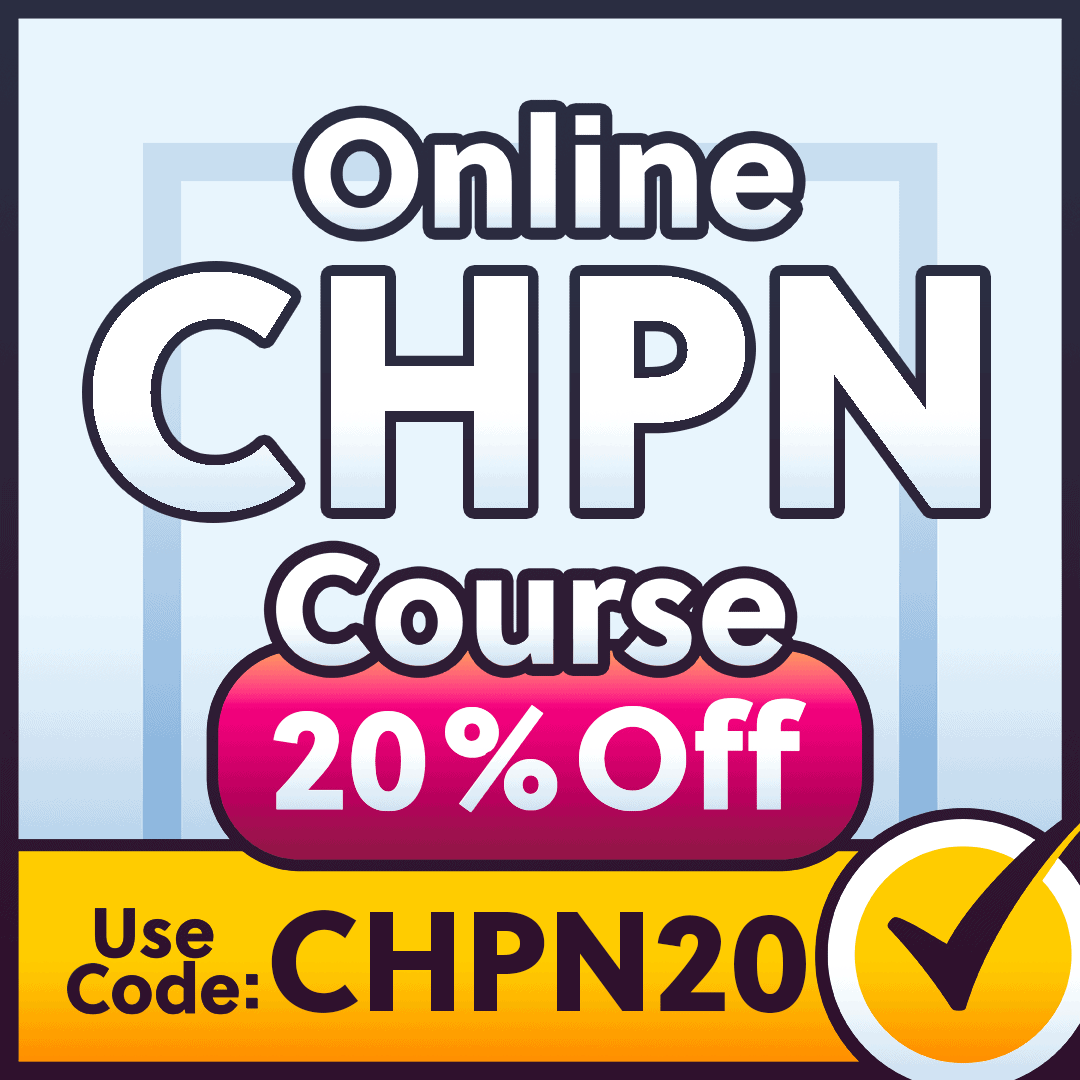 Online CHPN Prep Course
If you want to be fully prepared, Mometrix offers an online CHPN prep course. The course is designed to provide you with any and every resource you might want while studying. The CHPN course includes:
Review Lessons Covering Every Topic
600+ CHPN Practice Questions
More than 350 Digital Flashcards
Money-back Guarantee
Free Mobile Access
and More!
The CHPN prep course is designed to help any learner get everything they need to prepare for their CHPN exam. Click below to check it out!
FAQs
Q
What is the CHPN pass rate?
A
The pass rate for this exam is 69% for first-time test-takers.
Q
How many questions are on the CHPN exam?
A
There are 150 multiple-choice questions on the exam.
Q
How long is the CHPN exam?
A
The time limit for the exam is 3 hours.
Q
What is the passing score for the CHPN exam?
A
To pass the exam, you must achieve a minimum scaled score of 75.
Q
How much does the CHPN exam cost?
A
The examination fee is $285 for HPNA members and $415 for non-members.