Child Life Exam
Passing the child life exam certifies you for a five-year period to practice as a certified child life specialist (CCLS). This exam is designed to test the skills and knowledge that professionals in this field deem necessary to competent performance.
Eligibility
Applicants for the exam must have:
A Bachelor's degree from an accredited institution
Completed 10 college courses in:

Child life course taught by a CCLS
Child development courses
Family Systems course
Play course
Loss/bereavement or Death/dying course
Research course
Three additional courses in related subjects

Completed 600 hours of a child life clinical internship supervised by a CCLS
The application process includes the verification of these requirements and other information. A $75 fee is also due at that time. Once your application has been approved you will be notified and allowed to register for the certification exam.
Check out Mometrix's Child Life Study Guide
Get practice questions, video tutorials, and detailed study lessons
Get Your Study Guide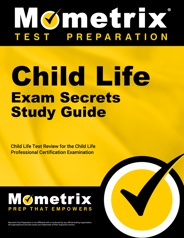 What Should I Bring?
Prepare to arrive early to the testing site. Late arrivals will not be given any excuse for not finishing the exam within the allotted amount of time.
You will need to bring your admission or confirmation document with you as well as a valid government issued photo ID. These items will be used for check in. These include:
Driver's license
Passport
Military ID card
The test is administered via computer, with all the necessary testing material provided for you. Therefore, any personal items are not necessary and discouraged in the testing room. This includes any electronic devices, calculators, food and drinks, and study material.
What Is Covered?
The test contains 150 multiple-choice questions. You are given a total of four hours to complete it.
It is broken into three main domains, each with several tasks included:
Domain 1: Professional Responsibility (45 questions)
Maintain professional standards of practice through adherence to ethical guidelines
Promote professional relationships
Educate others to promote awareness of child and family needs
Participate in choosing and training child life volunteers
Domain 2: Assessment (45 questions)
Obtain and use relevant data to develop care plans
Identify developmental factors and their implications
Identify psychosocial factors and their implications
Domain 3: Intervention (60 questions)
Provide support for the specific needs of child and family
Establish the use of advocacy skills for child and family
Provide educational opportunities to meet child and family needs
Encourage efforts to reduce anxiety and fear
Teach child and families positive coping strategies
Facilitate play to enhance learning and natural development
How Is It Scored?
At the testing center you will be given an unofficial score report. Scores will be subjected to statistical analysis. Afterward, your official score will be released to you in your ACLP user profile.
If you pass the exam you will not see a numerical score value, only that you have passed. You will receive a wall certificate and information to maintain your CCLS credentials shortly after you have taken and passed the exam.
However, if you do not pass the exam, you will receive a scaled numerical score as well as a percentage of correct answers to help you understand what you will need to focus on for the retest.
How To Prepare?
As with any important upcoming test, it is imperative that you obtain a few study materials to make sure that you understand the test material and how the test will be structured.
Here at Mometrix, we have the perfect study guide and set of flashcards for you. These will give you all the information needed along with sample questions that are phrased and structured just as they will be on the exam itself. Let us help you succeed, it's all we do.
Check out Mometrix's Child Life Flashcards
Get complex subjects broken down into easily understandable concepts
Get Your Flashcards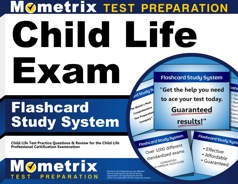 Child Life Study Guide
Mometrix Academy is a completely free Child Life test resource provided by Mometrix Test Preparation. If you find benefit from our efforts here, check out our premium quality Child Life Study Guide and Child Life Flash Cards to take your studying to the next level. Just click the Child Life study guide link below. Your purchase also helps us make even more great, free test content for test-takers.
Upgrade your studying with our Child Life study guide and flashcards:
Child Life Study Guide
Child Life Flashcards
Child Life Study Guide Customer Success Stories
Our customers love the tutorial videos from Mometrix Academy that we have incorporated into our Child Life test study guide. The Child Life study guide reviews below are examples of customer experiences.
This product shipped in a timely manner and the company has been very easy to work with. The book entails helpful tips and tricks as well as educational information to help me prepare for the exam.
Child Life Study Guide – Peyton
Great resource to help me study for the child life certification exam. I would recommend this book to any child Life new grad.
Child Life Study Guide – Mike
This book was a great study guide for my Child Life Certification Exam. I felt like it hit all the basics that I needed to know as far as concepts. My favorite part of the book was the Practice Exam. It was my favorite because it gave me an idea of the types of questions that would be on the exam and how the questions were formatted.
Child Life Study Guide – Customer
I came across your product while researching for my girlfriend different sources for the Child Life certification exam. I was so thrilled when I found this study guide you offer. Immediately ordered once I read everything about it and she was so grateful. It has been a huge help in her preparation for, what is/can seem like, a very daunting test. You have helped her chase her dreams and I have no doubt in her success in this test with the help of your products. We will be sure to let you all know the success in the test! Thanks for your hearts behind what you do.
Child Life Study Guide – Michael