CHFM Practice Test
Managing a healthcare facility is a big job. These professionals must be skilled in areas as diverse as administration, grounds keeping and facility management. Job responsibilities could include code compliance, maintenance and operations, and managing finances. They'll need to understand HVAC, electrical and plumbing systems, and be comfortable handling budgets and soliciting bids from vendors.
This isn't a job that just anyone can do. That's why professionals take the Certified Healthcare Facility Manager exam, a test administered by the American Hospital Association Certification Center. The test helps assess a candidate's readiness to work in healthcare facility management. What's on this difficult test? What study tools are available to help candidates prepare? Let's take a look.

How many questions are on the Certified Healthcare Manager exam?
There are 110 multiple-choice questions on the exam. Of those, 100 questions are scored and 10 are not.
How much time do I have to complete the exam?
Candidates have two hours to complete the test.
What are the eligibility requirements for candidates who want to take the test?
Candidates must meet one of these three criteria:
Hold a bachelor's degree plus three years' experience in associated engineering, three years in a healthcare setting, and three years in a healthcare setting as a manager, supervisor or administrator.
Hold an associate degree plus five years in associated engineering, with three of those years in a healthcare setting. Five years in a healthcare setting as a manager, supervisor or administrator.
High school diploma or equivalent plus seven years in associated engineering experience, three years of which must have been in a healthcare setting; and including Five years in a healthcare setting as a manager, supervisor or administrator.
Check out Mometrix's CHFM Study Guide
Get practice questions, video tutorials, and detailed study lessons
Get Your Study Guide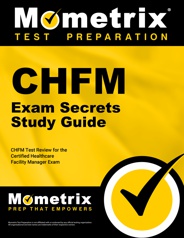 Where can I take the Certified Healthcare Manager exam?
The American Hospital Association Certification Center has contracted with a vendor to deliver the exam by computer at one of its more than 200 testing centers across the United States. Candidates can also take the exam at certain conferences or meetings. Candidates may take the test at 9 a.m. or 1:30 p.m. Monday through Saturday, excluding some holidays.
What is the test fee?
Candidates who are a member of the American Society for Healthcare Engineering or other American Hospital Association membership group pay $275. Nonmembers pay $425.
What's on the test?
In general, candidates can except questions in three cognitive levels — Recall, Application and Analysis. There are five content areas:
Compliance contains 25 items.
Planning, design, and construction has 18 items.
Maintenance and operations contain 28 items.
Finance has 15 items.
Administration has 14 items.
What is the rescheduling policy for the Certified Healthcare Manager exam?
Candidates may reschedule an exam once at no charge. A candidate may reschedule a second time but will pay a $100 rescheduling fee.
What type of identification should I bring on test day?
Candidates should bring their test confirmation notice on the day of the exam. Additionally, candidates must bring two forms of identification. A current, valid, government issued ID, such as a driver's license or state identification card with a photograph, are examples of acceptable primary ID. Secondary forms of identification must contain the candidate's name and signature. A social security card and employment IDs can be used.
What items are prohibited from being brought into the test room?
There's an easy way to remember the prohibited items list — don't bring electronics or personal belongings into the testing center. That include certain clothing items, like hats and coats. Don't bring any electronics, like mobile phones. You're not allowed to bring your own pencils into the test room; candidates will receive pencils at check-in.
Check out Mometrix's CHFM Flashcards
Get complex subjects broken down into easily understandable concepts
Get Your Flashcards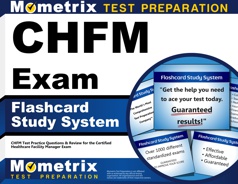 Can I bring my own calculator?
Yes, provided it's a nonprogrammable calculator.
How is the Certified Healthcare Manager exam scored?
The test is scored pass/fail. Candidates who take the test via computer will generally receive their results before leaving the test center.
This is the career I've always wanted. What are the best test preparation materials I can get?
Mometrix has everything you need. We're a test preparation company that uses professionals to create our preparation materials. Our CHFM Exam study guide will walk you through the test-taking techniques you'll need to know as you study for the Certified Healthcare Manager exam. Our CHFM Exam flashcards are equally as valuable. They're a handy tool that makes studying portable because you can look at one on several questions wherever you are — and have the answers at your fingertips. These are excellent resources to help prepare you for one of the biggest tests of your life.
Upgrade your studying with our CHFM study guide and flashcards:
CHFM Study Guide Customer Success Stories
Our customers love the tutorial videos from Mometrix Academy that we have incorporated into our CHFM test study guide. The CHFM study guide reviews below are examples of customer experiences.
This study guide is very useful and a great study tool. I also purchased the flashcards which are extremely helpful and these two together compliment the study process.
CHFM Study Guide – Amy
This book provides exactly what it says it will at an incredibly low price. A supremely concise and efficient learning power-pack!
CHFM Study Guide – Jason
The study guide has a lot of useful info and it's easy to read through. I have been studying lots of different materials and this has in compacted into one easy to read study guide. Much thanks
CHFM Study Guide – Frankie
This book is an excellent study tool. The practice questions and explanation of the answers are the best and most useful part of the book.
CHFM Study Guide – Armand
We are both impressed with the quality of the information. It is written in clear, easy to understand information that allows the reader to more easily absorb the material. The sections are broken down in a common sense manner that flows a natural path from one subject to the next.
CHFM Study Guide – Mary
I'm an architect by profession, and have taken the position as Facility Director for a former client's facility. The exam and associated skills I see as essential for success in this new role.Aside from the exam study benefit, I'm using the information to improve my current job skills and performance.
CHFM Study Guide – Customer
I'm very pleased with the product. I'm getting ready for my exam and I would rate this product at 5. I would highly recommend this product to anyone that's interested in pursuing a career as CHFM and getting their certification. Keep up the good work
CHFM Study Guide – Customer
I purchased this to prep for the CHFM exam and I'm impressed with the wide range of information contained in it. I would highly recommend it. After having read through it I can honestly state I feel much more confident about the exam.
CHFM Study Guide – Jeffrey
I have read the book and find that all subjects are straight to the point with no fluff. Just how I want the information!
CHFM Study Guide – Customer
This is a good study guide that eliminates all of the unnecessary verbiage and give you the facts. I highly recommend it.
CHFM Study Guide – Mika