CHES Practice Test
The Certified Health Education Specialist (CHES) exam was created by the National Commission for Health Education Credentialing (NCHEC) to measure knowledge in eight major subjects for health education specialists.
This page will cover the CHES exam, what information the examination covers, the number and type of questions you can expect, the score you need to pass, and everything you need to register for the assessment.
CHES Exam Eligibility
To be eligible to take the CHES exam, you must meet the first requirement listed below AND meet either requirement 2a or 2b:
1.
You must have at least a bachelor's degree from an accredited institution of higher education.
2a. You must have majored in health education.
2b. You must have obtained a minimum of 25 semester hours or 37 quarter hours of coursework that specifically covers the Eight Areas of Responsibility and Competency for Health Education Specialists.
CHES Exam Outline
The CHES exam contains 165 multiple-choice questions and has a time limit of 3 hours to complete.
The exam is split into eight areas of responsibility.
Assessment of Needs and Capacity (17%)
Planning (13%)
Implementation (15%)
Evaluation and Research (12%)
Advocacy (12%)
Communication (12%)
Leadership and Management (6%)
Ethics and Professionalism (12%)
Check out Mometrix's CHES Study Guide
Get practice questions, video tutorials, and detailed study lessons
Get Your Study Guide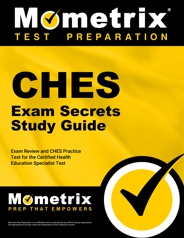 How the CHES Exam is Scored
There is no set passing score for the CHES, meaning that the number of correct responses needed to obtain a passing score will vary slightly for each person. Your score is based on the Modified Angoff method, which means that your score is based entirely on your performance and is not based on how well other test-takers did.
Once you have completed the exam, your proctor will provide you with a score report that simply indicates "pass" or "fail" status, and may provide more detailed information about your scores per content category.
Retaking the CHES Exam
If you do not pass the exam on your first try, you are permitted to take the exam again, but you must wait until the next testing cycle. If you retake the exam during the next available testing cycle, you will be given the opportunity to pay a reduced exam fee.
Check out Mometrix's CHES Flashcards
Get complex subjects broken down into easily understandable concepts
Get Your Flashcards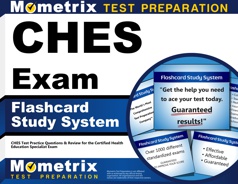 How to Study for the CHES Exam
How to Study Effectively
Your success on CHES test day depends not only on how many hours you put into preparing but also on whether you prepared the right way. It's good to check along the way to see whether your studying is paying off. One of the most effective ways to do this is by taking CHES practice tests to evaluate your progress. Practice tests are useful because they show exactly where you need to improve. Every time you take a free CHES exam practice test, pay special attention to these three groups of questions:
The questions you got wrong
The ones you had to guess on, even if you guessed right
The ones you found difficult or slow to work through
This will show you exactly what your weak areas are and where you need to devote more study time. Ask yourself why each of these questions gave you trouble. Was it because you didn't understand the material? Was it because you didn't remember the vocabulary? Do you need more repetitions on this type of question to build speed and confidence? Dig into those questions and figure out how you can strengthen your weak areas as you go back to review the material.
Answer Explanations
Additionally, many CHES practice tests have a section explaining the answer choices. It can be tempting to read the explanation and think that you now have a good understanding of the concept. However, an explanation likely only covers part of the question's broader context. Even if the explanation makes sense, go back and investigate every concept related to the question until you're positive you have a thorough understanding.
Comprehend Each Topic
As you go along, keep in mind that the CHES practice test is just that: practice. Memorizing these questions and answers will not be very helpful on the actual test because it is unlikely to have any of the same exact questions. If you only know the right answers to the sample questions, you won't be prepared for the real thing. Study the concepts until you understand them fully, and then you'll be able to answer any question that shows up on the test.
Strategy for CHES Practice
When you're ready to start taking practice tests, follow this strategy:
Remove Limitations. Take the first test with no time constraints and with your notes and CHES study guide handy. Take your time and focus on applying the strategies you've learned.
Time Yourself. Take the second practice test "open book" as well, but set a timer and practice pacing yourself to finish in time.
Simulate Test Day. Take any other practice tests as if it were test day. Set a timer and put away your study materials. Sit at a table or desk in a quiet room, imagine yourself at the testing center, and answer questions as quickly and accurately as possible.
Keep Practicing. Keep taking practice tests on a regular basis until you run out of practice tests or it's time for the actual test. Your mind will be ready for the schedule and stress of test day, and you'll be able to focus on recalling the material you've learned.
FAQs
How many questions are on the exam?
There are 165 multiple-choice questions on the CHES exam.
How long is the exam?
The CHES exam is timed at 3 hours.
What is a passing score?
There is no set passing score for the CHES. This exam is scored based on your individual performance and does not take other test-takers' results into account.
How much does the exam cost?
For those who apply under normal registration times, the CHES costs $330 for non-students and $280 for students. Registering early or late will reduce and increase the exam fee, respectively.
CHES Study Guide Customer Success Stories
Our customers love the tutorial videos from Mometrix Academy that we have incorporated into our CHES study guide. The CHES study guide reviews below are examples of customer experiences.
The book has all the information I need to study for the CHES. I graduated 6 years ago from grad school and was worried that I wouldn't remember anything. I'm so glad I purchased this book. Gives me more confidence to take the exam.
CHES Study Guide – Hannah
Used it and passed on the first try. A great guide for what to study for.
CHES Study Guide – Keena
Studying for the CHES has been made easier thanks to this book. It is clear and an easy read. Very easy to understand and follow, yet it presents information of substance. I am feeling much more adequately prepared as a result of using this study guide
CHES Study Guide – Customer
Great study guide. I like the repetition of themes in each section. Gives a sense of confidence and clarity of the material.
CHES Study Guide – Sunday
I am highly impressed with my purchase. I was expecting a big, bulky study book. It is light and easy to carry. It contains terms which I have seen before and others which I have not but offer a plausible definition for both. I also like the sample questions included.
CHES Study Guide – Amy
The study guide is thorough and well organized. I also love the extra bonus material provided. I recommend it and would buy it again.
CHES Study Guide – Customer
This study guide has been incredible so far! It presents the material in a clear and concise way which is great for studying and memorizing!
CHES Study Guide – Leslie
I am finding the study guide to be easy to use, clear answers and logically laid out. I've used study guides before for tests, this one is good.
CHES Study Guide – Customer
I've been enjoying this study guide. It's been very helpful. It first gave me tips on preparing for the test and then started breaking down the items I need. The information is concise to fit in one book but comprehensive enough for me to remember what I learned before and to make sure I know the main context of the material.
CHES Study Guide – Customer
The layout of the CHES Test Review for the Certified Health Education Specialist Exam is comprehensive, yet applicable. I feel confident and assured in the overall studying process to pass this exam.
CHES Study Guide – Customer
I have found the format and content of the CHES Exam Secrets Study Guide to be extremely helpful in preparing for the CHES Exam. The content is presented in a way that makes applying the information easier to understand.
CHES Study Guide – Amanda
I like that it is a condensed version of all my study materials needed for the CHES Exam as well as the included practice exam and study tips. It is easy to carry around and bring with me wherever I go.

CHES Study Guide – Customer