CHES Practice Test
Ever heard of the Certified Health Education Specialist (CHES) exam? The CHES certification was created to measure the knowledge in seven major subjects for health education specialists. If you are planning on taking this test in the future, make sure you are as prepared as possible to make sure that you succeed!
Diligent preparation is the number one way to avoid a bad performance on test day. That's why our CHES practice test was created – to help test takers succeed! Another important part of proper preparation is to understand the format of the exam. How is the CHES test setup? It is a pencil-and-paper test that consists of 150 scored multiple-choice questions and 15 non-scored multiple-choice questions. These two sets of questions are not marked, so you will need to complete all 165 questions.

However, none of the non-scored questions will factor into your score. You will have three hours to complete this exam. This test does not have a set minimum passing score for all of its tests. Instead, the passing score is determined by how hard the test is. For example, a harder test will have a lower minimum passing score while an easier test would have a higher minimum passing score. With this layout in mind, test takers should start studying early and often to be effective on test day.
Our free CHES practice test will show you the types of questions you will see on the exam while covering all the subjects that you need to know. So, get started on your studying with some sample questions from our practice CHES exam below!
CHES Study Guide
Mometrix Academy is a completely free resource provided by Mometrix Test Preparation. If you find benefit from our efforts here, check out our premium quality CHES study guide to take your studying to the next level. Just click the CHES study guide link below. Your purchase also helps us make even more great, free content for test-takers.
Upgrade your studying with our CHES study guide and flashcards:

Check out Mometrix's CHES Study Guide
Get practice questions, video tutorials, and detailed study lessons
Get Your Study Guide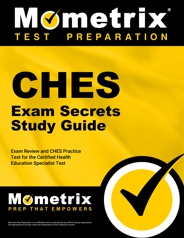 Check out Mometrix's CHES Flashcards
Get complex subjects broken down into easily understandable concepts
Get Your Flashcards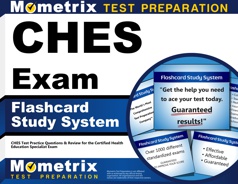 CHES Study Guide Customer Success Stories
Our customers love the tutorial videos from Mometrix Academy that we have incorporated into our CHES study guide. The CHES study guide reviews below are examples of customer experiences.
The book has all the information I need to study for the CHES. I graduated 6 years ago from grad school and was worried that I wouldn't remember anything. I'm so glad I purchased this book. Gives me more confidence to take the exam.
CHES Study Guide – Hannah
Used it and passed on the first try. A great guide for what to study for.
CHES Study Guide – Keena
Studying for the CHES has been made easier thanks to this book. It is clear and an easy read. Very easy to understand and follow, yet it presents information of substance. I am feeling much more adequately prepared as a result of using this study guide
CHES Study Guide – Customer
Great study guide. I like the repetition of themes in each section. Gives a sense of confidence and clarity of the material.
CHES Study Guide – Sunday
I am highly impressed with my purchase. I was expecting a big, bulky study book. It is light and easy to carry. It contains terms which I have seen before and others which I have not but offer a plausible definition for both. I also like the sample questions included.
CHES Study Guide – Amy
The study guide is thorough and well organized. I also love the extra bonus material provided. I recommend it and would buy it again.
CHES Study Guide – Customer
This study guide has been incredible so far! It presents the material in a clear and concise way which is great for studying and memorizing!
CHES Study Guide – Leslie
I am finding the study guide to be easy to use, clear answers and logically laid out. I've used study guides before for tests, this one is good.
CHES Study Guide – Customer
I've been enjoying this study guide. It's been very helpful. It first gave me tips on preparing for the test and then started breaking down the items I need. The information is concise to fit in one book but comprehensive enough for me to remember what I learned before and to make sure I know the main context of the material.
CHES Study Guide – Customer
The layout of the CHES Test Review for the Certified Health Education Specialist Exam is comprehensive, yet applicable. I feel confident and assured in the overall studying process to pass this exam.
CHES Study Guide – Customer
I have found the format and content of the CHES Exam Secrets Study Guide to be extremely helpful in preparing for the CHES Exam. The content is presented in a way that makes applying the information easier to understand.
CHES Study Guide – Amanda
I like that it is a condensed version of all my study materials needed for the CHES Exam as well as the included practice exam and study tips. It is easy to carry around and bring with me wherever I go.

CHES Study Guide – Customer