CGRN Exam
The CGRN Exam is traditionally administered by the ABCGN, otherwise known as the American Board of Certification for Gastroenterology Nurses. The exam is also called the ABCGN Certification Examination for Registered Nurses. Its purpose is to ensure incoming endoscopy and gastroenterology nurses have obtained the skill set and knowledge vital to this line of work. The exam was first administered in the year 1986, and is provided to gastroenterology nurses all throughout the country.
Is the CGRN Exam Required for Gastroenterology Nurses?
While the exam may be necessary for endoscopy and gastroenterology nurses to receive advanced certification, as a whole it is not required. The decision to pursue taking this exam simply proves to others within the endoscopy and gastroenterology fields that the individual in question is willing to take the required steps to advance and continue learning more about their line of work.
How Will the Exam Be Formatted?
The CGRN exam is made up of 175 questions, which test takers must complete within a span of four hours. It will be administered in a digital format or, more specifically, via computer. Around 25 of the questions featured on the test will not contribute to the test taker's overall score; however, which questions "count" and which do not will be indistinguishable from one another. Every question featured on the exam is in multiple choice format, with four answer choices available for each.
Check Out Mometrix's CGRN Study Guide
Get practice questions, video tutorials, and detailed study lessons
Get Your Study Guide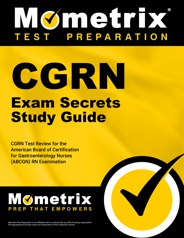 What Are the Contents of the CGRN Exam?
Each question on the exam falls under one of three content categories:
The Patient Care Interventions portion of the CGRN exam takes up approximately 34.92 percent of the exam's total contents. Questions under this category will address how to best provide patients with the fluids and medications they need in order to provide them with the best possible care; how to tend to a patient's needs in terms of gastrointestinal care; and how to react to and manage patient care in emergency scenarios.
Gastroenterological Procedures accounts for 33.33 percent of the exam. Its questions will deal with the test taker's understanding of how to conduct procedures that do not tie into endoscopic care, but still count toward the patient's well-being; how to cooperate with a professional practitioner who is carrying out procedures unrelated to endoscopy in the most productive and safe way possible; and how to also efficiently help a practitioner who is carrying out endoscopy-related work with a patient.
General Nursing Care makes up 31.70 percent of the CGRN test. Its focus is on how to work with a patient to develop a care plan that best suits their needs as well as teach them how to best preserve their health; evaluate and watch the status of a patient's vitals and other health markers in order to make the best care decisions when necessary; and use written data to infer the status of the patient and their health.
What Is the Minimum Passing Score for the CGRN Exam?
The minimum passing score for the CGRN test varies between editions, and is typically determined by the skills and knowledge of the test taker. As such, test scores exist via a scale-based system.
How Can Test Takers Register for the Exam?
The first step to registering for the CGRN exam involves a handbook written and offered by the ABCGN. The handbook provides full instructions on how to proceed with the registration process. From there, test takers must go to the official ABCGN website, where they will find a portal to the certification center. Test takers can only register through the website. It is there that they can pick a testing site as well as the date and time for the test.
Test takers will have two months to submit their completed application, which will complete the registration process. The official deadlines are between the first of June and July's final business day for those intending to take the test during the fall; and between the first day of January and February's final business day for those wanting to take the test in spring. Test takers will have until 5:00 PM EST (or 4:00 PM CST) to send in their registration documents. The official fall testing period spans across the entire month of October, while the spring testing period takes place during May.
How Much Will It Cost to Take the Exam?
The registration fee for the CGRN exam depends on the test taker's status. Those who are not affiliated with the SGNA (Society of Gastroenterology Nurses and Associates) must pay $505.00 upon registration. Those who are a part of the SGNA pay just $420.00.
When and How Will Test Takers Receive Their Scores?
Test scores are delivered on an immediate basis. More specifically, test takers can view and print their test scores as soon as they finish the exam. Test takers will also be mailed a copy of their scores within a four and six week range from the final day of the exam for the season they chose. The score report will arrive at the address provided by the test taker on their official application.
Is Retesting Available?
Test takers who do not earn a passing score have two different options available to them. One comes in the form of "Quest for Success," a program that allows them to sign up for a retest at a discounted rate. The discount subtracts approximately half off from the usual testing fee. Test takers may take advantage of this program only during their second try at taking the test, and only once. In order to utilize "Quest for Success," test takers must submit a new application along with their payment for the test.
Alternatively, test takers can contest (or challenge) their score with the ABCGN. To do this, test takers must mail an official letter no more than one month (or 30 full days) following the receipt of their scores in the mail. Test takers must include all of their contact information, as well as a hard copy of their scores, a written explanation of why they are challenging their score, and the address of the site where they took the test.
Check Out Mometrix's CGRN Flashcards
Get complex subjects broken down into easily understandable concepts
Get Your Flashcards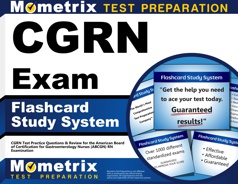 How Can Test Takers Best Prepare for the Exam?
One of the best ways to study for the CGRN exam is by crafting a thorough study plan. The Mometrix Test Preparation team makes it a priority to provide test takers with the tools they will need to study to the best of their ability.
Underneath this blurb, CGRN test takers will find two specially tailored resources for their upcoming exam. One resource is our CGRN study guide. The other is our CGRN flashcards.
The Mometrix study guide provides step-by-step instructions on how to prepare for the exam. Test takers will find complex information on each element of the test, as well as a practice exam with explanations and an answer key for readers to refer to. Test takers can use the Mometrix flashcards to better familiarize themselves with the important terms and concepts featured on the exam. These tools can be used either together or independently of one another.
CGRN Study Guide
Mometrix Academy is a completely free CGRN test resource provided by Mometrix Test Preparation. If you find benefit from our efforts here, check out our premium quality CGRN Study Guide and CGRN Flash Cards to take your studying to the next level. Just click the CGRN study guide link below. Your purchase also helps us make even more great, free test content for test-takers.
Upgrade your studying with our CGRN study guide and flashcards:
CGRN Study Guide
CGRN Flashcards
CGRN Customer Success Stories
Our customers love the tutorial videos from Mometrix Academy that we have incorporated into our CGRN test study guide. The CGRN study guide reviews below are examples of customer experiences.
All of the Secrets books I own are beautifully arranged. I have used them personally and as teaching guides for staff nurses. I highly recommend the Mometrix products – and refer my learners to your website often.
CGRN – Dory
Your book is very interesting and easy to read. Your material is very informative and well organized. I am so happy that I purchased this book. Thank you all for creating an amazing study guide to success in CGRN Exam!!
CGRN – Customer
Purchased "CGRN Exam Secrets Study Guide". Excellent study guide! Straightforward and easy to understand. Comprehensive, while straight to the point.
CGRN – Customer
Excellent resource for my colleagues. My colleagues have stated that it has been very helpful, even with the experience they have.
CGRN – Customer
Being a nurse is hard work and in order to have the privilege of doing that work, you first have to be tested thoroughly in order to prove that you can do it. The board test is one of the most important tests you will take because it will determine whether or not you will get your certification. Pass the test and move on to be the gastroenterology nurse you want to be. Fail the test and you're back to square one. It's important to do well on this test and no one wants to waste time by having to take it again later. The best way you can get to work as a nurse is to get this study guide and use it carefully. The guide has everything in it you need to know for the test. IF you use it wisely, you'll pass and go on to get the job you've always wanted. The guide is affordable, comprehensive, and effective…everything you need.
CGRN – Customer
This study material is organized very well and in a way that is very easy to follow. It is not too wordy yet consistent and informative!
CGRN – Customer