CFRN Exam
The Certified Flight Registered Nurse (CFRN) exam is for any licensed nurse who wishes to demonstrate their expertise and skill in the unique demands of working as a flight nurse. It measures all the core principles and practices that are relevant to the job.
How Do I Register for the CFRN Exam?
The first step to registering for the CFRN exam is to submit an application that proves you meet the eligibility criteria. To be eligible, you must be currently licensed as a registered nurse in the United States. Some nurses licensed outside the US, but who can demonstrate that the license meets equivalent standards as US licenses are also eligible. Although not required to establish eligibility, it is highly recommended that applicants have at least two years of relevant work experience in flight nursing.
The test is offered year-round at any Pearson VUE test center. So you'll be able to choose the date and location that fit best with your schedule. However, you do have to choose a date within your 90-day exam window which begins the day you receive your exam eligibility email. Assuming you pay the $230 exam fee online by card, you will receive this eligibility email immediately after you submit your application.
In order to make sure you get the date you want at the location most convenient to you, you should schedule your appointment the day of (or shortly after) receiving the eligibility email. However, you should also select one or two alternative dates and/or locations just in case your first choice is no longer available when you schedule.

Check Out Mometrix's CFRN Study Guide
Get practice questions, video tutorials, and detailed study lessons
Get Your Study Guide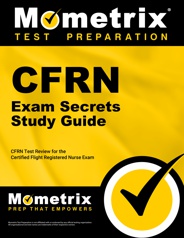 What Will I Be Expected to Know for the CFRN Exam?
There are a total of 150 scored questions included on the test, and they will span a range of five core content areas related to the day-to-day duties of flight nursing. Here is a brief outline of the kind of material you'll be tested on:
General Principles of Transport Nursing Practice – 31 Questions

Transport physiology
Scene operations
Communications
Safety and Survival
Management of man-made disasters
Professional Issues
Management

Resuscitation Principles – 31 Questions

Principles of assessment and patient preparation
Airway management
Mechanical ventilation
Perfusion

Trauma – 31 Questions

Principles of management
Neurologic
Thoracic
Abdominal
Orthopedic
Burn
Maxillofacial and neck

Medical Emergencies – 44 Questions

Neurologic
Cardiovascular
Pulmonary
Abdominal
Electrolyte Disturbances
Metabolic an endocrine
Hematology
Renal
Infectious and communicable diseases
Shock
Environmental and toxicological emergencies

Special Populations – 13 Questions

Obstetrical Patients
Pediatric
Geriatric
Bariatric
You will also be expected to know how to perform 35 essential medical procedures including chest radiographs, CT scans, PA catheter, and more.
In addition to the 150 multiple choice questions on this exam, you'll also have to answer 30 unscored questions. These won't be labeled in any way, and they are scattered throughout all five content areas. So just treat all 180 questions as if they were scored questions.
How Is the Test Scored?
The CFRN exam simply uses your raw score (the actual number of items you answered correctly) in order to measure your performance on the exam. In order to pass the exam and qualify for certification, you need to answer at least 109 of the 150 scored questions correctly. Correctly answered unscored questions do not count toward this total.
About 60% of candidates who sit for the exam pass, which is a pretty good for a pass rate, but still low enough to show you that preparation is essential to your success on this test.
How Should I Prepare for the CFRN Exam?
The best way to start your preparation for this exam is to take a practice exam or otherwise test yourself on the material you need to know for the test. This will give you a good idea of your base level as well as the content areas that you need to pay the most attention to during your study sessions.
Once you have "diagnosed" your strengths and weaknesses on the test, pick up a copy of the Mometrix Study Guide and the Mometrix Flashcards that go with it. These two study aids will provide all the information you need to know in order to ace this test.
Use these to improve your biggest problem areas as well as maintain your stronger areas. But don't forget to work on your essential test-taking skills as well. That includes things like speed, memory, accuracy, and recall. The flashcards will be a huge help here as you can use them to give yourself timed quizzes that activate all of those skills.

Check Out Mometrix's CFRN Flashcards
Get complex subjects broken down into easily understandable concepts
Get Your Flashcards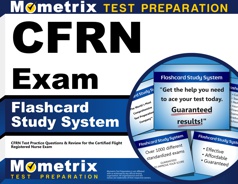 CFRN Study Guide
Mometrix Academy is a completely free CFRN test resource provided by Mometrix Test Preparation. If you find benefit from our efforts here, check out our premium quality CFRN Study Guide and CFRN Flash Cards to take your studying to the next level. Just click the CFRN study guide link below. Your purchase also helps us make even more great, free test content for test-takers.
Upgrade your studying with our CFRN study guide and flashcards:
CFRN Study Guide
CFRN Flashcards
CFRN Study Guide Customer Success Stories
Our customers love the tutorial videos from Mometrix Academy that we have incorporated into our CFRN test study guide. The CFRN study guide reviews below are examples of customer experiences.
I appreciate the preciseness of the material and how key topics are in bold. The content is easy to read and well organized. I will definitely be using study guides from this company in the future.
CFRN Study Guide – Customer
It is a great, quick to the point resource that I really learned a lot from and feel way more prepared for my exam.
CFRN Study Guide – Customer
This review book is definitely worth reading! While some books have too much information, this one has just enough. It covers what you need to know for the exam. I did not pass my first time but if I had read this I am positive I would have.
CFRN Study Guide – Gretchen
So far I am impressed with the information enclosed, but also with all the extra study tips/strategies. I struggle with test anxiety and I am hoping this system will be beneficial for me.
CFRN Study Guide – Kris