CFRE Exam
The CFRE Exam is designed to assess one's ability to effectively and efficiently perform tasks related to fundraising. It is currently offered in English only, and consists of 200 multiple-choice items. Of these 200 items, 25 will not count toward your score. You are allowed a maximum of four hours to complete the exam.
Accommodations are available for examinees with conditions recognized by the Americans with Disabilities Act of 1990 and ADA Amendments Act of 2008. Testing accommodations must be approved prior to registration.
Some testing accommodations include small group setting, Braille test materials, large print test materials, ability to take prescription medications with water, hand-held magnifier, and seat cushion.
What topics will be assessed on the exam? How many questions are there for each topic?
Current and Prospective Donor Research – 28
Securing the Gift – 46
Relationship Building – 52
Volunteer Involvement – 16
Leadership and Management – 38
Ethics, Accountability, and Professionalism – 20
How can I register for the CFRE Exam?
The most convenient way to register is online. This can be done 24 hours a day, 7 days a week.
You also have the option of registering over the phone. If in the United States or Canada, you can do so Monday – Friday, 7 A.M. – 7 P.M. CST. Outside these areas, you can call to register Monday – Friday, 9 A.M. – 6 P.M., your local time.
Check out Mometrix's CFRE Study Guide
Get practice questions, video tutorials, and detailed study lessons
Get Your Study Guide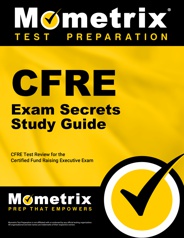 What is the cost of the exam?
The cost of initial certification is $875 USD.
Paying online using a credit or debit card is the quickest way to do this.
What are the testing dates and locations?
There are four testing windows for initial certification.
January 15 – March 15
April 15 – June 15
July 15 – September 15
October 01 – November 30
In order to take the exam during a specific testing window, your application must be submitted by the first day of that testing window.
You will find several testing sites throughout the world. You can choose the location that is most convenient for you.
What do I need to know about the day of the exam?
Arrive 30 minutes before your scheduled exam time.
If you are more than 15 minutes late to the testing center, you will not be permitted to take the exam.
Bring two forms of valid identification. One must include your first and last name, signature, and photo of you. The other must have your name and signature.
Examples of acceptable forms of primary identification include passport, driver's license, and military identification card.
Examples of acceptable forms of secondary identification include credit card, social security card (original and not laminated), and school identification card.
Personal items such as a cell phone, books, and food are not allowed in the testing area.
What is the passing score?
The score scale is 200-800. You must receive a minimum of 500 in order to pass the exam and become certified.
Check out Mometrix's CFRE Flashcards
Get complex subjects broken down into easily understandable concepts
Get Your Flashcards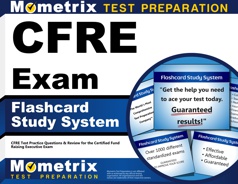 How do I know if I passed the exam?
Before leaving the testing center, you will receive a pass/fail report.
In addition, approximately two business days after taking the exam, you will receive an official notice of your certification status.
Your certificate will be mailed to you once the testing window closes.
What happens if I don't pass the exam?
After waiting 30 days from the day of your initial attempt at the exam, you can re-take it. If you do not pass the second time, you are allowed a third attempt as long as doing so does not exceed your one-year eligibility period.
Re-taking the exam will cost $375 USD.
Keep in mind that if you pass the exam, you are not allowed to re-take it just to get a higher score.
Entrust your study needs to Mometrix by acquiring our topnotch study guide and flash card set. We've invested in the sharpest test experts and most valuable techniques to bring you what you need to be successful when taking your Certified Fund Raising Executive Exam.
We are so sure you will be satisfied with our products, that we include a money-back guarantee with your purchase.
Don't go at this task alone, contact Mometrix today!
CFRE Study Guide
Mometrix Academy is a completely free CFRE test resource provided by Mometrix Test Preparation. If you find benefit from our efforts here, check out our premium quality CFRE Study Guide and CFRE Flash Cards to take your studying to the next level. Just click the CFRE study guide link below. Your purchase also helps us make even more great, free test content for test-takers.

Upgrade your studying with our CFRE study guide and flashcards:
CFRE Study Guide
CFRE Flashcards
CFRE Study Guide Customer Success Stories
Our customers love the tutorial videos from Mometrix Academy that we have incorporated into our CFRE study guide. The CFRE study guide reviews below are examples of customer experiences.
Having both the study guide and flash cards gives me all six domains streamlined and in great detail. Specifically, the study tips are helpful and the practice test is very key with knowing why that is the "BEST" answer. I plan to follow your recommended steps prior to re-taking my test. Your format is easy to follow and prepares me for each domain of the test.
CFRE Study Guide – Cynthia
Very simple to the point lessons, nothing confusing, very clear
CFRE Study Guide – Customer
Awesome staff and perfect materials. All I need to study for the CFRE.
CFRE Study Guide – Customer
Materials are not intimidating and easy to follow. A quick re-cap of basic and more complicated fundraising principles.
CFRE Study Guide – Customer
I thoroughly love this book. It is clear and concise and very to-the-point. (I hate study aids that give TOO much background). This book also has enough open space to write additional notes and highlight as needed. The sample questions are very helpful as well as test tips throughout the book.
CFRE Study Guide – Customer