Certified Polysomnographic Technician Certification Practice Test
The Certified Polysomnographic Technician (CPSGT) certification is offered via examination by the Board of Registered Polysomnographic Technologists (BRPT). The CPSGT certificate was designed for entry-level technicians in the sleep field. Individuals who earn CPSGT certification will go on to earn a Registered Polysomnographic Technologist (RPSGT) credential; a process that must be completed within three years of earning CPSGT certification.
What are the eligibility requirements to sit for the CPSGT exam?
To sit for the CPSGT exam, candidates must be able to follow one of three eligibility pathways. All eligibility requirements must be met by the date of the exam. All candidates, regardless of eligibility pathway, need to hold current Basic Cardiac Life Support (BCLS) certification and agree to adhere to BRPT Standards of Conduct, including policies and procedures. Additionally, candidates must demonstrate proof of completion of their secondary education, i.e. high school diploma or transcripts. The eligibility pathways are as follows:
Pathway 1, Clinical Experience: If you have a minimum of 3 months (at least 416 hours) of polysomnography clinical experience, and you have completed a Sleep Technology Approved Resource (STAR) Self-Study educational program within the past three years, you may be eligible to use this pathway. Accredited Sleep Technologist Education Program (ASTEP) Self-Study Modules may be used as well, as long as they were completed within five years of application.
Pathway 2, Commission on Accreditation of Allied Health Education Programs (CAAHEP) and/or Commission on Accreditation for Respiratory Care (CoARC): If you have completed or are nearing completion (within two months) of a CAAHEP or CoARC educational program in polysomnography, you may be able to follow this eligibility pathway.
Pathway 3, Focused Training: If you have completed STAR-approved and designated Focused education, including a combination of Self-Study and Focused 2 education, you may be able to follow this eligibility pathway.
CPSGT Overview
What fees are associated with the CPSGT exam?
The CPSGT exam costs $240.00. If you need to resubmit an application, you will incur an additional $50 fee. If you do not show up for the exam and later decide to take it, you will incur a $90 reinstatement fee.

Check Out Mometrix's CPSGT Study Guide
Get practice questions, video tutorials, and detailed study lessons
Get Your Study Guide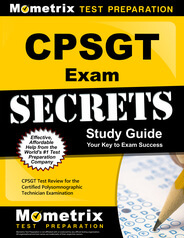 How many questions are on the CPSGT exam?
The CPSGT exam contains 75 multiple-choice questions, 60 of which count toward your overall score. The remaining items function as pilot questions, which are used to determine the questions' use in future tests. Because you will not be able to tell the difference between scored and unscored items, make sure to answer each question to the best of your ability. There are no penalties for educated guessing. In fact, because of the way the CPSGT exam is structured, the most questions you attempt to answer, the better your chances of achieving a passing score. You will be given 2 hours to complete the exam via computer at a Pearson VUE testing center.
What does the CPSGT exam cover?
In terms of content, the CPSGT exam consists of three domains that cover different subject matter, or tasks. The domains, tasks, and weight per domain/task are as follows:
Domain 1: Performance/Instrumentation (60% overall)
Task A: Patient information collection and review (7-13%) Includes: history and physical, medications, interview, accommodations, questionnaires, and related topics
Task B: PSG and CPAP titration preparation (7-9%) Includes: family/patient orientation, equipment, supplies, etc.
Task C: Sensor identification and application (13-20%) Includes: site preparation, locations, impedance verification, etc.
Task D: Calibration (4-8%) Includes: device recording, physiologic verification, etc.
Task E: Procedures, perform (11-16%) Includes: PSG protocol (adult), portable monitoring, etc.
Task F: Testing documentation (5-11%) Includes: interview observations, findings, external disruptions, interventions, etc.
Task G: Identification and response to issues (11-16%) Includes: basic artifacts, malfunctioning equipment, clinical or physiologic events, emergencies, etc.
Task H: Cleaning and disinfecting equipment (approx. 1%)
Domain 2: Data processing and scoring (20% overall)
Task A: Adult scoring (19-20%) Includes: sleep stages, arousals, respiration, AHI calculations, and other related topics
Task B: Data recording verification and saving (approx. 1%)
Domain 3: CPAP titration performance (20% overall)
Task A: Contraindications (1-4%)
Task B: CPAP titration (16-19%) Includes: therapy guidelines for adults, leak levels, CPAP interface, troubleshooting, etc.
Check Out Mometrix's CPSGT Flashcards
Get complex subjects broken down into easily understandable concepts
Get Your Flashcards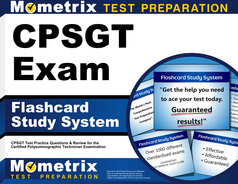 CPSGT Study Guide
Now that you have a better understanding of the eligibility requirements and content of the CPSGT exam, you are ready to begin preparing. The most effective means of ensuring you do well on the CPSGT exam is to thoroughly prepare using the most comprehensive test preparation materials you can find. Mometrix Test Preparation has developed exactly what you need in the RPSGT Study Guide. In our study guide, you get authentic RPSGT exam content, as well as expert tips designed to help you recall information, reduce stress, and ensure your best performance on the CPSGT exam.
In addition to the RPSGT Exam Secrets study guide, Mometrix Test Preparation also offers CPSGT Flashcards and RPSGT Flashcards. Read the RPSGT Exam Secrets study guide, evaluate your knowledge using the CPSGT/RPSGT Flashcards, and take the next step toward earning your CPSGT certification.
The sooner you earn your CPSGT certification, the sooner you can qualify for the RPSGT credential. Get started today!
Upgrade your studying with our CPSGT study guide and flashcards:
CPSGT Study Guide
CPSGT Flashcards