The Certified Medical Assistant (CMA) exam, provided by the American Association of Medical Assistants (AMAA), allows candidates to become certified as a medical assistant in the United States. This is an occupation that is expected to have an employment rate increase of 29% by 2026.
Click "Start Test" above to take a free CMA practice test!
CMA Exam Eligibility
To be eligible to sit for the CMA exam, you must be in one of the following three categories:
Category 1:
You must have completed or be within 30 days of completing a recognized medical assistance program. A recognized course is accredited by either the Commission on Accreditation of Allied Health Education Programs or the Accrediting Bureau of Health Education. The AAMA certification board also recognizes college-level medical assistance programs that are not CAAHEP- or ABHES-accredited, as long as the postsecondary program is sufficient in providing educational depth, breadth, and rigor.
Category 2: You must be a non-recent (greater than 12 months since graduation) graduate of an accredited medical assisting program. To be eligible under this category, you must submit an official transcript from an accredited medical assisting program.
Category 3: This category is for those wishing to recertify their CMA credential. As you would expect, you must have taken and passed the CMA previously to be eligible under this category, so you must provide your CMA (AAMA) certificate number and the most recent certification or recertification date on the application.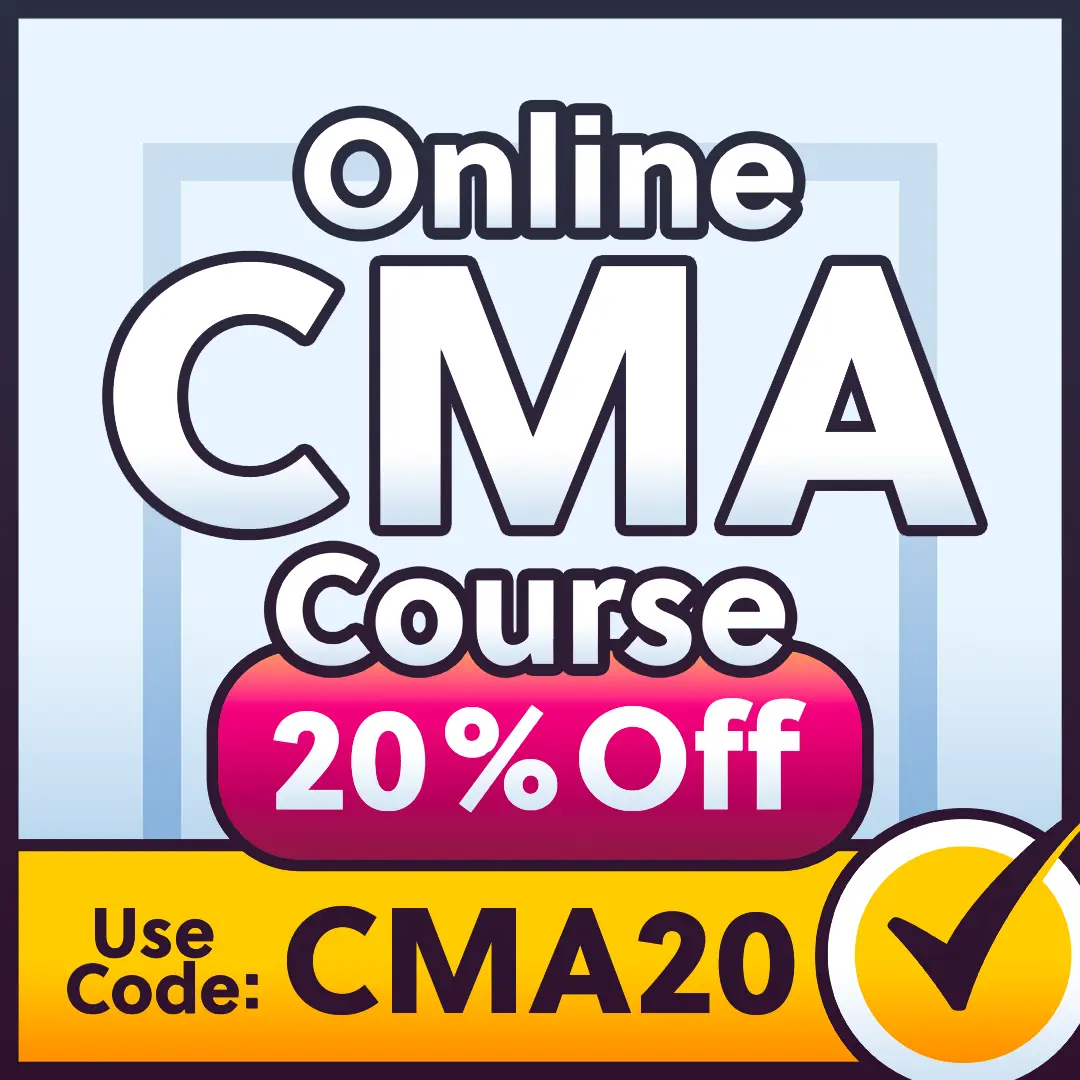 CMA Exam Outline
The CMA exam consists of 200 multiple-choice questions, 20 of which will not count toward your score. The exam is administered in four 40-minute segments, with optional breaks between each segment.
The questions are split into three content categories:
I. Clinical Competency (106 questions)
The Clinical Competency category is the largest on the exam, taking up 59% of the questions. These are the topics that will be covered in this category:
A. Clinical Workflow

Vital Signs
Medical Terminology
Interviewing Techniques
Documentation of Care
Patient Screenings and Wellness Assessments
Processing Provider Orders
B. Safety and Infection Control

Infectious Agents
Infection Cycle
Modes of Infectious Transmission
Standard Precautions and Exposure Control
Medical Asepsis
Biohazard Disposal and Regulated Waste
Safety Resources
Safety and Emergency Procedures
Emergency Management, Identification, and Response
Basic First Aid
Body Mechanics/Ergonomics
Risk Management and Quality Assurance
C. Procedures and Examinations

Preparing Patients for Examinations, Procedures, and Treatments
Supplies, Equipment, Techniques, and Patient Instruction
Surgical Assisting
Wound Care
Instruments
Anatomy and Physiology
Specimen Collection Techniques
Prepare, Process, and Examine Specimens
Laboratory Quality Control and Quality Assurance
Clinical Laboratory Improvement Act (CLIA) Requirements
Laboratory Panels and Selected Tests
D. Pharmacology

Medications
Preparing and Administering Oral and Parenteral Medications
Immunization Resources
II. General (38 questions)
The General category contains 38 questions, taking up 21% of the questions. These are the topics that will be covered in this category:
E. Legal and Ethical Issues

HIPAA
Protected Health Information (PHI)
Consent
Federal and State Regulations
Pharmaceutical Laws
Mandatory Reporting and Public Health Statutes
Ethical Standards
Medical Directives
F. Communication

Interpersonal Relationship Skills
Customer Service
Therapeutic and Adaptive Responses
Learning Styles
Health Care Team Roles
Professional Telephone Etiquette and Techniques
III. Administrative (36 questions)
The Administrative category contains 36 questions, taking up 20% of the questions. These are the topics that will be covered in this category:
G. Billing, Coding, and Insurance

Coding Applications
Insurance Fraud and/or Abuse
Coverage for Patient Services and Waivers
Insurance Types
Authorizations and Resources
Financial Terminology
Patient Account Financial Procedures
Financial Calculations
Billing and Collections
H. Scheduling Appointments and Health Information Management

Scheduling Appointments
Medical Reception
Patient Registration
Electronic Health Records
Check Out Mometrix's CMA Printed Study Guide
Get practice questions, video tutorials, and detailed study lessons
Get Your Study Guide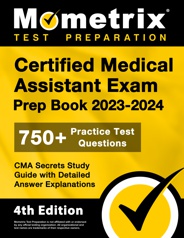 CMA Exam Registration
Before you can register for the exam, you must obtain an exam scheduling permit. To obtain your permit, you must submit the required documentation and candidate fee. The fee is payable by money order, credit or debit card, cashier's/certified check or institution check only.
Five to 10 days after your application, you will receive an email. If you were successful in submitting all required documentation and the candidate fee, your 90-day testing period will be assigned and the availability of your exam Scheduling Permit will be included. Failure to respond to an "incomplete" status could void your application which would require you to reapply and pay the candidate fee again.
You must schedule your exam directly through their online registration site or by calling the number listed on your scheduling permit. Test dates, times, and locations are on a first-come-first-served basis, so make an effort to schedule your exam as soon as possible so you can obtain your preferred test time and location.
Fees
The exam fees are as follows:
Category 1: $125
Category 2: $125 for AAMA members and $250 for nonmembers
Category 3: $125 for AAMA members and $250 for nonmembers
Test Day
You should arrive at the test center at least 30 minutes before your scheduled test time. If you arrive late, you may not be admitted. You will be asked to present the required identification, sign the test center log, have your photograph taken, and store all personal items in an assigned locker (it is recommended that you leave all personal items in your car or at home as the lockers are small).
Test center staff will take your scheduling permit and escort you to your assigned station. You will be instructed on the use of the computer equipment and provided dry-erase markers and an eraser. You are allowed no other supplies. A dry-erase marker and eraser are the only supplies you will be given.
Once you enter the testing center and take your seat, you will not be allowed to talk to any other test-taker, and you will be allowed breaks only at the designated break time. Failure to follow the test center rules could result in the cancellation of your test and your candidate fee forfeited.

How the CMA Exam is Scored
Your score is a result of the number of correct responses on the examination, and will fall in a range of 200-800. The minimum score you need to pass the CMA exam is 405.
At the conclusion of your exam, you will receive an official pass/fail notification. While an official notification, this is not a verification of certification. If you completed all application requirements, you will be mailed an official examination score result within three weeks after your exam.
The exam report will include your percentile rank in the three content areas to help you identify your areas of strength and weakness. If you pass the exam and receive the official notification, you are awarded the CMA (AAMA) credential.
Check Out Mometrix's CMA Flashcards
Get complex subjects broken down into easily understandable concepts
Get Your Flashcards
How to Pass the CMA Exam
How to Study Effectively
Your success on CMA test day depends not only on how many hours you put into preparing but also on whether you prepared the right way. It's good to check along the way to see whether your studying is paying off. One of the most effective ways to do this is by taking CMA practice tests to evaluate your progress. Practice tests are useful because they show exactly where you need to improve. Every time you take a free CMA exam practice test, pay special attention to these three groups of questions:
The questions you got wrong
The ones you had to guess on, even if you guessed right
The ones you found difficult or slow to work through
This will show you exactly what your weak areas are and where you need to devote more study time. Ask yourself why each of these questions gave you trouble. Was it because you didn't understand the material? Was it because you didn't remember the vocabulary? Do you need more repetitions on this type of question to build speed and confidence? Dig into those questions and figure out how you can strengthen your weak areas as you go back to review the material.
Answer Explanations
Additionally, many CMA practice tests have a section explaining the answer choices. It can be tempting to read the explanation and think that you now have a good understanding of the concept. However, an explanation likely only covers part of the question's broader context. Even if the explanation makes sense, go back and investigate every concept related to the question until you're positive you have a thorough understanding.
Comprehend Each Topic
As you go along, keep in mind that the CMA practice test is just that: practice. Memorizing these questions and answers will not be very helpful on the actual test because it is unlikely to have any of the same exact questions. If you only know the right answers to the sample questions, you won't be prepared for the real thing. Study the concepts until you understand them fully, and then you'll be able to answer any question that shows up on the test.
Strategy for CMA Practice
When you're ready to start taking practice tests, follow this strategy:
Remove Limitations. Take the first test with no time constraints and with your notes and CMA study guide handy. Take your time and focus on applying the strategies you've learned.
Time Yourself. Take the second practice test "open book" as well, but set a timer and practice pacing yourself to finish in time.
Simulate Test Day. Take any other practice tests as if it were test day. Set a timer and put away your study materials. Sit at a table or desk in a quiet room, imagine yourself at the testing center, and answer questions as quickly and accurately as possible.
Keep Practicing. Keep taking practice tests on a regular basis until you run out of practice tests or it's time for the actual test. Your mind will be ready for the schedule and stress of test day, and you'll be able to focus on recalling the material you've learned.
CMA Online Study Course
If you want to be fully prepared, Mometrix offers an online CMA prep course. The course is designed to provide you with any and every resource you might want while studying. The CMA course includes:
75 Lessons Covering Every Topic
750+ CMA Practice Questions
Over 30 Video Tutorials
More than 300 Electronic Flashcards
Money-back Guarantee
Free Mobile Access
and More!
The CMA prep course is designed to help any learner get everything they need to prepare for their CMA exam. Click below to check it out!
FAQs
Q
How hard is the CMA exam?
A
The CMA exam has a pass rate of 73%, so it is considered a moderate-to-easy exam if an adequate amount of studying and preparation has been done.
Q
How many questions are on the CMA exam?
A
There are 200 questions on the exam.
Q
How long is the CMA exam?
A
The time limit for the exam is 160 minutes, which is just over 2.5 hours.
Q
How much is the CMA exam?
A
The CMA exam costs $125.00 for AAMA members and $250 for non-members.
Q
What is a passing score for the CMA exam?
A
To pass the exam, you will need a minimum score of 405.