Certified Hemodialysis Technologist/Technician Exam
The Certified Hemodialysis Technologist/Technician (CHT) exam was designed by the Board of Nephrology Examiners Nursing and Technology (BONENT), to measure specific technical skills and proficiencies, along with general knowledge areas, for hemodialysis technologists and technicians. Many states require certification for hemodialysis technologists and technicians who perform patient care, so make sure to check with your state before applying to sit for the CHT exam.
What are the eligibility requirements to take the CHT exam?
In order to sit for the CHT exam, you must meet several criteria. All applicants must provide verification of their experience by submitting two letters of recommendation to BONENT. These letters must be from an immediate supervisor, who will also sign your application, and a mentor, peer, or other professional in the nephrology field. Both letters need to serve as character references and must include your full name, length of employment, and specific job-related duties.
If you are a technician, you will need to submit a copy of your high school transcript or official diploma; demonstrate at least 6 months of experience in the field of nephrology, including patient care; and be actively participating in an end-stage renal disease (ESRD) facility. If you are lacking experience in patient care, you can apply to take the exam within 2 years of completing a BONENT-approved educational program.
If you are a technician without a high school diploma, but with more than 4 years of dialysis work experience, BONENT will waive the requirement for a high school diploma or transcript.
If you are an LPN or LVN, you must have a current, valid LVN or LPN license; demonstrate at least 6 months of experience in nephrology; and be actively participating in an ESRD facility.
Please note that if you have ever been convicted of a felony, you will not be eligible for BONENT certification. Additionally, if you are currently unemployed but meet the aforementioned criteria, you will need to have your previous supervisor sign your application and write a letter of reference.

Check Out Mometrix's CHT Study Guide
Get practice questions, video tutorials, and detailed study lessons
Get Your Study Guide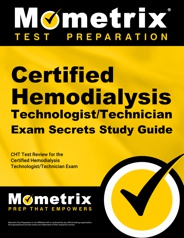 How much does the CHT exam cost?
Fees associated with the CHT exam in the United States are $220 for the paper-based test, and $250 for the computer-based test. For locations outside the U.S., both the paper-based and computer-based tests cost $250. Confirmation letters will be sent once applicants meet all application criteria, including fee submission. Make note that BONENT requires all technicians and technologists to pay a yearly certification fee of $60.
What does the CHT exam cover?
Both the computer-based and paper-based CHT exam versions consist of five content domains. The domains, subjects, and weights per domain are as follows:
Patient care, 45%

Covers: pre- and post-treatment care, including fluid management, vital signs, hemostasis, document assessment, and other related topics; and evaluation and intervention, including pre-treatment, current treatment, and post-treatment processes, etc.

Machine technology, 12%

Covers: maintenance of the dialysis machine, including cleaning and disinfecting, calibration, and other related topics; machine setup, including residual chemical checks, documentation, and other related topics; and evaluation of machine operation, including quality control, procedures for dialysis delivery systems, etc.
Water treatment, 15%

Covers: system design and components, including actions, processes, and other related topics; system maintenance, including water disinfection, treatment, and other related topics; and evaluation of systems, including quality control, monitoring chlorine, etc.

Infection control, 18%

Covers: patient environment cleanliness and safety, including procedures, cannulation, and other related topics; dialysis precautions, including biohazard disposal, safety, and other related topics; and implementation of isolation procedures, including understanding CMS requirements, disinfection, etc.

Education and professional development, 10%

Covers: patient education, including discharge instructions, dialysis prescriptions, treatment modality, and other related topics; engagement in professional development, including care plans, body mechanics, and other related topics; quality-control issues, including documentation, process improvement, and other related topics; and demonstrating communication skills, including contribution to constructive working relationships, ensuring confidentiality, etc.
Test Preparation
Now that you understand the eligibility requirements and basic content of the CHT exam, what comes next? The most effective method of ensuring you pass the CHT exam is to prepare using the best test preparation materials on the market. What you need is Mometrix Test Preparation's CHT Exam Secrets study guide. In the CHT Exam Secrets study guide, you get authentic CHT exam content, as well as expert tips on reducing test anxiety and performing your best on exam day. In addition to the CHT Exam Secrets study guide, Mometrix Test Preparation has developed a complete CHT Practice Test, as well as the most comprehensive set of CHT Exam Flashcards available. Read the CHT Exam Secrets study guide, evaluate your knowledge using the CHT Practice Test and CHT Exam Flashcards, and take the next step toward your future as a CHT.

Check Out Mometrix's CHT Flashcards
Get complex subjects broken down into easily understandable concepts
Get Your Flashcards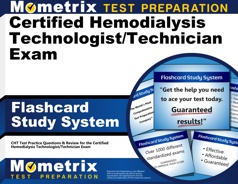 Certified Hemodialysis Technologist/Technician Study Guide
Mometrix Academy is a completely free CHT test resource provided by Mometrix Test Preparation. If you find benefit from our efforts here, check out our premium quality CHT Study Guide and CHT Flash Cards to take your studying to the next level. Just click the CHT study guide link below. Your purchase also helps us make even more great, free test content for test-takers.
Upgrade your studying with our CHT study guide and flashcards:
CHT Study Guide
CHT Flashcards
CHT Study Guide Customer Success Stories
Our customers love the tutorial videos from Mometrix Academy that we have incorporated into our CHT study guide. The CHT study guide reviews below are examples of customer experiences.
This company is always quick to respond and offers great service. I teach Dialysis Techs and having this book has increased the passing of the CCHT exam. I would highly recommend Momentix!!!
CHT Study Guide – Marie
I read the book three times and gained a better understanding of the dialysis process each time. The example questions were great.
CHT Study Guide – Dean
Hands down one of the best study guides I've used. Easy to follow and extremely helpful.
CHT Study Guide – Amber
First glance through the study guide, I instantly noticed it's to the point and it contains what we need to know, like you said, it's fluff-free...and it is! Eliminating the excess helps with mentally fearing the "OMG, look how much I have to study!" delimma! Thank you, thank you for that!!!! I just began my training as a hemodialysis tech and already this guide is surpassing my training textbook in helping topics sink in.
CHT Study Guide – Customer
This is a wonderful study guide for any Dialysis Center or individual Techs that are preparing for their CCHT exams. I can personally state that this is a very hard test and I wish I had a guide like this when I prepared for my own. The seller is a pleasure to deal with and is fast and courteous.
CHT Study Guide – Valeri
I think this guide is awesome. It touches on all the vital areas you need to know to be a good technician and pass your test.
CHT Study Guide – Pat