Certified Dietary Manager Practice Test
The Certified Dietary Manager (CDM) Exam measures your ability to ensure food safety, make purchases, create and implement menus that meet the nutritional needs of patients or customers, and handle other tasks associated with being a dietary manager.
Click "Start Test" below to take a free Certified Dietary Manager practice test!
Certified Dietary Manager Exam Eligibility
To be eligible for the CDM exam, you meet one of the following requirement pathways:
Pathway 1
For this pathway, you must have graduated from an ANFP-approved food service manager training program.
Pathway 2
For this pathway, you must have graduated with at least a two-year degree in food service management, hotel-restaurant management, culinary arts, or nutrition.
Pathway 3a
For this pathway, you must have graduated from a comprehensive food service course (with a minimum of 90 hours) and must also have at least two years of full-time experience with non-commercial food service management.
Pathway 3b
For this pathway, you must have graduated from an ANFP-approved food service manager training program and must also have at least two years of full-time experience with non-commercial food service management.
Pathway 4
For this pathway, you must be a current or former member of the US military, and you must have graduated from a training program in dietary management, food service management, or culinary arts training (with a minimum of 90 hours).
Pathway 5
For this pathway, you must have graduated with an alternate degree of at least two years, and you must have obtained at least five years of full-time experience with non-commercial food service management.
Certified Dietary Manager Exam Outline
The Certified Dietary Manager Exam contains 160 multiple-choice questions, 20 of which are unscored, and you will be given a 3-hour time limit. The unscored questions are unmarked and spread randomly throughout the exam, so you will not know which questions are scored and which are unscored. The test administrators include these questions to test their validity for use in future versions of the exam.
The exam is split into five content domains:
1. Nutrition (20%)
The questions in this domain cover the various aspects of nutrition data and education.
Gather Nutrition Data

Interview for nutrition information
Document nutrition information in medical records
Obtain routine nutrition screening data
Identify client rights and nutrition problems
Apply Nutrition Data

Modify diet plans
Implement written diet orders
Apply a standard nutrition care plan
Review the effectiveness of the nutrition care plan
Manage supplemental feedings and special nourishments in concordance with the written diet order
Ensure Effectiveness of Standardized Recipes

Use the written diet order to assist clients with food selection
Use nutrition education materials
2. Foodservice (21%)
The questions in this domain cover the various aspects of food prep, recipes, and quality improvement procedures.
Ensure Effectiveness of Standardized Recipes

Identify standardized recipe elements
Use food charts and references to compute portions
Develop cooking procedures
Calculate the cost and nutrition content of standardized recipes
Evaluate the client's acceptance of new recipes
Specify Standards and Procedures for Preparing Food

Develop food quality control standards
Monitor food production by implementing specific procedures
Monitor food waste by developing specific procedures
Supervise the Production and Distribution of Food

Define procedures for various types of foodservice
Monitor the adherence to delivery procedures and schedules
Keep records for accountability and monitoring
Calculate the efficiency of the foodservice system
Define foodservice production schedules
Define special event food preparation and production needs
Forecast recipes, menus, diet census, preparation sheets, production sheets, retail needs, and tally sheets
Monitor Meal Service

Verify portion size, diet accuracy, quality, presentation, temperature, and texture
Assure meals are served as posted
Implement Continuous Quality Improvement Procedures for Foodservice Department

Define foodservice objectives and standards
Monitor quality indicators
Implement procedural changes
Interpret data for reports
Implement an auditing tool to determine quality indicator effectiveness
Make recommendations by analyzing data
Modify Standardized Menus

Use nutritional resources
Use standard recipes and servings
Adhere to regulatory diet requirements
Develop a menu that considers cultural preferences
3. Personnel and Communications (19%)
The questions in this domain cover the various aspects of job functions, education, employee assignments, goals, and professional interactions.
Define Personnel Needs and Job Functions

Conduct personnel needs and task analyses
Write job descriptions and specifications
Assist with the development of advertising for positions
Update departmental organizational charts
Interview, Select, and Orient Employees

Comply with fair employment practices and laws
Describe department procedures and policies to applicants
Decide on applicants and record the data in a file
Document selection policies and procedures
Orient new employees to facility procedures
Provide initial job-specific training for new employees
Verify the completion of training and orientation
Provide Ongoing Education

Provide a follow-up after orientation
Provide in-service training on various safety guidelines, hygiene expectancies, crisis management, and other contemporary issues
Verify the completion of training
Develop and Maintain Employee Time Schedules and Assignments

Identify various overall staffing needs and daily tasks
Determine the capabilities and preferences of available employees
Prepare and maintain a time schedule
Track absences/tardy records in personnel files
Develop a work assignment chart
Coordinate work assignments
Manage Goals and Priorities for the Department

Develop short-term and long-term department goals
Participate in developing procedures and policies
Establish priorities by identifying expectations
Compare department goals against available resources
Manage Department Personnel

Maintain personnel records
Identify personnel management practices and laws
Identify termination and promotion criteria
Compile documentation for termination and promotion
Conduct performance evaluations
Recommend adjustments for wages and salary
Correct a problem by following disciplinary procedures
Ensure employees' compliance with procedures
Manage Professional Interactions

Participate in regulatory agency surveys
Participate in meetings that occur outside the department
Communicate client information to other health professionals
Participate in client care conferences
Manage department meetings
Adhere to the professional code of conduct
Implement Departmental Changes

Identify existing problems and needs
Prepare to justify changes
Implement a plan of action
Evaluate the changes' effectiveness
4. Sanitation and Safety (24%)
The questions in this domain cover the various aspects of nutrition data and education.
Manage Personnel to Ensure Compliance with Safety and Sanitation Regulations

Identify federal safety laws
Write cleaning procedures for work areas, equipment, and utensils
Evaluate equipment in terms of maintenance needs and costs
Inspect all areas of the department for sanitary conditions
Educate employees in safety and sanitation
Interpret OSHA regulations
Enforce the compliance of employees with sanitation and safety regulations
Manage Purchasing, Receiving, Storage, and Distribution of Food and Supplies Following Established Sanitation and Quality Standard

Identify the appropriate grades and inspections for food
Procure food and water from approved sources
Verify the quantity and quality of food supplies and equipment received
Check supplier invoices against the facility purchase orders
Recognize the hazards associated with types of food packaging
Recognize signs of contamination upon receipt and in storage
Process rejections for unacceptable products
Ensure rotation by labeling, dating, and monitoring food
Prevent environmental contamination
Maintain security procedures
Protect Food in all Phases of Preparation Using HACCP Guidelines

Identify potentially hazardous foods and foodborne pathogens
Recognize the types, causes, and symptoms of foodborne illnesses
Monitor time and temperature to destroy or limit the growth of microorganisms
Prevent food cross-contamination
Identify appropriate temperature retention techniques
Ensure food is cooled safely
Establish critical limits and the corrective actions to be taken when critical limits are exceeded
Establish procedures to identify and monitor critical control points
Establish effective recordkeeping systems that document HACCP
Prepare emergency procedures that are necessary to ensure a safe food supply
Develop a crisis management plan to address an outbreak of a foodborne illness
Manage Physical Facilities to Ensure Compliance with Safety and Sanitation Guidelines

Identify federal safety laws
Conduct routine maintenance inspections of equipment
Organize the workflow and use of equipment
Identify appropriate environmental controls for ventilation, waste disposal, and water supply
Follow an integrated pest management (IPM) system
Prepare a safety inspection checklist
Write an inspection report on hazards
Ensure that the equipment, utensils, chemicals, and space have been cleaned and sanitized
5. Business Operations (16%)
The questions in this domain cover the various aspects of budgeting and implementing cost-effective procedures.
Manage a Budget

Determine the needs of the facility
Compute menu costs
Conduct a product price comparison study
Calculate the daily cost PPD
Calculate minutes per meal and meals per labor hour
Compare budget costs to actual costs
Monitor expenses
Prepare an estimate of personnel costs for a foodservice department
Prepare Specifications for Capital Purchases

Review the needs and requirements of capital equipment
Evaluate the condition and life expectancy of existing capital equipment
Evaluate options for the replacement of capital equipment
Write a budget justification for new capital equipment
Recommend specifications for new capital equipment
Plan and Budget for Improvements in the Department Design and Layout

Maintain suggestion and complaint records
Conduct a department improvement discussion session with staff members
Communicate recommendations for improvement
Evaluate workflow and essential equipment relative to new department designs or construction
Research concepts related to the department's facility design
Prepare proposals and specifications for new construction or renovations in the current layout/design
Assist in the Purchasing Process

Identify the department's purchasing procedures and policies
Review vendor product/selection
Establish purchasing specifications
Use the ordering and bidding process
Evaluate the facility's needs, budget restrictions, and products available
Evaluate product information
Be familiar with computer applications
Identify purchase needs by checking inventory
Complete purchase order requisition forms
Maintain inventory records
Recognize inventory management practices
Manage Revenue Generating Services

Supervise cash activities and reports
Calculate the cost to set prices for retail/catering
Plan foodservice and menus for retail/catering
Estimate price per unit serving for retail/catering
Balance the revenue budget by using cost-control techniques
Research, analyze, and/or promote revenue-generating opportunities
Implement Cost-Effective Procedures

Recommend cost-saving purchasing practices
Recommend cost-saving department practices
Implement cost-effective inventory control practices
Report the variance of budget costs versus actual costs
Check out Mometrix's Certified Dietary Manager Study Guide
Get practice questions, video tutorials, and detailed study lessons
Get Your Study Guide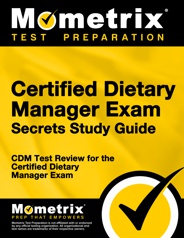 Certified Dietary Manager Exam Registration
To register for the CDM exam, you must first create an online ANFP account. Through this account, you can submit an application, along with all of the required documents for your eligibility pathway and the $399 examination fee. If your application is denied, your fee will be refunded (minus a $50 processing fee).
If your application is approved, you will receive a confirmation email with more information about how to schedule your examination appointment.
Test Day
You should arrive at the testing center at least 15-30 minutes earlier than the scheduled appointment time. Upon arrival, you will be asked to show two forms of valid identification and sign the Rules and Regulations Agreement.
Once you are signed in, you will be asked to place all personal items in a nearby secure locker. This includes items like your cell phone, wallet, bag, books, and food items.
Before the exam begins, you will have an opportunity to take a quick practice exam to become familiar with the format and computer system. Once this practice exam is complete, your real exam will begin.
Once the exam begins, you may take breaks, but the timer will not be paused at any point.
How the Certified Dietary Manager Exam is Scored
The exam is scored using a scaled system that adjusts your raw score (the actual number of questions you answered correctly) according to the relative difficulty of the questions you answered.
Because the score is scaled in this way, the actual number of questions you need to answer correctly will vary depending on which version of the test you took. For more difficult versions, the minimum number of correct answers could be as low as 98 while easier versions of the test could be as high as 105 out of 140.
Generally, answering 70% of the questions correctly is considered a passing score.
You will find out whether you passed immediately after the test. If you are an ANFP (Association of Nutrition and Foodservice Professionals) member, your certification will also become activated instantly once you have passed the exam.
Check out Mometrix's Certified Dietary Manager Flashcards
Get complex subjects broken down into easily understandable concepts
Get Your Flashcards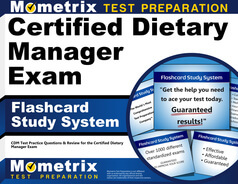 FAQs
How many questions are on the CDM exam?
There are 160 multiple-choice questions on the exam.
How long is the CDM exam?
The time limit for the exam is 3 hours.
What is the passing score for the CDM exam?
There is not set passing score for this exam, but answering 70% of questions correctly is generally regarding as a good enough score to pass.
What is the pass rate for the CDM exam?
The pass rate for this exam is 74%.
How much does the CDM exam cost?
The examination fee is $399.