Certified Coding Associate (CCA) Exam
The American Health Information Management Association (AHIMA) developed the Certified Coding Associate (CCA) exam to assess entry-level medical coders.
Click "Start Test" below to take a free CCA practice test!
Certified Coding Associate Exam Eligibility
The only true requirement for taking the CCA exam is a high school diploma or some equivalent. However, AHIMA strongly recommends that you also have at least one of the following:
At least six months of coding experience
Completion of an AHIMA-approved PCAP program
Completion of a coding training program that includes medical terminology, basic CPT coding, anatomy and physiology, and basic ICD diagnostic/procedural coding
Certified Coding Associate Exam Outline
The CCA exam contains 105 questions, 15 of which are unscored, and you will be given a time limit of 2 hours. The unscored questions are used to evaluate questions for future versions of the exam, and you will not know which questions are scored or unscored.
The exam is split into six content domains:
1. Clinical Classification Systems (30%-34%)

Application of inpatient and outpatient coding guidelines
Using appropriate modifiers
Interpreting healthcare data for code assignment
Assigning inpatient, outpatient, and physician codes
Consulting reference materials to facilitate code assignment
Sequencing codes according to the healthcare setting
Abstracting pertinent information from medical records
Determining an evaluation and management level
2. Reimbursement Methodologies (21%-25%)

Evaluating and reconciling NCCI edits
Communicating with the physician to clarify documentation
Understanding APC and DRG methodology
Evaluating and processing claim denials
Applying CPT guidelines pertaining to bundling and unbundling
Linking diagnoses and CPT codes according to payer-specific guidelines
Hierarchical Condition Categories (HCC) and risk adjustment
Sequencing codes for appropriate reimbursement
Understanding types of claim forms
Validating medical necessity using NCD and LCD
3. Health Records and Data Content (13%-17%)

Performing data abstraction
Understanding the different components of the medical record
Retreiving medical records
Quantitatively analyzing medical records for completeness and deficiencies
Interpreting coding data reports
Requesting patient=specific documentation from other sources
4. Compliance (12%-16%)

Performing ethical coding
Assisting in preparing the organization for external audits
Identifying discrepancies between coded data and supporting documentation
Researching and implementing the latest coding changes
Validating that codes assigned by the provider are supported by proper documentation
Educating providers on compliant coding
5. Information Technologies (6%-10%)

Utilizing CAC software that uses electronic text as a basis for automatically assigning codes
Navigating throughout the EHR
Validating the codes assigned by CAC software
Utilizing HIM and practice management systems
Utilizing grouping and encoding software
6. Confidentiality and Privacy (6%-10%)

Utilizing passwords/passcodes
Ensuring patient confidentiality
Protecting and transferring electronic documents
Recognizing and reporting privacy issues and violations
Retaining and destroying confidential records
Accessing only minimal necessary information/documents
Educating healthcare staff on privacy and confidentiality
Releasing patient-specific data to authorized individuals
Understanding information blocking
Maintaining a secure work environment
Check Out Mometrix's Certified Coding Associate Exam Study Guide
Get practice questions, video tutorials, and detailed study lessons
Get Your Study Guide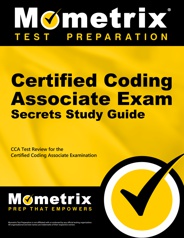 Certified Coding Associate Registration
Once you have determined that you are ready to take the exam, you can apply by visiting the AHIMA website. All applications must be submitted online, and fees are only payable online by credit card. The testing fee is $199 for AHIMA members and $299 for non-members.
AHIMA reviews each application that is submitted. If it is determined that you are eligible, Pearson Vue sends an Authorization to Test (ATT) email that contains information on how to schedule your exam date.
If your application is denied, AHIMA will notify you by email about the requirements you need to sit for the exam.
Required Code Books
The CCA exam requires candidates to obtain and bring the following code books to their testing appointment:
One ICD-10-CM code book (2023) from the approved list below
One ICD-10-PCS code book (2023) from the approved list below
American Medical Association's CPT® 2023 Professional Edition (ISBN# 978-1-64016-213-6)
You can make handwritten notations or comments in your code books, as long as the books are free of any notes containing coding rules and guidelines from reference materials other than the allowed code books. Your code books must also be free from handmade tabs, Post-it notes, and loose materials.
Test Day
You should arrive 15-30 minutes before your scheduled appointment time on the day of your exam. Once you arrive, you will be asked to present two valid forms of identification and your code books for approval. During the check-in process, your photograph, signature, and palm vein pattern will be captured for identification and security purposes.
Before you enter the testing room, you will be asked to leave all personal items (cell phone, bags, hats, watches, food, etc.) in a secure locker.
Once you enter the testing room, you will be given a dry-erase board and a dry-erase marker to take notes. You cannot take anything else with you to your testing room.
CCA Exam Scores
Once you have completed the exam, the proctor will provide you with a copy of your score report, which indicates whether or not you passed. You must achieve a scaled score of 300 to pass the CCA exam.
Retaking the CCA Exam
If you did not pass the exam, you may retake it after a minimum waiting period of 90 days. After 90 days have passed, you must complete a new application and submit the full testing fee. You do not need to resubmit your transcripts with a retake application.
You can submit your application during your waiting period, but your authorization to test will not be issued until 90 days have passed.
Check Out Mometrix's Certified Coding Associate Exam Flashcards
Get complex subjects broken down into easily understandable concepts
Get Your Flashcards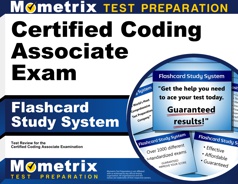 FAQs
How hard is the CCA exam?
This exam is not considered to be very difficult, with a pass rate of 70%.
How long is the CCA exam?
The time limit for the exam is 2 hours.
How many questions are on the CCA exam?
There are 105 questions on the exam.
What is the passing score for the CCA exam?
To pass the exam, you must achieve a minimum scaled score of 300.
How much does the CCA exam cost?
The examination fee is $199 for AHIMA members and $299 for non-members.