Certified Coding Associate Exam
In order to be eligible to sit for the CCA Exam, you must possess a high school diploma/GED and at least six months experience directly applying codes. If you do not meet this prerequisite, you must have completed an AHIMA-approved coding program, or another coding program that includes the topics of anatomy, physiology, medical terminology, Basic ICD, and Basic CPT coding.
This exam is computer-delivered. You will have 2 hours to complete 90 scored and 10 pretest, multiple-choice questions.
A request for special testing accommodations must accompany your registration application.
What is the approximate percentage of questions for each domain?
The six domains assessed are:
Clinical Classification Systems: 30-34%
Reimbursement Methodologies: 21-25%
Health Records and Data Content: 13-17%
Compliance: 12-16%
Information Technologies: 6-10%
Confidentiality and Privacy: 6-10%
What domains and tasks are covered on this exam?
Some of the tasks that will be evaluated under Clinical Classification Systems are applying inpatient and outpatient coding guidelines, interpreting healthcare information in order to assign codes, referring to proper materials in order to help with code assignment.
Some of the tasks that will be assessed under Reimbursement Methodologies are evaluating and reconciling NCCI edits, submitting claim forms, responding to claim denials, and clarifying documentation with physicians.
Some of the tasks that will be evaluated under Health Records and Data Content are retrieving medical records, performing data abstraction, creating reports for data analysis, and obtaining patient-specific documentation.
Some of the tasks that will be evaluated under Compliance are effecting coding changes, completing ethical coding, and instructing providers on compliant coding.
Some of the tasks that will be evaluated under Information Technologies are navigating through EHR, using encoding software, and validating CAC software-assigned codes.
Some of the tasks that will be evaluated under Confidentiality and Privacy are utilizing pass codes, releasing patient-specific individuals only to authorized people, keeping records confidential, as necessary, and properly destroying confidential records, when required.
Check Out Mometrix's Certified Coding Associate Exam Study Guide
Get practice questions, video tutorials, and detailed study lessons
Get Your Study Guide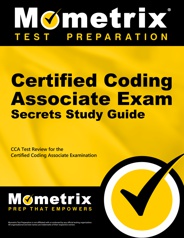 How do I register?
You can register online or via a paper application.
Once you've registered, and have been approved, you will receive an Authorization to Test letter, which includes your authorization number, testing eligibility period (which is four months), and instructions on how to schedule your exam.
What is the cost of taking the exam for the first time?
As a premier American Health Information Management Association (AHIMA) member, you will pay $189.05. Regular AHIMA members pay $199. Non-members pay $299.
What are the testing dates and locations?
There is continuous testing throughout the year, and various testing centers worldwide. You can go online and select the location, date, and time that are convenient for you.
What should I do the day of the exam?
Bring two valid, unexpired forms of identification. One must include your name, signature, and photo. At a minimum, the other must have your name and signature. Also, bring the appropriate code books with you.
It is advisable that you contact the center before your exam to find out what personal belongings are and are not acceptable at the testing center or in the testing area.
Typically, you are prohibited from bringing items such as a jacket or cell phone into the testing area. Such items, as well as other items that are allowed in the testing center, but not in the testing area, must be stored in a designated area.
What happens after I take the exam?
Once you have completed the exam, you will meet with a member of the test center personnel to receive your score report. If you have passed the exam, after some time, you will be able to access your certificate online, and print it off. You will have the option to order a hard copy certificate as well.
Check Out Mometrix's Certified Coding Associate Exam Flashcards
Get complex subjects broken down into easily understandable concepts
Get Your Flashcards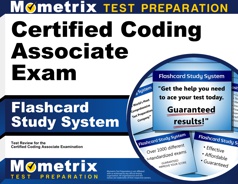 What is the minimum passing score?
The score scale is 100-400. The minimum passing score is 300.
What happens if I don't pass the exam?
You can re-take the exam after a 45-day waiting period. A new application and fee must be submitted.
Prepare yourself for the CCA Exam by purchasing the appropriate tools to get the job done. Purchase your very own study guide and flash card set from Mometrix. These materials cover everything you'll need to know and successfully complete the exam.
Certified Coding Associate Study Guide
Mometrix Academy is a completely free Certified Coding Associate test resource provided by Mometrix Test Preparation. If you find benefit from our efforts here, check out our premium quality Certified Coding Associate Study Guide and Certified Coding Associate Flash Cards to take your studying to the next level. Just click the Certified Coding Associate study guide link below. Your purchase also helps us make even more great, free test content for test-takers.
Upgrade your studying with our CCA study guide and flashcards:
Certified Coding Associate Study Guide
Certified Coding Associate Flashcards
Certified Coding Associate Study Guide Customer Success Stories
Our customers love the tutorial videos from Mometrix Academy that we have incorporated into our Certified Coding Associate test study guide. The Certified Coding Associate study guide reviews below are examples of customer experiences.
I've only read the book for 30 minutes and I've already figured out two questions that I didn't know in class!!
Certified Coding Associate Study Guide – Nancy
I am not far into the book yet so do not have too much insight but what I have read so far is very interesting. Just the explanations of how to go about studying helped so much. It has already made me feel more confident, like "I got this!"
Certified Coding Associate Study Guide – Customer
I love it so far! It has broken down Information for me that was hard to understand & It definitely helps boost my confidence level!
Certified Coding Associate Study Guide – Irma
I was so overwhelmed with all the knowledge that I needed to study for the CCA exam. This book "CCA Exam", helped determine the information that was necessary to study. I like how the book breaks down each Domain's information, step by step.
Certified Coding Associate Study Guide – Donald