The ISA Certified Arborist Exam
The Certified Arborist Exam is available for qualified, arboriculture professionals who want to become Certified Arborists. The Certified Arborist Exam, administered by the International Society of Arboriculture (ISA), is accredited by the American National Standards Institute. Professionals who earn this credential demonstrate professional knowledge of tree biology, safety practices, diagnosis, and other arboriculture-related topics.
There are many advantages associated with earning the Certified Arborist credential. Certified Arborists often have a competitive advantage in the job market because employers and organizations associate this certification with experience and expertise. Becoming a Certified Arborist can also mean an increase in income, depending on the employer. Overall, the ISA Arborist credential can advance the professional development of today's arborists.
Eligibility Requirements
In order to apply to become a Certified Arborist, applicants must fulfill at least one of the following requirements.
Experience: Applicants must have at least three years of full-time experience in arboriculture. Some of the many eligible duties include cabling and bracing, fertilization, pruning, and the diagnosis and treatment of tree problems. Example employers include municipalities, landscape companies, tree care companies, and nurseries. Applicants can submit supervised volunteer work, as long as they can provide documentation providing the hours worked and responsibilities. To validate work experience, candidates must submit a letter(s) of reference from previous or current employers. If the applicant is self-employed, they must submit three letters of reference.
Education: You may fulfill the eligibility requirements by completing a university accredited degree program with additional practical experience in arboriculture or by completing an assessment-based certificate program. Visit the exam website for more eligibility details regarding education.
Overview to the Certified Arborist
ISA Certified Arborist Application Process
Check Out Mometrix's Certified Arborist Study Guide
Get practice questions, video tutorials, and detailed study lessons
Get Your Study Guide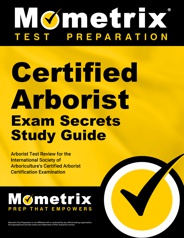 Candidates may apply for the Certified Arborist Exam on the ISA website, through the "My ISA Dashboard." After submission, applicants will receive an approval or denial email from ISA. In the approval email, there will be a link to sign up for the exam. After enrollment, candidates who requested a pen and paper exam will receive a confirmation packet with the location, date, and time of the exam, as well as a contact person. Applicants who requested a computer-based exam will receive an email with a link to schedule the test. There is a 90-day authorization period to schedule and take the exam.
ISA Certified Arborist Exam Fees
Applicants who are members of ISA, an ISA chapter or an affiliated organization pay $170 USD for the exam. The fee for nonmembers is $280 USD. If candidates request the computer-based exam, there is an additional $125 administration fee.
If applicants need an additional 90-day authorization period to reschedule the exam, there will be a $50 fee. If candidates are still within their 90-day period, there is no additional fee to reschedule the exam. To reschedule an exam within your 90-day period, please contact the Person VUE testing center.
Arborist Certification Topics
The Certified Arborist Exam, comprised of 200 multiple-choice questions, is developed using data gathered from arborists all over the world. 20 of these questions will not count towards the final score. The exam is divided into ten areas of expertise, which are listed below.
Pruning (16%)
Safe Work Practices (15%)
Tree Risk Management (13%)
Diagnosis and Treatment (12%)
Soil Management (12%)
Identification and Selection (8%)
Tree Biology (8%)
Urban Forestry (7%)
Installment and Establishment (5%)
Tree Protection (4%)
What to expect on test day
Applicants will have 3.5 hours to complete the Certified Arborist Exam. The testing location depends on whether candidates are taking the exam through an ISA chapter, affiliate organization, or separately. Some of the common procedures and tips are listed below.
Please arrive at the testing center 30 minutes before the start of the exam.
Bring two forms of identification. One I.D. must have a photograph, while the other I.D. must have your signature.
You are allowed to take bathroom breaks, but that time is considered your exam time.
Food, beverages, reference materials, books, papers, cell phones, and other mobile devices are prohibited.
If you are taking the computer-based exam, you will receive your test results immediately after the exam. Applicants taking the paper-based exam will receive their results in six weeks. If you pass the test, you will receive a certificate, score sheet, congratulatory letter, identification card, patch, and hard-hat decal. If you do not pass the exam, you have one year from the original test day to retake the exam. The first retake is free, and any retake after that is $75 USD. If applicants retake the test after the one-year window, they are required to pay the full amount, including the $125 administration fee, if taking the computer-based exam.

Check Out Mometrix's Certified Arborist Flashcards
Get complex subjects broken down into easily understandable concepts
Get Your Flashcards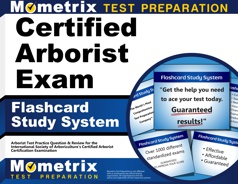 How to prepare for the ISA Certified Arborist Exam
We understand that preparing for any exam can, at first, be intimidating and overwhelming, so our test-taking experts created the Mometrix Certified Arborist Exam Study Guide. This comprehensive study guide thoroughly explains the key topics found on the exam, including mineral deficiencies, pruning, and backfilling. The Mometrix Certified Arborist Study Guide also includes effective test-taking strategies that are sure to help you quickly eliminate incorrect answers, look out for common answer traps, and so much more!
Studies show that repetition is one of the most effective study strategies, so our experts also developed the Mometrix Certified Arborist Exam Flash Cards. Designed with professional-quality material, these flash cards are ideal for quizzing and studying on the go! Additionally, the Mometrix Certified Arborist Flash Cards are easy-to-read, allowing you to absorb the information more effectively.
We look forward to assisting you on your journey to becoming a Certified Arborist! We wish you the best of luck!
Certified Arborist Study Guide
Mometrix Academy is a completely free Arborist certification resource provided by Mometrix Test Preparation. If you find benefit from our efforts here, check out our premium quality Certified Arborist study guide to take your studying to the next level. Just click the Certified Arborist study guide link below. Your purchase also helps us make even more great, free content for test-takers.
Certified Arborist Study Guide Customer Success Stories
Our customers love the tutorial videos from Mometrix Academy that we have incorporated into our Certified Arborist test study guide. The Certified Arborist study guide reviews below are examples of customer experiences.
I have been loving the guide so far. It is helping my studying out considerably and I feel confident now that I will pass the certification test.
Certified Arborist Study Guide – Customer
Great addition to original study guide. It has along with practice test not only the answer but the explanation. Will definitely be helpful to get ready for test.
Certified Arborist Study Guide – Drew
I like how easy it is to understand all the certain subjects and topics and how they shorten it in a manner that you can easily understand, basically summarization in layman's terms. All around I give this Mometrix a five star rating.
Certified Arborist Study Guide – Ted
The content is broken down and clarified to better understand some of the terminology. The study material is easy to follow so I can retain the information to be prepared for my upcoming exam.
Certified Arborist Study Guide – Crystal
The book has written precisely to help prepare for the Arborist Exam with practice test and answers. Practice test with answers and explanation and simple, precise content is very good to understand.
Certified Arborist Study Guide – Customer
Both the cards and the book have been very helpful in my studying. The cards are easy to use and carry a lot of information The book was also very helpful and I liked the idea of showing what the test looks like.
Certified Arborist Study Guide – Cynthia
Very helpful study materials; very detailed and the sequence makes it interesting.
Certified Arborist Study Guide – Rogelio
The book is very resourceful. It's easy to read and understand. It's self explanatory.
Certified Arborist Study Guide – Customer
This book has small, quick paragraphs to help you review and study the different categories.
Certified Arborist Study Guide – Brian