The Certified Arborist Exam is administered by the International Society of Arborists (ISA) to assess your knowledge and skills in the field of arboriculture.
Click "Start Test" above to take a free Certified Arborist practice test!
Certified Arborist Exam Eligibility
In order to apply to become a Certified Arborist, you must fulfill at least one of the following requirements:
Experience
You must have at least three years of full-time experience in arboriculture. Some of the many eligible duties include cabling and bracing, fertilization, pruning, and the diagnosis and treatment of tree problems. Example employers include municipalities, landscape companies, tree care companies, and nurseries.
You can submit supervised volunteer work, as long as you can provide documentation providing the hours worked and responsibilities. To validate work experience, you must submit a letter of reference from previous or current employers. If you are self-employed, you must submit three letters of reference.
Education
You may fulfill the eligibility requirements by completing a university-accredited degree program with additional practical experience in arboriculture or by completing an assessment-based certificate program.
Certified Arborist Exam Outline
The Certified Arborist exam contains 200 multiple-choice questions, and you will have 3.5 hours to complete the exam.
The questions are split into ten domains. Each domain contains multiple tasks, and each task contains a set of knowledge-based and skills-based areas.
1. Tree Biology (11%)

TASK A:
Recommend and specify tree work based on knowledge of tree anatomy, biomechanics, and physiology.

---

Knowledge

Anatomy and functions of roots, trunks, leaves, twigs, and branches
Photosynthesis
Respiration
Energy allocation and storage within a tree
Tree profiles
Tree identification
Mechanical stress and response growth
Growth habits and stages
Water movement within the tree
Morphophysiology

Skills

Identifying trees
Making management and maintenance recommendations based on structural and physiological needs
Making management and maintenance recommendations based on the developmental stage of the tree

TASK B:
Explain the life cycle of a tree and develop tree work recommendations based on developmental needs and tree growth.

---

Knowledge

Vegetative growth
Tree death
Phenology
Environmental effects and responses
Propagation
Reproduction

Skills

Developing maintenance recommendations based on condition and life cycle
2. Identification and Selection (9%)

TASK A:
Describe the importance of proper tree identification when it comes to tree management.

---

Knowledge

The relationship among tree species characteristics, accurate tree identification, and problem diagnosis

Skills

Using tree identification reference materials
Using tree identification systems

TASK B:
Explain tree classification systems and utilize appropriate nomenclature during tree identification and communication.

---

Knowledge

General tree classification

Skills

Using and notating plant-specific names in communication and report writing

TASK C:
Describe important physical and morphological structures used in the identification of tree species.

---

Knowledge

Leaf anatomy, types, arrangements, and characteristics
Root, branch, twig, and trunk anatomy
Tropical and desert tree characteristics
Fruits
Seeds and seedpods
Flower and inflorescence types
Tree profiles

Skills

Collecting tree samples that aid in identification of the tree
Recognizing notable features in key anatomical structures
Utilizing available tree identification resources and tools

TASK D:
Select trees appropriate for a given planting site and project needs, taking into consideration short-term and long-term requirements and maintenance goals.

---

Knowledge

Tree species characteristics
Considerations and potential vulnerabilities of specific species

Skills

Collecting and analyzing soil samples
Assessing site characteristics
Selecting a tree species that will thrive at a given site
Recommending tree species for the planting site
Communicating tree requirements and site considerations
Making recommendations based on tree requirements and site considerations
3. Soil Management (7%)

TASK A:
Assess the chemical, biological, and physical components of soil and its relationship in supporting tree development and growth.

---

Knowledge

Industry standards for soil management
Biological components of soil
Chemical characteristics of soil
Physical characteristics of soil
Soil formation and horizons
Relationship between root distribution and soil
Soil sampling methods
Urban soils

Skills

Collecting and testing soil samples
Interpreting test results
Analyzing soil characteristics

TASK B:
Explain the interaction between soil and water and how it affects tree growth and development, list management options when needed, and assess site conditions.

---

Knowledge

Water movement and drainage
Supplemental water systems
Water budgets
Soil structure
Water behavior in soil
Local climatic conditions affecting availability and uptake of water from soil
Relationship among soil characteristics, water, and drainage

Skills

Assessing water-holding capacity and drainage
Recommending methods for effective water management

TASK C:
Plant and transplant trees according to industry standards and best practices.

---

Knowledge

Soil management and amendments
Types of fertilizer
Tree nutritional and uptake requirements
Fertilization application timing and techniques
Soil volume and structure requirements for trees

Skills

Recommending soil management and development strategies to support tree growth and development in urban areas
Recommending and applying fertilizer on a needs basis, according to applicable industry standards
Identifying soil improvement and remediation strategies
4. Installation and Establishment (9%)

TASK A:
Plant and transplant trees according to industry standards.

---

Knowledge

How the nursery industry propagates and grows trees
Advantages and disadvantages of different nursery stock types
Industry-standard planting and transplanting practices
Planting timing
Backfilling
Root ball interaction with soil and planting hole
Proper tree placement
Impact of soil amendments

Skills

Assessing the quality and health of planting stock
Pruning roots and shaving root balls to prevent girdling
Transplanting trees
Handling planting stock
Removing root ball package materials
Preparing the planting site
Backfilling and adding soil to support tree establishment

TASK B:
Provide care for newly planted trees to ensure growth, good structure, and survival.

---

Knowledge

Tree species characteristics
Trunk wrap and support systems
Environmental and cultural requirements for different tree species

Skills

Determining watering requirements
Selecting and applying mulch
Recognizing inappropriate planting techniques
Pruning young trees for good structure
Installing support for newly planted trees
Recommending plant health care plans
Including and engaging local stakeholders to ensure long-term maintenance
5. Pruning (14%)

TASK A:
Explain why pruning is undertaken and list the main industry-standard pruning systems, types of cuts, general practices, and objectives.

---

Knowledge

Pruning practices and considerations in relation to optimal timing and quantity
Pruning objectives
Accepted industry standards for tree pruning
Wound response
Outcomes of tree pruning

Skills

Communicating how tree pruning promotes good structure
Assessing site and tree conditions that influence pruning decisions
Explaining the difference between unacceptable and acceptable pruning techniques to a lay audience

TASK B:
List commonly used industry-standard pruning tools and their uses.

---

Knowledge

Chainsaws
Scissor-type tools
Pruning saws

Skills

Selecting the appropriate pruning tool for a given scenario
Cleaning and maintaining pruning tools
Handling pruning tool according to best practices

TASK C:
Recommend and execute tree pruning in a way that minimizes impact and promotes longevity.

---

Knowledge

Compartmentalization of decay in trees
Root and utility pruning
Improper pruning techniques
Safety standards and requirements for working near electrical systems
Anatomy and physiology of tree parts, branches, and branch unions
Types of pruning cuts
Disinfection of tools
ISO 11681-2:2011/AMD 1:2017

Skills

Determining where the pruning cut should be according to the branch union anatomy and best practices
Writing pruning specifications and objectives
Sequencing cuts to facilitate the ease of handling removed materials
Minimizing the potential for bark tearing beyond the point of branch attachment
Predicting tree response to pruning cuts depending on the tree species, timing, age, wound size, and overall health of the tree

TASK D:
Explain pruning practices that are detrimental to tree health and longevity.

---

Knowledge

Consequences of improper cuts on tree health and structure
Harmful pruning practices

Skills

Anticipating potential impacts of detrimental pruning practices to tree health and structure
Explaining why certain pruning strategies, cuts, and wound dressings may be detrimental to tree health and longevity
6. Diagnosis and Treatment (9%)

TASK A:
Explain and implement diagnostic principles and practices.

---

Knowledge

Tree identification
Common biotic and abiotic stresses and disorders
Diseases
Difference between signs and symptoms
Difference between biotic and abiotic disorders

Skills

Identifying the causes of common tree health problems
Identifying emerging regional problems and trends in plant pests and disease recognition and monitoring

TASK B:
Explain plant health care and integrated pest management principles.

---

Knowledge

PHC and IPM principles
Compounding factors
Stress factors

TASK C:
Develop and implement a plant health care management plan that takes integrated pest management into consideration and a holistic view of the landscape and environmental needs.

---

Knowledge

PHC and IMP principles
Tree identification
Standards and laws associated with chemical control use, proper waste management, storage, and application
Tree diagnostics and treatment

Skills

Developing and implementing a PHC management plan
Communicating findings and associated management plans and recommendations
Monitoring pest resurgence, treatment success, and follow-up care
7. Trees and Construction (9%)

TASK A:
Develop and implement tree protection plans for individual trees or tree populations that are on or near construction, development, or demolition sites.

---

Knowledge

TPZ and CRZ
Accepted industry standards related to trees and construction
Species-specific resilience/vulnerability to construction
Tree protection measures
Site plans
Construction phases
Roles of developers and contractors withing a tree protection plan
Methods for root and soil protection

Skills

Interpreting a site plan
Coordinating tree protection activities with contractors and developers
Assessing the effectiveness of tree protection plans
Recommending measures to protect trees from damage before and during construction
Utilizing the site plan to aid in implementing the tree protection plan

TASK B:
Predict the impact of construction activities on tree health and stability.

---

Knowledge

Construction practices and techniques
The impact of construction activity on tree health and stability, trunk, branches, and root systems

TASK C:
Recommend treatments for trees that have been impacted during construction.

---

Knowledge

Short-term and long-term impact of construction on a tree's longevity
Conditions w3hen tree removal and replacement is necessary

Skills

Assessing risk related to construction injury to the tree
Developing a treatment and mitigation plan
Providing care to the tree to promote recovery
Recommending short-term and long-term treatments to promote recovery
8. Tree Risk (11%)

TASK A:
Identify and communicate the roles and responsibilities of different parties involved in tree risk management.

---

Knowledge

Roles and responsibilities of the risk assessor
Roles and responsibilities of the tree owner/manager
Roles and responsibilities of the arborist

Skills

Communicating risk and risk management with a diverse audience

TASK B:
List the types of risk associated with trees.

---

Knowledge

Tripping
Slipping
Whole tree vs. tree part failure
Other potential risk sources

TASK C:
Perform a limited visual tree risk assessment of an individual tree or a population of trees near specified targets.

---

Knowledge

Site analysis
Assessment levels
Tree stability
Tree analysis
Mitigation of tree risk

Skills

Identifying obvious tree defects and conditions that may increase the likelihood of failure
Determining the interval of inspections
Determining which level of assessment is necessary under various circumstances
Recommending measures to mitigate tree risk
9. Safe Work Practices (15%)

TASK A:
Explain and comply with industry safety standards, regulations, local laws, and directives for performing tree work and ensuring the safety of climbers, workers, and other persons near the work zone.

---

Knowledge

Industry safety standards and requirements
Industry safety standards and requirements regarding working near electrical systems
ISO 11681-2:2011/AMD 1:2017
Work-zone security, communication, and work planning best practices
Fire safety

Skills

Referring to relevant laws and regulations from all levels of government
Accessing and maintaining reference materials

TASK B:
Develop safety protocols to mitigate risk present within the tree of interest, work site, or equipment being used.

---

Knowledge

Command and response communication system
Local plants and animals that are potential hazards to workers
Signs and symptoms of trunk and root decay
Species-related patterns of whole tree or tree part failure
Fire safety
Mechanical or physical damage done to a tree and/or root system
Ergonomics
Visual tree inspection
Common defects in trees

Skills

Reviewing documentation
Determining if the tree can withstand the necessary work forces
Securing hazardous materials when not in use
Managing traffic hazards
Assessing tree structure
Preparing the work zone
Visually identifying obvious tree defects and conditions
Visually inspecting the immediate surroundings of the tree
Developing and communicating a job briefing

TASK C:
Comply with safety standards when working near electrical hazards.

---

Knowledge

Basic properties of electricity
Common electrical systems and other services
Minimum approach distances
Sources of electrical shock

Skills

Identifying what stage of electrical distribution the line is carrying
Maintaining minimum approach distances
Identifying electrical hardware and line features
Wearing personal protection equipment

TASK D:
Utilize tools and equipment to safely conduct tree work.

---

Knowledge

Pruning saws
Large equipment and vehicle applications
Scissor-type tools
Chippers and stump grinders
Aerial lifts

Skills

Recognizing operational flaws
Coordinating arboriculture work with large equipment vehicle operators
Inspecting tools and equipment for sustainability
Selecting the appropriate mechanical or hand tools to perform arboricultural work
Using mechanical and hand tools in accordance with manufacturing specifications

TASK E:
Utilize appropriate personal protective equipment to protect the health and safety of the arborist.

---

Knowledge

Head protection systems
Eye protection systems
Hearing protection
Leg, foot, and hand protection
Industry-standard tree-climbing saddle/harness, connecting links, and spurs/gaffs
Other PPE according to local regulations

Skills

Selecting and inspecting appropriate PPE
Wearing, adjusting, and maintaining PPE
Selecting tree-climbing equipment that is appropriate for project specifications and meets regulations and industry standards

TASK F:
Explain critical climbing tasks necessary to perform tree work safely.

---

Knowledge

Climbing ropes and rope systems used in arboriculture
Climbing techniques used for tie in and ascent
Procedures for a safe and controlled ascent, descent, and tree work while aloft
Knots or rope tools which provide safe entry and activity in the tree

TASK G:
Explain methods and techniques for tree-rigging used in arboriculture.

---

Knowledge

Tree-rigging hardware, techniques, and systems
Tree characteristics and strength in relation to anchor point and anticipated forces in use during rigging

TASK H:
Remove trees using appropriate techniques to ensure accuracy and safety as well as processing the tree parts.

---

Knowledge

Techniques for felling
Work positioning techniques to reduce repetitive strain injuries and minimize exposure to chainsaw kickback
Chainsaw safety features
Cutting techniques
Techniques for aerial dismantlement
Tree-removal safety hazards

Skills

Developing a felling strategy
Developing a felling escape route strategy
Work positioning to maximize comfort and control and minimize exposure to kickback while handling a chainsaw
Selecting and recommending appropriate tools to achieve directional control

TASK I:
Aid in providing care or oversight during emergency situations involving physical harm or hazardous conditions that pose a safety risk to the arborist, other workers, and other persons near the work zone.

---

Knowledge

CPR
Aerial rescue
Emergency action plan
First aid

Skills

Communicating with emergency responders
Assessing environmental hazards
Documenting and communicating with stakeholders after an emergency

TASK J:
Promote the importance of safety and training of safety procedures and behaviors.

---

Knowledge

Safety procedures
Importance of safety training
Relevant guidelines and standards for arboriculture work

Skills

Communicating the benefits of safety training and procedures
10. Urban Forestry (6%)

TASK A:
Discuss the aesthetic, ecological, economic, environmental, social, and health benefits of urban forests and trees.

---

Knowledge

Aesthetic benefits of trees
Environmental benefits of trees
Economic benefits of trees
Sociological benefits of trees
Health benefits of trees
Benefit-cost ratio (BCR) and return on investment (ROI) associated with trees

Skills

Discussing benefits, tradeoffs, and investment associated with trees with different stakeholders
Recording appropriate tree attributes for calculating tree value
Using established tree value calculators to determine the value of tree

TASK B:
Explain accepted plant appraisal principles and approaches.

---

Knowledge

Appraisal approaches
Community tree benefits
Real estate value improvement

TASK C:
List possible regulatory ordinances and laws concerning trees.

---

Knowledge

Regional laws concerning wildlife management and habitat protection
Ordinances and tree preservation orders
Potential local laws and regulations
Regional permitting and licensing procedures

Skills

Accessing and maintaining reference materials
Referring to relevant laws and regulations from all levels of government

TASK D:
Utilize tools and equipment to safely conduct tree work.

---

Knowledge

Sustainable initiatives
Tree inventories
Pests and diseases management
Pruning/maintenance cycle
Diversity of species management and planning
Invasive species management
Planting plans, initiatives, and canopy cover goals

Skills

Collecting tree data onsite

TASK E:
Inform the public and various stakeholders regarding proper tree care and management practices.

---

Knowledge

Industry-standard maintenance practices and tree care for trees in an urban environment

Skills

Communicating with a diverse audience
Check Out Mometrix's Certified Arborist Study Guide
Get practice questions, video tutorials, and detailed study lessons
Get Your Study Guide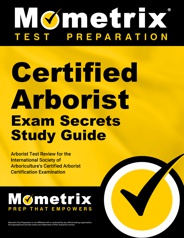 Certified Arborist Exam Registration
You may apply for the Certified Arborist Exam on the ISA website, through the "My ISA Dashboard." After submission, you will receive an approval or denial email from ISA. In the approval email, there will be a link to sign up for the exam.
After enrollment, candidates who requested a pen and paper exam will receive a confirmation packet with the location, date, and time of the exam, as well as a contact person. Applicants who requested a computer-based exam will receive an email with a link to schedule the test.
Exam Fees
Members of ISA, an ISA chapter, or an affiliated organization pay $170 for the exam. The fee for nonmembers is $280 USD. If you request the computer-based exam, there is an additional $125 administration fee.
If you need an additional 90-day authorization period to reschedule the exam, there will be a $50 fee.
Test Day
Testing location depends on whether candidates are taking the exam through an ISA chapter, affiliate organization, or separately. Some of the common procedures and tips are listed below.
Please arrive at the testing center 30 minutes before the start of the exam.
Bring two forms of identification. One ID must have a photograph, while the other ID must have your signature.
You are allowed to take bathroom breaks, but that time is considered your exam time.
Food, beverages, reference materials, books, papers, cell phones, and other mobile devices are prohibited.
If you are taking the computer-based exam, you will receive your test results immediately after the exam. Applicants taking the paper-based exam will receive their results in six weeks.
If you pass the test, you will receive a certificate, score sheet, congratulatory letter, identification card, patch, and hard-hat decal. If you do not pass the exam, you have one year from the original test day to retake the exam. The first retake is free, and any retake after that is $75. If you retake the test after the one-year window, you are required to pay the full amount, including the $125 administration fee, if taking the computer-based exam.
Check Out Mometrix's Certified Arborist Flashcards
Get complex subjects broken down into easily understandable concepts
Get Your Flashcards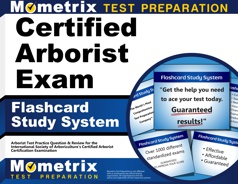 How to Study for the Certified Arborist Exam
How to Study Effectively
Your success on Certified Arborist test day depends not only on how many hours you put into preparing but also on whether you prepared the right way. It's good to check along the way to see whether your studying is paying off. One of the most effective ways to do this is by taking Certified Arborist practice tests to evaluate your progress. Practice tests are useful because they show exactly where you need to improve. Every time you take a free Certified Arborist exam practice test, pay special attention to these three groups of questions:
The questions you got wrong
The ones you had to guess on, even if you guessed right
The ones you found difficult or slow to work through
This will show you exactly what your weak areas are and where you need to devote more study time. Ask yourself why each of these questions gave you trouble. Was it because you didn't understand the material? Was it because you didn't remember the vocabulary? Do you need more repetitions on this type of question to build speed and confidence? Dig into those questions and figure out how you can strengthen your weak areas as you go back to review the material.
Answer Explanations
Additionally, many Certified Arborist practice tests have a section explaining the answer choices. It can be tempting to read the explanation and think that you now have a good understanding of the concept. However, an explanation likely only covers part of the question's broader context. Even if the explanation makes sense, go back and investigate every concept related to the question until you're positive you have a thorough understanding.
Comprehend Each Topic
As you go along, keep in mind that the Certified Arborist practice test is just that: practice. Memorizing these questions and answers will not be very helpful on the actual test because it is unlikely to have any of the same exact questions. If you only know the right answers to the sample questions, you won't be prepared for the real thing. Study the concepts until you understand them fully, and then you'll be able to answer any question that shows up on the test.
Strategy for Certified Arborist Practice
When you're ready to start taking practice tests, follow this strategy:
Remove Limitations. Take the first test with no time constraints and with your notes and Certified Arborist study guide handy. Take your time and focus on applying the strategies you've learned.
Time Yourself. Take the second practice test "open book" as well, but set a timer and practice pacing yourself to finish in time.
Simulate Test Day. Take any other practice tests as if it were test day. Set a timer and put away your study materials. Sit at a table or desk in a quiet room, imagine yourself at the testing center, and answer questions as quickly and accurately as possible.
Keep Practicing. Keep taking practice tests on a regular basis until you run out of practice tests or it's time for the actual test. Your mind will be ready for the schedule and stress of test day, and you'll be able to focus on recalling the material you've learned.
FAQs
Q
How hard is the Certified Arborist exam?
A
The exam is not considered to be a difficult exam, especially if you study adequately before you take it.
Q
How many questions are on the Certified Arborist exam?
A
The exam contains 200 multiple-choice questions.
Q
How long is the Certified Arborist exam?
A
The time limit for the exam is 3.5 hours.
Q
What is a passing score for the Certified Arborist exam?
A
You need to score 76% to pass the exam. You need to respond correctly to 152 questions to maintain a 76%.
Q
How much does the Certified Arborist exam cost?
A
For ISA members, the exam costs $170. The general admission cost is $280.