CEN Practice Test
The Board of Certification for Emergency Nursing (BCEN) administers the Certified Emergency Nurse (CEN) exam as one of the requirements for professionals seeking to attain initial CEN certification.
Click "Start Test" below to take a free CEN practice test!
Eligibility
The exam is specific to emergency nursing and is only open to candidates that already hold a current, unrestricted Registered Nurse license or equivalent nursing certificate. While not required, BCEN also recommends candidates have two or more years of experience in the emergency department.
Exam Outline Review
The CEN exam contains 175 multiple-choice questions, 25 of which are unscored, and you will be given a 3-hour time limit. The unscored questions are unmarked and spread randomly throughout the exam, so you will not know which questions are scored and which are unscored. These questions are used by the test administrators to evaluate questions for future versions of the exam.
The exam is split into ten content domains:
Cardiovascular Emergencies (19 scored questions)
Respiratory Emergencies (18 scored questions)
Neurological Emergencies (18 scored questions)
Gastrointestinal, Genitourinary, Gynecology, and Obstetrical (18 scored questions)
Mental Health Emergencies (11 scored questions)
Medical Emergencies (14 scored questions)
Musculoskeletal and Wound Emergencies (13 scored questions)
Maxillofacial and Ocular Emergencies (11 scored questions)
Environment and Toxicology Emergencies, and Communicable Diseases (14 scored questions)
Professional Issues (14 scored questions)
Check Out Mometrix's CEN Study Guide
Get practice questions, video tutorials, and detailed study lessons
Get Your Study Guide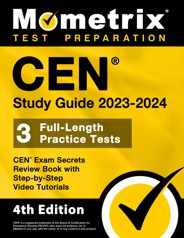 Registration
To register for the examination, you will need to visit your BCEN account, complete the online application for eligibility, and pay the $230 examination fee.
After your application has been received, it will be reviewed by BCEN within approximately four weeks. Once a decision has been made, you will receive an exam eligibility email explaining the next steps.
Then, to schedule an appointment to take the CEN, you will select a Pearson VUE testing center and available exam date and time. You will be given the option to do this online or on the phone.
If you need to change your CEN appointment, you are required to do so within 24 hours prior to your exam date and time. You will only be allowed to do this one time, and the new appointment must still fall within your original 90-day testing window. If you fail to appear for your appointment time, you forfeit all paid fees, and no fees will be refunded once an exam appointment has been scheduled. If you choose to retake the CEN exam after the approved 90-day window, you will need to submit a new application and payment to re-apply for eligibility.
Test Day
In-person Testing
You should arrive at the testing center 30 minutes before your exam is scheduled to begin. If you arrive later than your scheduled appointment time, you will not be permitted to take the exam.
Once you arrive, you will be asked to present a valid form of photo ID, have your photograph taken, and review and accept the rules and regulations agreement for the exam. Then, you will be asked to store all personal items in a locker outside the testing room (cell phone, bag, hat, books, food, etc.).
When you enter the testing room, you will be given 2 pieces of scratch paper to use for notes during the exam.
Live Remote Proctoring (LRP)
You should be logged into your account and ready to test 30 minutes before your exam is scheduled to begin. If you are not logged in and ready on time, you will not be permitted to take the exam.
Once you are logged in, the remote proctor will begin the check-in process. You will be asked to show a valid form of photo ID to the camera, have your photograph taken, and review and accept the rules and regulations agreement for the exam. You will also be asked to scan your testing environment with your camera so the proctor can confirm there are no prohibited items in the testing area, such as your phone, books, food, etc.
Once the proctor is satisfied that you are ready, the exam will begin.
How the Exam is Scored
BCEN uses the Angoff method to score the CEN exam. This means that BCEN panelists are given information (such as test results and other panelists' rating results) to determine the raw score. The raw score is based on how the panelists established the difficulty ratings for each question.
To pass the exam, you need to answer 106 of the 150 scored questions correctly.
You will receive a score report as soon as you finish the exam, which will simply tell you whether or not you passed.
Check Out Mometrix's CEN Flashcards
Get complex subjects broken down into easily understandable concepts
Get Your Flashcards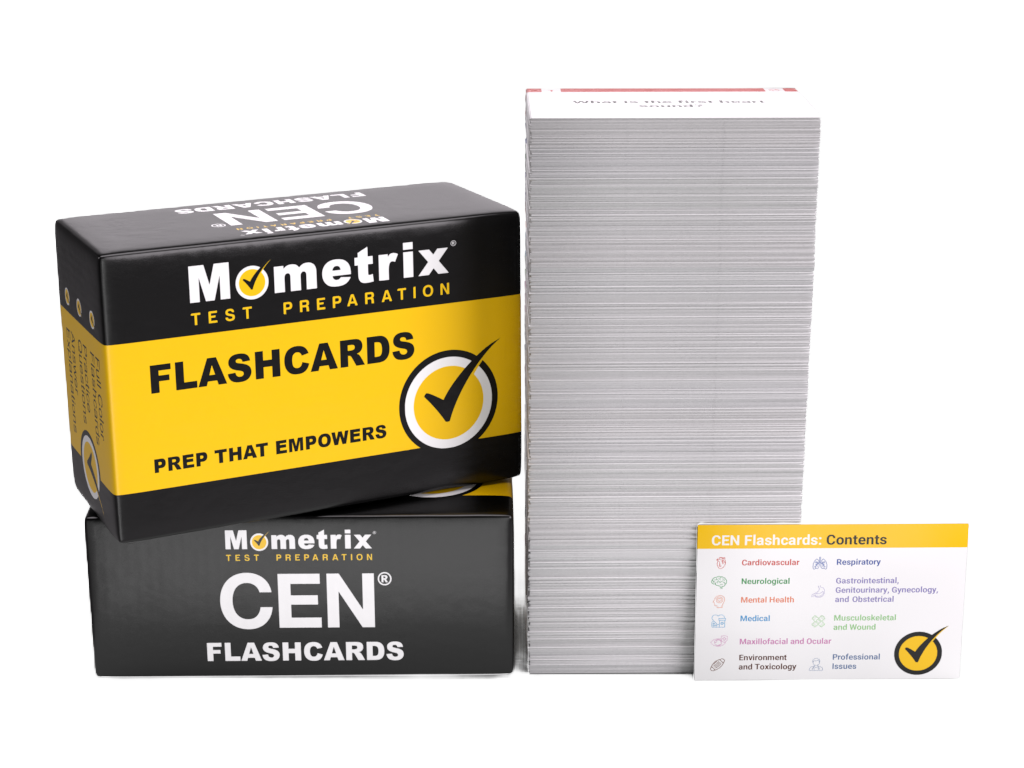 How to Study for the CEN Exam
How to Study Effectively
Your success on CEN test day depends not only on how many hours you put into preparing but also on whether you prepared the right way. It's good to check along the way to see whether your studying is paying off. One of the most effective ways to do this is by taking CEN practice tests to evaluate your progress. Practice tests are useful because they show exactly where you need to improve. Every time you take a free CEN exam practice test, pay special attention to these three groups of questions:
The questions you got wrong
The ones you had to guess on, even if you guessed right
The ones you found difficult or slow to work through
This will show you exactly what your weak areas are and where you need to devote more study time. Ask yourself why each of these questions gave you trouble. Was it because you didn't understand the material? Was it because you didn't remember the vocabulary? Do you need more repetitions on this type of question to build speed and confidence? Dig into those questions and figure out how you can strengthen your weak areas as you go back to review the material.
Answer Explanations
Additionally, many CEN practice tests have a section explaining the answer choices. It can be tempting to read the explanation and think that you now have a good understanding of the concept. However, an explanation likely only covers part of the question's broader context. Even if the explanation makes sense, go back and investigate every concept related to the question until you're positive you have a thorough understanding.
Comprehend Each Topic
As you go along, keep in mind that the CEN practice test is just that: practice. Memorizing these questions and answers will not be very helpful on the actual test because it is unlikely to have any of the same exact questions. If you only know the right answers to the sample questions, you won't be prepared for the real thing. Study the concepts until you understand them fully, and then you'll be able to answer any question that shows up on the test.
Strategy for CEN Practice
When you're ready to start taking practice tests, follow this strategy:
Remove Limitations. Take the first test with no time constraints and with your notes and CEN study guide handy. Take your time and focus on applying the strategies you've learned.
Time Yourself. Take the second practice test "open book" as well, but set a timer and practice pacing yourself to finish in time.
Simulate Test Day. Take any other practice tests as if it were test day. Set a timer and put away your study materials. Sit at a table or desk in a quiet room, imagine yourself at the testing center, and answer questions as quickly and accurately as possible.
Keep Practicing. Keep taking practice tests on a regular basis until you run out of practice tests or it's time for the actual test. Your mind will be ready for the schedule and stress of test day, and you'll be able to focus on recalling the material you've learned.
CEN Online Prep Course
If you want to be fully prepared, Mometrix offers an online CEN Prep Course. The course is designed to provide you with any and every resource you might want while studying. The CEN Course includes:
120 Lessons Covering Every Topic
1,200+ CEN Practice Questions
Over 90 Video Tutorials
More than 1,000 Electronic Flashcards
Money-back Guarantee
Free Mobile Access
and More!
The CEN Prep Course is designed to help any learner get everything they need to prepare for their CEN exam. Click below to check it out!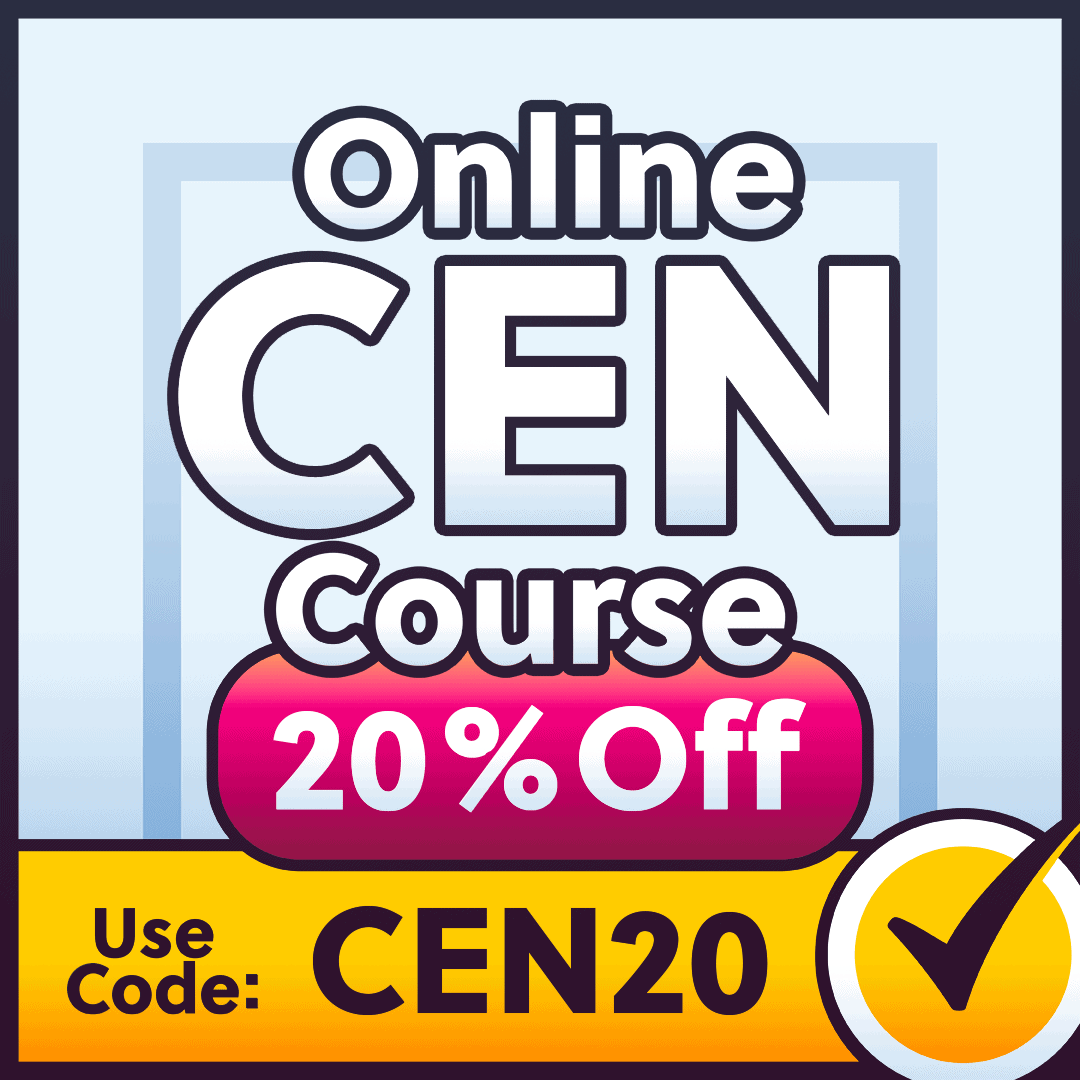 FAQs
How hard is the CEN exam?
The CEN exam is considered to be a straightforward exam that can be passed without much difficulty if an adequate amount of studying is done beforehand.
How many questions are on the CEN exam?
There are 175 questions on the exam, 25 of which do not count toward your score.
How long is the CEN exam?
The time limit for this exam is 3 hours.
What is the passing score for the CEN exam?
To pass the exam, you must answer at least 106 of the scored questions correctly.
How much does the CEN exam cost?
The examination fee for this exam is $230.
CEN Study Guide Customer Success Stories
Our customers love the tutorial videos from Mometrix Academy that we have incorporated into our CEN test study guide. The CEN study guide reviews below are examples of customer experiences.
Good book, lots of great information in here. Gives you want you need to know without rambling on. Explanations are to the point, and covers everything. Haven't taken the exam yet, but am going to register soon. Also includes practice test, unlike most study guides, which is very helpful.
CEN Study Guide – Customer
So far I am very impressed and so are others I work with. I bought this book after many good reviews from coworkers and a few have purchased after looking this book over. It is right to the point and easily understood.
CEN Study Guide – Debbie
I purchased the CEN EXAM SECRETS STUDY GUIDE book. I am rating the book a 5 out of 5! It's been a great study book and I am learning so much from it. It gives me information that I need and quick definitions of terms. It's a great refresher book as well. I am new to ER nursing and this book has been very helpful! The book has medical conditions, symptoms and expected treatments. I will definitely recommend this book to all my coworkers! Thank you!
CEN Study Guide – Jessica
I have heard excellent things about the book. So far I agree! It is an excellent review and easy to understand and follow. I will continue using this book to prepare for my CEN.
I am a clinical nurse educator and will encourage my fellow nurses to purchase this book.
CEN Study Guide – Karina
I rate this resource a 5 out of 5 since 1. it was affordable 2. the material in it is straight to the point (the info you really need to know 3. great to have the rationales to the answers (really reinforces learning) 4. transportable (easy to bring with you anywhere). It can cause anxiety for anybody who is preparing to take an exam, this guide is well worded, not overwhelming which helps alleviate some of that anxiety.
CEN Study Guide – Julie
Great product. Concise and to the point review. I like that there is a practice test in the back and feel prepared to take my exam in a couple months. Great practice exam in the back and highlights great topics.
CEN Study Guide – Kelsey
This is the main study tool I used for my exam. Almost everything that is on the exam is covered in this book, however not everything in this book will be on the exam! It was extremely helpful, I've been using it for 3+ months and I just passed my exam yesterday! The book breaks down everything so that it's simple and easy to understand. If you're planning to take the CEN, DEFINITELY buy this book. It WILL help! And the practice questions in the back are formatted very similar to the actual exam.
CEN Study Guide – Bailey
I really like this book and have been recommending it to my co-workers. I like how the book breaks down the CEN Content Outline and offers explanations for each topic. I also like the questions with the rationales offered in the answer key.
CEN Study Guide – Roger
I have just started studying and it is an amazing learning tool. It is easy to follow and has lots of questions and explanations. This book came highly recommended to me by a fellow ER nurse, and I can see why!
CEN Study Guide – Customer
To get the most out of the CEN system, you should definitely purchase the flashcard systems and practice questions to go along with the book. The three products combined are a lifesaver. I am one that does not retain information very easily. These products really helped to learn the material and worked in tandem to help me retain the information that I needed to take the exam. The Emergency Nursing Examination is not known to be an easy examination and takes weeks if not months of preparations. Make sure you are as prepared as possible by using the proper study materials. The CEN Exam Secrets is a book, not a pamphlet. I was a little bit leery about purchasing when I read the reviews, but I am glad that I did. The study guide is clearly written by an expert in the field. They cover many great topics. It is a terrific comprehensive review guide.
CEN Study Guide – Customer