As you prepare to take your Commercial Driver's License (CDL) exam, we've put together some information here that will help you prepare and know what to expect. You'll find details on how to sign up for the test, along with costs and payment information. Also, we'll give you an overview of what you can expect to see on the test, and more.
Exam Purpose and Background
When you take and pass the exam, the CDL you earn will allow you to drive larger commercial vehicles and those that require a specialized or advanced set of skills and knowledge. For example, a CDL allows you to operate a vehicle weighing 26,001 pounds or more, based on gross vehicle weight rating (GVWR), or lighter vehicles transporting people. In general, the CDL signifies that you have the baseline knowledge needed to operate these specialized vehicles safely.
Check Out Mometrix's CDL Printed Study Guide
Get practice questions, video tutorials, and detailed study lessons
Get Your Study Guide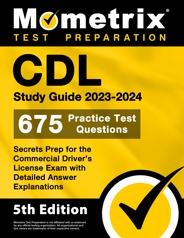 Requirements to Apply
To qualify for a CDL, you must meet a number of requirements to confirm that you're a US citizen and disclose any other pertinent driving-related information. Find a complete set of requirements at www.cdlcareernow.com.
The Steps to Obtaining Your CDL
When you're ready to begin the steps to obtain your CDL, contact your local Department of Motor Vehicles for an appointment.
Here's an overview:
Be 18 (driving intrastate) or 21 (driving interstate)
Turn in your state's CDL application form and fee
Confirm identity and Social Security Number verification
Provide proof of residency
Submit a complete Medical Examination Report Form and Medical Examiner's Certificate Form
Complete/pass vision test
Pass your Knowledge Test to receive a Commercial Learner's Permit (CLP)
After 14 days, schedule your Skills Test
Pass the pre-trip inspection
Pass the road skills and driving examination using your own vehicle
Pay needed fees for your CDL
Costs/Payment Options
There's a wide range of fees involved with taking the CDL exam, based on the license class you're seeking, along with the type of application (including special endorsements, with/without driving test, etc.). In general, the fee ranges from $27 to $73 and is subject to legislative change.
Check Out Mometrix's CDL Flashcards
Get complex subjects broken down into easily understandable concepts
Get Your Flashcards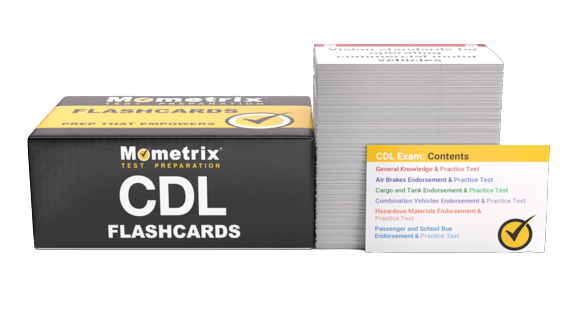 CDL Exam Outline
The Knowledge Test
Based on what class of license you're pursuing and the endorsements you're required to have, you will need to take at least one knowledge test. The general knowledge test is required no matter what license class you're applying for. See www.cdlcareernow.com for a list of knowledge tests and a decision tree to help you plan for which tests you'll need.
What to Bring
Current forms of ID (current driver's license, proof of US citizenship/lawful permanent residency; such as US passport, US birth certificate, certificate of citizenship or permanent residency card)
What Not to Bring
Any type of study aids, such as notes or written materials
Electronic devices of any kind, including cell phones, iPads, etc.
Personal items
Test Duration
If you'll be taking all knowledge tests, you can plan on taking two to three hours.
The Skills Test
Once you pass the Knowledge Test, you're eligible to take the Skills Test. This portion of the test covers three areas, including basic control skills, vehicle inspection and a road test.
Vehicle Inspection Test (Takes about 40 Minutes)—During this portion, you'll walk through an actual inspection with your proctor and explain your inspection decisions to him/her.
Basic Control Skills Test (Takes about 30 Minutes) — This portion puts you behind the wheel and requires to you complete some essential maneuvers, including turning the vehicle in a defined area, pulling backward and forward, etc.
Road Test (Takes about 45 to 60 Minutes) — Using route designed by the Department of Motor Vehicles, you'll drive the vehicle and be assessed on your ability to navigate and successfully complete maneuvers typically required of a person driving the vehicle.
Additional Resources
As you get set for the CDL exam, we want to remind you about other resources that are available to you with Mometrix Academy. For a fee, you'll have access to our CDL exam Study Guide that features valuable information and video learning. Also, you can use our CDL Flashcard Study System that will help you test your information recall and boost test readiness.
FAQs
Q
What is on the CDL test?
A
On the CDL test, you will be tested over several topics, including: vehicle inspection, communicating with other drivers, the dangers of driving while drinking, railroad crossing, accident procedures, and the importance of staying alert and fit to drive.
Q
How many questions are on the CDL test?
A
The CDL test contains 50 multiple-choice questions.
Q
What percentage do you need to pass a CDL test?
A
To be considered as passing the CDL test, you will need to answer 80% of the questions correctly.
Q
What does a CDL allow you to do?
A
A CDL allows you to drive and operate vehicles that are included in a particular class for which the license was issued. For example, depending on which class of CDL you will have, you will be able to driver any vehicle that weights 26,000 or more for commercial use, transport hazardous waste material, and operate a vehicle that is designed to transport more than 16 passengers.
Q
Can you drive a bus with a CLASS A CDL?
A
To drive a bus, you must possess a Class C CDL along with first a P endorsement. A P endorsement is required to drive a vehicle that carries at least 16 passengers. After obtaining the P endorsement, you are then qualified to obtain an S endorsement.
Q
Is the CDL A test multiple choice?
A
Yes. The CDL test is multiple choice. You will have 60 minutes to answer 50 multiple-choice questions.
Q
How long does it take to get your Class A license?
A
If you prefer to take a CDL training program, it usually takes about seven weeks to obtain your Class A CDL.
Q
What is a Class A CDL permit?
A
A CDL permit is the first step to obtaining your CDL. A CDL permit is a lot like a regular driver's license. You are required to have it before obtaining your actual CDL.
Q
What is required for a CLASS B CDL?
A
There are several requirements for obtaining a Class B CDL. You must first be 21 years of age and be able to pass an eye exam. You must also have a valid driver's license free of any moving violations. You will be required to pass the General Knowledge test, the Basic skills test, Air-brakes test, Pre-trip inspection and any other required tests needed to obtain a Class B CDL.