CDL Exam – CDL Practice Tests & All CDL Endorsements Overview
A commercial driver's license (CDL) is required before you can drive any large or heavy vehicles such as tractor trailers, buses, dump trucks, tow trucks, and semi-trucks. The exam is used to demonstrate that you understand the unique safety procedures and practice for operating these larger sized vehicles on the road.
Who Can Get a CDL?
In most states, you have to be at least 21 years of age before you can get your commercial driver's license, but some states allow drivers as young as 18 to get this license. If you are younger than 21, however, you will only be able to apply for a single-state CDL that allows you to drive these vehicles in the state where you got the license but not across state borders.
You will also need to prove that you don't have any prior criminal offenses that disqualify you from getting a CDL. Only certain criminal offenses will disqualify you. Beyond age and criminal record, each state has its own requirements that you need to meet before you can take the CDL test.
In addition to applying for your CDL, you also need to apply for specific endorsements depending on which type of vehicle you plan to drive. For example, if you plan to drive busses, you will need a Passenger (P) endorsement. If you will be transporting hazardous materials, you will need a Hazardous Materials (H) endorsement.
What Will the CDL Test Be Like?
No matter which state you're in, the CDL test will be composed of two parts: a written knowledge exam and a driving skills test. You need to take the written knowledge exam first in order to get your commercial learner's permit (CLP).
Then, you need to have your CLP for at least 14 days before you can take the driving skills test. While you have the CLP, you can take driver's training classes to work on your skills as a driver. It's recommended that you train in the same type of vehicle that you plan to drive after getting your license. In fact, some states actually require the completion of a training course.
Check Out Mometrix's CDL Study Guide
Get practice questions, video tutorials, and detailed study lessons
Get Your Study Guide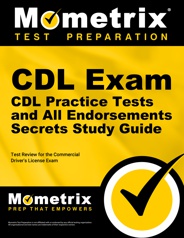 What Will Be Included in the CDL Test?
While it can vary from state to state, there will be at least 30 questions on the written knowledge CDL test. The written exam will cover highway safety and require you to identify the different parts of the truck. The driving skills test will be composed of three parts:
Vehicle inspection
Basic controls exam
Road test
You need to receive satisfactory scores in all three parts in order to pass the full driving skills test. There will also be additional written exam questions and skills test components based on any endorsements you are adding to your license. Some industries allow you to waive certain parts of the CDL exam. For example, military veterans who drove military vehicles while serving may be eligible to skip the driving skills test. Other industries that waive some CDL requirements include:
Firefighters
Emergency Medical
Farming
Workers who remove snow and ice
What Scores Do I Need to Pass?
To pass the written knowledge exam, you need to answer at least 80% of the questions correctly. In order to pass the driving skills test, you need to receive fewer than 30 deductions during the evaluations. Deductions are given for things like swinging out too wide, failing to use mirrors appropriately and so on.
Many mistakes you make during the driving skills test will just result in a point being deducted, but there are some mistakes that result in an automatic fail. This includes obvious things like running a red light or getting into an accident as well as not so obvious things like going over a curb and rolling backward before taking off from your stop.
How Should I Prepare for the CDL Exam?
To prepare for the written exam, you should study for it like you would other exams. That means using great study aids like the Mometrix Study Guide. This tool includes a comprehensive review of not only federal requirements but also state specific and endorsement specific material. So no matter where you're taking the test or which endorsements you're adding, this tool will be the perfect way to prepare!
To prepare for the driving skills test, it's highly recommended that you take a training course if you don't already have experience from working in one of the industries that qualify you to waive certain CDL requirements. There's nothing like practical, hands-on experience to help you get comfortable performing the proper procedures you need to demonstrate during this test.
Check Out Mometrix's CDL Exam Flashcards
Get complex subjects broken down into easily understandable concepts
Get Your Flashcards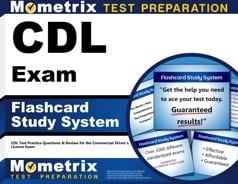 CDL Study Guide
Mometrix Academy is a completely free CDL test resource provided by Mometrix Test Preparation. If you find benefit from our efforts here, check out our premium quality CDL Study Guide and CDL Flash Cards to take your studying to the next level. Just click the CDL study guide link below. Your purchase also helps us make even more great, free test content for test-takers.
CDL Customer Success Stories
Our customers love the tutorial videos from Mometrix Academy that we have incorporated into our CDL test study guide. The CDL study guide reviews below are examples of customer experiences.
This book is easy to read, covers all CDL endorsement materials, and includes the study guide questions which is great to help you understand after reading each chapter. This book was helpful for me to study for my upcoming CDL exam. I Highly recommend to anyone wanting to obtain their CDL license.
CDL – JR
Just the first 10 min of me reading this I felt comfortable. It is easy to read and understand. It reads like a regular person is talking to you nothing like state dot manual Very pleased with my purchase, you guys rock!!!
CDL – Odessa
This was a great buy. This book provides detailed information and simplifies my study regiments. I am able to understand the information provided because of its structure, allowing me to finish what I start. I give this book 5 stars..It is way better that other materials I purchased in the past...Thumbs up!!
CDL – Customer
Our son requested this book to study for the CDL test and says it is perfect for his needs. He is enjoying the tips and simple guidelines for the test.
CDL – Carolyn
Help me study quick with questions and answers up front. Easy read and understand quickly. I'm very happy that I got this book. Far better then state exam study book.
CDL – Ralph
Great to the point information that get you prepared for the road. This is a great way to get you ready for your exam; so far it breaks it up easier then the book you get from the DMV and is more hands on because it tests you.
CDL – Danny
I really like how there is a lot of practice questions on each endorsement to test your knowledge.
CDL – Customer
The book has a good sizes, big bold letters and easy to read. Everything you need to study in order very well done.I will be buying more study test books in future. Thanks.
CDL – Rosa
The books are concise and the illustrations are clear. The customer service was very speedy! Thanks.
CDL – Carol
What a blessing this has been. I am an adult literacy tutor and am tutoring a young man who wants his CDL license. The clarity of the writing will assist him in his comprehension and ability to easily pass the test. The flash cards are an added bonus. Many thanks to all of you and your insights for those learning a new skill.
CDL – Terri