A commercial driver's license (CDL) is required before you can drive any large or heavy vehicles such as tractor trailers, buses, dump trucks, tow trucks, and semi-trucks. The exam is used to demonstrate that you understand the unique safety procedures and practice for operating these larger sized vehicles on the road.
Click "Start Test" above to take a free CDL practice test, and check out our premium-quality CDL test prep resources by clicking the links below!
Who Can Get a CDL?
The requirements that must be met before you can obtain a CDL vary from state to state. However, there are some qualifications that meet the minimum Federal standards according to the Commercial Motor Vehicle Safety Act of 1986 and apply to all states. These requirements include but are not limited to:
General Requirements

You must hold a CLP for a state-specific minimum number of days
You must be at least 18 years old for in-state driving in some states but need to be at least 21 years old to drive across the country and across international borders
You must be at least 21 years old if you will be transporting hazardous materials
You must prove they are a resident of the state you are taking the test in
You must be able to speak English at a conversational level
You will likely need to provide a DOT medical card
You must be able to pass all required background checks
Physical and Medical Requirements

Vision measurement of 20/40 in each eye with or without correction such as eyeglasses or contact lenses
At least 70 degrees of peripheral in the horizontal meridian of each eye
Hear a whisper from a minimum of five feet away (hearing aids can be worn to improve hearing)
Diabetics who take insulin injections are not permitted to have a CDL
Blood glucose levels should be less than 10%
Blood pressure must be less than 140/90 to be issued a 2-year health card
Blood pressure readings of 140=159/90-99 allow you medical certification for one year
Stage 2 hypertension and blood pressure readings of 160-179/100-109 allow you a medical certification that is valid for three months
You must have no respiratory dysfunctions
CDL Test Outline
No matter which state you're in, the CDL test will be composed of two parts: a written knowledge exam and a driving skills test. You need to take the written knowledge exam first in order to get your commercial learner's permit (CLP). Then, you need to have your CLP for at least 14 days before you can take the driving skills test.
Written Exam
The specific details of the written test vary depending on your state, but every state has designed the test to assess your knowledge of the commercial rules established by the state. Most states require that you answer at least 80% of the multiple-choice questions on the written test accurately to pass.
Driving Skills Test
Before you can take the driving skills test, your vehicle must be inspected and approved. The vehicle inspection will require you to prove that the vehicle is currently insured with at least liability insurance and is currently registered to be operated in that state.
Many mistakes you make during the driving skills test will just result in a point being deducted, but there are some mistakes that result in an automatic fail. This includes obvious things like running a red light or getting into an accident as well as not so obvious things like going over a curb and rolling backward before taking off from your stop.
This test is split into to sections: a basic vehicle control assessment and a road test.
Basic Vehicle Control
During the basic vehicle control assessment, you must demonstrate the following abilities:
Straight-line backing
Offset backing to the right or left as instructed
Conventional parallel parking
Parallel parking on the driver's side of the vehicle
Road Test
On the road test, the instructor will be looking for skills and abilities concerning your ability to perform the following tasks:
Start the vehicle
Place your hands correctly on the steering wheel
Perform a smooth stop
Upshift at the appropriate times
Downshift at the appropriate times
Execute a safe lane change
Safely merge with oncoming traffic
Understand which vehicles have the right of way
Execute a left turn properly
Execute a right turn properly
Safely approach an intersection
Safely approach traffic signals and obey signal commands
Follow traffic sign instructions
Safely approach and cross a railroad crossing
Have complete control over the vehicle when navigating a curve
Execute a safe roadside stop or start
Match your speed to the road surface
Check Out Mometrix's CDL Study Guide
Get practice questions, video tutorials, and detailed study lessons
Get Your Study Guide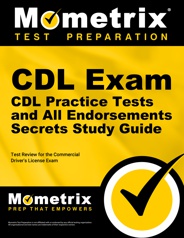 CDL Exam Registration
You must take the CDL exam in the state where you are a resident. The license from your state is considered valid in all states.
To register, you can make an appointment at your local driver's license office. You may have to schedule a day to take the skills or road test.
Fees
The cost of a CDL depends on the state you take the test in, the CDL class you are applying for, and the number and type of endorsements you need.
What is a CDL?
A CDL is a commercial driving license. These licenses are required for an individual to operate vehicles that have a gross vehicle weight rating (GVWR) of 26,001 pounds.
The commercial operator's license is also needed for:
A vehicle that is capable of transporting 16 or more people, including a driver.
A vehicle that has to be placarded during the transportation of hazardous materials according to federal mandates and regulations.
A combination of vehicles that have a gross combined weight rating of 26,001 pounds, as long as the vehicle that is being towed does not exceed a gross vehicle weight rating of 10,000 pounds.
CDL Classification
There are three classifications of CDL licenses. The Federal Government sets requirements of the need for and the class of CDL needed by considering the weight of the vehicle and what the vehicle is used to transport.
Class A (Combination Vehicle Group)
The vehicles a driver with this class of CDL is allowed to operate include:
Truck and trailer combinations
Semi/Big Rigs/18-wheelers
Livestock transport
Tanker vehicles
Flatbed trailers
Most vehicles that require a class B or class C license
The vehicle that is being towed must NOT weigh in excess of 10,000 pounds.
Class B (the Heavy Straight Vehicle Group)
The vehicles a driver with this class of CDL is allowed to operate include:
Straight trucks
City buses
Tourist buses
School buses
Segmented buses
Box trucks like delivery trucks
Dump trucks that have small trailers
Some of the class C vehicles, if the driver possesses the proper endorsement
The operation of a vehicle that is designed to carry a specific number of passengers that is typically 16 or more, but may be as high as 24 or more. Class B operators must operate buses that are less than 26,001 pounds.
Class C (The Small Vehicle Group)
The vehicles a driver with this class of CDL is allowed to operate include:
Double and triple trailers
Buses
Tank trucks
HazMat Vehicles
CDL Endorsements
Endorsements are required for certain items to be transported by certain vehicle types. To earn an endorsement an individual must take endorsement-specific tests.
H endorsement
This is for hazardous material transportation. It is needed if you will be hauling explosives, flammables, combustible liquids, gases, and similar items.
N endorsement
This is needed if you will be towing a tank that carries liquid ingredients. This included liquefied gaseous materials.
P endorsement
This is needed when you will be driving a vehicle, of any size, that has the capacity to hold a specific number of passengers and driver. The number of people varies depending on the state you live in.
S endorsement
This is a special endorsement for school bus drivers.
T endorsement
This endorsement is required if you will be towing multiple trailers. If you will pull double or triple trailers you will need this endorsement to do so legally.
X endorsement
This is a special endorsement that combines the N and the H endorsements. If you will be transporting materials that are hazardous and are in a tank container then you need this endorsement.