As you prepare to take your Commercial Driver's License (CDL) exam, we've put together some information here that will help you prepare and know what to expect.
Click "Start Test" above to take a free CDL All Brakes Endorsement practice test, and check out our premium-quality CDL test prep resources by clicking the links below!
Eligibility
To be eligible for a CDL, you must meet a number of requirements to confirm that you are a citizen of the United States and disclose any other pertinent driving-related information. Each state will have their own specific requirements as well.
Obtaining a CDL
To obtain your commercial driver's license, you should first contact your local Department of Motor Vehicles and schedule an appointment.
The entire process looks like this:
Be 18 (driving intrastate) or 21 (driving interstate)
Turn in your state's CDL application form and fee
Confirm identity and Social Security Number verification
Provide proof of residency
Submit a complete Medical Examination Report Form and Medical Examiner's Certificate Form
Complete/pass vision test
Pass your Knowledge Test to receive a Commercial Learner's Permit (CLP)
After 14 days, schedule your Skills Test
Pass the pre-trip inspection
Pass the road skills and driving examination using your own vehicle
Pay needed fees for your CDL
Check Out Mometrix's CDL Study Guide
Get practice questions, video tutorials, and detailed study lessons
Get Your Study Guide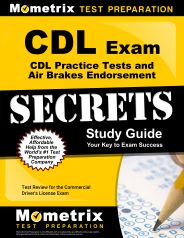 CDL Test Outline
To obtain your CDL, you will need to take the general knowledge test, which consists of 50 multiple choice and matching questions that focus on driving safely and transporting cargo safely. You will also take the air brakes knowledge test, which assesses your knowledge on parts of an air brake system, dual air brake, inspecting air brake systems, and using air brakes.
Once you pass the knowledge tests, you must take skills tests. The three types of skills tests are vehicle inspection, basic vehicle control, and on-road driving.
When taking the inspection test, if applying for Class A, you will have to perform one of four versions of the test. The test will include engine start, in-cab inspection, and coupling system inspection. You will then be asked to either inspect a portion of the vehicle or the entire vehicle.
If applying for Class B or C, you will have to perform one of three versions of the test. The test will include engine start and in-cab inspection. You will then inspect special features of the vehicle (if applicable). Lastly, you will be asked to either inspect a portion of the vehicle or the entire vehicle.
Examples of topics that will be evaluated for the basic vehicle control skills test are straight line backing, driver side parallel parking, or offset back/left. You will be scored on encroachments, pull-ups, outside vehicle observations, and final position.
With on-road testing, you will be quizzed on turns, intersections, urban business, lane changes, limited access highway, stopping/starting, curves, railroad crossing, bridges/overpasses, and general driving behaviors.
Check Out Mometrix's Texas CDL Exam Flashcards
Get complex subjects broken down into easily understandable concepts
Get Your Flashcards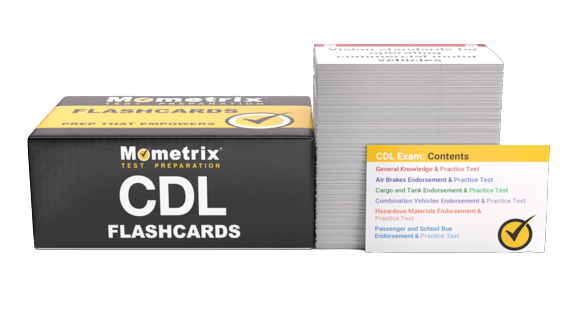 Fees
The registration and examination fees will differ depending on which state you obtain your CDL in.
Retaking the Exam
If you do not pass the knowledge and skills tests, your application will remain pending for 90 days. If you do not take the failed tests in that 90-day period, or fail them a total of 3 times, your application will be canceled, and you must re-register.