CCTN Exam
In order to be eligible to take the Certified Clinical Transplant Nurses Exam, the candidate must have at least 12 months experience as a registered nurse, and an additional minimum of 12 months working as a transplant nurse.
This test is computer-based. You will have 3 hours to complete 175 multiple-choice questions. Of the 175 questions, only 150 will be scored.
Special testing accommodations are available for those who have approved conditions. This request must be made in writing.
What categories are covered on this exam?
For the CCTN Exam, the questions will be based on one of three cognitive skill levels.
The first is recall. This is the ability to remember previously learned material.
The second is application. This is the ability to use previously learned material in new ways.
The third is analysis. This is the ability to break down information to find relationships between different components.
The categories covered on this exam are:
Pre-transplantation Care
Care Immediately Post-transplantation
Transplantation Management
Pharmacological Therapeutics
Education and Discharge
Professional Responsibilities
Regarding the scored exam items:
For the Pre-transplantation Care category, there will be 9 recall questions, 11 application questions, and 3 analysis questions.
The Care Immediately Post-transplantation category will consist of 7 recall questions, 9 application questions, and 16 analysis questions.
There will be 8 recall questions, 11 application questions, and 10 analysis questions for the Transplantation Management category.
Pharmacological Therapeutics is a category that will include 4 recall questions, 8 application questions, and 14 analysis questions.
For the Education and Discharge category, there will be 6 recall questions, 17 application questions, and 2 analysis questions.
The Professional Responsibilities category consists of 7 recall questions, 6 application questions, and 2 analysis questions
Check out Mometrix's CCTN Study Guide
Get practice questions, video tutorials, and detailed study lessons
Get Your Study Guide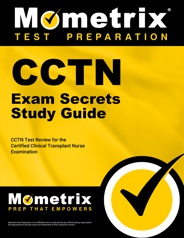 How can I register for this exam?
You can register online or using a paper application.
If registering online, the registration fee must be paid via American Express, Discover, VISA or MasterCard. If registering via a paper application, you may pay with one of the above credit cards, or via personal check, cashier's check, or money order.
What is the cost of the exam?
The cost of the CCTN Exam is $325 within the United States. If a testing site in another country is requested, an additional fee of $225 will be applied.
What are the testing dates and locations?
This exam is offered Monday – Saturday, throughout the year. You can choose from one of approximately 300 testing sites.
What should I do the day of the exam?
Report to the testing site on time. If you are more than 15 minutes late, you will not be allowed to take the exam.
Bring two current, valid forms of identification. The primary form of identification must consist of your name, signature, and photo. Copies are not allowed. Examples of acceptable forms of ID include driver's license, passport, state identification, national identification, and military identification.
The second form of identification only requires your name and signature.
Items such as a hat, wallet, and keys may be brought to the testing center but must remain in a locker during testing.
What happens after I take the exam?
You will receive a printed copy of your score report. This report will also include whether you have passed or failed.
If you pass the exam the first time, you will receive your credential within 30-45 days.
What happens if I don't pass the exam?
You may register to re-take the exam at any time, but will not be eligible to take the exam until it has been at least 90 days since you last took it.
Check out Mometrix's CCTN Flashcards
Get complex subjects broken down into easily understandable concepts
Get Your Flashcards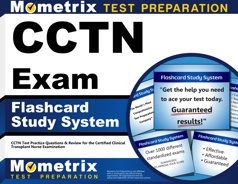 CCTN Study Guide
Mometrix Academy is a completely free CCTN test resource provided by Mometrix Test Preparation. If you find benefit from our efforts here, check out our premium quality CCTN Study Guide and CCTN Flash Cards to take your studying to the next level. Just click the CCTN study guide link below. Your purchase also helps us make even more great, free test content for test-takers.
Upgrade your studying with our CCTN study guide and flashcards:
CCTN Study Guide
CCTN Flashcards
CCTN Study Guide Customer Success Stories
Our customers love the tutorial videos from Mometrix Academy that we have incorporated into our CCTN test study guide. The CCTN study guide reviews below are examples of customer experiences.
I have to say, this book has really helped me tremendously in understanding better the concepts of solid organ transplantation! The concepts presented were organized, concise and easy to remember. I will definitely be using this book again for my recertifications!
CCTN Study Guide – Customer
As a new transplant coordinator, I found this guide to provide a very effective foundation. So far I have also used it as a resource in patient care and multidisciplinary meetings. As I prepare for certification, this resource will be an effective study guide to share with our group.
CCTN Study Guide – Ginger
While attending the International Transplant Nursing Society conference, I took a class on how to pass the CCTN exam and they had your book in hand. My thankfulness of purchasing the book went sky high!
CCTN Study Guide – Shelia
This study is GREAT. It is much more organized than other CCTN study guides!! The amount of content for this certification is overwhelming. This study guide breaks everything down and makes studying much less stressful.
CCTN Study Guide – Customer