CCT Exam
The Certified Cardiovascular Technician or CCT examination is taken by professionals who work with ECG, Holter Monitoring, and stress testing. An official certificate is given if you successfully pass this exam, enabling you to practice in these areas as a CCT.
Who is Eligible?
Those who apply to take the CCT exam must have:
A high school diploma or GED
Fulfill one of the qualifications of the exam for which you are applying and have supporting documents to prove this.

CCT1: Currently enrolled as a student or graduate of a cardiovascular or allied health training program
CCT2: Currently employed or previously employed in the cardiovascular technology field or a recognized allied health field
CCT3: Completed a graduate or undergraduate degree from an recognized institution in a field related to science or physical health
CCT4: At least two years of volunteer service in the field of cardiovascular technology
There is an application fee of $175 USD.
Once your application has been approved you will be sent an Authorization to Test (ATT) letter. You will have a 90-day window once this is received to take the exam. Your ATT will include all instructions on how to schedule and register for a test at the time and place of your choosing.
When and Where Is It Taken?
The CCT exam can be taken at one of over 230 Pearson Professional Centers located around the country and over 3000 international locations. You will be given a full list of available locations at the time of registration.
The exam can be scheduled year-round as space is available.
What Should I Bring?
On examination day you should make sure to arrive early. Those who show up late will not be allowed to test and will forfeit their application fees.
You will also want to bring with you two original and valid forms of ID. You will need a primary one with your full name, signature, and a recognizable photo. Your secondary ID must have your name and signature or name and a photo.
This is a computer administered exam. This means that you will not need to bring any personal items such as pencils, paper, study materials, or even calculators with you. Everything that you will need will be provided to you. All other items are not allowed in the testing area.
Check out Mometrix's CCT Study Guide
Get practice questions, video tutorials, and detailed study lessons
Get Your Study Guide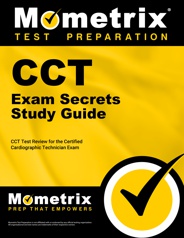 What Is Covered?
The CCT exam is given two hours to complete 130 multiple choice questions. 110 of these are scored and will directly correlate to your scaled score. The other 20 questions are unscored and randomly distributed throughout the exam. The purpose of these unidentified questions is to evaluate future scored questions on exams.
You will be expected to know and understand how to complete the following activities:
Conduction Pre-Procedural Activities – 10% of exam
Performing Resting ECG (12-Lead, 15-Lead, etc.) – 40% of exam
Performing Stress Tests – 20% of exam
Performing Ambulatory Monitoring (Holter, Event, Telemetry, Transtelephonic, Pacemaker, etc.) – 5% of exam
Performing Rhythm Analysis – 25% of exam
You will also be expected to understand the following general areas of knowledge in relation to the above activities:
Heart and its parts
Blood Flow
Arteries
Veins
Capillaries
Arterioles
Venules
Pressures
Cardiac valve function
Relationship of cardiac output to heart rate and stroke volume
Control mechanisms
Cardiac cycle
Waveforms
Normal values
ECG measurement
Einthoven's triangle and law
ECG calibration methods
Bipolar, unipolar, and precordial leads
Single-and three- channel ECG
Troubleshooting ECGs
Standardization
Paper speed
Lead placement
Electrical interference
Somatic tremor
How Is It Scored?
You will receive an unofficial score report at the testing site. This will include your pass/fail status, a total score, and a percentage of correct questions in each section.
Scores are scaled from 0 to 900. A total scaled score of 650 is needed to pass.
Passing candidates will receive an official results letter and wallet card about three weeks after completing the exam.
Preparation Tips
Mometrix has prepared a comprehensive study guide and set of flash cards to assist you with being ready to take this exam. These study materials will cover all subject matter that will be needed for the test. They will also include sample questions that are worded and formatted in the same that the actual exam will include.
This allows you to understand best what exactly will be expected of you on testing day. Don't leave the success or failure of this test to guessing. Let Mometrix help you will your testing needs.
Check out Mometrix's CCT Flashcards
Get complex subjects broken down into easily understandable concepts
Get Your Flashcards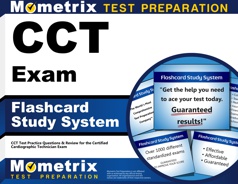 CCT Study Guide
Mometrix Academy is a completely free CCT test resource provided by Mometrix Test Preparation. If you find benefit from our efforts here, check out our premium quality CCT Study Guide and CCT Flash Cards to take your studying to the next level. Just click the CCT study guide link below. Your purchase also helps us make even more great, free test content for test-takers.
Upgrade your studying with our CCT study guide and flashcards:
CCT Study Guide
CCT Flashcards
CCT Study Guide Customer Success Stories
Our customers love the tutorial videos from Mometrix Academy that we have incorporated into our CCT test study guide. The CCT study guide reviews below are examples of customer experiences.
Great product. I've taken 2 classes that have covered this material and this is a concise and informative collection of everything I learned in my classes, plus more. I have confidence that this will be a great tool for preparing for the CCT Exam.
CCT Study Guide – Sam
I found this product to be exact,concise,and condensed to the essential elements I needed to prepare for the CCT Exam. The text was arranged in an easy fashion,each area well defined and explained, and most concise.
CCT Study Guide – Richard
I am really enjoying studying my guide, it has really helped me tremendously for my current position. One of my coworkers actually recommended this guide to me, this helped her pass her CCT exam.
CCT Study Guide – Annabell
Product is well thought out. Very helpful in studying for the cct exam. Presents a good review of arrhythmia , stress testing, hotter monitors, and meds. as well as cardiac physiology and anatomy. Well worth the money!
CCT Study Guide – Customer
This study guide is really helpful and it pertains a lot of detail information that I will really help me on the state board exam! Happy Customer !
CCT Study Guide – Customer
I'm really happy with this book. I was looking for a study guide to take my test when a co-worker suggested this book. I ordered it the next day and was very happy. I have told other co-workers about so they could purchase it for a study guide. I received the book very fast. Very satisfied with this product!
CCT Study Guide – Customer
I was looking for a good refresher for my CCT Exam and this was perfect. No useless fluff.
CCT Study Guide – Jennifer