CCRN Neonatal Practice Test
The CCRN Neonatal exam is the pathway to a specialty certification for nurses who provide direct care to acutely/critically ill neonatal patients.
This page covers the CCRN Neonatal examination, what information the exam covers, the number and type of questions you can expect, the score you need to pass, and everything you need to register for the assessment.
Eligibility
To be eligible to take the CCRN Neonatal exam, you must meet a set of licensure and clinical practice requirements.
Licensure Requirements
The licensure requirements are as follows:
You must possess an unencumbered license.
You must have no formal discipline from the board of nursing in the state in which you have been working.
You must have no limitations or provisions on your license. Provisions and limitations may include the following:

Direct supervision of practice
Drug administration limitations
Practice area exclusions
If there are any provisions or limitations from the board of nursing, the documents must be reviewed before testing will be allowed.
Clinical Practice Requirements
You must meet one of the following clinical practice requirements:
You must have practiced in the capacity of an RN or APRN for a minimum of 1,750 hours in the 2 years before testing, with 875 of those hours accrued during the 12 months immediately preceding the exam. Your practice must have been performing direct care to acute/critically ill patients.OR
You must have practiced for 5 years as an RN or APRN, with a minimum of 2,000 hours of direct care for acutely/critically ill patients. A minimum of 144 hours must have occurred in the 12 months immediately preceding the testing date.
You will need to supply practice verification with the name and contact information of the facility where you earned the clinical hours of practice.
It is important to keep in mind that, for the working hours, you have to have spent the majority of those hours in the direct care of critically ill patients. The hours you may have spent doing orientation or working with another nurse who was assigned to the patient during a training period will not be counted as eligible hours.
An exception to this rule is orientation hours where you were assigned to perform direct care to acute/critical care patients. All of the eligible practice hours must have been accrued in a facility located in the United States or Canada. The exception is a facility that uses standards of care for acute/critical patients that are comparable to the ones used in the United States.
Check Out Mometrix's CCRN Neonatal Study Guide
Get practice questions, video tutorials, and detailed study lessons
Get Your Study Guide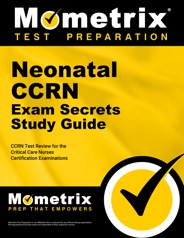 Exam Outline Review
There are 150 multiple-choice questions on the CCRN exam, 25 of which do not count toward your final score, and you will be given 3 hours to complete the exam. You are permitted to take breaks if you need to, but the timer will not be paused.
All of the questions are based on the AACN Synergy Model for Patient Care and are broken up into two main categories.
Clinical Judgment (80%)
Professional Caring and Ethical Practice (20%)
These are the various topics that the exam covers, as well as what percentage of the exam they account for:
I. Clinical Judgment
Cardiovascular (5%)
Respiratory (21%)
Endocrine, Hematology, Gastrointestinal, Renal, and Integumentary (27%)
Musculoskeletal, Neurological, and Psychosocial (13%)
Multisystem (14%)
II. Professional Caring and Ethical Practice
Advocacy and Moral Agency (2%)
Patient Care Practices (2%)
Response to Diversity (2%)
Facilitation of Learning (4%)
Collaboration (4%)
Systems Thinking (2%)
Clinical Inquiry (2%)
Registration
There are two methods of registering for the CCRN Neonatal exam.
Online Registration
If you are taking the computer-based test, you can register online at aacn.org/certification. You'll need to have the following items ready before you begin your application:
RN or APRN license number and expiration date
Name, address, phone number, and email address of a professional RN colleague or clinical supervisor who can verify your practice information
Credit card
Paper Registration
If you are taking the paper-and-pencil exam, applying with a group, and/or testing outside the United States, a paper application is required. You are required to fill out the 2-page application form and the accompanying honor statement.
After you have filled out the application, you can either fax it to 949-362-2020 or mail it to the following address:
AACN Certification Corporation
27071 Aliso Creek Road
Aliso Viejo, CA 92656-3399
It is important that you pick ONE method to send in your application.
Once you have registered successfully, you will receive a confirmation email from AACN that tells you how to schedule your exam.
Fees
The exam costs $250.00 if you are an AACN member. If you are not a member, the exam costs $365.00.
Test Day
If you are taking the computerized version of the exam, there are two testing options available: in-person testing at a PSI testing center or live remote proctoring online from your computer.
In-Person Testing
You will need to bring two forms of identification with you to the testing center. At least one form of ID must be a photo ID, and both should contain your signature.
You should leave the following items in your vehicle or at home, as they are not allowed into the testing center:
Purse, briefcase, backpack, or tote bag
Hooded clothing, heavy jacket, or coat
Headwear, including all hats, ear warmers, and noise-canceling headphones
All electronic devices, including cell phones, tablets, and smartwatches
Food or drink
Pencils or practice paper
Notes or reference materials
You will be expected to arrive 15 to 30 minutes before the time of the scheduled exam. A proctor will greet you and help you with the check-in process. If you are more than 15 minutes late, you will not be admitted into the testing center.
Your photo will be taken after you are seated at the terminal, and you will have access to a digital notepad. You will also be given the option of taking a short practice test.
Live Remote Proctoring
When you sign up for life remote proctoring, PSI will send you an email confirming your choice and they will provide you with a link so you can download a secure lock-down browser. The lock-down browser prohibits your computer from accessing any other browser while it is in use. It will stop you from the following:
Using dual monitors
Screen-sharing
Recording
Copying or pasting
Using extended monitors
You will also need to ensure that you have the following environmental requirements:
An area to take the test that will be distraction-free
A computer/laptop
A webcam and a microphone
A desk or table that is free of all books and other objects
You will need to log in to the testing platform 15 to 30 minutes before the test is scheduled to begin.
A live proctor will greet you and walk you through the login process. They will then ask you to use your webcam to take a photo of yourself and your government-issued identification that displays your name, signature, and photo. The name on your identification must be an exact match to the one you provided on your application.
The proctor will ask you to use the webcam to scan the room that you take the exam in. You will then be asked to scan the table the computer is positioned on and prove that you have nothing on the table that is forbidden.
You may speak to your proctor through chat only. The proctor can see you and hear you, but you cannot see and hear them during the test.
The proctor will advise you to not cover your mouth during testing and to make sure that your entire face is visible at all times during the exam.
There will be a digital notepad made available to you instead of scratch paper or whiteboards. You will be allowed to take a break, but the time is considered part of your exam time.
Violations and Warnings
If the proctor detects a violation, they may give you a warning or terminate the exam.
Maximum Number of Warnings
Violations
3 Warnings

Tapping your feet or fingers
Looking around the room/not looking at the computer screen

2 Warnings

Touching your mouth or face
Whispering, moving your lips, or mouthing words
Talking aloud to yourself or reading the exam questions aloud
Using explicit or abusive language
Improper lighting (too dark or too light)
Eating, drinking, or chewing gum during the exam
Losing internet connection or having system errors
Moving out of view of the camera

1 Warning

Making substantial noise or talking to someone else
Having a phone, an electronic device, papers, or reference books

Immediate Termination

Using a phone
Using a reference paper or book
Copying the exam content or recording the screen
Browsing the web during the test
Covering the camera
Leaving the testing area
Having someone else in the room
Displays of explicit or abusive behaviors
CCRN Scoring
The passing score on the CCRN Neonatal exam is 84. This means that you must correctly answer 105 of the questions to pass.
Receiving Your Scores
Online test-takers will receive their scores immediately following the test. The results will also be sent to you via email within 24 hours.
Paper-and-pencil testers will receive their CCRN exam scores in the mail 6 to 8 weeks after completing the test.
Retaking the Exam
You can take the test up to four times in one year, and there are no lifetime limitations on how many times you can take the test.
The retest fee is $170.00 for AACN members and $275.00 for non-members.
Check Out Mometrix's CCRN Neonatal Flashcards
Get complex CCRN Neonatal subjects broken down into easily understandable concepts
Get Your Flashcards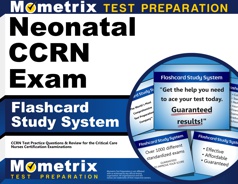 How to Study for the CCRN Exam
How to Study Effectively
Your success on CCRN test day depends not only on how many hours you put into preparing but also on whether you prepared the right way. It's good to check along the way to see whether your studying is paying off. One of the most effective ways to do this is by taking CCRN Neonatal practice tests to evaluate your progress. Practice tests are useful because they show exactly where you need to improve. Every time you take a free CCRN Neonatal exam practice test, pay special attention to these three groups of questions:
The questions you got wrong
The ones you had to guess on, even if you guessed right
The ones you found difficult or slow to work through
This will show you exactly what your weak areas are and where you need to devote more study time. Ask yourself why each of these questions gave you trouble. Was it because you didn't understand the material? Was it because you didn't remember the vocabulary? Do you need more repetitions on this type of question to build speed and confidence? Dig into those questions and figure out how you can strengthen your weak areas as you go back to review the material.
Answer Explanations
Additionally, many CCRN practice tests have a section explaining the answer choices. It can be tempting to read the explanation and think that you now have a good understanding of the concept. However, an explanation likely only covers part of the question's broader context. Even if the explanation makes sense, go back and investigate every concept related to the question until you're positive you have a thorough understanding.
Comprehend Each Topic
As you go along, keep in mind that the CCRN Neonatal practice test is just that: practice. Memorizing these questions and answers will not be very helpful on the actual test because it is unlikely to have any of the same exact questions. If you only know the right answers to the sample questions, you won't be prepared for the real thing. Study the concepts until you understand them fully, and then you'll be able to answer any question that shows up on the test.
Strategy for CCRN Practice
When you're ready to start taking practice tests, follow this strategy:
Remove Limitations. Take the first test with no time constraints and with your notes and CCRN Neonatal study guide handy. Take your time and focus on applying the strategies you've learned.
Time Yourself. Take the second practice test "open book" as well, but set a timer and practice pacing yourself to finish in time.
Simulate Test Day. Take any other practice tests as if it were test day. Set a timer and put away your study materials. Sit at a table or desk in a quiet room, imagine yourself at the testing center, and answer questions as quickly and accurately as possible.
Keep Practicing. Keep taking practice tests on a regular basis until you run out of practice tests or it's time for the actual test. Your mind will be ready for the schedule and stress of test day, and you'll be able to focus on recalling the material you've learned.
FAQs
How many questions are on the exam?
There are 150 questions on the CCRN Neonatal exam, 25 of which do not count toward your final score.
How long is the exam?
The CCRN Neonatal exam is timed at 3 hours.
What is a passing score?
A passing score for the CCRN Neonatal exam is 84.
When will I receive my test scores?
For those taking the computerized version of the exam, your CCRN score will be shown on-screen immediately after completing the exam. For those taking the paper-and-pencil version, your score will be mailed to you 6-8 weeks after completing the exam.
What is a CCRN?
Contrary to popular belief, CCRN is not an acronym for "Critical Care Registered Nurse." It is simply a registered service mark and a brand name.