Adult CCRN Practice Test
The Adult Critical Care Nurses Certification (CCRN), administered by the American association of Critical-Care Nurses (AACN), is a way for nurses to provide tangible proof of their skill and expertise in caring for acutely/critically ill adult patients.
Click "Start Test" below to take a free Adult CCRN practice test!
Eligibility
To be eligible to take the Adult CCRN exam, you must hold a current RN or APRN license and complete ONE of the following requirements:
You must have spent at least 1,750 hours directly caring for critically ill adult patients within the last two years.
You must have spent at least 2,000 hours directly caring for critically ill adult patients within the last five years.
Exam Outline Review
The Adult CCRN exam contains 150 multiple-choice questions, 25 of which are unscored, and you will be given a 3-hour time limit. The 25 unscored questions are used by the test administrators to evaluate questions for future exams.
The exam is entirely based on the American Association of Critical Care Nurses (AACN) Synergy Model for Patient Care, so you need to be familiar with this framework and procedures.
This exam is split into two sections:
Clinical Judgment (80%)
The questions in this section assess your knowledge of various aspects of the systems of the human body.
Cardiovascular (17%)
Respiratory (15%)
Endocrine/Hematology/Gastrointestinal/Renal/Integumentary (20%)
Musculoskeletal/Neurological/Psychosocial (14%)
Multisystem (14%)
Professional Caring and Ethical Practice (20%)
The questions in this section assess your knowledge of various aspects of the professional caring process and ethical practices.
Advocacy/Moral Agency
Caring Practices
Response to Diversity
Facilitation of Learning
Collaboration
Systems Thinking
Clinical Inquiry
Check out Mometrix's Adult CCRN Study Guide
Get practice questions, video tutorials, and detailed study lessons
Get Your Study Guide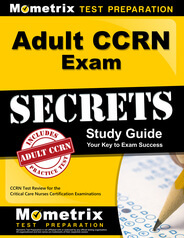 Registration
To apply for the exam, visit the AACN website and click "Get Certified." You will be asked to fill out an application and an honor statement, as well as pay the application fee. The fee is $250 for AACN members and $365 for non-members.
Once your application is approved, you will be able to register, choose your testing method (in-person or remote), and schedule your exam.
Test Day
In-person Testing
You should arrive at the testing center 15-30 minutes earlier than the scheduled exam time. If you arrive later than 15 minutes after the scheduled appointment time, you will not be able to take the exam. Once you arrive, you will need to show a valid, government-issued photo ID (military IDs are not accepted). If your ID is invalid or you forget to bring it, you will not be able to take the exam.
Before the exam begins, you will be asked to leave all personal items in your car, such as your cell phone, books, papers, notes, food, jacket, and hat. You will then be asked for your AACN customer number, and a digital photograph of you will be taken, which will appear on the computer screen throughout your testing session. You will also be given a practice exam to help you familiarize yourself with the computer system.
Once the practice exam is complete, the real exam will begin. You are permitted to take breaks during the exam, but the timer will not be stopped.
Live Remote Proctoring
You should log into your AACN account between 15 and 30 minutes before your exam is scheduled to begin, and the proctor will guide you through the check-in process. You will not be allowed to wear headphones, and you must ensure that your testing area is free from electronics, food, your cell phone, notes, and reference materials.
How the Exam is Scored
The Adult CCRN exam is scored using a modified version of the Angoff method. This means that AACN panelists are given information such as test results and other panelists' rating results to determine the cut score. The cut score is a raw number that is based on how the AACN panelists established the difficulty ratings for each question.
To pass the exam, you will need to achieve a cut score of 83.
Check out Mometrix's Adult CCRN Flashcards
Get complex subjects broken down into easily understandable concepts
Get Your Flashcards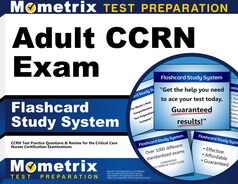 How to Study for the Adult CCRN Exam
How to Study Effectively
Your success on Adult CCRN test day depends not only on how many hours you put into preparing but also on whether you prepared the right way. It's good to check along the way to see whether your studying is paying off. One of the most effective ways to do this is by taking Adult CCRN practice tests to evaluate your progress. Practice tests are useful because they show exactly where you need to improve. Every time you take a free Adult CCRN exam practice test, pay special attention to these three groups of questions:
The questions you got wrong
The ones you had to guess on, even if you guessed right
The ones you found difficult or slow to work through
This will show you exactly what your weak areas are and where you need to devote more study time. Ask yourself why each of these questions gave you trouble. Was it because you didn't understand the material? Was it because you didn't remember the vocabulary? Do you need more repetitions on this type of question to build speed and confidence? Dig into those questions and figure out how you can strengthen your weak areas as you go back to review the material.
Answer Explanations
Additionally, many Adult CCRN practice tests have a section explaining the answer choices. It can be tempting to read the explanation and think that you now have a good understanding of the concept. However, an explanation likely only covers part of the question's broader context. Even if the explanation makes sense, go back and investigate every concept related to the question until you're positive you have a thorough understanding.
Comprehend Each Topic
As you go along, keep in mind that the Adult CCRN practice test is just that: practice. Memorizing these questions and answers will not be very helpful on the actual test because it is unlikely to have any of the same exact questions. If you only know the right answers to the sample questions, you won't be prepared for the real thing. Study the concepts until you understand them fully, and then you'll be able to answer any question that shows up on the test.
Strategy for Adult CCRN Practice
When you're ready to start taking practice tests, follow this strategy:
Remove Limitations. Take the first test with no time constraints and with your notes and Adult CCRN study guide handy. Take your time and focus on applying the strategies you've learned.
Time Yourself. Take the second practice test "open book" as well, but set a timer and practice pacing yourself to finish in time.
Simulate Test Day. Take any other practice tests as if it were test day. Set a timer and put away your study materials. Sit at a table or desk in a quiet room, imagine yourself at the testing center, and answer questions as quickly and accurately as possible.
Keep Practicing. Keep taking practice tests on a regular basis until you run out of practice tests or it's time for the actual test. Your mind will be ready for the schedule and stress of test day, and you'll be able to focus on recalling the material you've learned.
Online CCRN Adult Prep Course
If you want to be fully prepared, Mometrix offers an online CCRN Adult Prep Course. The course is designed to provide you with any and every resource you might want while studying. The CCRN Adult Course includes:
Review Lessons Covering Every Topic
900+ CCRN Adult Practice Questions
Over 80 Instructional Videos
More than 500 Electronic Flashcards
Money-back Guarantee
Free Mobile Access
and More!
The CCRN Adult Prep Course is designed to help any learner get everything they need to prepare for their CCRN exam. Click below to check it out!
FAQs
What is a CCRN?
CCRN is a certification for nurses who care for patients who are critically ill due to an extensive injury, life-threatening disease, or surgery. CCRN does not stand for "Critical Care Registered Nurse."
How many questions are on the Adult CCRN exam?
There are 150 multiple-choice questions on the exam.
How long is the Adult CCRN exam?
The time limit for this exam is 3 hours.
What is the passing score for the Adult CCRN exam?
To pass the exam, you will need a minimum cut score of 83.
How much does the Adult CCRN exam cost?
The exam fee is $250 for AACN members and $365 for non-members.
CCRN Adult Study Guide Customer Success Stories
Our customers love the tutorial videos from Mometrix Academy that we have incorporated into our CCRN Adult study guide. The CCRN Adult study guide reviews below are examples of customer experiences.
I really like the way it's organized and how the chapters are laid out. Working a full time job, being a mother leaves me little time to study, that is why I appreciate the clear concise information.
CCRN Adult Study Guide – Laura
I am very satisfied with my purchase. This book is very comprehensive and easy to understand I highly recommended this book to anyone preparing for the CCRN exam
CCRN Adult Study Guide – Mary
This book is very easy to read and understand. It is clear and concise. I feel it has really been preparing me for the CCRN exam.
CCRN Adult Study Guide – Tammie
This book is awesome..its very easy to read and its straight to the point.
CCRN Adult Study Guide – Customer
I will tell all the nurses in my unit about this book. Great information!
CCRN Adult Study Guide – Customer
Your product helps you organize the material. It helps break up the study subjects in bite size pieces. The tests are VERY helpful. The book is very compact, so I take it every with me. When I have a free moment, (for example, waiting for appointment) I can pull my book out to study.
CCRN Adult Study Guide – Diane
The Adult CCRN Exam Secrets Study Guide is the answer to all of your CCRN questions in preparation for the exam. The study guide covers all systems and explains them thoroughly. This guide along with the flashcards are the perfect pair for studying for the CCRN exam. The practice test at the end are also very helpful. I had a few nurses, who had just taken the test recently, look over the book and they told me it was "awesome." Highly recommended!
CCRN Adult Study Guide – Natalie
The Product works great. I use it to read while have periods of downtime at the hospital. The easy to manage sections make the organization logical and easy to find/follow.
CCRN Adult Study Guide – Customer
The Mometrix Test Preparation for the Adult CCRN Exam has been a great review of ICU material that I already know. This study guide has broken down information into easy-to-study topics.
CCRN Adult Study Guide – Aaron
I've only read good reviews, I'm looking forward to reading through the book in preparation for the pediatric CCRN exam.
CCRN Adult Study Guide – Customer
Bought this for my wife and she loves this book. She would recommend to any other nurses looking to get their CCRN!
CCRN Adult Study Guide – Customer
Getting a hold of this guide was definitely one of the best things you could have done if you are preparing for the CCN test. In this guide you will find tips, secrets, all the information needed to pass this exam. You will be asked questions, and get the answers. It will give you the option to practice the test over and over again, until you are confident enough. It will fill you with information about acute heart failure, Variant angina, pulmonary edema, cardiac surgery, and all the numbers of surgical options for it. Covering the topic of Cardiac tamponade and when it occurs, when it increases, when it decrease, and the different symptoms that brings. Read the guide carefully and with dedication. Nothing can go wrong. Follow the tips and suggestion for a more effective study, and don't forget to take the time to go back to the points that you have more difficulty with.
CCRN Adult Study Guide – Customer