CCM Practice Test
The Certified Case Manager (CCM) exam, which is administered by the Commission for Case Manager Certification, is the gold standard for assessing your knowledge and competency to become certified as a case manager. This page will cover the CCM examination, what information the examination covers, the number and type of questions you can expect, the score you need to pass, and everything you need to register for the assessment.
Click "Start Test" below to take a free CCM practice test!
Certified Case Manager Eligibility
To be eligible to take the CCM exam, you must meet the education requirements and at least ONE of the work experience requirements:
Education
You must have a current, active, and unrestricted health or human services license, certification, or degree.
Work Experience
Category 1
You must have at least 12 months of full-time case management experience directly supervised by a board-certified case manager.
Category 2
You must have at least 24 months of full-time case management experience (no proof of supervision is necessary).
Category 3
You must have 12 months of full-time case management experience as a supervisor of case management services.
Code of Conduct
You also need to comply with the CCMC Code of Professional Conduct:
Certified Case Manager Exam Outline
The CCM exam contains 180 multiple-choice questions, and you will be given a total of 3 hours to finish it. Out of the 180 questions, 30 questions are "pretest" questions that do not count toward your final score. These unscored questions are used by the test administrators to gauge the quality and validity of the questions for future versions of the exam.
The exam is split into five knowledge domains:
I. Care Delivery and Reimbursement Methods (42 questions)
The questions in this domain take up 28% of the exam. Here are some of the topics they cover:
Healthcare delivery systems
Case management models, tools, and processes
Principles of cost containment
Management of clients with acute and chronic illnesses
Financial resources
Military and veteran benefit programs
Case management goals and objectives
Hospice/palliative/end-of-life care
Coding methodologies
Alternative care facilities
Negotiation techniques
Payment and reimbursement methodologies
Utilization management guidelines and principles
II. Psychosocial Concepts and Support Systems (38 questions)
The questions in this domain take up 25% of the exam. Here are some of the topics they cover:
Health literacy
Client empowerment, engagement, activation, and self-care management
Community resources
Psychological and neuropsychological assessment
Health coaching
Abuse and neglect
Social determinants of health
Multicultural factors that may affect health
Gender health
Supportive care programs
III. Quality and Outcomes Evaluation and Measurements (29 questions)
The questions in this domain take up 19% of the exam. Here are some of the topics they cover:
Types of quality indicators
Cost-benefit analysis
Program evaluation methods
Healthcare analytics
Accreditation standards and requirements
Quality and performance improvement concepts
IV. Rehabilitation Concepts and Strategies (16 questions)
The questions in this domain take up 11% of the exam. Here are some of the topics they cover:
Life care planning
Adaptive technologies
Vocational aspects of illnesses and disabilities
Work adjustment
Transitional employment
Functional capacity evaluation
Job accommodation
V. Ethical, Legal, and Practice Standards (25 questions)
The questions in this domain take up 17% of the exam. Here are some of the topics they cover:
Professional practice ethics
Risk management
Case recording/documentation
Privacy and confidentiality
Legal and regulatory requirements
Healthcare- and disability-related legislation
Check Out Mometrix's CCM Study Guide
Get practice questions, video tutorials, and detailed study lessons
Get Your Study Guide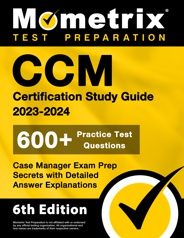 CCM Exam Registration
Once you have confirmed that you meet all of the necessary requirements, you may send an application to CCMC. Some things you will need to include in your application are your license, certification, or degree, as well as the examination fee.
Once you have been approved to take the exam, you will receive an Authorization to Test (ATT) via email.
Fees
The nonrefundable application fee is $225, and the examination fee is $195. This means that you must pay a total of $420 when you send in your application.
Various fees may apply if you need to reschedule your exam. If you reschedule your exam at least 30 days in advance, there is no fee to pay. If you reschedule your exam 5-29 days beforehand, the fee is $35, while rescheduling 4 days or fewer beforehand results in a fee of $85.
Test Day
There are two available testing methods for the CCM exam: in-person testing and remote testing.
In-person Testing
You should arrive at the testing center 15-30 minutes prior to your scheduled exam time. A late arrival means you will not be able to take the exam. Once you arrive, you will be asked to show a valid government-issued photo ID.
Before you enter the testing room, you will be asked to leave all personal items in a secure locker outside the room. Personal items include things like your cell phone, bags, pencils, car keys, and jackets. Paper, pencils, and noise-canceling headphones are provided if needed.
Once the exam begins, you will be allowed to take breaks as you need to. However, the timer does not stop when you take a break, so use your time wisely.
Remote Testing
You should log in to your account 15-30 minutes before the scheduled exam time. This will allow you to perform a system readiness check and download and install the ProProctor app.
The system readiness check will ensure that you have everything you need to remotely take the exam, such as a webcam, microphone, adequate internet connection, adequate screen resolution, and up-to-date operation system.
After the system check and after you download the ProProctor app, a short check-in process will begin, which includes presenting your photo ID to the proctor and scanning your room with the webcam.
You will not be allowed to use a dual- or multi-monitor setup, and no pets or people are allowed to be in the room with you.
Once the proctor is satisfied that you are ready to go, the exam will begin.
How the CCM Exam is Scored
Because of the exam's digitized format, there's a bit of convenience when it comes to the scoring process. Once you complete the exam at your designated testing site, you'll be given prompt indication of whether you have failed or passed and thus earned your full certification. We recommend taking this notification with the slightest grain of salt. While this indicator has a very high accuracy rate—99 percent, to be exact—there is still a margin of error. The grading process for CCM certification is extremely intricate. You could potentially be thought to have scored one way and actually performed oppositely.
If you've done well on the exam, congratulations! You've officially gained full certification and can now practice. You will officially be recognized as a CCM and can suffix this title professionally. You can expect to receive your new certificate in the mail.
If you have failed the exam, we'd first like to assure you to not feel too discouraged. Generally CCM test takers will know they have failed the exam by way of email, which will contain a full profile displaying their scores on the exam and how they did on each specific section. The CCM exam permits retakes, but only in accordance to the regular schedule already set for the exam. Retakes are not free, and come with a limited window. If you cannot retest within the allotted time frame, you will have to file another application and re-apply as if you were taking the test for the very first time.
No matter how well you do on the exam, you can always locate your score on the official website for CCM certification. When you first registered to take the exam, your application was stored on the website and will further contain more information about your score.
Online CCM Prep Course
If you want to be fully prepared, Mometrix offers an online CCM Prep Course. The course is designed to provide you with any and every resource you might want while studying. The CCM Course includes:
62 Review Lessons Covering Every Topic
1,050+ CCM Practice Questions
More than 350 Electronic Flashcards
Money-back Guarantee
Free Mobile Access
and More!
The CCM Prep Course is designed to help any learner get everything they need to prepare for their CCM exam. Click below to check it out!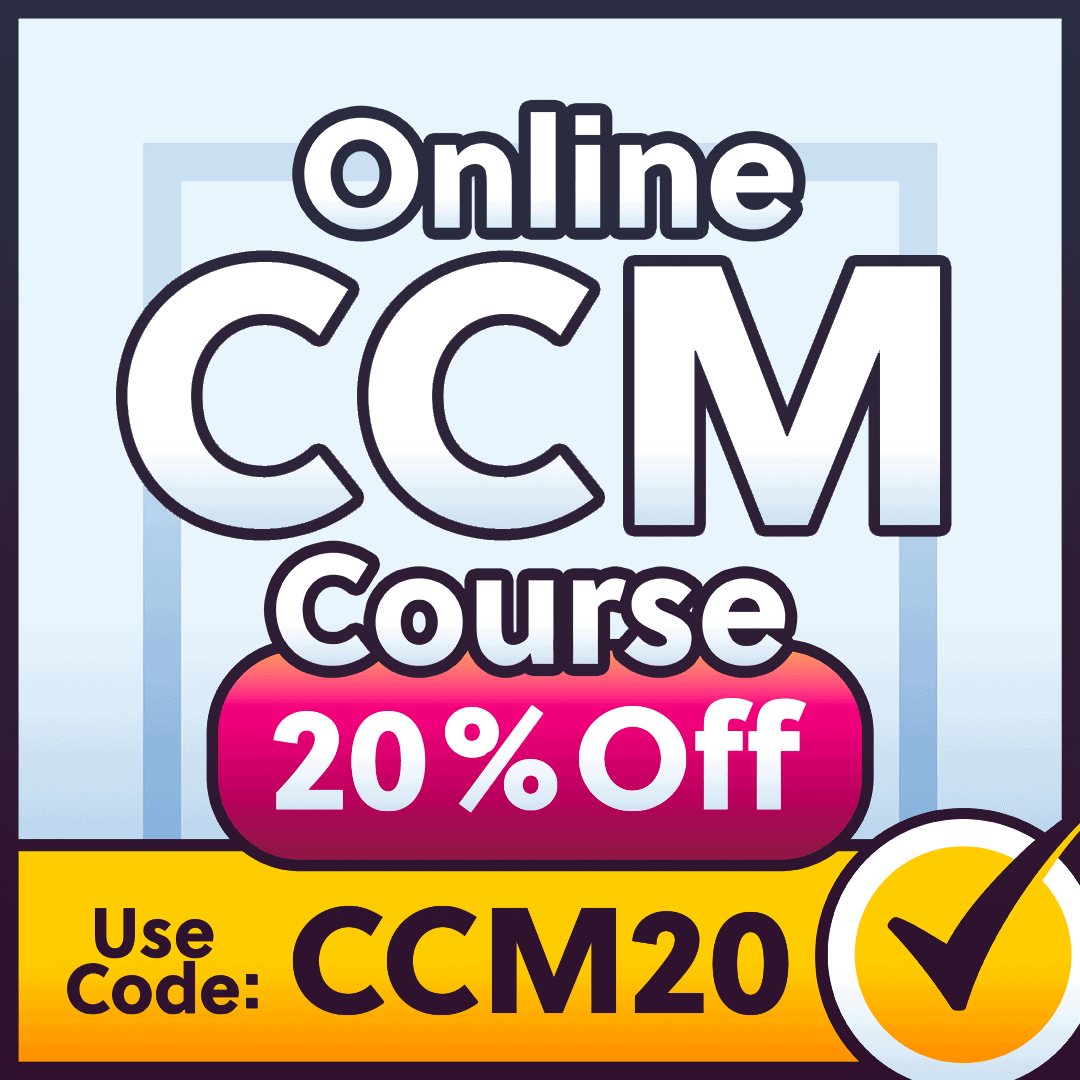 Check Out Mometrix's CCM Flashcards
Get complex subjects broken down into easily understandable concepts
Get Your Flashcards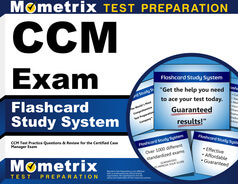 How to Study for the CCM Exam
How to Study Effectively
Your success on CCM test day depends not only on how many hours you put into preparing but also on whether you prepared the right way. It's good to check along the way to see whether your studying is paying off. One of the most effective ways to do this is by taking CCM practice tests to evaluate your progress. Practice tests are useful because they show exactly where you need to improve. Every time you take a free CCM exam practice test, pay special attention to these three groups of questions:
The questions you got wrong
The ones you had to guess on, even if you guessed right
The ones you found difficult or slow to work through
This will show you exactly what your weak areas are and where you need to devote more study time. Ask yourself why each of these questions gave you trouble. Was it because you didn't understand the material? Was it because you didn't remember the vocabulary? Do you need more repetitions on this type of question to build speed and confidence? Dig into those questions and figure out how you can strengthen your weak areas as you go back to review the material.
Answer Explanations
Additionally, many CCM practice tests have a section explaining the answer choices. It can be tempting to read the explanation and think that you now have a good understanding of the concept. However, an explanation likely only covers part of the question's broader context. Even if the explanation makes sense, go back and investigate every concept related to the question until you're positive you have a thorough understanding.
Comprehend Each Topic
As you go along, keep in mind that the CCM practice test is just that: practice. Memorizing these questions and answers will not be very helpful on the actual test because it is unlikely to have any of the same exact questions. If you only know the right answers to the sample questions, you won't be prepared for the real thing. Study the concepts until you understand them fully, and then you'll be able to answer any question that shows up on the test.
Strategy for CCM Practice
When you're ready to start taking practice tests, follow this strategy:
Remove Limitations. Take the first test with no time constraints and with your notes and CCM study guide handy. Take your time and focus on applying the strategies you've learned.
Time Yourself. Take the second practice test "open book" as well, but set a timer and practice pacing yourself to finish in time.
Simulate Test Day. Take any other practice tests as if it were test day. Set a timer and put away your study materials. Sit at a table or desk in a quiet room, imagine yourself at the testing center, and answer questions as quickly and accurately as possible.
Keep Practicing. Keep taking practice tests on a regular basis until you run out of practice tests or it's time for the actual test. Your mind will be ready for the schedule and stress of test day, and you'll be able to focus on recalling the material you've learned.
FAQs
How many questions are on the CCM exam?
There are 180 multiple-choice questions on the exam.
How long do you have to take the CCM?
The time limit for this exam is 3 hours.
How much does it cost to take the CCM exam?
The application fee for the exam is $225, and the examination fee is $195, which is a total of $420.
What is the pass rate for the CCM exam?
The average pass rate for the CCM exam ranges between 80% and 85%.
What is a passing score for the CCM exam?
To pass the exam, you must score 70% or higher.