CCHT Practice Test
The Certified Clinical Hemodialysis Technician (CCHT) certification exam, delivered by the Nephrology Nursing Certification Commission (NNCC), is a content-driven objective assessment of your knowledge and skills. The purpose of the CCHT exam is to analyze your understanding of what you've learned and your ability to apply that knowledge in a clinical environment.
Click "Start Test" below to take a free CCHT practice test!
What is a CCHT?
Certified clinical hemodialysis technicians are specialized professionals, also referred to as "dialysis technicians," who are skilled in setting up and using a hemodialysis machine to administer dialysis therapy to patients.
By performing hemodialysis, hemodialysis technicians assist patients with end-stage renal disease or kidney failure. The dialysis machine removes metabolic waste from the patient's blood, which is filtered and cleansed during this procedure before being returned to the body. In essence, the kidneys are responsible for this; however, when the kidneys aren't functioning properly, a patient may need renal dialysis as a form of treatment.
Hemodialysis nurses keep an eye on the patient's vital signs as well as the dialysis machines. They also provide support for any patient queries or concerns, educate patients about dialysis, and maintain the machinery and equipment used in the process.
Under the direction of a licensed nurse or doctor, hemodialysis technicians perform their work in hospitals, clinics, and dialysis facilities. The standard path to becoming a hemodialysis technician is to complete certified training after high school and get patient care experience.
Eligibility
The CCHT accreditation is open to working dialysis technicians with a high school education or GED. You must also have completed a clinical hemodialysis technician training course that included both classroom teaching and supervised clinical treatment. To confirm the training program, you need to have the educator's signature or present a certificate of completion.
If you have not yet been hired as a clinical hemodialysis technician, you must state how many hours you spent gaining hands-on patient care experience as part of your training program and the name of the facility where you did so. The facility manager or administrator must sign to confirm that the clinical, hands-on experience took place and was overseen by a registered nurse (RN).
You should have at least 1,000 hours or six months of clinical experience, but this is not a requirement.
If you have been out of work for more than 18 months, you must show documentation of current retraining and hands-on experience. The training must be verified by the RN educator's signature, or by the signature of the facility's administrator or manager.
Exam Outline Review
The CCHT exam contains 150 multiple-choice questions, 25 of which are unscored, and you will be given a time limit of 3 hours. The 25 unscored questions, known as "pilot" questions, are used by the test administrators to evaluate questions for future exams.
The questions are split into three cognitive levels: Knowledge (K), Comprehension (C), and Application (A).
Knowledge (8%-13%): These questions are designed to gauge how well a technician can recall specific facts, common terms, fundamental ideas, and principles.
Comprehension (23%-28%): These questions assess the depth of your understanding of a concept, going beyond simple recall.
Application (63%-67%): These questions depict a work-related scenario and ask you the nature of an issue or the best course of action.
The exam is also split into 4 practice areas: Clinical, Technical, Environment, and Role Responsibilities. Each question on the exam will fall under one cognitive level and one practice area.
1. Clinical (71-78 questions)
The questions in this area cover various aspects of dialysis patient care before, during, and after treatment. Topics include using aseptic technique, evaluating and cannulating the patient's access, monitoring the patient, and using an arteriovenous fistula to discontinue the patient's treatment.
2. Technical (32-38 questions)
The questions in this area cover components of the extracorporeal circuit, water treatment principles, and how to deal with machine-related problems. Topics include monitoring the water treatment, mixing concentrates from powder, processing lab samples, and reporting an adverse event.
3. Environment (19-25 questions)
The questions in this area cover safety issues that may occur during dialysis treatment, such as infection control. Topics include using standard dialysis precautions, using proper body mechanics, disinfecting surfaces with chemicals, and maintaining an emergency exit path that is unobstructed.
4. Role Responsibilities (15-20 questions)
The questions in this area cover communication skills and the responsibilities of various roles within the dialysis facility. Topics include Maintaining appropriate relationships with patients and caregivers, effectively communicating treatment outcomes, using appropriate verbal and nonverbal communication with patients, and identifying the various roles and responsibilities of care-team members.
Check Out Mometrix's CCHT Study Guide
Get practice questions, video tutorials, and detailed study lessons
Get Your Study Guide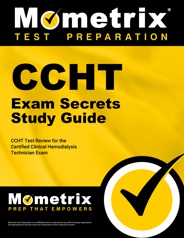 Registration
To register for the CCHT exam, visit the NNCC website and download the application form. Once the application is filled out, attach your high school diploma or GED verification and mail the application to C-NET along with the $225 exam fee.
Within four weeks, you should receive permission to take the exam, which will include instructions on how to schedule an exam appointment.
Test Day
You should arrive at the testing location at least 30 minutes prior to the start of the test. Bring your examination permit and a valid government-issued photo ID. It is crucial that the name on your ID and the name on your exam permit match.
You must present your photo ID to the proctor when you arrive. After that, you will be photographed and asked to sign a roster and other rule forms.
Any personal items should be left at home or locked in your car because they are not allowed in the testing room. All electrical devices, including cell phones, are prohibited.
Just before the exam starts, you will receive a brief tutorial outlining the test setup and keyboard key functions once you are situated at your computer. After the exam is over, your photo ID will be given back.
How the Exam is Scored
A group of technologists who are subject matter experts determines the passing score. The SME panel makes an evaluation of the standard necessary to find candidates with a sufficient degree of expertise and knowledge for the role. Therefore, the test results are evaluated against a predetermined benchmark.
Your score report will be provided to you at the end of the exam. To pass the CCHT exam, you must get 74% or more of your questions right.
If you pass the test, the report will include your results and let you know when your certificate will arrive in the mail and when your name will be listed in the NNCC Certified Directory.
In the event that you failed the test, the report will provide your grade as well as a breakdown of the test sections and the percentage of questions you correctly answered in each. You can identify the areas of the blueprint where you are weak and require more study by looking at this breakdown of subarea scores.
FAQs
How many times can you take the CCHT exam?
There is no restriction on how many times you may take the exam.
How many questions are on the CCHT exam?
There are 150 multiple-choice questions on the exam, 25 of which are unscored pilot questions.
How long is the CCHT exam?
The time limit for the exam is 3 hours.
What is a passing score for the CCHT exam?
To pass the exam, you will need to answer at least 74% of the questions correctly.
CCHT Study Guide Customer Success Stories
Our customers love the tutorial videos from Mometrix Academy that we have incorporated into our CCHT study guide. The CCHT study guide reviews below are examples of customer experiences.
The thing that's best in this study book is the way it was presented. There is an explanation in every aspect of hemodialysis, the terminology given as defined in the school plus the practice test that will guide me on my exams.
CCHT Study Guide – Mario
It is really good for CCHT exam, because everything in detailed in this study guide and easy to understand. I am so happy to get this book. The practice questions make more improvement for the exam.
CCHT Study Guide – Mathew
The content of book is really good. It's more easier for me to understand each topic bec. It has been highlighted the important key words.
CCHT Study Guide – Katherine
The layout of this book makes it way to follow and the topics covered focus on what I really need to know for passing the exam.
CCHT Study Guide – Ann
Well worth it! Easy to use and straight to the point! I highly recommend it to anyone who wants to pass the exam!
CCHT Study Guide – Gary
The information is really great. The repetition really helps me remember the overwhelming amount of information I have to remember. Thanks, I think I will be able to ace the exam when it comes time to take it.
CCHT Study Guide – Mitchell
This book has some great information. Will be a great help on my test!
CCHT Study Guide – Customer
This product has help me a lot, is very simple to understand and practice. I would recommend anyone to use this product. I'm a very busy person and in my free time I get to study and it doesn't take me long to get it right because of the way the have the information and questions.
CCHT Study Guide – Customer
Taking a test that empowers you be a part of someone's continued healthcare can be intimidating, but not when you have these exam secrets. This CCHT Exam review gets to the nitty-gritty by helping you see what will be covered on the exam exactly. In that way you know what to study and what is important to receive your CCHT Certification. The guide takes you inside of the Nephrology Nursing Certification Commission (NNCC) and gives you the specifics on how they want you to handle technical area, environment and role. What is a review without a practice test? The CCHT Exam review provides a comprehensive practice test, which includes the answers and explanation to those answers. An outside link is offered as bonus material for additional study resources. Along with all the great resources, this guide includes five secrets to success in acing the exam. These include learning to pace yourself, testing what you know against what you have learned, using guessing as a technique, not a last resort, and benchmarking your progress through the exam. These strategies are beneficial because you can apply them to any testing situation. As you explore these strategies, you learn to apply them to your test-taking needs and help solidify your CCHT Certification.
CCHT Study Guide – Customer
I love that it has test-taking tips, how to study, the theory divided up into sections, the test, and the answer key WITH reasons as to why it is that answer. My CCHT's have struggled with the Studying portion of the CCHT exam thus making them incredibly nervous when they go in to take it. They have all done very well with the test but I have been trying to find something to help ease that test anxiety feeling for them. This book is PERFECT!!
CCHT Study Guide – Jennifer
The CCHT Book was well written and covers a wide range of topics. The concepts are broken down to easy to read nuggets. I like the fact that there is also an Index to quickly look for a term and find the page to read more about it. Overall it was impressive, and I found it to be a very useful resource.
CCHT Study Guide – Ogis
I had very little confidence to write the hemodialysis certification examination until I bought this book for quick revision. I realize now that if I had this book earlier I would have known and grown more confident because this book's presentation of the topics are so concise and on point.
CCHT Study Guide – Customer