CBET Practice Test
The Certified Biomedical Equipment Technician (CBET) exam is used by the Association for the Advancement of Medical Instrumentation (AAMI) to demonstrate a person's command of the theory, principles, and procedures for safely using biomedical equipment. While it's not a legal requirement, certification can make you a more competitive candidate for employment.

Who Is Eligible to Take the CBET Exam?
Only those who meet certain eligibility criteria will be allowed to take the exam. However, there are a few different qualifying "routes" to eligibility that each require a certain blend of education and work experience. Those routes include:
Candidate has an Associate's degree in biomedical equipment technology and at least two years of full time work experience in a BMET role
Candidate has completed a US military BMET program and has at least two years of full-time work experience in a BMET role.
Candidate has an Associate's degree in electronics technology and at least three years of full time work experience in a BMET role.
Candidate has at least four years of full time BMET work experience.
If you meet one of these requirements, you can apply to take the test online or by mail. Once you receive your approval to test, you'll be able to register for the specific date that you want to take the test. You have to register at least 30 days before the date of the exam, so you should start the application process at least six weeks before your preferred exam date to allow time for your application to be approved.
What Should I Bring with Me on Test Day?
You will need to arrive at least 15 minutes early with two accepted forms of ID in order to check in for the exam. At least one of those IDs needs to be a current government-issued photo ID like a passport, driver's license, state ID, or military ID. The second form can be another government-issued photo ID or else a credit card, debit card, or employee ID card.
In addition to ID, you also need to bring your confirmation email that includes your exam launch code. It's recommended to print this out so that you can leave your phone in the car since you won't be able to take that into the exam room with you.
Beyond your two forms of ID and your confirmation email, you don't need (and won't be allowed) to bring anything else with you.
Check out Mometrix's CBET Study Guide
Get practice questions, video tutorials, and detailed study lessons
Get Your Study Guide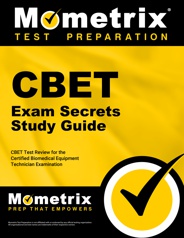 What Will I Be Tested On?
The CBET exam includes 165 multiple choice questions spanning six content areas. The content areas you'll be tested on are as follows:
Healthcare Technology Problem-Solving – 41-42 Questions
Healthcare Technology and Functions – 41-42 Questions
Public Safety (Employee, Patient, Visitor) in the Healthcare Facility – 24-25 Questions
Fundamentals of Electricity and Electronics – 21-22 Questions
Anatomy and Physiology – 19-20 Questions
Healthcare Information Technology – 16-17 Questions
You will have a total of three hours to answer every question, which means you have just over one minute for each question. Use your time wisely.
When Will I Find Out If I Passed?
You need to answer at least 116 of the 165 questions correctly in order to pass. You will be able to see your unofficial results immediately after completing the exam. These results will simply tell you whether you passed or failed. Within 24 hours, you'll get an email with this same information.
If you pass, you will receive your official certificate and your wallet card in the mail. If you did not pass, you will receive a diagnostic report in the mail with more detailed information about which content areas you need to work on in order to pass on your next attempt. In either case, your certificate or your diagnostic report will arrive within 30 days.
If you did not pass, you cannot schedule your retake until after you have received your diagnostic report and your second attempt has to be at least 60 days after your first attempt.
What Will I Need to Study for the CBET Exam?
Since you will have encountered much of this information in your day to day on the job or during your educational program, you don't need to spend months pouring through textbook after textbook. Instead, pick up the Mometrix Study Guide which includes a comprehensive yet easy to understand overview of all six content areas. This will be exactly what you need to review and refresh your memory.
Once it's refreshed, you can strengthen that memory by using Mometrix Flashcards. These portable and interactive flashcards make studying more versatile and engaging. Both the guide and the flashcards also come with extra tips and test-taking strategies that you can use to make sure you perform your best on exam day.
CBET Study Guide
Mometrix Academy is a completely free CBET certification resource provided by Mometrix Test Preparation. If you find benefit from our efforts here, check out our premium quality CBET study guide to take your studying to the next level. Just click the CBET study guide link below. Your purchase also helps us make even more great, free content for test-takers.
Check out Mometrix's CBET Flashcards
Get complex subjects broken down into easily understandable concepts
Get Your Flashcards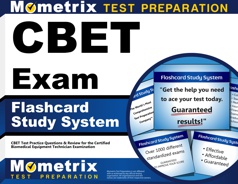 Upgrade your studying with our CBET study guide and flashcards:
CBET Study Guide
CBET Flashcards
CBET Study Guide Customer Success Stories
Our customers love the tutorial videos from Mometrix Academy that we have incorporated into our CBET test study guide. The CBET study guide reviews below are examples of customer experiences.
it allows me to study efficiently and effectively. I am able to take it anywhere due to its compact nature. In addition, it focuses on important key topics that are covered on the exam which makes the product incredibly helpful.
CBET Study Guide – Tanya
I appreciate the fact that test taking tips and secrets were also included in the book, as well as other helpful testing information, and even review videos for us to look into.
CBET Study Guide – Tiana
This is a great study guide and very detailed. I would recommend this study guided to anyone. The text is clear and concise easy to read and understand. Love it.
CBET Study Guide – Emery
Great review tool, many review question not seen in other manuals. Great explanation to all questions would recommend to others who are studying for CBIC certification.
CBET Study Guide – Elizabeth
"We don't want to waste your time," says this guide on its very first page, and it stays true to its goal. This guide to the CBET Exam is straightforward and easy to follow, with test-taking tricks and tips (like how to save time, how to make educated guesses, how to prepare the day of the test), as well as all the information you'll need for the test itself, including over 100 pages of definitions, prefixes and suffixes to familiarize yourself with, and even bonus material available online. For a straightforward guide to the Certified Biomedical Equipment Technician test, there is no better book.
CBET Study Guide – Customer
It is very well explained and easy to follow. Thanks to this guide, I feel at ease knowing that I will be prepared for the test.
CBET Study Guide – Customer
I was really excited when I received my CBET Study Guide and the CBET Flashcards. I really liked how they are categorized under different headings dividing the different areas that are covered on the exam this allows you to discover what areas you may need to work on the most. The Study guide informs you of what to expect and guides you towards your success in taking the exam. The flashcards are really easy to read and understand the explanation of the answer on the back is very clear and gives you a good understanding of what the correct answer is and explains in detail for a better understanding so that you do not need to memorize the answer but fully understand the answer. This is what will give you good results on the Exam itself.
CBET Study Guide – Customer
This Certified Biomedical Equipment Technician Examination guide is the way to go when you need extra help studying for the test. It offers useful tips to help you get the most out of your study sessions. The guide also includes a practice test with an answer and an explanation key. Definitely try it and see for yourself.
CBET Study Guide – J.D.
I am very pleased with this study guide. The guide book does a great job of explaining the basics of a CBET along with in depth explanation of how and why each item is used in the work environment.
CBET Study Guide – Customer