ASWB Masters Exam
The Association of Social Work Boards offers licensing exams at multiple levels. The Masters Exam is required in all US states and territories as well as some provinces in Canada. It's an important step on your way to a career in social work.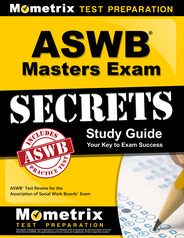 Check Out Mometrix's ASWB Masters Study Guide
Where Can I Register for the ASWB Masters Exam?
You first need to contact the licensing board in your jurisdiction to find out for sure whether you even need to take the ASWB Masters Exam. If you do, you will next need to provide proof that you are eligible to take the exam.
While the test is the same no matter where you take it, the eligibility requirements differ from jurisdiction to jurisdiction. Once you establish that you meet local eligibility criteria, the board will give you a notice of approval.
You use this notice of approval to schedule your exam at your nearest Pearson VUE testing center. When scheduling the exam, you will have to pay the $230 exam fee. The test is offered continuously so you will be able to make an appointment that is compatible with your schedule.
What Topics Are Included on the Test?
The ASWB Masters Exam includes 170 questions spanning four core aspects of a career in social work. Those four aspects include:
Human Development, Diversity, and Behavior in the Environment

Human growth and development
Concepts of abuse and neglect
Diversity, social/economic justice, and oppression

Assessment and Intervention Planning

Biophysical history and collateral data
Assessment methods and techniques
Intervention planning

Interventions with Clients/Client Systems

Intervention processes and techniques for use across systems
Intervention processes and techniques for use with larger systems

Professional Relationships, Values, and Ethics

Professional values and ethical issues
Confidentiality
Professional development and use of self
All questions are geared toward assessing your capacity to deal with the unique challenges and day-to-day demands of social work.
What Should I Bring with Me on Test Day?
All you need to bring is two forms of ID, at least one of which is a current, government-issued photo ID. The test is computer-administered so everything else you need will be provided for you. You cannot bring any personal items into the exam room with you so it's best to just leave your things in your car.
You will have about four hours to complete all four sections of the test. But you should also plan to arrive about 15-30 minutes early in order to check in so expect to be at the testing center for about four and a half hours altogether.
As mentioned earlier, the test includes 170 questions but only 150 of those questions are scored. The remaining 20 are unscored questions being tested for possible inclusion on future versions of the exam. You won't know which ones are the unscored questions, however, so you should be ready to do your best on all 170 questions.
What Is the Minimum Score Needed to Pass?
The score is scaled according to the difficulty of the questions that you receive which depends on the version of the exam you are taking. Because of this variability, the minimum number of correct answers you need could be as little as 93 or as much as 107.
Since you have no control over which version of the exam you will receive, it is best to set your target above 107 and create a study plan around that goal. This will increase your chances of achieving the minimum passing score no matter which version of the test you take.
Fortunately, your exam results are valid across all states and territories so you won't have to take the exam again if you choose to work in a different state.
What Is the Best Way to Prepare for the ASWB Exam?
Since this is a content-driven exam, the bulk of your study time should be spent reviewing all the material that will be covered and then improving your ability to recall that information on command. You should also schedule periodic practice tests to familiarize yourself with the kinds of questions that will be asked and the structure of the exam.
For the review, you need the Mometrix Study Guide. This comprehensive guide contains a detailed yet super focused overview of all the content across each subject of the test. It also provides effective strategies for getting through difficult questions including how to detect context clues, avoid traps or tricky phrasing, and find the answer through a process of elimination.
To further improve your absorption of the material and work on your ability to instantly recall information, pick up the Mometrix Flashcards. All the core concepts from across the different subjects are condensed into easy to understand explanations for quick review.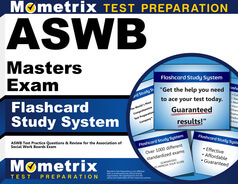 Check Out Mometrix's ASVB Masters Flashcards
ASWB Study Guide
Mometrix Academy is a completely free social work exam resource provided by Mometrix Test Preparation. If you find benefit from our ASWB exam review efforts here, please consider buying one of our premium ASWB study guide or flashcard products to take your studying to the next level (just click one of the links below). Your purchase also helps us make even more great, free content for test-takers.
Upgrade your studying with our ASWB Masters study guide and flashcards:
ASWB Masters Study Guide
ASWB Masters Flashcards
ASWB Masters Study Guide Customer Success Stories
Our customers love the tutorial videos from Mometrix Academy that we have incorporated into our ASWB Masters study guide. The ASWB Masters study guide reviews below are examples of customer experiences.
This is a great comprehensive guide that covers theories, values and ethics. It provides a practice test with not only answers, but explanations to help you better understand why something is correct or incorrect. I expect to pass my exam on the first try with this book. I also would like to add that I received this study guide way ahead of the predicted time-frame which really pleased me!
ASWB Masters Study Guide – Damien
I do want to say that this manual is very friendly, almost light reading, and summarizes everything up in a clear, and inviting way. I am very much satisfied with this purchase and feel it will be very helpful in my actual exam.
ASWB Masters Study Guide – Asaf
Best book to use for studying which I have found. All the information you need is literally here. I highly recommend it to anyone. In fact, a few of my friends purchased it right after looking through my book. You will be totally prepared after using this for your exam prep. Good luck on your tests fellow Social Workers!
ASWB Masters Study Guide – Sarah
Great resource that was recommended by a friend of a friend. Material is a easy read. This is the best study guide that I purchased. I feel confident I will pass the exam.
ASWB Masters Study Guide – Callen
This study guide is portable and not overwhelming. All of the areas that I need to focus on are represented well in this guide. I like how the four areas are divided up, following a practice test. I friend of mine recommended this study guide, and stated "It is a great book to use to prep for the test."
ASWB Masters Study Guide – Customer
The book is great! I have been reading it every night just to get some info for my test. The steps to help with a multiple choice question is a good review for people who are anxious about test taking.
ASWB Masters Study Guide – Cuba
This book touches base with many topics, much more than I imagine! Helpful, easy to read!
ASWB Masters Study Guide – CJ
I honestly love this study guide! A lot of the problems I have with this test is the recall information and this study guides lays it all out for me. I have noticed that this is a great product for me to use in my studying, I greatly appreciate the product!
ASWB Masters Study Guide – Customer
I really loved the outline of information that was provided. Before purchasing this guide, I was lost about how much information I needed to know regarding each topic and this guide really narrows it down. Highly recommend.
ASWB Masters Study Guide – Jessica
The guide makes it easy for the average person to understand. I specifically enjoyed the step by step details. I am a firm believer in learning through repetition and the guide allows me to pinpoint errors I would often make during an actual exam. I thoroughly enjoyed using Mometrix study guide and I've already recommended it to a few of my graduate school classmates.
ASWB Masters Study Guide – Jason
I like how structured and easy each section was to understand. There were some theories that I was not familiar with, but this book was able to explain and introduce me to some new theories. I really like that it has a practice test as well to test how prepared I will be for the examination.
ASWB Masters Study Guide – Gloria
The study book is easy to understand, I appreciate the letter, the opportunity to write a success story, the access to the flashcards, and the study plan for those like me that are studying in advance! I LOVE IT! the bonus material is very helpful.
ASWB Masters Study Guide – Juan
This study guide is portable and not overwhelming. All of the areas that I need to focus on are represented well in this guide. I like how the four areas are divided up, following a practice test.
ASWB Masters Study Guide – Customer