ASWB Clinical Practice Test
If you want to be a clinical social worker, you need to get licensed. The Association of Social Work Boards (ASWB) administers the Clinical Social Work licensing exam. Professionals who pass the exam show they have the knowledge and skills to succeed in the field.
What's the test like? How can I get a study guide that will help me pass?
The information on this page will help! Click the "Start Test" button below to take a free ASWB Clinical exam practice test.

About the ASWB Clinical Social Work Test
The ASWB Clinical Exam includes 170 questions spanning four core aspects of a career in social work. Those four aspects include:
I. Human Development, Diversity, and Behavior
Human Growth and Development:
This topic includes the impact of body image; various developmental theories, including sexual development and spiritual development through the lifespan; the impact of loss, separation and grief; gerontology; and the effect of aging parents on adult children.
Human Behavior in the Social Environment: This topic includes details about interpersonal relationship dynamics, theories of crisis intervention, social change and community development theories, conflict theory, and criminal justice systems.
Diversity and Discrimination: This topic contains concepts of sexual orientation; how the transgender and transitioning process impacts behaviors, attitudes, identity, and relationships; and feminist theory.
Check Out Mometrix's ASWB Clinical Printed Study Guide
Get practice questions, video tutorials, and detailed study lessons
Get Your Study Guide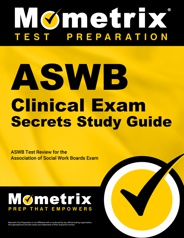 II. Assessment, Diagnosis, and Treatment Planning
Biophysical History and Collateral Data:
This topic covers sexual dysfunction indicators, obtaining sensitive information, and how to assess clients/client systems.
Assessment and Diagnosis: This topic covers psychosocial stress indicators, behavioral dysfunction indicators, methods of data collection and analysis, and mental and emotional illness indicators.
Treatment Planning: This topic covers trauma-informed care theories, objective and subjective data principles and features, and research design and methods (both basic and applied).
III. Psychotherapy, Clinical Intervention, and Case Management
Therapeutic Relationship:
This topic covers communication techniques (both verbal and nonverbal), acceptance and empathy, and feedback.
The Intervention Process: This section covers conflict-resolution methods, setting limits, and techniques in role modeling.
Service Delivery and Management of Cases: This topic covers case management components, service delivery methods, and how the political environment impacts policy-making.
Consultation and Interdisciplinary Collaboration: This topic covers techniques in leadership and management, supervision and consultation models, and networking methods.
IV. Professional Values and Ethics
Professional Values and Ethical Issues:
This topic covers social work legal and ethical issues, identifying and resolving ethical issues, and several legal and ethical issues, including dual relationships, termination, and death and dying.
Confidentiality: This topic covers using client records, information security, and mandatory reporting.
Professional Development and Use of Self: This topic covers staying objective, maintaining a safe work environment, and mastering self-care techniques for social workers.
Check Out Mometrix's ASWB Clinical Flashcards
Get complex subjects broken down into easily understandable concepts
Get Your Flashcards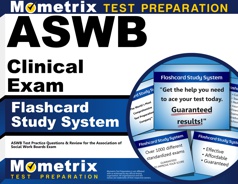 Online LCSW Prep Course
If you want to be fully prepared, Mometrix offers an online LCSW Prep Course. The course is designed to provide you with any and every resource you might want while studying. The LCSW Course includes:
Review Lessons Covering Every Topic
1000+ LCSW Practice Questions
More than 400 Digital Flashcards
Over 20 Instructional Videos
Money-back Guarantee
Free Mobile Access
and More!
The LCSW Prep Course is designed to help any learner get everything they need to prepare for their LCSW exam. Click below to check it out!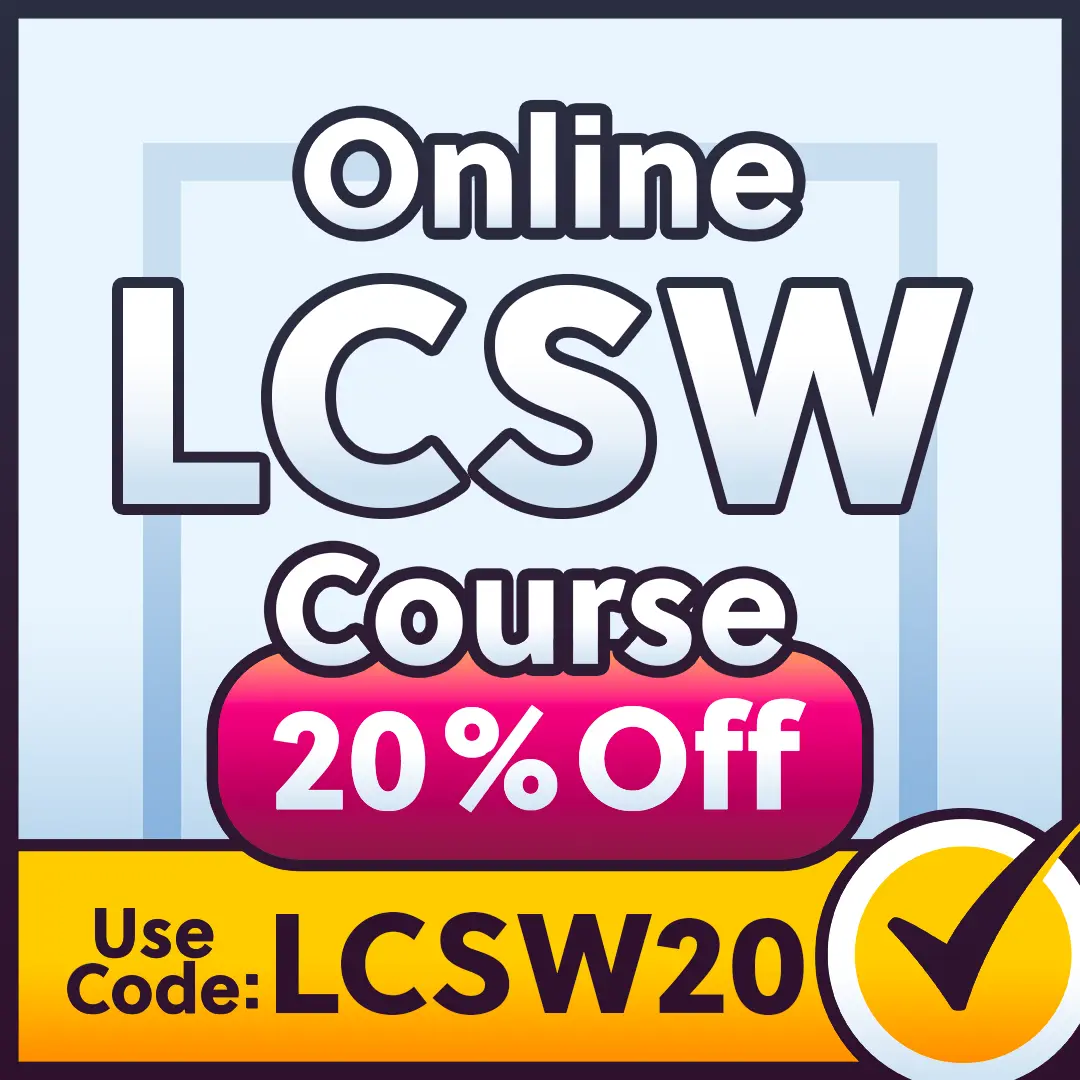 ASWB Clinical Pass Rate Analysis (2022)
The Association of Social Work Boards published an analysis of the pass rate for the Clinical exam in 2022. The board analyzed testing and scoring information from 2011-2021, including statistics related to gender, race, age, and primary language.
In a nutshell, the analysis revealed that 88% of everyone who took the ASWB Clinical exam between 2011 and 2021 eventually passed the exam. The age group with the highest pass rate is 18- to 29-year-olds, at a rate of 91%. According to ASWB's data, more women have passed the exam than men, more people passed whose primary language is English, and the demographic group with the highest pass rate is whites.
Here are the details of the analysis.
Age
The breakdown of age categories and their pass rates (2018-2021) according to the ASWB is as follows:
18-29: 91% pass rate
30-39: 86% pass rate
40-49: 76% pass rate
50+: 65% pass rate
Race
The breakdown of race categories and their pass rates (2018-2021) according to the ASWB is as follows:
White: 91% pass rate
Multiracial: 87% pass rate
Asian: 80% pass rate
Hispanic/Latino: 77% pass rate
Native American/Indigenous peoples: 74% pass rate
Black: 57% pass rate
Gender
The breakdown of gender categories and their pass rates (2018-2021) according to the ASWB is as follows:
Female: 83% pass rate
Male: 80% pass rate
Primary Language
Test-takers whose primary language is English have a pass rate of 83%, while test-takers whose primary language is not English have a pass rate of 70%.
Historically Marginalized Groups
The data from 2011-2021 reveals that members of historically marginalized groups taking the ASWB Clinical exam increased by 14%.
ASWB Clinical Study Guide
This is one of the more important tests you'll take in your career. Now, you need a professional study guide to help you pass. Mometrix has the ASWB Clinical Study Guide for you, one that's been developed by professionals who understand the Clinical Social Work exam. We also have a ASWB Clinical Flashcards study system that will help you study on the go and get help from colleagues wherever you are. Then, finally, we also offer an Online Course that combines our study guide, flashcards, and other study tools into one package! All three are an excellent investment as you study for the Clinical Social Work Licensing Exam.
FAQs
How many questions are on the ASWB Clinical exam?
There are 170 multiple-choice questions. Of those, 150 are scored and 20 are not scored.
How much does it cost to take the test?
It costs $260 to take the test. You can request an application through your local social work regulatory board. (Note that you may have to pay additional fees to your state or jurisdiction's licensing board.) Your board will provide the approval to take the test, and you can then register with the ASWB.
What's the time limit when taking the exam?
There is a four-hour time limit.
When should I arrive at the test center and what should I bring?
You should arrive at the test center at least 30 minutes prior to the exam. You'll need identification — a government issued ID such as a passport or driver's license, and a secondary ID (work ID, social security card, for example) that has your name and signature.
What can't I bring into the testing room?
You can't take any personal items, such as electronic devices, cell phones, watches, and outwear, into the testing room. Any personal items must be stored in a locker at the test center, and you can't access them during the test. Food and drink are also not allowed, unless candidates have received permission in advance.
What if I need to take a break?
You can take a short break, but the break counts against your exam time.
ASWB Clinical Study Guide Customer Success Stories
Our customers love the tutorial videos from Mometrix Academy that we have incorporated into our ASWB Clinical test study guide. The ASWB Clinical study guide reviews below are examples of customer experiences.
This book certainly provides a lot of information. I find the way the beginning of the book is structured explaining a variety of concepts is quite helpful. I also feel that the explanation as to why an answer is correct or incorrect quite useful. As I continue to use this book, I have found it to be even more helpful.
ASWB Clinical Study Guide – Customer
Very helpful study tool for NY State Teacher Certification test preparation. I especially like the online video and instruction notes; this is an added benefit to the book. I am working slowly through this book and believe that I will be adequately prepared to take the teacher certification examination.
ASWB Clinical Study Guide – Customer
This book was small but mighty!!! I had taken the ASWB clinical test once before and missed it by one point! So the second time I thought maybe a study book would help me. I ordered this book and loved it! The tips were great and it was the only difference I made between the first time I took the test and the second. It made all the difference! I passed the second time by 20 EXTRA points. I would totally recommend this product!
ASWB Clinical Study Guide – Ashley
At a quick glance inside the book I LOVED the fact that there are videos to help review the materials online. I love the variety of study skills such as, visual and audio! The blurb on the "Top 20 Test Taking Tips" was even resourceful as well! Just looking at the book at a quick glance has already calmed my nerves and boosted my confidence in executing passing this test!
ASWB Clinical Study Guide – Samantha
I found this study aide to be helpful because it gave a definitive explanation of the three sections included on the test, along with giving Instructional Support to aide in the transition to the classroom. I was also happy to see that there were hints given along the way to help one while studying.
ASWB Clinical Study Guide – Kristen
My apprehension about ordering the book/guide where completely gone the moment the book arrived and I started using it. The fact that it provides not only the answers to the questions but also an explanation as to why one is the correct answer which also includes the rationale as to why the other options were not correct is Great. It is true learning tool and I am glad I ordered.
ASWB Clinical Study Guide – Rafael
I think this book has been very helpful so far and enjoyable .It is detailed oriented to the point that makes it understandable and comprehensive. It is very well organized and informative. I have not taken a practice test yet but, I do think that by the time I get to that point I will be very well prepared. I am actually excited to read this book as opposed to dreading it. Thank you for all of your help.
ASWB Clinical Study Guide – Cheryl
This study guide was incredibly helpful in preparing me for the clinical examination. I was able to pass on the first time and I believe it was due to these practice questions. It helped me to realize the question being asked was not always as obvious as it may seem. The explanation to the answers was invaluable. I am so grateful to have purchased it. It was a low cost investment that turned out to be invaluable!
ASWB Clinical Study Guide – Amanda
This is an awesome study guide. I particularly like the general strategies and find them to be helpful. When I was taking the exam for LMSW, I used your manual for that test as well. The sample test questions are very similar to the test, and the strategies are examples of how to answer the questions.
ASWB Clinical Study Guide – Jennifer
Material is simple to use and very complete for the purpose of studying anywhere you have a moment. I am preparing for the test next spring and love to manage the material bit by bit as to not feel so overwhelmed!
ASWB Clinical Study Guide – Christine
I find the questions helpful. The answers and rationales were concise and I could easily understand and remember the information. I am feeling more confident about taking the exam. My co-workers have also been looking at them and all agreed they found them helpful.
ASWB Clinical Study Guide – Deborah
I am a terrible test taker and have awful test anxiety. Using this guide, I felt confident in my knowledge and was more than adequately prepared for the exam. The practice test questions were the best part of the studying system. I would do about 10-20 a day so I wouldn't get overwhelmed in the beginning. The explanations in the answer section are very helpful. They save you time from going back and looking through 7 years of textbooks to find why you got a question wrong.
ASWB Clinical Study Guide – Customer
I found this product is very helpful to me. It covers the components of the exam based on the ASWB. It is very organized and easy to read. It helps me to focus on the most important parts or phrases of the questions and to implement the test-taking strategies to choose the correct answer.
ASWB Clinical Study Guide – Customer
This is a great product, it has really been helping me study and to feel confident for the exam. I know I will go into the exam feeling calmer because I know I prepared well. They were also convenient and easy to use.
ASWB Clinical Study Guide – Customer
Mometrix Academy – Home