ASVAB General Science Study Guide

The Armed Services Vocational Aptitude Battery (ASVAB) is required of all candidates seeking to enlist in the Army, National Guard, Navy, Coast Guard, Air Force, or Marine Corps. The general science is test is one of ten subtests included in the battery. This particular test will be used along with five others to help place you in the best job for your unique set of skills and goals.
Who Can Take the ASVAB?
Only those who are deemed qualified by a recruiter are able to take the ASVAB. In order to qualify, you will have to pass through a screening process which includes detailed personal questions about your health, drug use, marital status, arrest record, and education. Answer these questions with complete openness and honesty. At this stage, you might also need to complete a physical exam before being approved by the recruiter.
Check Out Mometrix's ASVAB Printed Study Guide
Get practice questions, video tutorials, and detailed study lessons
Get Your Study Guide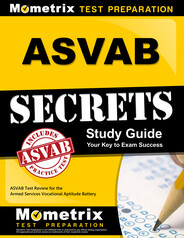 After the screening questions and the physical, if the recruiter is still not sure about your qualifications, they may ask you to take a short pre-screening version of the ASVAB which contains just the first four tests, including the word knowledge test. So make sure you prepare for the screening appointment as if you were going to be taking the ASVAB, just in case you are asked to take the short pre-screening version of it.
How Much Time Do I Have to Complete the ASVAB General Science Test?
The general science test will go fairly quickly. You will have just 8 minutes to answer 16 questions. So make sure you work on your memory and recall in preparation for this section.
All ten sections together will last about two and a half hours. Most of the test will have similarly short time frames to answer a similarly large number of questions, so your speed is going to be important across all the tests included in the ASVAB.
In addition to the time for the exam itself, make sure to include an extra 15 minutes before the appointment to check in and an extra 15 minutes or so after the exam to go over any questions or concerns you have about the test.
What Subjects Are Covered on the ASVAB General Science Test?
There are 16 questions on the general science test, and they are all used to demonstrate your command of the foundational concepts in the physical and biological sciences. The fields of science that will be included in the test are:
Life science
Earth science
Space science
Physical science
For each of these fields, the difficulty level will be no higher than high school level science classes. So whether you have your high school diploma or your GED, you should have encountered most of the material already.
What Score Do I Need on the General Science Test?
The general science test will not count toward the Armed Forces Qualifying Tests (AFQT) so there is no fixed minimum score required. However, if you have a specific job or job field in mind that you would like to work in, you will need to meet certain minimum standards on the remaining six tests not included in the AFQT.
Check Out Mometrix's ASVAB Flashcards
Get complex subjects broken down into easily understandable concepts
Get Your Flashcards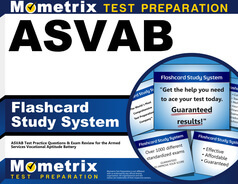 If your desired job field is science related, you will definitely need to perform well on the general science test in order to qualify for a job in that field. Talk to the recruiter to find out what minimum score you should aim for on this test based on your personal career ambitions. If you do not have a specific field in mind, you should still prepare for these subtests, but you don't have to worry as much about meeting specific minimums.
What Should I Study to Prepare for the ASVAB General Science Test?
Even though all the material on this test is pulled from things you would have learned in high school or while preparing for the GED, subjects like chemistry and physics are easy to forget especially when you don't use them on a daily basis in your job. So it will definitely benefit you to review these subjects and refresh your memory of the core concepts you'll be tested on.
Rather than slogging through a giant stack of science textbooks, turn to the Mometrix Study Guide. It includes a condensed but comprehensive overview of all the scientific concepts you will need to know without any of the over-technical, dry language of your average science textbook. It's everything you need to know and none of the stuff you don't.
To help improve your memorization of all these scientific concepts, pick up a set of Mometrix Flashcards. Flashcards are proven to be one of the most effective study methods for improving both memory and recall ability, the two most important skills you'll need to ace the general science test.