ASVAB Mathematics Knowledge Study Guide
ASVAB Mathematics Knowledge Study Guide
The Armed Services Vocational Aptitude Battery (ASVAB) is an important step candidates need to take before they will be allowed to enlist in any military branch. Among the ten tests in the battery is the mathematics test which will be one of the four tests used to determine your eligibility to enlist.
What Is Involved in the Registration Process?
Be prepared to disclose in-depth, private information about your marital status, education, health, drug use, and arrest record. You will need to provide this information before your recruiter can authorize you to take the ASVAB.
Check Out Mometrix's ASVAB Printed Study Guide
Get practice questions, video tutorials, and detailed study lessons
Get Your Study Guide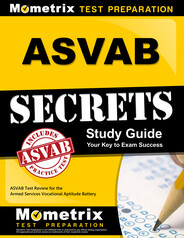 In some cases, your responses to these questions will not be enough for a recruiter to make a conclusive decision about whether or not you qualify. In this case, they may also require you to complete a physical exam and/or the first four tests of the ASVAB, including the mathematics test. Since there is this possibility that you will be tested during this initial screening, you should make sure to study and prepare yourself as if you were definitely going to be taking the test.
What Should I Expect on the Day of the Test?
On the day of the test, you should show up to the testing location at least 15 minutes before your actual appointment in order to check in. Bring a valid, government-issued photo ID such as a passport, driver's license, state issued ID, or military ID. If you arrive late, you will not be allowed to take the test so don't underestimate the importance of showing up 15 minutes early.
The entire test lasts about two and a half hours, including the mechanical comprehension section which lasts 20 minutes. If you finish sooner than that, you will be allowed to go on to the next section but once you leave a section, you can't return to it. So make sure you have double checked your work and are confident in all of your answers before moving on.

What Kind of Math Will Be on the ASVAB Mathematics Section?
All 16 questions on the mathematics test will be based on high school level math so it will be more advanced than the arithmetic section but it should still all be concepts that you have encountered either in high school or while preparing for your GED.
Even if the material is familiar to you and seems easy, remember that there are no calculators on this test so you also need to be able to calculate in your head or by hand fast enough to get through all the questions within the time limit.
What Is the Minimum Score Needed on the Mathematics Test?
Check Out Mometrix's ASVAB Flashcards
Get complex subjects broken down into easily understandable concepts
Get Your Flashcards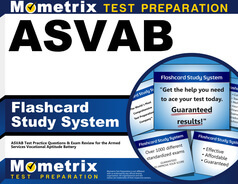 The mathematics test is included in the Armed Forces Qualification Tests (AFQT) set along with arithmetic reasoning, paragraph comprehension, and word knowledge. So you will get a cumulative score for this set of tests ranging from 1 to 100. Your score represents your percentile ranking compared to other candidates taking the test. For example, if your AFQT score is 62, that means you performed better than 62% of people who took the test.
The minimum AFQT score needed will depend on which branch of the military you are applying to as well as whether you have a high school diploma or a GED. In general, those who hold a GED will need to achieve a higher minimum score than those who have a high school diploma. The absolute highest required score is a 65 (this is the requirement for GED holders enlisting in the Air Force).
What Should I Study for the Mathematics Test?
Even though you might have seen most of the math on this test already, it will still benefit you to review the material and refresh your memory. Math involves a lot of specific formulas and processes and you won't have a calculator so you also need practice performing computations by hand quickly enough to get through the questions within the time limit.
Your best bet is to use a well-designed study aid like the Mometrix Study Guide. This will give you a comprehensive overview of the math you'll need to know, complete with clear, easy-to-follow explanations. Even more to your benefit, it includes a lot of practice questions that you can use to prepare yourself for the test.
Make sure to time yourself when you do these practice questions and, above all, make sure you do not use a calculator so you get used to working under the same conditions you're going to use on test day.
You can also use Mometrix Flashcards to further improve your memory of the formulas and rules that you'll need to know. These flashcards also come with additional practice questions of their own so you'll have no shortage practice to prepare you for the ASVAB.
ASVAB Test Online Prep Course
If you want to be fully prepared, Mometrix offers an online ASVAB Prep Course. The course is designed to provide you with any and every resource you might want while studying. The ASVAB Course includes:
In-Depth Lessons Covering all the Topics
800+ ASVAB Practice Questions
Over 200 Video Tutorials
More than 450 Electronic Flashcards
Money-back Guarantee
Free Mobile Access
and More!
The ASVAB Prep Course is designed to help any learner get everything they need to prepare for their ASVAB exam; click below to check it out.