ASVAB Electronics Information
The Electronics Information (EI) exam is a subtest of the Armed Forces Vocational Assessment Battery (ASVAB) test. The EI subtest examines your knowledge of electronic principles, circuitry, and terminology. The ASVAB consists of ten subtests, and you have to take the entire battery of tests (you cannot pick which subtests to take) in one appointment.
Test Delivery Method
Within the ASVAB, the computer-adaptive test (CAT-ASVAB) Electronics Information subtest consists of 16 multiple-choice questions, which you have eight minutes to answer. If you take the paper and pencil version of the ASVAB, you will have nine minutes to answer 20 multiple-choice questions.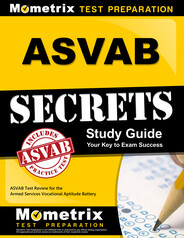 Check Out Mometrix's ASVAB Printed Study Guide
Test Content
The content of the EI exam covers the basic principles of electricity. Questions on the EI subtest evaluate your knowledge and understanding of electrical principles, including conductors, currents, circuits, and insulators. You will need to know the various types of conductors and insulators and their effectiveness. Topics may include the different ways electricity is used and the multiple purposes and uses of electrical currents.
Other knowledge topics evaluated within the EI subtest include:
Ohm's Law – the basic fundamental of the study of electricity (pay special attention to this one – it's essential)
Circuits and how they function
Resistance and how it is used to regulate electricity
Transistors and semiconductors – their purpose and composition
Electrical terms such as voltage, frequency, amperage, ohms, watts, and resistance
Electrical symbols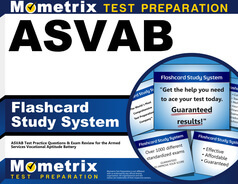 Check Out Mometrix's ASVAB Flashcards
Career Fields
Electronics, general maintenance, mechanical maintenance, engineering, and special operations are just a few fields that use the Electronics Information subtest for qualification. Special Warfare Operator (Navy), Avionics Repairer (Army), Cyber Transport Systems (Air Force), Geographic Intelligence Specialist (Marines), and Electronics Technician (Coast Guard) are just a few specialties that use the EI subtest as a part of the qualification process.
Registration and cost
There is no cost to the test taker, and you will register for the exam through your school or military recruiter.
Score
You receive a standard score on the Electronic Information subtest. One point is awarded for each correct answer, and wrong answers are not penalized. Your score is then converted to a percentage. Suppose you receive a 75% on your subtest. In that case, it indicates that you performed as well as or better than 75% of a nationally representative sample—the higher your score in each subtest, the more military occupations open to you.
Preparation
If you do not have your sights set on an electronics-focused career field, you do not have to do as well in the EI subtest –relax and take the eight to nine minutes and do the best you can. However, if your goal is electronics focused, you want to receive a high score on this subtest. Study metals and other conductors, the uses of electricity, currents and circuits, electrical terms and symbols, and Ohm's Law and take advantage of the materials available through Mometrix, including an online study course, flashcards, and study guide. Together with your dedication, these tools will help you get the best score on your ASVAB subtests.
ASVAB Test Online Prep Course
If you want to be fully prepared, Mometrix offers an online ASVAB Prep Course. The course is designed to provide you with any and every resource you might want while studying. The ASVAB Course includes:
77 Lessons Covering all the Topics
800+ ASVAB Practice Questions
Over 120 Video Tutorials
More than 450 Electronic Flashcards
Money-back Guarantee
Free Mobile Access
and More!
The ASVAB Prep Course is designed to help any learner get everything they need to prepare for their ASVAB exam; click below to check it out.