ASVAB Auto and Shop Information
The Auto and Shop Information (AS) section of the ASVAB (Armed Services Vocational Aptitude Battery) evaluates your knowledge of automotive systems, automotive repairs, and your understanding of tools and fasteners used in an automotive shop. The AS subtest is not a factor in your Armed Forces Qualification Test (AFQT) score.
Test Delivery Method
The ASVAB has two versions: the computer-delivered exam (CAT-ASVAB), and the paper version of the exam. If you take the computer version, you will take it with a group, but you work through the exam at your pace (within the set time limits). The paper version is group-delivered, working through each exam as a whole, moving to the next subtest after the time allowed.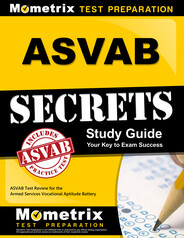 Check Out Mometrix's ASVAB Printed Study Guide
Test Design
The computer-delivered AS subtest consists of 11 auto-related and 11 shop-related multiple-choice questions. You have seven minutes to answer the auto-related questions and six minutes to answer the shop-related questions.
The paper-delivered AS subtests consist of 25 multiple-choice questions, divided between auto and shop-related questions. You have 11 minutes to complete the AS subtest.
Evaluated Knowledge
The Auto and Shop Information subtest examines your knowledge of functioning vehicles and the standard practices and equipment used in their maintenance and repair.
Vehicle-focused questions examine your knowledge and understanding of:
Engine components and functions
Engine types and sizes
The basic knowledge of how an engine works
The interaction of each part of the car with each other and the engine
Fuel use and consumption
The various systems of an automobile – operating, computer, transmission, fuel, electrical, braking, steering, cooling, emissions control, and ignition
The engine cycle
The purpose of motor components
Recognizing and repairing automotive malfunctions
The shop-related questions examine your knowledge of tools typically found in an automotive repair shop, including calipers, chisels, wrenches, pliers, pipe wrenches, striking tools, fastening tools, cutting, drilling, punching, and gouging tools.
Possible questions you may encounter on the exam include:
What are the four strokes of an engine cycle?
What does the radiator do?
What system controls the heating and cooling in a vehicle?
When would you use a sliding caliper?
Which of the listed tools is a striking tool?
What tool do you select to remove an oil pan?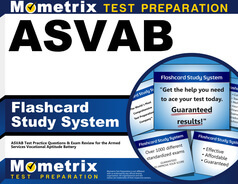 Check Out Mometrix's ASVAB Flashcards
Career Fields
More than 800 different jobs are available in the military, known as military occupational specialties (MOS), placed into fields or branches of the military. The fields are either combat specialties or those that support combat specialties. The AS exam identifies individuals with a predisposition towards combat, general technical, mechanical maintenance, operators and food, and surveillance and communications occupations.
Scoring
Each correct answer receives one point. Incorrect answers do not receive any credit, while answers left blank count against your score.
Studying Strategies
Regardless of your knowledge in this subject area, remember that the AS exam is timed; spending too much time on a question could negatively affect your score. With a few test strategies, you can use your time wisely to answer the questions to the best of your ability. Use your common sense to draw on your experience and make connections to answer the question. Eliminate answers that you know are wrong, because with each answer you eliminate, you increase your chances of choosing the correct response. Finally, when you do not know the answer, guess.
Remember, your AS score is not included in your AFQT score, so try to relax when working through this section. To prepare as fully as possible for this subtest, use the tools available through Mometrix, including an online study course, flashcards, and study guide.
ASVAB Test Online Prep Course
If you want to be fully prepared, Mometrix offers an online ASVAB Prep Course. The course is designed to provide you with any and every resource you might want while studying. The ASVAB Course includes:
77 Lessons Covering all the Topics
800+ ASVAB Practice Questions
Over 120 Video Tutorials
More than 450 Electronic Flashcards
Money-back Guarantee
Free Mobile Access
and More!
The ASVAB Prep Course is designed to help any learner get everything they need to prepare for their ASVAB exam; click below to check it out.