ASCP Histotechnician Practice Test
The ASCP Histotechnician (HT) Exam is administered by the American Society for Clinical Pathology Board of Certification (ASCP BOC). The ASCP BOC is an independent certification agency that provides the gold standard of certification for laboratory professionals both in the US and around the world. They have certified nearly 600,000 individuals since 1928 based on their relevant standards and procedures that assure competence in medical laboratory professionals.
This page will cover the HT examination, what information the examination covers, the number and type of questions you can expect, the score you need to pass, and everything you need to register for the assessment.

About the Exam
The HT Exam is recommended for aspiring histotechnicians that wish to be certified nationally as a means toward gainful employment. Passing an ASCP BOC exam such as this one also makes you eligible to become an ASCP Member. Becoming a member can provide you with industry- and discipline-specific professional development in an environment of laboratory specialists, including histotechnicians. The ASCP organizes annual conferences, expert webinars, and roundtables, as well as detailed white paper research and networking opportunities.
Note that the Histotechnician (HT) Exam is different than the Histotechnologist (HTL) Exam. Click here to learn about the HTL exam.
The HT exam is composed of 100 multiple-choice questions to be answered within a 2.5-hour time limit. The exam is administered using the computer-adaptive testing (CAT) format. Because of this, there is no fixed number of questions or set percentage of the exam you must answer correctly to pass. You only need to answer enough questions correctly to go beyond a certain passing point. As long as your score is above the said passing point, then you will pass the exam.
The exam questions that may be presented will either be theoretical or procedural. Theoretical questions test the skills needed to apply knowledge, calculate results, and correlate reactions/patient results to histology. Procedural questions, on the other hand, measure the skills necessary to perform appropriate laboratory methods and follow quality assurance protocols. Regulatory questions that are based on US sources (e.g., AABB, FDA, CLIA, etc.) will also be asked in the examination.
Check Out Momterix's Histotechnician Study Guide
Get practice questions, video tutorials, and detailed study lessons
Get Your Study Guide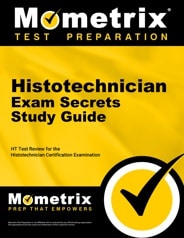 Eligibility
The ASCP offers three eligibility routes for the exam.
Route 1
requires you to have completed a Histotechnician program accredited by the National Accrediting Agency for Clinical Laboratory Science (NAACLS) within the last five years. The education received from a NAACLS-accredited histotechnician program is for five years from the date of completion, so it is recommended that you take the certification exam within that period.
Route 2 requires 60 semester hours or 90 quarter hours of academic credit, or an associate degree from a regionally accredited college or university, with a combination of 12 semester hours or 18 quarter hours in biology and chemistry. In addition to this, you must have one year of full-time clinical, veterinary, industry, or research experience in a histopathology laboratory in the US or Canada within the last five years.
An acceptable clinical laboratory includes those with either a CMS CLIA certificate of registration, compliance, or accreditation, a JCI accreditation, or accreditation under ISO 15189. Your clinical experience must also be verified by your direct supervisor or laboratory management by accomplishing the Experience Documentation Form.
Route 3 requires the same educational attainment as Route 2, as well as the successful completion of a 50-week US military histotechnician training course within the last ten years. When accomplishing the online application, you must upload proof of completion in PDF format of either official documentation of your military code (NEC, MOS, AFSC code, or 68K), an official certificate verifying completion of training, or an official copy of your DD214 form or ERB.
Exam Outline Review
The exam is split into five sections, each covering various aspects of histotechnology:
Fixation (15%-25%)
Processing (10%-20%)
Embedding/Microtomy (15%-25%)
Staining (30%-40%)
Laboratory Operations (10%-15%)
Each content area will test your knowledge in handling tissues, demonstrating procedures, setting parameters, and/or using the proper materials and instrumentations in the context of each content area. They will also assess your abilities in laboratory operations, procedures, equipment use, and safety protocols. Note that all BOC exams, including this one, use conventional and SI units for results and reference ranges.
You will also be tested on your knowledge of reagents and dyes to use in the staining process. In addition, the Histotechnician exam will include questions about basic immunology principles, including antigen retrieval and immunohistochemistry staining theory.
Here's a closer look at the procedures that appear on each section of the exam:
I. Fixation (15%-25%)
Light microscopy
Electron microscopy
Special stains
Frozen sections/tissues
Enzyme histochemistry
Immunofluorescence
Immunohistochemistry
Artifacts, precipitates, and pigments
Quality control
Cytologic specimens
In situ hybridization
II. Processing (10%-20%)
Light microscopy
Frozen sections and tissues
Enzyme histochemistry
Calcified/decalcified tissue
Immunohistochemistry
Immunofluorescence
Quality control
Cytologic specimens (cell blocks, touch preps, etc.)
In situ hybridization
III. Embedding/Microtomy (15%-25%)
Paraffin
Frozen section
Gelatin and adhesive
Quality control
IV. Staining (30%-40%)
Nucleus/cytoplasm (e.g., H&E)
Bone marrow
Carbohydrates
Connective/supporting tissue
Lipids
Microorganisms
Nerve
Pigments, minerals, and granules
Tissues and cells, as well as their components (fibrin, mast cells, etc.)
Immunochemistry
Quality control
Cytological stains (e.g., Papanicolaou)
Click here to see a list containing the majority of the stains you will encounter on the HT exam.
Alcian blue
Alcian blue-PAS
Alcian yellow
Bielschowsky
Carbol-fuchsin (Kinyoun, Ziehl-Neelsen, Fite, auramine-rhodamine)
Colloidal iron
Congo red
Crystal violet
Enzyme histochemistry (ATPase, cytochrome oxidase, succinic dehydrogenase, NADH, esterase, acid phosphatase)
Fontana-Masson
Giemsa
Gram
Grocott/Gomori methenamine-silver (GMS)
Melanin bleach
Hematoxylin & eosin (H&E)
Immunohistochemical stains
Immunofluorescence
In situ hybridization (FISH, CISH)
Luxol fast blue (LFB/cresyl echt violet)
Movat pentachrome
Mucicarmine
Oil red O
Papanicolaou
PAS-digestion (PASD)
PAS-hematoxylin (PASH)
Periodic acid-methenamine silver (PAMS)/Jones
Periodic acid-Schiff (PAS)
Prussian blue (iron)
Reticulin/reticulum
Rhodanine
Romanowsky
Spirochete (Steiner and Steiner, Warthin-Starry)
Toluidine blue
Trichrome (Gomori, Masson)
Verhoeff-van Gieson (VVG)
von Kossa
V. Laboratory Operations (10%-15%)
There are no procedural questions on this section of the HT exam. However, you will be tested on your ability to apply laboratory mathematics. Specifically, the questions will cover the metric system, percent solutions and dilutions, and molar solutions.
Registration
To register online, you must first log in to your account on the ASCP website or register for a new one if you don't have an account yet. Make sure to use a valid email address when creating your account since you will be receiving important communication regarding your exam through your specified email.
You must submit your online application and pay the necessary fees either by credit card or through the mail with a check or money order within 30 days from the date you started your application. Your application will not be processed until the payment has been received and processed. The application fee for the Histotechnician Exam is $225, which is non-refundable once paid.
After this, you must submit the required documentation to support your eligibility, including training certifications, accomplished experience forms, letters, official transcripts, etc. All documents must be in PDF format and must contain original, handwritten signatures; digital signatures are not allowed. It is recommended that you submit these electronically through their website.
Note that your application is time-sensitive. Applications will be processed within 60 business days upon receipt, and you must submit your supporting documents within 45-60 business days from the submission of your application.
Once your application is accepted, you will receive a notification email allowing you to schedule an appointment for the exam at the affiliated Pearson VUE website. Make sure to take the examination within the period specified on your admission notification. Cancellation or failure to appear during your said appointment means that you will have to reapply to take the exam and pay the full application fee again. If you are not available on the day of the exam, you may reschedule at least 24 hours before.
Test Day
You must arrive at the test venue 30 minutes before your scheduled exam time. During check-in, Pearson VUE will collect your signature and photo. They will also use biometric technology to capture a palm-vein image, which ensures that each examinee only has a single record in the system to safeguard the integrity of the exam.
Do not forget to bring a valid government-issued identification card with your photo, signature, and a name that matches the name you used when applying for the exam.
You will be asked to leave your personal belongings in a small locker outside the testing room, including your smartphone, smartwatch, or other such items. You are allowed to bring a non-programmable calculator.
Histotechnician Exam Scores
How the Exam is Scored
The HT exam is computer-adaptive, so depending on your performance, the difficulty of your test will increase or decrease as you go on.
Here's a look at how it works:

The first question is judged to be of medium difficulty, and depending on your performance, the next question may be easier or harder. If you do well on the first question, the second question will be harder; conversely, if you do poorly on the first question, the second question will be easy.
The questions on the HT exam are rated on a scale of 100-999. The higher a question is rated, the harder the question is (e.g., a question marked as 566 will be more difficult than a question marked 481).
To pass the exam, your final question must be on or above the 400 mark. If your final question is below this mark, you will not pass the exam, even if you have answered some questions above the 400 mark at some point during the exam. This is because the computer has rated the difficulty of your final question based on how you answered the previous questions.
Receiving Your Scores
You should receive a notification email within 4-7 business days stating that your scores are ready to view. You must then log in to your ASCP account to view if you have passed or failed the exam.
If you completed a NAACLS-, ABHES-, or CAAHEP-accredited program, your score will also be released to the officials of your program unless you provide written consent stating otherwise to the ASCP Board of Certification.
If you pass the exam, you will receive a wall certificate sent to the main address on your application within a few months. This wall certificate is valid for three years. Additionally, you may request to send a verification of your certification to a third party that requests it, such as an employer or your state licensing board.
Retaking the Exam
If you fail the exam, you will be provided with instructions on retaking the exam along with your score. You can take the exam five times under one eligibility route. If you still are not able to pass the exam then, you are allowed to take it under a different eligibility route. However, you must pay the full application fee for every retake, and you must remember that your laboratory experience must be within the required time limit from the date of application.
Check Out Momterix's Histotechnician Flashcards
Get complex subjects broken down into easily understandable concepts
Get Your Flashcards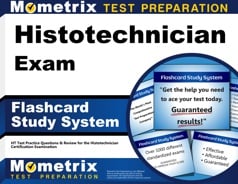 How to Pass the HT Exam
How to Study Effectively
Your success on HT test day depends not only on how many hours you put into preparing but also on whether you prepared the right way. It's good to check along the way to see whether your studying is paying off. One of the most effective ways to do this is by taking HT practice tests to evaluate your progress. Practice tests are useful because they show exactly where you need to improve. Every time you take a free HT exam practice test, pay special attention to these three groups of questions:
The questions you got wrong
The ones you had to guess on, even if you guessed right
The ones you found difficult or slow to work through
This will show you exactly what your weak areas are and where you need to devote more study time. Ask yourself why each of these questions gave you trouble. Was it because you didn't understand the material? Was it because you didn't remember the vocabulary? Do you need more repetitions on this type of question to build speed and confidence? Dig into those questions and figure out how you can strengthen your weak areas as you go back to review the material.
Answer Explanations
Additionally, many Histotechnician practice tests have a section explaining the answer choices. It can be tempting to read the explanation and think that you now have a good understanding of the concept. However, an explanation likely only covers part of the question's broader context. Even if the explanation makes sense, go back and investigate every concept related to the question until you're positive you have a thorough understanding.
Comprehend Each Topic
As you go along, keep in mind that the Histotechnician practice test is just that: practice. Memorizing these questions and answers will not be very helpful on the actual test because it is unlikely to have any of the same exact questions. If you only know the right answers to the sample questions, you won't be prepared for the real thing. Study the concepts until you understand them fully, and then you'll be able to answer any question that shows up on the test.
Strategy for Histotechnician Practice
When you're ready to start taking practice tests, follow this strategy:
Remove Limitations. Take the first test with no time constraints and with your notes and Histotechnician study guide handy. Take your time and focus on applying the strategies you've learned.
Time Yourself. Take the second practice test "open book" as well, but set a timer and practice pacing yourself to finish in time.
Simulate Test Day. Take any other practice tests as if it were test day. Set a timer and put away your study materials. Sit at a table or desk in a quiet room, imagine yourself at the testing center, and answer questions as quickly and accurately as possible.
Keep Practicing. Keep taking practice tests on a regular basis until you run out of practice tests or it's time for the actual test. Your mind will be ready for the schedule and stress of test day, and you'll be able to focus on recalling the material you've learned.
FAQs
How many questions are on the exam?
The Histotechnician Exam contains 100 questions.
How long is the exam?
The Histotechnician Exam has a time limit of 2.5 hours.
What is a passing score?
There is no set passing score for the HT exam. To pass, the computer must serve you a question with a difficulty rating of at least 400 as your final question.
Learn more about how the Histotechnician exam is scored.
When will I receive my scores?
Your HT scores will be available on the ASCP website within 4-7 business days after completing the exam.
How much does the exam cost?
The HT exam costs $225.