ASBOG Exam
ASBOG is the Association of State Boards of Geology examinations. The exams are held twice a year, once on the third Friday in March, and later in the year on the third Friday in October.
How to Apply
Before you can take the ASBOG, you must apply for approval. Fill out the application, which is provided by the state board, and mail it to the board, along with the application fee. Then, the board will approve your application for both exams, allowing you to move on to the next stage, which is taking the exams.
If you are denied, then you must reapply for the next time the exam is offered. After approval a Candidate Request Form is authorized and must be signed by the State Board Administrator.
The Candidate Request Form (CRF) is sent back to the applicant for completion. This only occurs in 12 states in the nation. If your Board mails you the signed CRF, then you must fill out the form, provide your signature and mail it back to ASBOG.
Available options to pay the application fee are check, credit card, PayPal, or cashier's check. Boards that do not send you the CRF will send you a notice with instructions on how to successfully register for the ASBOG exams. Be mindful that examination requirements, filing deadlines, and fees differ in every state. It is your responsibility to contact the State Member Board Examination Administrator for the information that you need, in order to move forward in your process of taking the FG and PG.

Check Out Mometrix's ASBOG Study Guide
Get practice questions, video tutorials, and detailed study lessons
Get Your Study Guide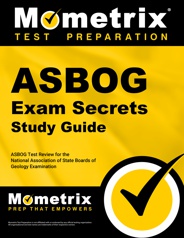 What You Can Expect
The first test, Fundamentals of Geology (FG), consists of 8 parts. Below is a list of these sections and what percentage of the test they cover.
General and Field Geology – 21%
You must know planning and conducting geological investigations with consideration of human health, safety, and welfare, the environment, regulations, professionalism and ethics, and Quality Assurance/Quality Control. Also be prepared to compile and organize available information, collect, describe, and record new geological and geophysical data, etc.
Mineralogy, Petrology, and Geochemistry – 11%
This section will cover minerals and rocks and their characteristics. You should be able to identify and interpret rock and mineral sequences, associations, and their genesis, etc.
Sedimentology, Stratigraphy, and Paleontology – 12%
This will cover stratigraphic nomenclature and establishing correlations. Be ready to identify and interpret sedimentary processes and structures, depositional environments, etc.
Geomorhpology, Surficial Processes, and Quaternary Geology – 13%
You will have to identify, classify, and interpret landforms, surficial materials, and processes, etc.
Structure, Tectonics, and Seismology – 11%
You must know how to identify and define structural features and relations, including constructing and interpreting structural projections, etc.
Hydrogeology – 12%
You will define and characterize hydraulic properties of saturated and vadose zones, etc.
Engineering Geology – 11%
You will have to identify and evaluate engineering and physical properties of earth materials, etc.
Economic and Resources Geology – 9%
You must compile and interpret the data necessary to explore for mineral and energy resources, etc.
The second test, Practice of Geology or the PG, consists of the same 8 parts, but the percentage differs.
General and Field Geology – 20%
Mineralogy, Petrology, and Geochemistry – 5%
Sedimentology, Stratigraphy, and Paleontology – 6%
Geomorhpology, Surficial Processes, and Quaternary Geology – 8%
Structure, Tectonics, and Seismology – 8%
Hydrogeology – 19%
Engineering Geology – 19%
Economic and Resources Geology – 15%
In order to do well on your exams, you must be well-equipped with the subject matter in each section and be well-prepared.
How to Prepare
Need help getting geared up for your ASBOG exam? Have no worry! Sharpen up your skills and knowledge by visiting Mometrix.com. The available study guide and flash cards are jam packed with all the information you need to earn high scores on your exams.
The Mometrix ASBOG study guide is written by test experts that provide the tools you will need to achieve the test score you are looking for. It will give you the content and skills that are critical for you to know for the ASBOG Exam.
Repetition is a main learning tool that is used to comprehend and understand any and every subject matter. That being said, it should come to no surprise as to how useful studying with flashcards really are. Stay sharp by using Mometrix flashcards. We have done the research and have gained the knowledge to create our easy-to-use flash cards. Combined with focus and dedication, success is guaranteed.
ASBOG Study Guide
Mometrix Academy is a completely free resource provided by Mometrix Test Preparation. If you find benefit from our efforts here, check out our premium quality ASBOG study guide to take your studying to the next level. Just click the ASBOG study guide link below. Your purchase also helps us make even more great, free content for test-takers.
Check Out Mometrix's ASBOG Flashcards
Get complex subjects broken down into easily understandable concepts
Get Your Flashcards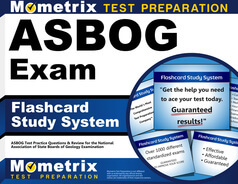 ASBOG Study Guide Customer Success Stories
Our customers love the tutorial videos from Mometrix Academy that we have incorporated into our ASBOG test study guide. The ASBOG study guide reviews below are examples of customer experiences.
The book covers a wide range of material needed for the exam, but presents the material in a concise and well-delivered manner. It's going to be very useful reading the book a few times over in order to prepare for the exam. I like how concise the book is with the major points of the exam and how it highlights key topics within each section. I've read a few longer study manuals and this one I can say covers a huge percentage of topics, but communicates it very effectively and in a manner that isn't overly-confusing.
ASBOG Study Guide – Craig
This is a great tool that is helpful for the prep for the ASBOG exam. I loved thy the different sections of the exam each have their own section.
ASBOG Study Guide – Customer
The study material is very helpful, easy to read, and constructive
ASBOG Study Guide – Customer
This prep book is very concise and informative. It is easy to read, understand, and review if you have already understood the general concepts from your past academic coursework in geology. In addition, the test-taking techniques for taking the ASBOG are thoroughly explained in the front and back sections. The geology concepts are straight-up and to the point
ASBOG Study Guide – Edward
Great program! Concise and to the point! When you're out in the field doing geology field work for long hours a long-winded study guide when you finally get back to the office or hotel room just doesn't work! Thanks Mometrix for cutting out the fluff!
ASBOG Study Guide – Customer
The product has been very useful in helping me recall important information and also learn topics I hadn't covered well in school.

ASBOG Study Guide – Julia
Very comprehensive and detailed. The top 20 test-taking tips are very practical and great advice!
ASBOG Study Guide – Customer