Alcohol and Drug Counselor Exam Practice Test
Standards and the development of examinations for the credentialing and licensing of professionals working in prevention, substance use treatment, and recovery is the responsibility of the International Certification and Reciprocity Consortium (IC&RC). The IC&RC administers the Alcohol and Drug Counselor (ADC) credential is an entry-level credential that covers the basics of addiction counseling.
Click "Start Test" below to take a free Alcohol and Drug Counselor Practice Test!
Eligibility
To be eligible to take the ADC exam, you will need to check with your local IC&RC Member Board to determine the exact requirements. Each Member Board creates its own eligibility requirements and processes for registration.
Exam Outline Review
The ADC exam contains 150 multiple-choice questions, 25 of which are not counted toward your final score, and the time limit set for this exam is 3 hours. It is important to note that there is no penalty to guessing, as your final score is determined by how many questions you answered correctly.
The exam is split into four domains, and each domain contains multiple "tasks."
I. Screening, Assessment, and Engagement (23%)
This domain contains 8 tasks:
Demonstrate communication (both verbal and nonverbal) to establish rapport and promote engagement.
Discuss the rationale, purpose, and procedures associated with the screening and assessment process with the client to facilitate understanding and cooperation.
Assess the client's immediate needs by evaluating behavior and other relevant information (e.g., signs and symptoms of intoxication and withdrawal).
Determine the client's strengths and needs by administering appropriate evidence‐based screening and assessment instruments.
Establish eligibility and appropriateness of services by obtaining relevant history and related information from the client (and other pertinent sources).
Screen for physical needs, medical conditions, and co‐occurring mental health disorders that might require additional assessment and referral.
Interpret the results of screening and assessment and integrate all available information to formulate a diagnostic impression. Then, determine an appropriate course of action.
Document and support the diagnostic impressions and treatment recommendations by writing a summary of the results of the screening and assessment.
II. Treatment Planning, Collaboration, and Referral (27%)
This domain contains 10 tasks:
Initiate an individualized treatment plan that incorporates the client's strengths, needs, abilities, and preferences by formulating and discussing the diagnostic assessment and recommendations with the client and others who may be concerned.
Review and modify the treatment plan to address treatment needs by using ongoing assessment and collaboration with the client and concerned others.
Facilitate positive client outcomes by matching client needs with community resources to facilitate positive client outcomes.
Discuss the rationale for a referral with the client.
Communicate with community resources regarding the needs of the client.
Facilitate continuity of care by advocating for the client in areas of identified needs.
Ensure quality service coordination by evaluating the effectiveness of case management activities.
Strengthen ongoing recovery outside of primary treatment by developing a plan with the client.
Document treatment progress, outcomes, and continuing care plans.
Utilize multiple pathways of recovery in treatment planning and referral.
III. Counseling (28%)
This domain contains 8 tasks:
Facilitate transition into the recovery process by developing a therapeutic relationship with clients, families, and concerned others.
Provide information to the client regarding the structure, expectations, and purpose of the counseling process.
Continually evaluate the client's safety, relapse potential, and the need for crisis intervention.
Facilitate progress toward the completion of treatment objectives by applying evidence‐based, culturally competent counseling strategies and modalities.
Assist families and others who may be concered in understanding substance use disorders and engage them in the recovery process.
Document counseling activity and progress towards treatment goals and objectives.
Provide information on issues of identity, ethnic background, age, sexual orientation, and gender as it relates to substance use, prevention, and recovery.
Provide information about the disease of addiction and the related health and psychosocial consequences.
IV. Professional and Ethical Responsibilities (22%)
This domain contains 8 tasks:
Adhere to established professional codes of ethics and standards of practice to uphold client rights while promoting the best interests of the client and profession.
Provide services that are sensitive to the uniqueness of the individual by recognizing diversity and client demographics, culture, and other factors influencing behavior.
Maintain competence and enhance professional effectiveness by continuing professional development through education, self‐evaluation, clinical supervision, and consultation.
Identify and evaluate client needs that are outside of the counselor's ethical scope of practice and refer to other professionals as appropriate.
Uphold the client's rights to privacy and confidentiality according to best practices in preparation and handling of records.
Obtain written consent to release information from the client and/or legal guardian, according to best practices.
Prepare concise, clinically accurate, and objective reports and records.
Check out Mometrix's Alcohol and Drug Counselor Study Guide
Get practice questions, video tutorials, and detailed study lessons
Get Your Study Guide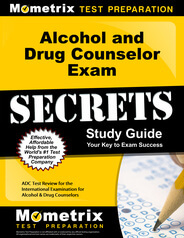 Test Day
All tests are administered by ISO-Quality Testing, Inc. which has locations throughout the world. On test day, you will be asked to provide your Candidate Admission Letter and a valid, government-issued photo ID. It is very important to note that you will not be able to take the exam unless you bring your ID and Candidate Admission Letter. If you fail to bring the necessary items, you will be considered a "no-show," your examination fees will be forfeited, and you will be required to re-register and re-pay all fees if you wish to schedule another appointment.
You will not be allowed to take any electronic devices (including your cell phone) into the testing room, and you will not be allowed to bring or use any reference materials.
How the Exam is Scored
The ADC exam is scored on a scale of 200-800, and you must achieve a score of at least 500 to pass. You will be provided a preliminary score report immediately after you finish the exam, but official score reports will be available within 2-3 weeks.
If you fail the exam, you will be given a score report that includes percentages of the items you answered correctly in each domain. This is provided to you so you can structure a focused study regime if you wish to take the test again. If you do wish to retake the exam, you must wait 90 days.
Check out Mometrix's Alcohol and Drug Counselor Flashcards
Get complex subjects broken down into easily understandable concepts
Get Your Flashcards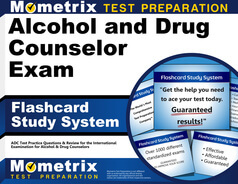 How to Study for the ADC Exam
How to Study Effectively
Your success on Alcohol and Drug Counselor test day depends not only on how many hours you put into preparing but also on whether you prepared the right way. It's good to check along the way to see whether your studying is paying off. One of the most effective ways to do this is by taking Alcohol and Drug Counselor practice tests to evaluate your progress. Practice tests are useful because they show exactly where you need to improve. Every time you take a free Alcohol and Drug Counselor exam practice test, pay special attention to these three groups of questions:
The questions you got wrong
The ones you had to guess on, even if you guessed right
The ones you found difficult or slow to work through
This will show you exactly what your weak areas are and where you need to devote more study time. Ask yourself why each of these questions gave you trouble. Was it because you didn't understand the material? Was it because you didn't remember the vocabulary? Do you need more repetitions on this type of question to build speed and confidence? Dig into those questions and figure out how you can strengthen your weak areas as you go back to review the material.
Answer Explanations
Additionally, many ADC practice tests have a section explaining the answer choices. It can be tempting to read the explanation and think that you now have a good understanding of the concept. However, an explanation likely only covers part of the question's broader context. Even if the explanation makes sense, go back and investigate every concept related to the question until you're positive you have a thorough understanding.
Comprehend Each Topic
As you go along, keep in mind that the ADC practice test is just that: practice. Memorizing these questions and answers will not be very helpful on the actual test because it is unlikely to have any of the same exact questions. If you only know the right answers to the sample questions, you won't be prepared for the real thing. Study the concepts until you understand them fully, and then you'll be able to answer any question that shows up on the test.
Strategy for ADC Practice
When you're ready to start taking practice tests, follow this strategy:
Remove Limitations. Take the first test with no time constraints and with your notes and Alcohol and Drug Counselor study guide handy. Take your time and focus on applying the strategies you've learned.
Time Yourself. Take the second practice test "open book" as well, but set a timer and practice pacing yourself to finish in time.
Simulate Test Day. Take any other practice tests as if it were test day. Set a timer and put away your study materials. Sit at a table or desk in a quiet room, imagine yourself at the testing center, and answer questions as quickly and accurately as possible.
Keep Practicing. Keep taking practice tests on a regular basis until you run out of practice tests or it's time for the actual test. Your mind will be ready for the schedule and stress of test day, and you'll be able to focus on recalling the material you've learned.
FAQs
How many questions are on the exam?
There are 150 questions on the ADC exam, though only 125 of the questions will count toward your final score.
How long is the exam?
The ADC exam is timed at 3 hours.
What is a passing score?
A passing score for the ADC exam is 500.
How much does the exam cost?
The cost of the ADC exam will vary depending on where you take it.
Alcohol and Drug Counselor Study Guide Customer Success Stories
Our customers love the tutorial videos from Mometrix Academy that we have incorporated into our Alcohol and Drug Counselor study guide. The Alcohol and Drug Counselor study guide reviews below are examples of customer experiences.
I feel more confident that I am studying material that is related to the ADC exam . I also like the way it categorize subjects and topics and is easy to read and create an outline. My favorite part is that it explains why the answer is the answer on the practice test this definitely has helped tremendously.
Alcohol and Drug Counselor Study Guide – Aerin
I like that it breaks the material down into categories, and uses simple language to help those studying better understand the material without having to sort through loads of jargon. It also breaks down the material into categories for each of the 12 Core Functions which is crucial to studying, learning the information, and passing the test!
Alcohol and Drug Counselor Study Guide – Lindsey
Very comprehensive and certainly all the facts one would need to pass this test.
Alcohol and Drug Counselor Study Guide – Sam
I find it easy to study the information by the way you have the book arranged and the way in which the material is broken down. This allow me to better obtain the essence of each core function.
Alcohol and Drug Counselor Study Guide – Angelien
Your study Guide is just adequate for my needs. I get the connection between the study material and the likely examination questions. This is what I am unable to achieve since I started preparing for the examination. The questions and the possible answers with explanations are very helpful.
Alcohol and Drug Counselor Study Guide – Moses
This book for study guide it is an excellent source of information about the exam that I have to present, very easy to understand and clear to follow.
Alcohol and Drug Counselor Study Guide – Customer
This book is excellent for individuals who have not taken a standardized exams. It also gives tips on how to prepare and the main subject headings to pay attention to.
Alcohol and Drug Counselor Study Guide – Joy
I really like this book because it gets to the point of the exam and allows for a clearer picture of what is going to be on the test to prepare accordingly.
Alcohol and Drug Counselor Study Guide – Customer