AICP Exam
The American Planning Association's (APA), American Institute of Certified Planners exam is a nationwide verification of an individual's qualifications. The certification shows an individual's pledge to uphold the high standards of practice, ethics, conduct, and continuing education required by the APA. The AICP exam is one step in the process of becoming AICP certified.
The AICP exam assesses a candidate's knowledge and skills through a three and a half hour, 170 multiple-choice question, computer-administered test. The questions utilize varied methods of introducing information such as tables, graphs, word problems, and yes or no responses. The examination covers five topic areas:
Fundamental Planning Knowledge – 25%

History, movements, and influences on planning
Legal principles and decisions
Theories of planning
Pattern of human settlement
Statutory basis of planning
Natural, social, and economic systems
Core values of planning
Plan Making and Implementation – 30%

Effective research techniques
Spatial analysis
Public engagement
Communication
Preparation, formulation, and implementation of plans and policies
Monitor and assessment
Program management
Social justice
Areas of Practice – 30%

Comprehensive and sectoral planning
Planning: community, subarea, corridor, and neighborhood
Planning: sustainability, transportation, and infrastructure
Planning: hazards, mitigation, resiliency, environment, resources, and economic development
Urban design
Housing planning
Parks, recreation, and open space
Planning: historic, cultural resources, institutional, food, health, and rural and small town
Leadership, Administration, and Management – 5%

Leadership
Managing external relationships
Internal organizational management
Technology
AICP Code of Ethics and Professional Conduct – 10%
Registration, scheduling the exam, and cost
To register for the AICP Certification, you must follow the following steps:
Be a current APA Member with dues current at the local chapter and with APA.
Meet APA's eligibility requirements for AICP membership.
Submit the online application and pay all fees.
In eight to ten weeks, you will receive a confirmation email of the status of your application.
If you are approved, register for the exam.
Check Out Mometrix's AICP Printed Study Guide
Get practice questions, video tutorials, and detailed study lessons
Get Your Study Guide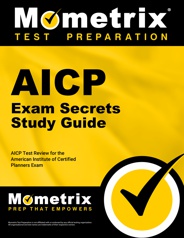 Once approved, you will register online to take the exam during the exam window. The registration fee is $425, not including previous costs, and once paid; you will receive a confirmation email detailing information on how to schedule your exam at a testing facility of your choice. Test centers are located worldwide. After you have passed the certification, you will receive an invoice from APA for your AICP credential. This cost is in addition to fees previously remitted.
Test Day
Arrive early for your examination. Arrive at least 30 minutes before your scheduled test time so that you will have time to find parking and complete the required paperwork. Leave personal belongings in your vehicle or at home and follow the rules for the testing center carefully. Negligence could find you disqualified and your fees forfeited. Security measures at the facility include scanning with a metal detector wand and visual inspection of your clothing, including eyewear.
At your testing station, you will be provided with scratch paper and a pen or pencil. The test administrator will also discuss any breaks that are provided during your exam and the policy for taking it.
Exam results and scoring
At the conclusion of your exam, an official score report is generated. Each question is scored on the difficulty of the question, and your overall score is scaled. A scaled score of 55 is required to pass. If you did not pass, you may take the test again. You will be required to pay the exam registration fee again and meet all requirements for the credential.
Check Out Mometrix's AICP Flashcards
Get complex subjects broken down into easily understandable concepts
Get Your Flashcards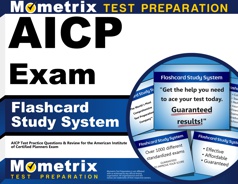 You can obtain a copy of your score report on the testing facility's website. If you need a letter of affirmation from APA about your good standing, contact APA's customer service after your AICP dues.
Preparation
Your professional career and advancement depends upon successfully obtaining the American Institute of Certified Planners credential. Becoming certified not only shows your colleagues and employers your commitment to the standards of the American Planning Association but exhibits your desire for continual professional development. Don't let one credentialing exam stand in the way of your progress.
With Mometrix's AICP Exam Secrets and Flashcards, you will be prepared for the exam. Their proven study method ensures familiarization with all aspects of the exam, including memorization, laws and case studies. You have invested a great deal of time and money in your career, so don't let this one exam stand in your way. Mometrix's study system will guide you in your studying and suggest methods to alleviate test anxiety. You can be confident with the 100% money-back guarantee as well.
AICP Study Guide
Mometrix Academy is a completely free AICP test resource provided by Mometrix Test Preparation. If you find benefit from our efforts here, check out our premium quality AICP Study Guide and AICP Flash Cards to take your studying to the next level. Just click the AICP study guide link below. Your purchase also helps us make even more great, free test content for test-takers.