The American Institute of Certified Planners (AICP) exam is a nationwide verification of an individual's qualifications, provided by the American Planning Association (APA). The certification shows an individual's pledge to uphold the high standards of practice, ethics, conduct, and continuing education required by the APA.
Click "Start Test" above to take a free AICP practice test!
AICP Exam Outline
The AICP exam is computer-based, containing 170 multiple-choice questions and being timed at 3.5 hours. The questions utilize varied methods of introducing information, such as tables, graphs, word problems, and yes-or-no responses.
The examination covers 9 topic areas:
1. Research and Assessment Methods (11%)
The questions in this section assess various skills related to researching information and assessing that information.
Conducting research and acquiring knowledge
Interpreting and evaluating data and sources
Spatial analysis
Developing a concrete understanding of a community via involvement and engagement
Appropriate data collection strategies that identify planning issues and acknowledge privacy concerns
2. Fundamental Planning Knowledge (15%)
The questions in this section assess your knowledge of the fundamental aspects of planning, including history, values, and tools.
History of planning, planning movements, and influences of modern planning
Human settlement patterns
Foundational legal principles and statutory bases of planning
Planning Theory
General terminology, practices and principles of related professions
Economic, natural, and social systems
Core planning values
Technology's role in the advancement of planning
Information technology tools
3. Communication and Interaction (13%)
The questions in this section assess your ability to communicate and facilitate outreach, as well as your knowledge of related strategies and techniques.
General communication
Providing non-discriminatory and fully accessible media
Listening to and comprehending needs and ideas
Reflecting upon needs and ideas
Leadership
Social justice
Communication which is sensitive to cultural history and social movements
Techniques for working toward a consensus for decision-making
Roles of organizational structures and their functions
Strategies and techniques for outreach in various communities
Evaluation of how well the outreach strategy engaged targeted communities
Argument formulation and articulation
Political situation management related to sensitive and/or complex issues
4. Plan and Policy Development (15%)
The questions in this section assess your knowledge and skills related to planning, negotiation, and drafting policies.
Plan preparations
Planning via sequential steps and multivariate analyses
Knowledge of federal and state laws
Formulating and drafting policies
Creation of vision, objective, goal, policy, and priority statements
Addressing needs and priorities within an equity framework
Community and stakeholder inclusion in scoping a plan and policy
Addressing conflicting interests and demands via mediation, facilitation, negotiation, and/or arbitration
Applying appropriate innovations and best practices
Funding/financing strategies, demands, and considerations
Form and character of community
Identifying, quantifying, and addressing past and future incidence and burden resulting from systems that foster and perpetuate discrimination
Conservance with related disciplines
5. Plan Implementation (12%)
The questions in this section assess your ability to develop, implement, and integrate projects and plans.
Interpret and develop rules, policies, programs, and various regulations
Align and activate funding/financing options
Project or proposal assessment for consistency with adopted programs and plans
Develop strategic partnerships that facilitate plan implementation
Identify and mitigate challenges and obstacles for implementing plans
Draft action steps and assign responsibilities such as managing, facilitating, and coordinating program/project implementation
Achieve the greatest benefits with minimal adverse impact by monitoring, evaluating, and updating plans and policies
Integrate multiple projects to achieve synergy, effectiveness, and efficiency
6. Administration and Management (6%)
The questions in this section pertain to your ability to manage external relationships, internal organization, and programs.
Program/project management
Management of internal organization
Management of external relationships
Mentoring and motivating staff toward more skill development, timeliness, accuracy, and clarity of work
Results-oriented accountability and management
7. Leadership (6%)
The questions in this section assess your knowledge of ethical aspects of advocacy, coaching, mentoring, and public interest.
Supporting plan-making, participation, and commitment action via leadership
Ethical aspects of advocacy
The potential applications of best practices
Accountability to the profession, public interest, and ethical principles
Institutional structures, such as roles, responsibilities, accountability, and transparency expectations
Comprehensively approaching complex problem-solving and decision-making
The ethics or diversity, equity, and inclusivity
Mentoring and coaching
Discerning and promoting the interest of the public as it pertains to a proposed action
Professional development standards and expectations, as well as sharing opportunities
Discerning and promoting the value of planning to others
Promoting and volunteering in professional planning organizations
8. Areas of Practice (12%)
The questions in this section assess your knowledge of various areas of the practice.
Long-range and comprehensive planning
Subarea planning that is geographically focused
Current planning
Resilience and sustainability planning
Transportation mobility and access planning
Service and infrastructure planning
Hazard mitigation and resiliency planning
Natural resources planning
Economic development
Urban design
House planning
Open space, parks, and recreation planning
Cultural resource and historic planning
Services and facility planning
Food planning
Health planning
Small-town/rural planning
Advocacy and equity planning
Multijurisdictional and regional planning
9. AICP Code of Ethics and Professional Conduct (10%)
The questions in this section are based on the AICP Code of Ethics and Professional Conduct, which was adopted in March 2005 and revised in April 2016.
Overall Responsibility to the Public
Responsibility to Clients and Employers
Responsibility to the Planning Profession and Colleagues
Check Out Mometrix's AICP Study Guide
Get practice questions, video tutorials, and detailed study lessons
Get Your Study Guide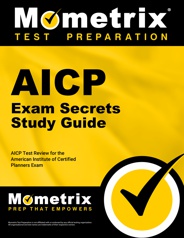 AICP Registration
To register for the AICP Certification, you must adhere to the following steps:
Be a current APA Member with dues current at the local chapter and with AP.
Meet APA's eligibility requirements for AICP membership
Submit the online application and pay all fees
In eight to ten weeks, you will receive a confirmation email of the status of your application
If you are approved, register for the exam
Once approved, you will register online to take the exam during the exam window.
Fees
The registration fee is $225, not including previous costs. Once paid, you will receive a confirmation email detailing information on how to schedule your exam at a testing facility of your choice. After you have passed the certification, you will receive an invoice from APA for your AICP credential. This cost is in addition to fees previously remitted.
Test Day
You should arrive at least 30 minutes before your scheduled test time so that you will have time to find parking and complete the required paperwork. Leave personal belongings in your vehicle or at home, and follow the rules for the testing center carefully. Negligence could find you disqualified and your fees forfeited. Security measures at the facility include scanning with a metal detector wand and visual inspection of your clothing, including eyewear.
At your testing station, you will be provided with scratch paper and a pen or pencil. The test administrator will also discuss any breaks that are provided during your exam and the policy for taking it.
How the AICP Exam is Scored
At the conclusion of your exam, an official score report is generated. Each question is scored on the difficulty of the question, and your overall score is scaled. A scaled score of 55 is required to pass. If you did not pass, you may take the test again. You will be required to pay the exam registration fee again and meet all requirements for the credential.
You can obtain a copy of your score report on the testing facility's website. If you need a letter of affirmation from APA about your good standing, contact APA's customer service after your AICP dues.
Check Out Mometrix's AICP Flashcards
Get complex subjects broken down into easily understandable concepts
Get Your Flashcards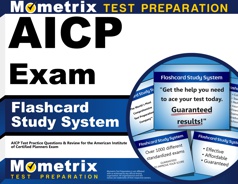 How to Study for the AICP Exam
How to Study Effectively
Your success on AICP test day depends not only on how many hours you put into preparing but also on whether you prepared the right way. It's good to check along the way to see whether your studying is paying off. One of the most effective ways to do this is by taking AICP practice tests to evaluate your progress. Practice tests are useful because they show exactly where you need to improve. Every time you take a free AICP exam practice test, pay special attention to these three groups of questions:
The questions you got wrong
The ones you had to guess on, even if you guessed right
The ones you found difficult or slow to work through
This will show you exactly what your weak areas are and where you need to devote more study time. Ask yourself why each of these questions gave you trouble. Was it because you didn't understand the material? Was it because you didn't remember the vocabulary? Do you need more repetitions on this type of question to build speed and confidence? Dig into those questions and figure out how you can strengthen your weak areas as you go back to review the material.
Answer Explanations
Additionally, many AICP practice tests have a section explaining the answer choices. It can be tempting to read the explanation and think that you now have a good understanding of the concept. However, an explanation likely only covers part of the question's broader context. Even if the explanation makes sense, go back and investigate every concept related to the question until you're positive you have a thorough understanding.
Comprehend Each Topic
As you go along, keep in mind that the AICP practice test is just that: practice. Memorizing these questions and answers will not be very helpful on the actual test because it is unlikely to have any of the same exact questions. If you only know the right answers to the sample questions, you won't be prepared for the real thing. Study the concepts until you understand them fully, and then you'll be able to answer any question that shows up on the test.
Strategy for AICP Practice
When you're ready to start taking practice tests, follow this strategy:
Remove Limitations. Take the first test with no time constraints and with your notes and AICP study guide handy. Take your time and focus on applying the strategies you've learned.
Time Yourself. Take the second practice test "open book" as well, but set a timer and practice pacing yourself to finish in time.
Simulate Test Day. Take any other practice tests as if it were test day. Set a timer and put away your study materials. Sit at a table or desk in a quiet room, imagine yourself at the testing center, and answer questions as quickly and accurately as possible.
Keep Practicing. Keep taking practice tests on a regular basis until you run out of practice tests or it's time for the actual test. Your mind will be ready for the schedule and stress of test day, and you'll be able to focus on recalling the material you've learned.
FAQs
Q
How many questions are on the AICP exam?
A
There are 170 multiple-choice questions on the AICP exam.
Q
How long does the AICP exam take?
A
The AICP exam is timed at 3.5 hours.
Q
What is a passing score?
A
A passing score for the AICP exam is a scaled score of 55.
Q
How much does the exam cost?
A
The AICP exam costs $225.