Free PreACT Practice Test
Almost everyone out there has either heard of or taken the PreSAT at some point in their high school career. However, did you know there's an equivalent pretest for the ACT? While the ACT isn't quite as popular as the SAT, it has been gaining traction as of recent years—enough, in fact, that it may be worth your while to consider including the PreACT in your testing roster alongside the PreSAT.
What are the advantages to the ACT PreACT exam? For starters, it can allow you to get to know the real ACT! Just like the ACT is meant to evaluate how well you'll be able to handle college-level curriculum, the PreACT gauges your readiness to take and pass the actual ACT exam. As a result, you will generally take this exam earlier on in high school than you do the ACT. Specifically, if you're in 10th grade, you're more likely to have to take the PreACT in the near future. The ACT is reserved for 11th and 12th grade students.
If you're on this page, you're likely concerned as to what content will be featured on the PreACT exam. On this page, we'll fill you in on everything you need to know about this important test, as well as offer you the tools you'll need to study for it as thoroughly as you can.
When it comes to formatting, the PreACT is just like the full-fledged ACT. The exam splits into four sections, each of which are pulled from the four core subjects: Science, English, Reading, and Mathematics. We will break down these test areas one by one, as they are all fairly complex.

Science
The Science portion of the PreACT is what makes it (and the ACT) stand out from the PreSAT and SAT. In this section, you will be given assorted groups of scientific data—some of them graphical, some of them full-fledged passages, and some of them short hypotheses. You will then have to answer questions about the data based on your comprehension of science. The questions given to you will mainly require only basic understanding of science and its concepts, though you will have to keep a few formulas in mind for the sake of solving any equations based on the test's data. You will not have calculators for the Science section. This part of the test is 30 questions long.
Every question featured on the Science section will fall under one of these knowledge categories: Evaluation of Models, Inferences, and Experimental Results, Scientific Investigation, and Interpretation of Data.
English
The English portion of the PreACT is a bit different from any Writing standardized tests you've taken in the past. Specifically, it is less concerned with your ability to spell or detect grammatical errors, and will instead assess your comprehension of the writing process on a critical level. This means you'll have to answer questions revolving around how language is used to convey meaning and how effectively it communicates said meaning.
Check Out Mometrix's ACT Printed Study Guide
Get practice questions, video tutorials, and detailed study lessons
Get Your Study Guide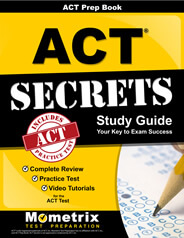 This section of the test is made up of 45 questions. Each of them will correspond to a reading passage, all of which will contain underlined segments you will be asked to look over for flaws. There will be a total of three selections. Additionally, every question on the exam falls under a distinct knowledge category, with two out of these three encompassing a specific set of writing concepts and tools. These categories include Knowledge of Language; Production of Writing (Organization, Unity, and Cohesion, and Topic Development); and Conventions of Standard English (Sentence Structure and Formation, Usage, and Punctuation).
Reading
The PreACT Reading section is identical in format to most other Reading test you've taken earlier in your academic career. You will be presented with a number of reading selections. Upon finishing the reading, you must answer questions regarding their material and, most importantly, meaning. As such, questions featured on this part of the PreACT will involve critical reading skills. The Reading section is the shortest, with only 25 questions.
The knowledge categories for this section's questions include Integration of Knowledge and Ideas, Craft and Structure, and Key Ideas and Details.
Mathematics
The Mathematics section of the PreACT may seem familiar to you. It encompasses all the concepts you've learned thus far, both in middle and high school. This section of the test is kept fairly basic in terms of its content, meaning you won't have to memorize the more complex concepts from previous classes. You may also bring a calculator to help you as you work through the test. This section is 36 questions long.
Like the other sections described thus far, the Mathematics test's questions split up into three knowledge categories: Modeling, Integrating Essential Skills, and Preparing for Higher Math. The last section further divides into several subjects, including Statistics & Probability, Number & Quantity, Geometry, Functions, and Algebra.
Check Out Mometrix's ACT Flashcards
Get complex subjects broken down into easily understandable concepts
Get Your Flashcards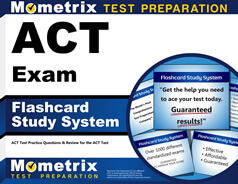 The Mometrix Test Preparation team is here for you every step of the way as you prepare for this important exam. We strive to offer you only the very best study tools. As such, on this page, you will find our exclusive ACT PreACT practice test! What exactly is our practice test for, and how can it fit into your study plan? To start off, it is designed to provide you with an accurate example of the actual PreACT exam in terms of material and formatting. We recommend our practice test to anyone interested in getting to know how the test will work before exam day arrives. By using our practice test, you should run into very few surprises once it's time to take the real exam! This is because we've invested countless hours into researching the actual PreACT as thoroughly as possible.
As such, this practice test is not only useful for pushing yourself ahead of the curve in terms of the basics of the exam, but also fine-tuning your test taking skills. If you take our practice test and find your score isn't quite as high as you want it to be, you can look at your results and see which areas you may have struggled with. Using that information, you can then adjust your study approach to target those specific skills and concepts.
Not only can you find our practice test on this page, but we also offer an ACT PreACT study guide. Like our practice test, this study guide is designed to aid you as you prepare for the test. It is designed to pair well with our practice test, but either resource should also prove just as effective on their own. We hope you will choose to incorporate them into your study plan. Good luck, and work hard!
ACT Test Online Prep Course
If you want to be fully prepared, Mometrix offers an online ACT Prep Course. The course is designed to provide you with any and every resource you might want while studying. The ACT Course includes:
64 Lessons Covering all the Topics
1500+ ACT Practice Questions
Over 220 Video Tutorials
More than 500 Electronic Flashcards
Money-back Guarantee
Free Mobile Access
and More!
The ACT Prep Course is designed to help any learner get everything they need to prepare for their ACT exam; click below to check it out.