ACSM Certified Personal Trainer Exam
If you are seeking certification as an ASCM-CPT, you will have to take this exam to assess the practice-related knowledge you will be expected to use in this professional field. Being certified in this profession means that you are held to a certain set of standards which is expected to be upheld on a day-to-day basis.
Who is Eligible?
All candidates must:
Be 18 years or older
Hold a high school diploma or GED at minimum
Have adult CPR/AED certification
During the online application process, you will be expected to prove the above information. You will also need to pay for exam at that time. ACSM members can take it for $279, while non-members will be charged $349.
When and Where Can I Take it?
When your application has been processed, you will be allowed to schedule your exam. Exams are taken through Pearson VUE.
Tests can be scheduled year-round online. A complete list of available dates, times, and locations will be made offered to you when you are scheduling. There are over 5000 computer-based testing sites located worldwide. You can choose the one that is most convenient for you.
Check Out Mometrix's ACSM Certified Personal Trainer Study Guide
Get practice questions, video tutorials, and detailed study lessons
Get Your Study Guide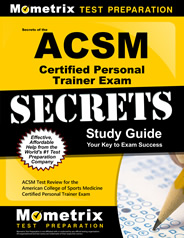 What Will I Need?
Because the tests are administered by a computer, you have no need to bring any personal items with you. This includes any electronic devices, pencils, study materials, and/or calculators. All personal items will not be allowed in the testing area.
You will need to arrive at least 30 minutes early for your exam to make sure you have the proper amount of time to sign in and register. Those who arrive late will not be allowed to take the exam and will forfeit all fees paid up to that point.
To sign in you will be expected to bring at least one form of valid identification with you. This must contain your full name that matches your application information, your signature, and a recognizable photo. If information is missing, you may be asked to produce another form of ID.
What to Expect?
The ACSM-CPT exam consists of 150 multiple choice items. 120 of these are scored while the other 30 are used as pretest questions and are not scored. You are given 165 minutes total to complete the exam.
This exam is separated into four main performance domains and then into job tasks. A brief overview and the percentage of questions in each domain can be found below.
Initial Client Consultation and Assessment 25%

Preparation for initial interview
Interview of the client
Review and analysis of client data
Evaluation of behavioral readiness
Assessment of health and physical fitness components
Development of training plan
Exercise Programming and Implementation 45%

Reviewing client goals and history
Selecting exercise modalities
Determining FITT-VP Principle
Reviewing and beginning proposed plan with client
Monitoring client's performance
Recommendation of exercise improvements
Obtaining client feedback
Exercise Leadership and Client Education 20%

Using communication and techniques to better performance
Educating client with scientific resources
Legal and Professional Responsibilities 10%

Networking with health care professionals
Developing a risk management program
Adhering to ACSM Certification's Code of Ethics
Following industry accepted standards
Respecting copyright laws
Safeguarding client information
How is it Scored?
At the end of the exam, you will be given a score report which includes your pass/fail status and your scaled score.
If you have passed the exam, you will receive your official certification through the mail shortly after you have taken the exam. Those who have failed may schedule to retake the exam. There is a fee of $175 to do so.
Check Out Mometrix's ACSM Certified Personal Trainer Flashcards
Get complex subjects broken down into easily understandable concepts
Get Your Flashcards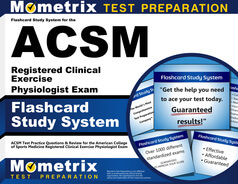 How to Prepare?
Mometrix wants to help you achieve your career goals by preparing you for this exam. We provide an all-inclusive study guide and set of flash cards to make sure you know everything you need to. Included in these amazing test prep tools are some sample questions. These are designed to be formatted and worded exactly how you will find them on the actual exam.
Making sure you are prepared for this exam is important to your future success. Let us help you get where you need to be.
ACSM Certified Personal Trainer Study Guide
Mometrix Academy is a completely free ACSM test resource provided by Mometrix Test Preparation. If you find benefit from our efforts here, check out our premium quality ACSM CPT Study Guide and ACSM CPT Flash Cards to take your studying to the next level. Just click the ACSM study guide link below. Your purchase also helps us make even more great, free test content for test-takers.
Upgrade your studying with our ACSM-CPT study guide and flashcards:
ACSM-CPT Study Guide
ACSM-CPT Flashcards