ACE Personal Trainer Exam
The successful completion of the ACE Personal Trainer Exam, along with meeting specific age, education, and other certification requirements, enables one to offer small group or one-on-one fitness training.
In order to be eligible to take this exam in the United States and Canada, you must be at least 18 years old, have a CPR/AED certification (including live skills check), and a high school diploma or GED.
This exam is computer-based and requires that the examinee complete 150 multiple-choice items in three hours. Of the 150 items, only 125 are scored.
If you require special testing accommodations for conditions that are covered under the Americans with Disabilities Act, you may make this request in writing when you submit your exam registration form. Be sure to include documentation that proves your need for these accommodations.
Some of the accommodations that can be provided include extended test time and extra breaks.
As an ACE-certified personal trainer, you must uphold the principles of:
Ensuring the training you provide is done safely and effectively
Being fair and treating all clients equally
Keeping updated on health and fitness research, and knowing how to apply this information
Making sure your AED and CPR certifications are always current
Staying compliant with all laws related to your position
Promoting the benefits of health and fitness
Ensuring the confidentiality of all of your clients' information
If you are unable to effectively meet a client's needs, referring that client to a more suitable replacement
Setting and adhering to well-defined, professional boundaries.
Check Out Mometrix's ACE Personal Trainer Study Guide
Get practice questions, video tutorials, and detailed study lessons
Get Your Study Guide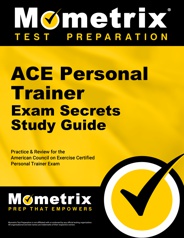 What are the domains, purposes, and topics covered on this exam? What percentage of questions are there for each domain?
Domain 1: Interviews and Assessments – 23%
Domain 2: Program Design and Implementation – 31%
Domain 3: Program Modification and Progression – 26%
Domain 4: Professional Conduct, Safety, and Risk Management – 20%
The Client Interviews and Assessments domain will address topics such as acquiring information from clients to uncover any potential risks and whether the client requires medical clearance to participate in the program. If the client is cleared to participate, how should the program be designed with the client's needs in mind.
Determining the client's physical and mental readiness, as well his/her movement abilities is an important part of interviewing/assessing the client.
The purpose of this domain is to establish rapport with the client so that the program design and outcomes are successful.
The Program Design and Implementation domain will address topics such as analyzing the clients' interview and assessment results, then creating programs that meet their needs.
Implementing the proper exercise boundaries, explaining to clients how to safely exercise, and including skill-related exercises are crucial to program design and implementation.
The purpose of this domain is to develop a program that is individualized to the client, so that all of his/her health goals are met.
The Progression and Modifications domain will address topics such as encouraging clients to continue with the program, speaking to clients in instances where there is an interruption in the clients' progress, and evaluating whether an adjustment in the program needs to take place. If a change is necessary, making that change is important.
The purpose of this domain is to oversee the client's program and make changes as needed, to ensure the client is on track for success.
The Professional Conduct, Safety, and Risk Management domain will address topics such as using risk management techniques, keeping track of clients' data, being abreast of the ever-changing research, theories, etc., with regard to exercise, and ensuring all exercise equipment and the environment is conducive to a safe and effective experience.
The purpose of this domain is to ensure you as the personal trainer, meet all your professional requirements to make sure you are protecting yourself and your client.
How do I register for the exam?
You can register for this exam online, or via phone, fax, or standard mail. However, if you require special testing accommodations, you cannot register online.
What is the cost of taking this exam?
If you are taking this exam in the United States, Canada, or any other country where the exam is offered, for the first time, the fee is $399. If this is a re-take of the exam in the U.S. or Canada, the cost is $199. If this is a re-take of the exam in a country other than the U.S. or Canada, the cost is $299.
Note that the cost of the re-take of the exam is good for re-taking the exam up to one year after a failed attempt. If you re-take the exam after this one-year period, you must register as a first-time test taker, and pay the $399 fee.
What are the testing dates and locations?
The ACE Personal Trainer Exam is offered on a continuous basis. There are hundreds of testing centers located throughout the world, at which you can take your test.
What should I do the day of the exam?
Arrive on time, and bring your admission ticket as well as your identification, which includes your name, signature, and photo.
You will be given access to a basic calculator, built-in to the exam, so you are not allowed to bring your own.
Other items such as a dictionary, purse, cell phone, food/drink are not allowed into the testing area.
Check Out Mometrix's ACE Personal Trainer Flashcards
Get complex subjects broken down into easily understandable concepts
Get Your Flashcards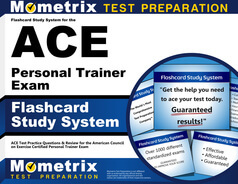 What happens after I take the exam?
You will receive your score report immediately after completing the exam.
Once you pass the exam and obtain your certification, your certification will be valid for two years.
After taking the exam, you will be given the opportunity to submit comments regarding your experience with the test, and overall testing environment.
What is the minimum passing score?
The score scale is 200-800. In order to pass the exam, you must receive a minimum score of 500 points.
What happens if I don't pass the exam?
You can re-take the exam within a year of failing the exam, and take advantage of the reduced test-taking rate.
Entrust Mometrix with your success on the ACE Personal Trainer Exam. We have spent a great amount of time developing the study guide and flash cards that will provide you with all of the information to do well. Get yours today!
ACE Personal Trainer Study Guide
Mometrix Academy is a completely free ACE Personal Trainer test resource provided by Mometrix Test Preparation. If you find benefit from our efforts here, check out our premium quality ACE Personal Trainer Study Guide and ACE Personal Trainer Flash Cards to take your studying to the next level. Just click the ACE Personal Trainer study guide link below. Your purchase also helps us make even more great, free test content for test-takers.
Upgrade your studying with our ACE Personal Trainer study guide and flashcards:
ACE Personal Trainer Study Guide
ACE Personal Trainer Flashcards